At a quick glance, the $799 Galaxy S22 and $999 Galaxy S22+ don't seem like huge annual upgrades. But some of the small changes Samsung made for its latest flagships are significant, and if you haven't upgraded in a while (or are switching over from an iPhone or Pixel), the latest Galaxy handsets are among the best Android phones you can buy.
Now that they've ditched the plastic of their predecessors, the Galaxy S22 and S22+ feel like a truly premium pair of smartphones that even outdo the pricier S22 Ultra in some key areas. They also pack cameras with especially fantastic zoom and low-light capabilities, gorgeous displays that are brighter than before and some of the fastest performance you'll find on an Android phone.
That said, if you're coming from a recent Galaxy phone, you might not find many reasons to upgrade here. Wondering if Samsung's latest flagships are worth the plunge? Here's what I think after a week with the Galaxy S22+.
The new Android phones to beat
The Galaxy S22 and S22+ offer gorgeous screens, great cameras, long battery life and some of the best performance you'll find in an Android phone.
The who, what and how
Who it's for: The Galaxy S22 and S22+ are for folks seeking a premium Android phone that excels at just about everything and are cool with Samsung's unique software experience. The $799 S22 is especially ideal for those on a budget (or people who prefer a smaller phone), while the $999 S22+ gets you a bigger screen and battery for the extra $200.
What you need to know: The S22 and S22+ are the starting members of Samsung's latest Galaxy line, packing gorgeous displays, fast Snapdragon 8 performance, long battery life and a strong triple-camera array that's great for portrait, zoom and low-light shots. The key differentiator between the two is size — 6.1 inches for the S22 and 6.6 inches for the S22+ —  as well as a slightly bigger battery in the latter.
How it compares: The S22 and S22+ are on the pricier side compared to the Pixel 6 and iPhone 13 families, which start at $599 and $699, respectively. Samsung's latest flagships are generally comparable to both rivals — the iPhone 13 range has a slight edge on overall performance, while the Pixel 6 phones are ideal for those who want a cleaner Android experience than what Samsung offers. And if you're willing to pay up for a more advanced five-camera setup, a larger screen, better battery life and an included S Pen stylus, you should check out the $1,199 Galaxy S22 Ultra.
Want to go bigger? Check out our Galaxy S22 Ultra review.
An elegant design with a gorgeous display to match
The Galaxy S22+ is one of the most attractive smartphones I've ever used, with a clean, elegant design that even one-ups the pricier S22 Ultra in some key ways. The phone's glass-and-metal build is a nice step up from the semi-plastic S21+, with shiny, slim edges and a matte back that looks especially gorgeous on the Pink Gold model I tested. I kind of miss the two-tone design on last year's models (and the purple color option), but the latest Galaxy — which also comes in black, white and green — sports a sophisticated, uniform look.
Samsung didn't change much on the rear of the phone, as there's still a slight camera bump that houses the phone's three lenses in a neat, slightly raised vertical row. It's much more attractive than S22 Ultra's messy, frameless four-camera array, which looks like a creepy set of spider eyes and may trigger more than a few people's trypophobia. I also found the S22+ to have an advantage over its larger sibling in the comfort department — its flat edges are easier to grip than the Ultra's curved sides, and its 0.43-pound frame felt just right in my hands. It's roughly in line with the iPhone 13 Pro Max and Pixel 6 in terms of overall size, and is lighter than both big flagships.
The Galaxy S22+'s 6.6-inch Dynamic AMOLED 2X display is a delight to look at, pumping out the rich colors and deep blacks we've come to expect from Samsung mobile screens. Red laser blasts and orange explosions popped nicely during the climactic final battle in The Book of Boba Fett, and I was able to see every fine detail of Boba Fett's battle-worn armor and Black Krrsantan's scraggly Wookiee hide. The scene looked much more vibrant and notably brighter than it did on my iPhone 12 Pro, but not to the point where it was oversaturated. The S22+'s super-thin bezels made it especially easy to get immersed in the action, to the point where I didn't really mind the small camera hole up top.
This display provided a great canvas for reading news stories and reviewing documents, with bold white text that was easy to read against deep black backgrounds in dark mode. I even had a good time with simpler tasks like scrolling through Slack or catching up on Instagram Stories, thanks to the smooth adaptive 120Hz refresh rate that's been a staple of Samsung phones for a few years now.
Everything from navigating websites to moving around the home screen was incredibly fluid, to the point where my iPhone 12 Pro's 60Hz screen now feels a bit sluggish by comparison. The S22+'s high refresh rate will only kick in when you need it (such as when you're rapidly scrolling), and you can also lock the display to 60Hz if you're extra concerned about battery. I kept the S22+ on adaptive 120Hz during my entire time with it and didn't find it to have a big impact on battery life.
Great overall performance and a snappy interface
You're going to have a hard time taxing this phone. Powered by the latest Qualcomm Snapdragon Gen 1 processor, the Galaxy S22+ allowed me to open and zip between more than 20 different apps while watching YouTube in picture-in-picture without so much as a stutter. Graphically demanding games such as Asphalt 9 and Call of Duty: Mobile looked crisp and ran smoothly, even when I cranked the latter's visuals to their max settings.
While you can count on the Galaxy S22+ for heavy multitasking and lots of mobile gaming, you shouldn't expect a massive leap in performance over last year's model — or the latest Android competition.
| | Processor | Geekbench 5 single-core | Geekbench 5 multi-core |
| --- | --- | --- | --- |
| Galaxy S22+ | Qualcomm Snapdragon 8 Gen 1 | 1,206 | 3,335 |
| Galaxy S21 | Qualcomm Snapdragon 888 | 1,110 | 3,477 |
| iPhone 13 | A15 Bionic | 1,667 | 4,465 |
| Pixel 6 | Google Tensor | 996 | 2,737 |
The Galaxy S22+'s Geekbench 5 scores (3,335 for multi-core, 1,206 for single-core) are roughly in the same ballpark as what we got from the Galaxy S21, and just slightly ahead of the Google Pixel 6 and Pixel 6 Pro. Samsung's latest phones still trail the iPhone 13 and 13 Pro by a decent margin, with Apple's handsets scoring upward of 4,675 on multi-core tests. Both phones will feel incredibly speedy during daily use, but those who do heavy multitasking, lots of mobile gaming or on-the-go creative work should keep the iPhone's extra muscle in mind.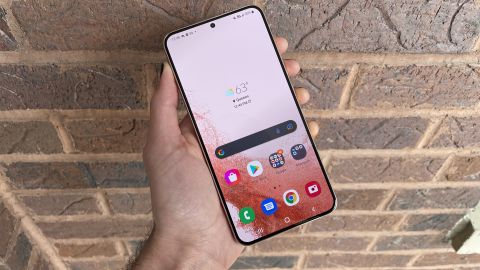 The Galaxy S22+ runs Android 12 wrapped in One UI 4, a custom interface that gives the phone a distinctly Samsung look and feel. I'm not thrilled about the aesthetic here, and find it to be a bit cluttered compared to the clean Android experience you get on a Google Pixel. Those who hate bloatware should also know that there are about a dozen preloaded apps from Samsung and Microsoft here.
That said, swiping around One UI 4 still felt impressively swift, and the benefits of Android 12 translate well to Samsung's newest phones. You can now choose between a number of custom color palettes based on your phone's wallpaper, which allows for some attractive uniformity between your wallpaper, menu icons and even some apps.
The latest Android software also features big green indicators at the top right of the screen that let you know when your camera and mic are being used, which is a nice privacy touch that's similar to what we've seen on recent versions of Apple's iOS software. And while I don't love how One UI looks out of the box, I appreciate how customizable it is, with a ton of free and paid themes and fonts you can nab from the Galaxy Store to make your phone look cuter, edgier or more colorful. It's also worth noting that Samsung promises four years of software updates for the Galaxy S22 series, meaning those buying one should get the latest Android features and security fixes for a long time to come.
Strong cameras with especially great zoom
The Galaxy S22+ has largely the same camera setup as last year's model, and that's not a bad thing. The three-lens array produced mostly great photos in a number of different environments, particularly excelling when it came to ultrawide, low-light and zoomed-in shots. Processing times were generally instant, other than a few seconds of waiting for night shots to develop. The setup is largely the same as last year here — a 50-megapixel main shooter, a 12-megapixel ultrawide camera for wider shots and a 10-megapixel telephoto lens for zooming in — and the unique benefits of each camera became very apparent over a few days of photography.
Even on a somewhat cloudy day, the S22+ captured detailed, vibrant photos of a bustling Union Square. The fruits and vegetables I shot at a farmers market were rich in color (if a bit overly vibrant), and I could make out every unique flower in a group shot of a bunch of bouquets. The phone's ultrawide mode did a great job snapping a wide panorama of my local park, packing in the finer details of a rocky cove and a ripple-filled river. But in my experience, the S22+ really stands out once you need to capture something in the distance.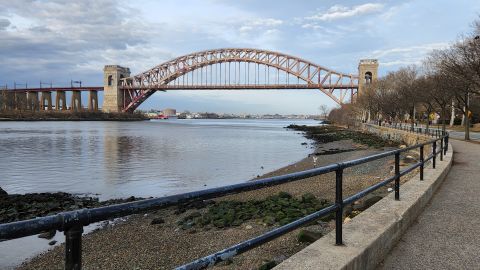 It might not feature the S22 Ultra's ridiculous 100x Space Zoom, but the S22+'s 30x zoom capabilities allowed for strikingly clear shots of faraway objects that my eye could barely distinguish. The phone's telephoto lens allowed me to clearly see across the East River from Queens to Manhattan, capturing every letter of distant billboards while highlighting plenty of detail in the buildings and vehicles a borough over.
When I tried out this same 30x zoom at night to snap a picture of the moon, my jaw dropped. What was a blurry circle of light in a normal photo suddenly became a striking piece of astrophotography when I fully zoomed in, as I was able to see the unique cracks and craters of our nearest interstellar neighbor. My colleague Jake was able to get an even larger, more detailed shot of this on his S22 Ultra, but the fact that the middle member of the S22 family can capture something that looks like it belongs in a NASA gallery is pretty damn impressive.
The S22+'s Portrait mode was strong across the board, producing just enough background blur to make things look professional without going overboard. The daytime shots I captured of Jake were headshot-worthy, and, even more importantly, I captured some vibrant, detail-heavy portraits of my dog, Marie, that are begging to be posted on Instagram. The portrait shots I captured of a friend at night weren't as clear by comparison but still looked distinct enough from a standard photo. The phone's Night Mode continued to deliver for standard photos, making a late-night skyline shot from my balcony look like it was taken in the early evening.
I found the S22+'s 10-megapixel front camera to be a mixed bag when it came time to selfies. Standard front-facing shots allowed me to clearly see every single hair, crease and blemish on my face (they were practically too detailed), but also looked somewhat dull in color compared to the more lively photos I got from the rear camera.
However, I found my Portrait mode selfies to be excellent, thanks to a rich amount of depth and blur that contrasted nicely with my very detail-laden face. I also appreciate that you can customize any Portrait mode shot after the fact, with adjustable levels of blur as well as filters and effects that can make your photos look more professional — or just more fun. I was especially partial to the Color Point mode, which creates dramatic black-and-white shots that highlight only one or two colors, as well as the new Object Eraser feature that let me remove a pedestrian from a photo of my local park.
Samsung's new flagship is similarly strong in the video department, packing the ability to record at up to 8K with lots of useful modes for casual users and pros alike. I primarily stuck with the 4K/60 frames-per-second option, which resulted in crisp and detailed videos of everything from a busy dog gathering to the rippling waters of my local cove. However, there were occasional moments of blur or lost focus when things got especially hectic.
I appreciate the sheer amount of video options that the S22+ offers, including a Pro mode that lets you make fine adjustments to things such as white balance and shutter speed as well as a Super Slo-Mo feature that allows for some especially dramatic video of my dog charging at me full speed.
Photos captured on the S22+ were generally more saturated than the more neutral, true-to-life shots I got on my personal iPhone 12 Pro. This has generally been the case when pitting Galaxy phones and iPhones side by side, and there's no clear winner here — it just depends on whether you prefer an extra-colorful shot or one that's a little more accurate. And while I'm still partial to iPhone cameras, the S22+'s 30x zoom and particularly great portrait selfies do make me a bit envious.
Great battery life and future-proof connectivity
You won't have to worry about charging Samsung's new flagship very often — my Galaxy S22+ got me through nearly two full days of casually snapping photos and chatting with friends before I had to plug it in. The S22+ continued to impress on our battery test, where the phone's 4,500mAh battery survived 13 hours and 22 minutes of continuous 4K video playback before it went dark.
That's not the longest battery life we've gotten from a flagship, but it holds up well to the competition — and is more than enough for a full workday of heavy activity. By comparison, the standard iPhone 13 endured for a stronger 14 hours and 15 minutes, and the Pixel 6 lasted for more than 15 hours. The Galaxy S22+ lasted more than an hour longer than last year's Galaxy S21 and its smaller 4,000mAh battery. Predictably, we got a stronger 14 hours and 27 minutes out of the Galaxy S22 Ultra and its bigger 5,000mAh battery.
While the S22+ doesn't last quite as long as its more expensive sibling, it supports the same 45W super-fast charging as the S22 Ultra (standard S22 owners are stuck with slower 25W charging). This held up well in our testing, with the phone charging 10% — enough for an emergency call or a good amount of texting and browsing — in about 10 minutes. You will need to supply your own wall brick (such as Samsung's own $49 45W option), since you won't get one in the box.
The new S22 phones support 5G connectivity via both mmWave and Sub-6GHz on the big three carriers (AT&T, T-Mobile and Verizon). That means you'll get some degree of 5G in most areas, though your actual speeds may vary. MmWave is faster but limited to very specific regions, whereas Sub-6 is more common throughout the United States.
Anecdotally speaking, my Galaxy S22+ with T-Mobile delivered reliably fast speeds for messaging friends and swiping through Instagram throughout various parts of New York City. When performing speed tests at home in Queens on standard Sub-6 5G, I got modest download speeds of around 200 megabytes per second — that's pretty close to what I experience from a 4G phone. For context, we got upward of 2,000 MBps when finding the right spot in Manhattan with a Verizon Galaxy S21 last year. Your 5G experience will vary based on your carrier and location, but the Galaxy S22 at least comes ready to deliver extra-speedy cellular connectivity once you find yourself in a supported area.
Bottom line
The Galaxy S22 and S22+ retain everything great about the Galaxy S21 while making some subtle but much-welcomed improvements. The design looks and feels better than ever, the cameras are spectacular and the display continues to be one of the most vibrant and immersive you can find on a smartphone. They're also among the fastest phones we've tested and support the latest 5G standards, meaning they'll serve you well for at least the next few years.
That being said, the S22 and S22+ aren't a massive upgrade over last year's models, and make the most sense for folks clinging on to a Galaxy S20 or older — or coming to the Galaxy family for the first time.
If you're on a budget or prefer a cleaner Android experience, the $599 Pixel 6 might be a better fit for you. And if you're willing to splurge on a bigger Galaxy phone that has an even more bonkers camera and an included S Pen, the $1,099 S22 Ultra is worth a look. But for everyone else, the Galaxy S22 and S22+ are the new Android phones to buy.
| | | |
| --- | --- | --- |
| Display | 6.1-inch Dynamic AMOLED 2X display with a 120Hz refresh rate | 6.6-inch Dynamic AMOLED 2X display with a 120Hz refresh rate |
| Processor | Qualcomm Snapdragon 8 Gen 1 | Qualcomm Snapdragon 8 Gen 1 |
| RAM | 8GB | 8GB |
| Storage | 128GB/256GB | 128GB/256GB |
| Cameras | 12-megapixel ultrawide, 50-megapixel wide and 10-megapixel telephoto with flash (rear); 10-megapixel (front) | 12-megapixel ultrawide, 50-megapixel wide and 10-megapixel telephoto with flash (rear); 10-megapixel (front) |
| Battery | 3,700mAh | 4,500mAh |
| Size and weight | 2.7 x 5.7 X 0.29 inches; 0.37 pounds | 2.98 x 6.19 x 0.29 inches; 0.43 pounds |
| Colors | Phantom White, Phantom Black, Green or Pink Gold | Phantom White, Phantom Black, Green or Pink Gold |
| Price | From $799 | From $999 |