Story highlights
Samsung's Galaxy Buds are available now for $129.99.
You can get these true wireless earphones in black, white or yellow.
CNN —
The true wireless earphone market is getting more crowded. In addition to launching the Galaxy S10e, S10 and S10+, Samsung also introduced the $129.99 Galaxy Buds. And yes, they are clearly aimed as a competitor against Apple's incredibly popular $159.99 AirPods.
Moreover, Samsung knows it has to compete, so it's packed the Galaxy Buds($129.99; samsung.com) with plenty of features. These have wireless charging, a snug and sleek in-ear design, customizable controls and microphone tricks.
I've been a daily wearer of Apple AirPods since 2016, but that changed this week. I've been testing out the Galaxy Buds for the past few days, and Samsung's done something impressive here in some ways, and slightly annoying in one other way.
Teeny tiny earbuds
With any true wireless earbuds, you want to strip the design as much as possible. With no cable to connect the two, it can be a real challenge for designers. I think some people thought, and still believe, that AirPods look funny, but the Galaxy Buds do the design a bit better.
You can forget that you're wearing them since they fit inside your ear. It's a very comfortable design and each earbud covers less space than a quarter. Unlike Apple's AirPods that stick with the classic shape of a circle with a rectangular tube sticking out, the Galaxy Buds are more compact.
Facing out is a triangular touchpad that allows for easy control, while the inside is a plastic build that has the earbud coming out of it. The Galaxy Buds have a comfortable fit and you won't have to worry about them falling out. With the combo gummy earbud and fins, these are meant to stay put.
In addition to the touchpads on both earbuds, these also have microphones for noise canceling, and even let ambient sound come through.
Case doubles as charger and extra battery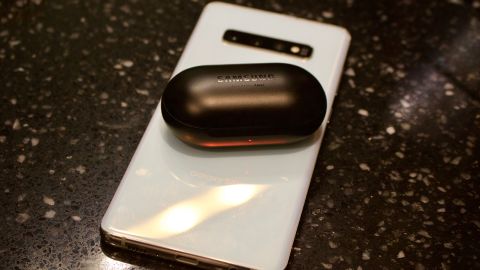 The included carrying case doubles as a battery and charger for the Galaxy Buds. Samsung estimates six hours on a full charge for each bud, and the case can juice the buds for another seven hours. It's nowhere as good as Apple's 24-hour charge from the AirPods case, but for second gen, it's decent. Plus there is a USB-C port on the back for tethered charging.
More importantly, in real testing, the buds lasted between 5-5 1/2 hours of use before dying, which beats the five hours I usually get from AirPods. It's also important to realize that listening volume can affect battery life. If you're blasting the Jonas Brothers' latest track "Sucker" and other EDM hits at full volume, it likely shortens the battery life.
Fast pairing with Samsung, difficult pairing with all else
Unlike Apple's AirPods that have a custom W1 Bluetooth chip, the Galaxy Buds use Bluetooth 5.0. On a Galaxy device, the pairing process is just a few "OK" taps. Merely place the case next to your phone and open it. A window will pop up asking if you want to pair the Galaxy Buds. From there you're pretty much set and the controls live within the Galaxy Wearable app.
Once paired and connected, you can handle software updates and control the entire experience. You can easily see the battery percentage for each earbud at the top. Below, you'll see an equalizer that has five modes to pick from — bass boost, soft, dynamic, clear and treble boost. Under that, you can dive into more precise controls over notifications, the touchpads, ambient sound and the ability to locate your earbuds.
Let's carefully examine a few of my favorites. The Galaxy Buds can read out a notification that your connected device receives; this works best with Galaxy devices. However, it only says the name of the app and doesn't dive deeper into actually being useful. On the other side, ambient noise turns off the noise isolation feature and lets you hear the world around you. It's handy for when you are in the office or walking outside.
While ambient noise was an excellent example of the microphones working well, calls were not good on the Galaxy Buds. It wasn't on par with AirPods and the people I called reported a lot of wind and background noise. I hope this will be fixed in an update.
Paring with non-Samsung devices is tougher and is on par with other Bluetooth headphones. You'll need to open the Galaxy Buds case to have them cast the connection and then select it from settings. I found that once the connection was made, it was reasonably easy to use and had no drops.
Well-balanced sound
"Sound by AKG" is no joke, at least on the Galaxy Buds. Safe to say, I'm pleasantly surprised with the sound quality of the Galaxy Buds. I think the snug fit helps keep the sound in, as well as create a more balanced experience. I threw many songs at it, from the latest by Mumford & Sons to Bruce Springsteen, and even the Jonas Brothers.
With the equalizer off, I found that high, low and mid tones were well balanced. In a track like "Sucker," I could hear the hand clapping that goes throughout, neatly overlaid the vocals and electronic instrument melodies.
Likewise, the studio of Springsteen's "Born to Run" was crystal clear. The definition from the drums to guitars to the piano was clearly defined and led to a great listening experience. If anything, the bass could be a little low, but this can be adjusted with the equalizer.
These are the perfect companion for Galaxy
I think the sale is tougher for non-Galaxy devices since you lose the easy pair, but the Galaxy Buds don't disappoint. I had close the estimated six hours of listening time, falling only 30 minutes short. The battery life in the case — at seven hours — is lackluster compared to AirPods, but for Galaxy owners, you can wirelessly charge on the back of the device.
For $129.99, you're getting a great value with the Galaxy Buds($129.99; samsung.com). Plus, you can choose between black, white or yellow.
Looking for more ways to save while you shop Samsung products? Be sure to check out CNN Coupons to find the latest deals.
Note: The prices above reflect the retailer's listed price at the time of publication.