CNN Underscored reviews financial products such as credit cards and bank accounts based on their overall value, but does not review all financial companies or all available financial offers. We may receive compensation for sending traffic to partner sites, such as CreditCards.com, and this compensation may impact how and where links appear on this site.
Update: As of Aug. 8, 2022, the REI Mastercard is issued by Capital One and has changed its earning rates, features and perks. You can find the list of new benefits here.
Our quick take: The REI Co-op World Elite Mastercard® doesn't offer great rewards rates outside of REI purchases and doesn't come with any notable perks, but it has no annual fee and could be a useful niche credit card for those who shop at REI on a regular basis. Plus, REI donates a portion of each transaction to nonprofits that aim to nurture the natural environment.
Pros:
Rewards earned with the card are on top of the normal 10% REI Co-op Member Reward
No annual fee and no foreign transaction fees
5% back at REI applies to both full-price and discounted items
Earning 2% back on mobile wallet purchases can add up fast
REI donates to environmental causes with each swipe
Cons:
Disappointing earning rate on purchases outside the bonus categories
You must be a REI Co-op member, which has a one-time $30 lifetime membership fee
You only receive your rewards once per year
Rewards can only be redeemed for REI merchandise
Current sign-up bonus: Earn a $100 REI gift card when you make a purchase within 60 days of opening the account.
Best for: Enthusiasts who shop at REI often, and those who are already REI Co-op members or intend to become one, since you must be a REI Co-op member to get this card.
Introducing the REI Co-op World Elite Mastercard
The REI Co-op World Elite Mastercard isn't going to be the right credit card for most people, but it does have some added benefits for nature lovers and adventure seekers who shop at REI often. Issued by U.S. Bank, this card earns 5% back on all REI purchases, and that bonus is on top of the rewards you get for being an REI Co-op member. Card holders also earn 2% back on purchases made with eligible mobile wallets and 1% back on everything else they buy.
When you use the REI Mastercard, REI donates 10 cents per transaction to the REI Foundation, up to $1 million in total per year. This organization aims to help the environment by partnering with nonprofit outdoor projects such as the Cathedral Ledge Restoration Project in White Mountain National Forest, New Hampshire, and the Appalachian Trail Conservancy Project, which spans from Georgia to Maine.
Advantages of the REI Mastercard
The biggest upside of the REI Mastercard is its 5% back rewards rate on REI purchases as well as the fact that it has no annual fee. The fact that each transaction generates a donation to various nonprofit organizations that help keep the outdoors wild is icing on the cake.
In the meantime, the card's 2% earning rate on mobile wallet purchases can help many people rack up rewards faster, since this rate applies to purchases made with mobile wallets like Apple Pay, Samsung Pay and Google Pay.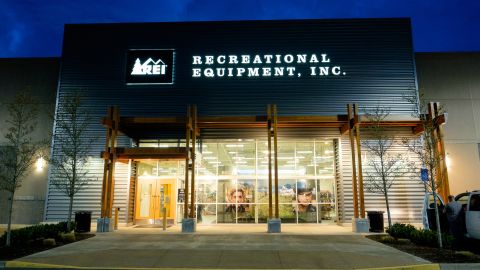 You can also currently earn a sign-up bonus with the REI Mastercard, and while it isn't huge, new card holders can receive a $100 REI gift card when you make a purchase within 60 days of opening the account. That's not market-leading, but it's better than receiving no sign-up bonus at all.
In addition, the REI Mastercard has no foreign transaction fees, which is fairly unusual for a credit card with no annual fee. That means you're safe using it on international purchases whenever you're traveling or when you're buying online from an overseas vendor. And since it's a Mastercard, you can use this card to shop anywhere Mastercard is accepted around the world.
Disadvantages of the REI Mastercard
Aside from the bonus on REI purchases and when using the card with your mobile wallet, you'll only earn 1% back on all your other purchases with the REI Mastercard, which is pretty disappointing. This is especially true since several top cash back credit cards offer 2% back on all purchases with no annual fee, meaning you could be putting yourself at a major rewards disadvantage if you use this card for all your regular spending.
In addition, you have to be an REI Co-op member to apply for the REI Mastercard, which has a one-time $30 lifetime membership fee. Now, if you're already an REI Co-op member or plan to become one, that isn't an added cost, but if you're looking at just getting the card, it effectively means you'll be paying an additional $30 for it, albeit just once up front.
And while the rewards you earn with the REI Mastercard are in addition to any rewards you get from being a member of the REI Co-op, you'll only receive them once a year at the same time you get your Co-op Member Rewards. While that's similar to cards like the Costco Anywhere Visa® Card by Citi, it's nowhere near as ideal as pure cash back cards that provide rewards on an ongoing basis.
Finally, even once you get your REI Mastercard rewards, you can still only use them for REI merchandise or REI adventure travel. That makes the rewards a lot less flexible than cash back, or even flexible travel points or miles such as Chase Ultimate Rewards or American Express Membership Rewards than can be redeemed for flights across a variety of airlines and hotels.
Stacking up the REI Co-op World Elite Mastercard against our benchmark
CNN Underscored uses the Citi® Double Cash Card as our "benchmark" credit card. That doesn't mean it's the best credit card on the market — rather, it means we use it as a basic standard to compare other credit cards and see where they score better, and where they're worse.
Here's how the REI Mastercard scores against our benchmark. The features of each card in the below chart are colored in green, red or white. Green indicates a card feature that's better than our benchmark, red indicates the feature is worse than our benchmark and white indicates the feature is either equivalent or cannot be directly compared to our benchmark.
As you can see from our comparison, the Citi Double Cash Card may be a better option for your needs if you're seeking simple cash back rewards with no annual fee, and it would certainly be a better choice if you wanted to use it to consolidate debt from other cards. The only real advantages of the REI Mastercard are its high earning rate at REI, its sign-up bonus and its lack of foreign transaction fees.
Strategies for the REI Elite Mastercard
If you do decide to get the REI Mastercard for its 5% back on REI purchases, you should probably pair it with a different rewards card for regular spending and bills, ideally one that earns at least 2% cash back. Our benchmark card, the Citi Double Cash Card, would be a good option to consider since you can earn 2% back for each purchase you make — 1% when you buy, 1% when you pay it off — with no annual fee.
Or, if you're interested in travel, you could pair the REI Mastercard with an option like the Chase Sapphire Preferred® Card. Points earned with the Sapphire Preferred can be redeemed for cash back but are better utilized for travel since you'll get 1.25 cents per point when you book travel through Chase Ultimate Rewards and pay with your points.
In addition, you can transfer points earned with the Chase Sapphire Preferred to 14 different airline and hotel partners, making them extremely flexible and potentially much more valuable than just cash back.
Should you get the REI Mastercard?
If you're constantly stocking up on expensive gear at REI, such as camping equipment, hiking accessories or other purchases made for the outdoors, picking up the REI Mastercard could make sense, particularly if you're already an REI Co-Op member. Still, you would almost certainly be better off pairing this card with a general rewards credit card that offers a better rewards rate on regular purchases. We suggest looking at the best cash back credit cards to find options you may want to pair it with, then using a few cards strategically in order to maximize your rewards.
Learn more and apply now for the REI Mastercard.
This story has been updated with a correction: the $30 fee for an REI Co-op membership is a one-time lifetime fee, not an annual fee.
Find out which cards CNN Underscored chose as our best credit cards currently available.
Get all the latest personal finance deals, news and advice at CNN Underscored Money.