Since being introduced to PS4 owners in 2016, the PlayStation VR has become the second most popular VR headset of all time behind the Meta Quest 2. Despite being limited by the aging PS4 hardware and complicated setup process, there was so much to appreciate about PSVR. There's even more to love about the PlayStation VR 2, now that I've gotten to spend a week with Sony's PS5-based headset.
The new headset's introductory price of $550 is significantly higher than the PSVR's $400, and may turn off early adopters. However, everything from the streamlined setup to the great overall performance are enough to offset its drawbacks. Wondering if Sony's next-gen VR headset is worth the splurge? Here are our thoughts.
True next-gen console VR
PlayStation 5 owners who don't mind spending a premium for next-gen console VR are going to appreciate everything the PSVR 2 has to offer. Those who already have the original PSVR and aren't willing to upgrade yet will still enjoy a larger library due to the newer device's lack of backwards compatibility.
What we liked about it
Intelligent design and improved setup
The PSVR 2 improves on every aspect of the original PSVR, and it all begins with the box. A bit more streamlined than the original, the packaging also serves as a case for both the headset and Sense controllers. Alongside the headset and controllers, you'll find a single USB-C charge cable alongside instructional booklets and wired earbuds in the box.
That's pretty much it — no processor box, PlayStation camera, power plug or extra HDMI configuration needed. Simplicity is the name of the game with the PSVR 2. Users literally have to just plug the earbuds into the PSVR 2's audio port and the headset itself into the PS5's USB-C port. Having four cameras on the headset also removes the need for an external camera.
Like other PS5 accessories, the design philosophy takes inspiration from the console itself — meaning it sports a sleek white-and-black aesthetic featuring some abstract angles. The PSVR 2 really looks cool sitting alongside the PS5. It also shed some weight, coming in at a noticeably lighter 560 grams compared to the PSVR's 600 grams.
Once it's on your head, the PSVR 2's weight distribution feels a bit more even as well. Some of the holdovers from the original headset include the circular halo band. Users can push and pull the PSVR 2 faceplate toward or away from their face through a button on top of the faceplate, and tighten it using a dial on the band's rear. This time around, users can even change the focal distance from a dial on the faceplate too. The cushions feel a bit more premium compared to the original PSVR.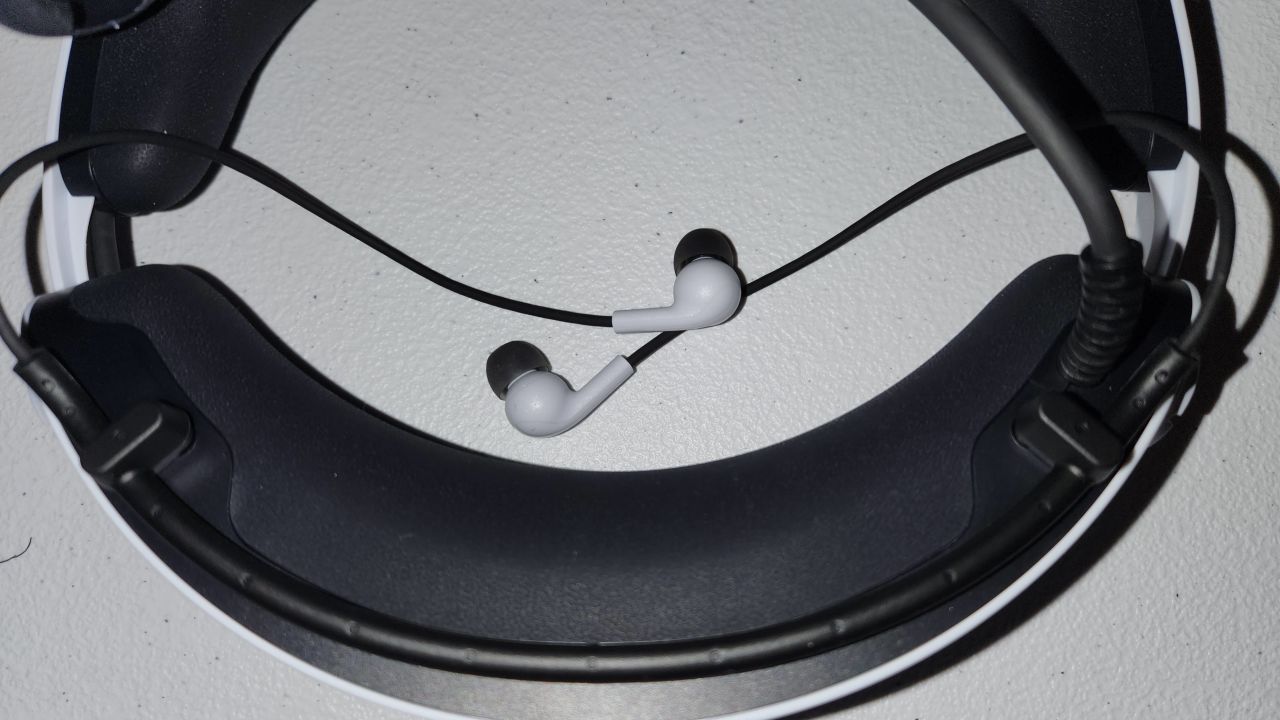 When it's time to turn the PSVR 2 on, the power button and function button are located on the bottom of the headset. After that, setting up the device on the software is fairly simple. While most VR headsets allow users to draw virtual boundary walls to avoid knocking into household objects, the PSVR 2 has users scan the room to see potential obstacles. Next is calibrating the eye tracking, which is another high-tech feature of the headset. This process feels very futuristic and is fairly intuitive.
It's also easier to see content, as the headset's lenses offer a 2000 x 2040 resolution per eye (a big leap from the original's 960 x 1080), giving a total resolution of 4K, with refresh rates hitting between 90Hz and 120Hz to keep everything smooth. As an added touch, the PSVR 2 headset also features haptic feedback.
A total improvement over the previous gen's Move controllers, the PSVR 2's Sense controllers are the VR equivalent to the PS5's DualSense gamepad. The design is in line with newer VR inputs like those of the Meta Quest 2 and Vive Focus, though there are some differences — like the inclusion of haptic trigger buttons. From the headset to the Sense controllers, everything about the PSVR 2 is a giant step forward.
A solid library of VR games at launch
For gamers, new hardware is only as good as the software available at launch. Thankfully, there's an impressive variety of games to sink your teeth into, with more than 30 titles releasing from now through March. Fans of Sony's blockbuster Horizon series will be happy that Horizon Call of the Mountain is a well-thought-out VR reimagining of the series despite its high $60 price tag. For many, this will be the single-player game that showcases everything the PSVR 2 can do feature-wise. Resident Evil Village and Gran Turismo 7 owners can play both games entirely in VR too.
A large majority of the launch titles are improved ports of games that have already appeared either on PSVR or on other headset platforms. These include shooters like Pavlov, After the Fall, Star Wars: Tales From the Galaxy's Edge, Rez Infinite and Pistol Whip as well as puzzle experiences like Tetris Effect: Connected, Tentacular, Cosmonious High and the like. You'll get access to a nice amount of sports titles from the arcadey 2MD VR Football Unleashed to the extremely lifelike Kayak VR: Mirage. Other niche genres get representation, including god games like Cities VR: Enhanced Edition or Townsmen VR, massively multiplayer experiences like No Man's Sky and rhythm games such as Unplugged: Air Guitar.
There should be a little something for everyone in regards to the PSVR 2's diverse lineup of games. A large amount of the launch titles take great advantage of new features like eye tracking, and that 4K resolution makes them look great regardless of art direction. Horizon Call of the Mountain is a clear standout, bringing all of the high production values you'd expect from a first-party PlayStation game to VR. Most of the game is divided into climbing and engaging in combat with your bow and arrow. Whether we were seated or standing up, climbing felt fantastic and intuitive. Meanwhile, pulling the arrows out from behind our shoulders and letting loose felt phenomenal, thanks to the VR Sense controller. You can definitely feel the pull and release of the arrow before it hits the intended target.
We had tons of fun kayaking across parts of Costa Rica and Australia on Kayak VR: Mirage. It's probably the best-looking game of the launch lineup, thanks to great texture, lighting and water effects. It's also probably the closest thing the PSVR 2 is getting to a fitness-focused game at launch. The ports of Rez Infinite and Tetris Effect: Connected are pure visual spectacles that control a lot better than their PSVR counterparts, thanks to the new gamepads. Even the ability to control the various option menus by simply looking at prompts was impressive — the eye tracking really does work.
Original PSVR owners are going to be disappointed that they can't completely utilize their old catalog with their new hardware. Some games, such as Moss and its sequel, allow owners of the PSVR version to download the PSVR 2 version for free. However, some ports of older games may require an additional upgrade fee. We'll tackle our disappointment with that later, though.
Cinematic Mode is better than ever
Despite the wide array of games available, we were most impressed with the improvements made to Cinematic Mode this time around. The original PSVR allowed users to play standard PS4 games or stream video services through their headset. This gave the feeling of being in a personalized theater with a large screen. However, game and video content could only be displayed at 480p through Cinematic Mode.
On PSVR 2, this mode can display content at a full 1080p with HDR support and up to a 60Hz refresh rate — or up to 120Hz for PS5 games. Playing games like The Last of Us Part 1 or God of War Ragnarok on the PSVR 2 is just a better experience both visually and performance-wise. Meanwhile, watching movies through streaming services like Netflix or Hulu feels great. Those experiences are made even better through native Spatial Audio support, which pumps 360-degree surround sound into your headphones. The included earbuds work fine, but using a dedicated gaming headset like Sony's Pulse 3D Wireless or the SteelSeries Arctis 7P should enhance an already quality audio experience. In some cases, we found playing games in Cinematic Mode to be a better experience than playing on a TV.
What we didn't like about it
It's way more expensive than its predecessor
When the PSVR launched in 2016, it retailed for about $400. By then, it was easy to find a new PS4 for around $200 or less, and games for the headset cost no more than $40. Now the PS5 is readily available but will run you anywhere from $400 to $500 depending on whether you get the digital or disc-based version.
This makes the $550 launch price of the PSVR 2 a large investment. Together, the PS5 and PSVR 2 can set you back well over $1,000. The highly advanced headset and controllers justify the high cost of entry, but it's far from approachable for those barely able to afford the PS5 alone. It doesn't help that the PSVR 2's flagship launch title, Horizon Call of the Mountain, is priced at $60. For a six- to eight-hour single-player campaign with no multiplayer and loads of side quests, that price may seem a bit much when compared to similar experiences like the PC-only Half-Life: Alyx that's in the 15- to 18-hour range. Prices for other PSVR 2 games are between $25 and as high as $60.
2023 is supposed to represent the end of cross-generational games, which means owners will see games that take full advantage of what the latest console hardware can really do. Hopefully, that'll be represented in the PSVR 2 over the next handful of years. Like Beyoncé tickets, the price may be uncomfortably high — but for some people, it may be worth it.
Lack of backwards compatibility
Like we mentioned previously, PSVR owners won't be able to bring their library of previous-gen games to their PSVR 2. Certain enhanced ports of games you already own may be available to download for free, or for a small upgrade fee. Games like Job Simulator, Vacation Simulator, Moss and Moss 2 are all free upgrades. 2MD VR Football Unleashed costs $4 to upgrade to the PSVR 2 version, while Rez Infinite and Tetris Effect: Connected owners can pay a $9 upgrade fee. Users who have already plunked hundreds of dollars on their original PSVR library will likely be disappointed with the lack of backwards compatibility.
Until ports are released, this also means that popular PSVR titles like Blood & Truth, Farpoint, Marvel's Iron Man and even Astro Bot Rescue Mission aren't available on PSVR 2. Users who are absolutely desperate to play those games are going to have to have their original PSVR connected to their PS5, which will surely be a hassle.
Sense controllers don't have the best battery life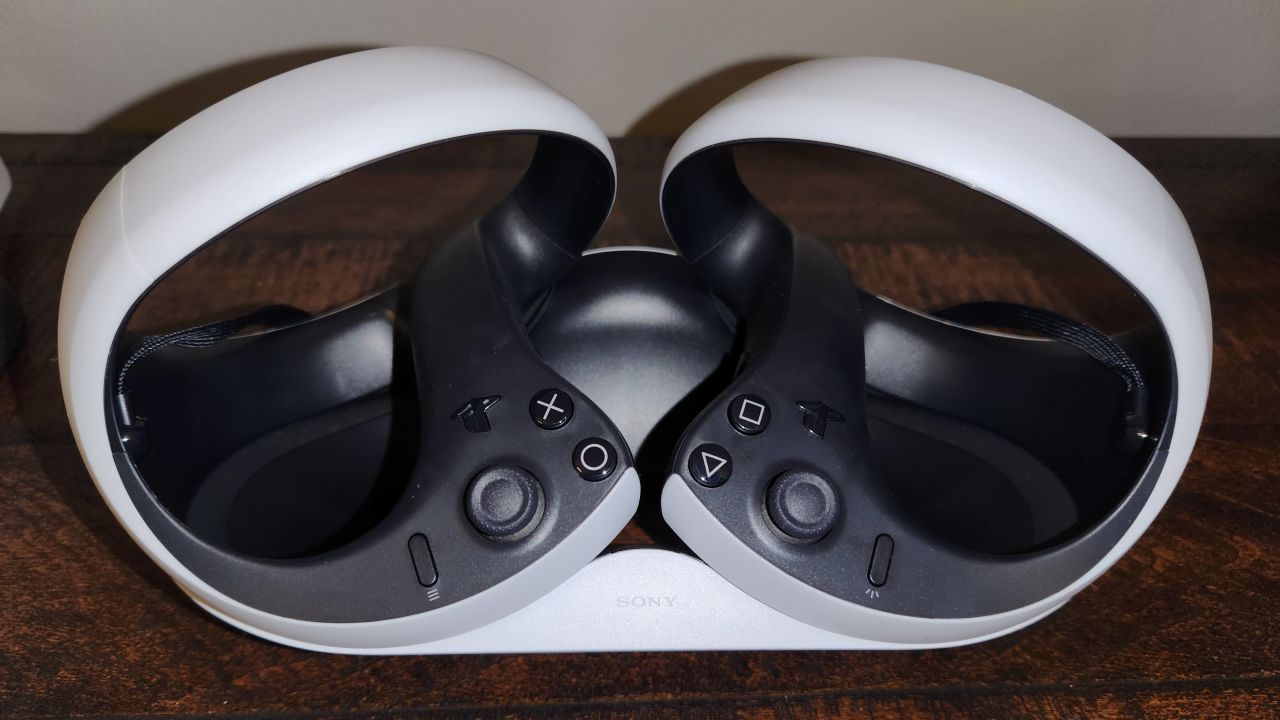 The main input device for the PSVR was the Move controllers. Lacking analog sticks and requiring darker lighting conditions to work with the PS Camera, the average battery life was around 10 or so hours. Users could go a nice amount of time between having to charge their devices. The same can't be said for the PSVR 2 Sense controllers and for obvious reasons.
Between the lovingly aggressive vibration, haptic triggers and fantastic controller tracking, it makes sense for battery life to last around three hours. Mileage on the controllers may also vary by the amount of features utilized.
Our PSVR 2 package came packed in with a sleek Sense Controller Charging Station, which retails for $50 and plugs into a wall socket to keep your PlayStation's ports free. It can also charge wirelessly through a small charging adapter that uses the controller's USB-C port. Charging this way takes a little under a few hours.
How it compares
| | | | |
| --- | --- | --- | --- |
| Resolution | 2000 x 2040 per eye | 960 x 1080 per eye | 1832 x 1920 per eye |
| Refresh rate | Up to 120Hz | Up to 120Hz | Up to 120Hz |
| Wireless | No | No | Yes |
| Required system | PS5 | PS4 or PS5 | None (optional PC compatibility) |
| External camera or sensors required | No | Yes | No |
| Supported games | PSVR 2 games | PSVR games | Oculus Store games, VR-ready Windows games (Link Cable required) |
| Price | $550 | $200 | $399 |
Bottom line
When the original PlayStation VR launched seven years ago, it was held back by the aging PS4 hardware and a complicated setup process. The PSVR 2 comes in at a time where the performance potential of the PS5 hasn't been completely reached yet and the setup is considerably simpler than before. Improvements to everything from screen resolution to the VR Sense controllers make games more immersive and enjoyable.
Still, these improvements come alongside new drawbacks, from a significantly higher launch price to lack of full backwards compatibility. Those turned off by the price and need for a PS5 may want to look into our overall best VR headset pick in the Meta Quest 2. But on its own merit, the PSVR 2 is a must-have for PlayStation loyalists looking for a true next-gen VR experience.