CNN —
When it comes to hitting the virtual links, there haven't been many options for the hardcore gaming fan. HB Studios and 2K's PGA Tour 2K21 is the newest realistic golf simulator for enthusiasts to sink their teeth into, and it's bringing back the traditional golf simulator, for better or worse.
PGA Tour 2K21 is an excellent riff on the classic golf game, with real-world athletes, plenty of customization items, licensed courses and tournaments, and a wide variety of rewards to help you improve your game.
Whether this is your first golf game or your 10th, there are plenty of great reasons to jump into PGA Tour 2K21, especially given its robust customization options and dedication to offering realistic players and courses.
You'll be able to hit those digital greens on August 21, so reserve your copy for Xbox One, Nintendo Switch, PS4 and PC.
On the green
HB Studios' pedigree in the golf world began with several releases in The Golf Club series, which offered solid, realistic games. It wasn't until recently, however, that the developer partnered with HB Studios on PGA Tour 2K21, which is much more lifelike, with real golf courses, players, announcers and equipment. It's the most realistic golf game available, and it features a roster of some of the most popular and high-ranking golfers, with several having lent their likenesses.
While there aren't legendary golfers like Jack Nicklaus or Tiger Woods, PGA Tour 2K21 is rife with names that fans will recognize, like Sergio Garcia, Justin Thomas, Matt Kuchar and Cameron Champ. These names elevate the game far above HB Studios' previous releases, giving it the feeling of franchises like Madden and FIFA.
But if you don't want to play as one of those golfers, you can create your own golfer with the full-featured MyPlayer option. Much like the feature the NBA 2K series has included for years, it lets you create an avatar of yourself or someone else. Change everything about your golfer, from top to bottom, including face shape, body type, hair color and clothing. Your MyPlayer creation can be used across every mode in PGA Tour 2K21, offering a level of immersion that feels as though you're investing in your virtual golf career.
You'll play against the pros if you decide to create your own golfer, which feels like a dream matchup. Hope you brought your A-game, because thanks to the game's detailed rivalry system, you'll be able to create a nemesis for your favorite player. And if you happen to win, you'll receive goodies, like virtual currency to spend on items, as well as accessories and other customizations.
As you accumulate wins and move up, you'll unlock new sponsors, like Adidas, Under Armour and the real-world vendors that provide outfits and other gear. You earn some of the pieces (and have some by way of the game version you bought), and the rest may be purchased with virtual currency. There's a wide variety of clothing options. You just need to keep rising through the ranks to fill your "closet," so to speak.
Become a golf superstar
Once you've created your MyPlayer avatar, it's time to jump into the wide world of golf. Hitting the green means you can try out Career Mode, which is where you'll likely spend most of your time.
Your goal? Go from fledgling golfer to grand master, as you demolish your rivals throughout a series of championships. Play 15 officially licensed courses, all of which host real-world tournaments. DLC support means additional courses will be added after the game's launch.
Career Mode offers a long list of ways to embed yourself, even if you're an absolute newbie. It's a golf game that's appropriate for players of all skill levels.
This is evident in every aspect, especially when you get the hang of controlling your golfer. You can tweak the controls and difficulty to your liking, though the game feels most comfortable with an Xbox One controller, at least to us. Your right analog stick controls your swing, which is easy enough to control. You can fly over the course before you commit to making a move, and all of this is discussed with you before you're turned loose.
Reading the lay of the land is simple to do. It removes some of the frustrating guesswork often related to golf games. You can rely on a grid with various arrows that move in different directions to help you figure out how to putt, and the game even offers options, such as which clubs are best for different situations.
Whether you've played 100 golf games or this is your first, PGA Tour 2K21 has enough information and assistance to keep you comfortable and able to remain in the game. We appreciated how much work went into making it feel as easy to understand and accessible as possible, because it's been a while since we've played a golf game this realistic.
Playing together
You're not relegated to spending time within the game's various courses, which is a welcome change from the norm. Using the Course Designer, you can make your own set of holes and string them together, including different types of terrain. Your course can then be published so your friends and fellow golfers can give it a try.
Speaking of friends and fellow golfers, there are plenty of ways to play with others. You can play both local and online multiplayer with Skins, 4-Player Scramble, Alt-Shot, Stroke Play and additional modes, if you aren't feeling regular golf.
Should you opt for mostly online play, you might join an online Society, which is essentially the golf version of a clan, with several weekly playoffs.
Choose the right version before purchase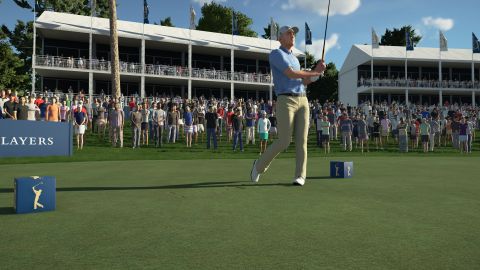 There are two versions of PGA Tour 2K21: the Standard and Digital Deluxe editions, so if you're enamored with PGA Tour 2K21 and everything it offers, be sure to buy the best version for your needs.
If you preordered either one, you'll have already received the CodeChaos MyPlayer Pack, which comes with special branded CodeChaos clothing. The Standard Edition doesn't include additional goodies, but the Digital Deluxe Edition comes with the Golden Touch pack, which features a gold putter and driver. It also includes a 2300-VC virtual currency pack, which you can use to unlock the cosmetic items.
Either way, you'll have access to the same outfits, courses, tournaments and players. It all comes down to the extra goodies at stake, so choose carefully before pulling the trigger — or hitting that birdie.
Bottom line
If you want a realistic golf game in the same vein as your favorite yearly sports franchises, PGA Tour 2K21 is the best possible choice. It's an excellent riff on the genre.
It's high time the golf genre made its triumphant return. Here's hoping we get another iteration next year.
PGA Tour 2K21 officially lands on August 21 with standard and deluxe editions for Xbox One, PlayStation 4, Nintendo Switch and PC. Check out these order links:
Note: The prices above reflect the retailers' listed prices at the time of publication.