Back in 2014, Ariel Kaye couldn't help but feel like there was no one other than big box retailers in the home textile space, and so she launched Parachute. Nine years later, it's one of the most popular direct-to-consumer home brands out there, selling everything you need to live the comfiest life imaginable. With an original focus on creating high-quality bedding (we named them the best linen sheets of the year), the California-based brand has since ventured into loungewear, bath products, home decor and bedroom furniture, and opened more than 20 stores across the country. Just last year, Parachute debuted its living room furniture collection, which includes beautifully crafted coffee tables, sofas and lamps.
The path to success as the CEO and sole founder of Parachute was not an easy one for Kaye. "Like most businesses, it was a rocky road getting from idea to launch," she says. "I didn't have a lot of financial backing, I was really trying to figure things out along the way."
And while Kaye notes that there were many moments of doubt, the positive customer feedback she received shortly after launching helped embolden her. "Those early signs from customers that we had created something that people were so excited about made me feel confident that there was an opportunity here to keep building and growing," she says.
It's with that confidence that in 2020, Kaye wrote her first book, titled "How to Make a House a Home," which is exactly what she hopes Parachute's goods do. "The idea really is about creating purposeful space and how to create a home that is intentionally designed, so that it's as functional as possible," she says. "Especially today, whether you live in a big house or a small house, we're all looking at our home differently." To learn more about Parachute, we spoke with Kaye about the brand's origins, mission and what's next.
For people who are unfamiliar with your products, what do you most want them to know about your brand?
Ariel Kaye: We've always been about creating beautiful products, building beautiful, inspired spaces and making your home more comfortable. We're committed to creating the best possible products and we work tirelessly to do so. I want people to know that they're one visit to our store away from a more comfortable home. We have taken a strong stance on [using] sustainable fibers and not using any toxic chemicals and artificial dyes. We really think about the products that are healthy for you and the planet and I think that's a big differentiator for us, especially in this category.
What sets your brand apart from similar brands on the market?
AK: From an aesthetic perspective, I would say the quality and the assortment. We have a really elevated and inspired aesthetic. It's perfectly timeless and classic but still really fresh. We think about textures and layering and all of these things in a way that I think is really unique. We're working with the best factories in the world to manufacture products — many are family owned and have been in business for 100 years — and their commitment to quality and details is unparalleled.
Since starting Parachute, what would you say has been your greatest accomplishment?
AK: Building with the team has been one of my greatest joys. I just feel so grateful to work alongside such brilliant people every day. Also, successfully becoming an omni-channel brand. I want to build a brand that my grandkids shop at — that is around for time to come and I think we've been able to successfully create both an online and an offline business that work so beautifully together.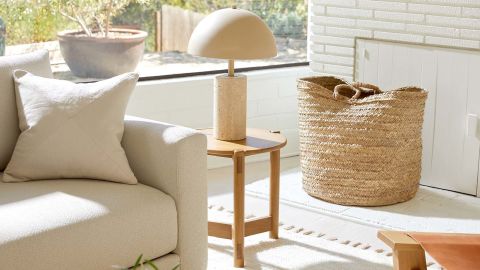 Out of all your products, do you have a personal favorite?
AK: In my day-to-day, I'm always using our cloud cotton robe and our soft ribbed towels. Right now, I'm obsessed with our quilts, but I especially love our vintage linen bed blanket. It's the most luxurious weight and it's so beautiful. And then the Canyon bed frame — every day I walk into my bedroom and see that bed frame it gives me such joy.
What's next for Parachute?
AK: We are continuing to invest in beautiful products and all of the categories that we're in today as well as investing more into furniture. And then I would say there's a pretty ambitious retail expansion coming. We hope to be in just about everyone's cities moving forward. But really just continuing to be the go-to destination for all things home and really staying committed to our values. Building a brand with a clear point of view is hard and I'm so proud that that's been such a focus for us.
Our favorite Parachute products
Our favorite Parachute products