OnePlus has done it again. The original Nord Buds, released last year, offered one of the best experiences you could get from a pair of wireless earbuds under $40. This year, the company has introduced the Nord Buds 2, which offer an even better experience at a price that's not much higher than its predecessor.
At $60, the Nord Buds 2 get a handful of upgrades like active noise cancellation, improved sound quality, better bass and a more comfortable design. But as always, the question is: Are these worth picking up over something more expensive? Let's find out.
If you're looking to spend less than $60 and value features more than sheer sound quality, the Nord Buds 2 are a great buy.
What we liked about them
A comfortable design with good water resistance
Like the original Nord Buds, the Nord Buds 2 have a chunky plastic design, which, to the naked eye, would indicate that they're uncomfortable to use. Other earbuds have much sleeker, more polished designs, some with stems and some without. The Nord Buds 2 aren't afraid of their wide stems and cheap-feeling plastic, because in reality, they're very comfortable to wear.
They sit pretty deep inside your ear canal and stay there the entire time. I struggled to get them to fall out, whether it was while working out or listening to music while eating lunch. These buds refused to fall out of my ears, which is always a good sign. (By the way, I used the preinstalled ear tips to do my testing, and if they don't fit your ears, there are extra tips in various sizes in the box.)
OnePlus equipped the Nord Buds 2 with an IP55 rating, which gives them protection against splashes of water, raindrops, sweat and small debris. The original Nord Buds had this too, and it's nice to see it brought over to the second generation.
I'd also like to mention the improved carrying case. I wasn't a big fan of how blocky the original Nord Buds' case felt, so I was delighted to see the Nord Buds 2 get a more premium, curved carrying case that feels a tad smaller in size. It still has an LED indicator on the front, and there's a USB-C port on the back for charging.
Oh, and there are two colors this time instead of one: Lightning White and Thunder Gray. I got the Lightning White model, which I'm a pretty big fan of.
Active noise cancellation is a really nice perk
The old Nord Buds didn't come with any sort of active noise cancellation (ANC), which resulted in loud, muffled versions of the sounds around you while you try to enjoy your favorite music or a podcast. Luckily, with version 2, OnePlus has finally brought ANC to the headphones.
Now, look, I'm not gonna sit here and tell you it's the best ANC you can get. There's a single toggle to turn it on or off so you can't adjust its strength, and certain sounds like wind gusts and higher-pitched voices and sirens are perfectly capable of breaking through.
Compared to other earbuds like the second-generation AirPods Pro, Galaxy Buds 2 Pro and even the new Nothing Ear (2), the Nord Buds 2 are far behind in their ANC capabilities. But these are $60 earbuds, and outside of standouts like the EarFun Air Pro 3, active noise cancellation is still in the process of becoming a staple feature in budget earbuds. So it's easy to forgive the underwhelming quality.
Good battery life, even with ANC on
OnePlus has managed to pull off some really solid battery life with the Nord Buds 2, even while using ANC.
The company touts up to seven hours of listening with ANC turned off and five hours with it on. During my testing, I managed to reach five hours with ANC on and just over seven hours with it off. The case supplies about five full charges for the buds, with totals of 27 hours using ANC and 36 hours with ANC off. Plugging the buds in for 10 minutes will give you five hours of listening time, which is handy in a pinch.
Compared to other pairs of earbuds like the EarFun Air and Nothing Ear (stick), the Nord Buds 2 offer average endurance. But that's totally fine. Five to seven hours of listening time is ideal for a lot of people, and the extra four to five full charges from the case will come in handy when you're out all day or traveling.
Simple smartphone pairing
OnePlus uses the HeyMelody app to make pairing the Nord Buds 2 to your smartphone easy. By opening the app, then opening the lid to the earbuds, you'll be prompted to pair them. Once connected, the app will give you a set of controls for tuning the EQ, enabling ANC and transparency, downloading firmware updates and more. The best part? It works across Android and iOS, so you won't have to worry about platform exclusivity with any software features.
What we didn't like about them
Sound quality is middling
OnePlus improved the quality of the 12.4mm drivers in the Nord Buds 2, and the sound quality has certainly taken a step up compared to the original version. But alas, these are still budget earbuds, and I was left a bit disappointed with how my playlists sounded on these headphones.
It's not that sound quality is bad, per se. Most genres like pop, country and hip-hop sound serviceable with good detail and bass. But there's a certain muddiness that comes to life when you start boosting the volume; vocals become increasingly wet, with degrading definition in the high end and mids. Compared to other earbuds I've tried, I found this to be quite disappointing.
There's also nothing exciting about the sound quality of the Nord Buds 2. OnePlus touts its inclusion of a BassWave algorithm to improve the bass level of each song you listen to, Dolby Atmos and a Dirac Audio Tuner, but none of it makes a notable difference in quality. Even the EQ presets all sound strange: I've tested the Nord Buds 2 using Balanced, Serenade,
Bold, and Bass equalizer settings, and I wasn't a fan of any of them. They all enhance parts of the sound profile in weird ways, like extra treble in Bold where there definitely shouldn't be and almost completely muted highs in Bass.
The Nord Buds 2 are nothing to write home about when it comes to sound quality. It's fine for casual listening, which is sort of the point of their entire existence.
Transparency mode is a little too quiet
To pair with active noise cancellation, OnePlus includes a transparency mode so you can hear the outside world with the earbuds on. It definitely works; when I enable it, I can hear all of my surroundings. But it's pretty quiet, to the point where if I have to have a conversation with someone, I'm tempted to take the earbuds off.
A good transparency mode enhances your surroundings in a way that feels like you're not wearing earbuds at all. Apple's second-generation AirPods Pro do this particularly well. But the Nord Buds 2, for some reason, only boost external volume a tiny bit, making it difficult to actually speak to someone or listen to what's going on around you. It helps in a pinch, sure, but it's by no means great.
Touch controls are slow
To control your music, control ANC, skip tracks and access your phone's voice assistant, OnePlus includes a series of touch controls on the silver circle and stems of the Nord Buds 2. You can perform a single tap for common things like play/pause and skipping tracks, while longer presses will get you ANC, transparency mode, your voice assistant and even a toggle to switch to a different, previously paired device.
All of these functions work well, but I wish the touch input weren't so slow. It takes anywhere between two and four seconds for touches to register with the earbuds, which constantly leads me to believe the buds didn't pick up my touch at all. If you buy these buds, you'll have to learn to be patient with them.
Bottom line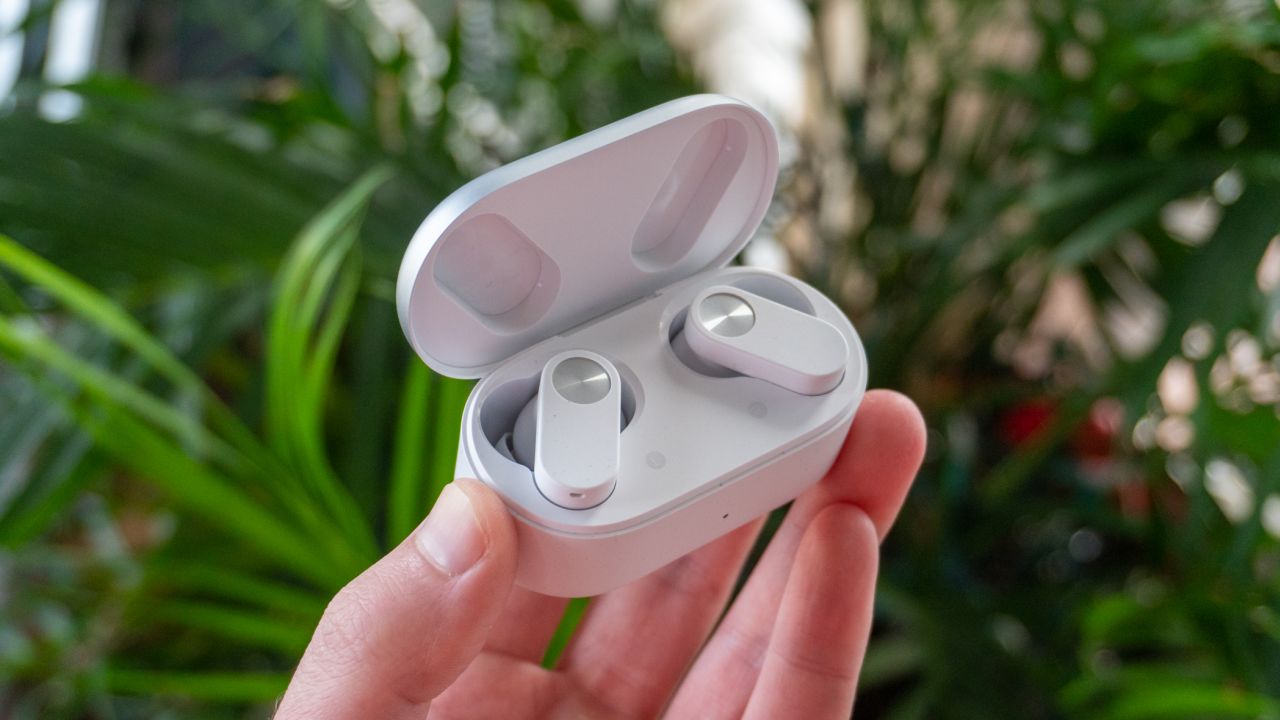 The Nord Buds 2 are a very basic pair of wireless earbuds. There's no fancy lossless audio codec on board, nor are you getting spatial audio or head tracking. You don't even get an ear fit test to help decide whether you have the right tips on for the best audio quality.
What you get are a well-rounded pair of earbuds that cost less than $60, and that's a pretty big draw in and of itself. The fact they come with active noise cancellation is the cherry on top.
Do I wish the sound quality were a bit better? Yeah, sure. But these headphones are meant to be affordable, and for the kind of money you spend on these buds, the quality is perfectly passable.
The Nord Buds 2 give our current favorite budget earbuds, the EarFun Air, a run for their money. With similar battery life, a broader feature set like active noise cancellation and transparency, and a similar price, OnePlus has cranked up the heat and given the world a great pair of budget earbuds. And if $60 is your budget, I think you should absolutely consider these.