OnePlus has matured a great deal since its inception as a young, scrappy startup. The company, originally founded in 2014, focused on delivering flagship-level Android phones at very competitive price points. That is, up until a few years ago, when it finally succumbed to the market and started producing proper flagship phones for flagship prices.
The OnePlus 10 Pro, OnePlus's latest in that effort, might be one of its most iterative smartphones to date. With a similar design, set of specs and camera system to last year's OnePlus 9 Pro, it's clear that the company isn't focused on driving many year-over-year upgrades. Instead, it seems that OnePlus wants to simply improve the formula it cooked up with last year's flagship, which ultimately led to positive reviews and customer feedback.
This year's OnePlus 10 Pro is very good, but with certain features that didn't quite meet our expectations, it's hard to justify recommending this phone over its competitors. But if you're tired of living in Samsung or Google's smartphone world, this might be the device for you.
The OnePlus 10 Pro is available now starting at $899, with a number of retailer-exclusive offers. OnePlus is offering a free pair of OnePlus Buds Z2 in top of a $100 trade-in bonus, Amazon is throwing in a free Echo Show 8 with the phone and Best Buy will give you a free $100 gift card. Thinking of taking the plunge? Read on for our full thoughts.
The OnePlus 10 Pro is a solid alternative to the Galaxy S22 and Pixel 6 Pro that offers especially great battery life and charging.
The who, what and how
Who this is for: The OnePlus 10 Pro is a solid smartphone for anyone who wants something different from the likes of Samsung and Google. Its design and software are unique, the camera system is versatile and it's priced lower than many flagship Android phones.
What you need to know: Compared to other phones, the OnePlus 10 Pro doesn't really offer anything groundbreaking. Instead, it focuses more on being a good all-rounder rather than appealing to a particular niche. Of course, that still means you'll get a good phone with a beautiful 6.7-inch AMOLED screen, good performance, decent camera quality and solid battery life (with some of the fastest charging we've ever seen).
How it compares: The OnePlus 10 Pro fits right in with the premium designs of its competitors, from Samsung's Galaxy S22 series to the Google Pixel 6 Pro. It also has the spec sheet to boot, with the high-end Snapdragon 8 Gen 1 that offers competitive performance to the S22 and Pixel 6, as well as a 5,000mAh battery that can last all day. The biggest difference between OnePlus's phone and similarly priced alternatives is the camera, which still can't quite keep up with the pack.
A familiar-feeling design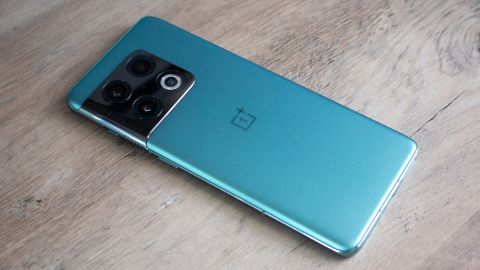 The OnePlus 10 Pro's rounded corners and seemingly thin bezels are everything you'd expect from a modern Android flagship, perhaps to a fault. By no means is this a bad design, but there's not a lot that makes it stand out among the dozens of other bezel-less Android phones you can get.
However, if there's one special feature of the hardware, it's the awesome Emerald Forest color that our unit came in. It offers the perfect amount of saturation while not being too offensive. There's also a Volcanic Black model for those who like a more plain-Jane appearance.
The redesign of the camera area on the back of the phone is interesting, to say the least. It's much larger in size compared to the OnePlus 9 Pro, yet it doesn't protrude much. It still rocks slightly on a table if you attempt to use it while it lies on your desk, but it's certainly not as bad as the bump on devices like Samsung's Galaxy S22 Ultra and Apple's iPhone 13 Pro.
Like every OnePlus phone that came before it, the OnePlus 10 Pro comes with an alert slider that lets you effortlessly control notifications and whether they make a sound, vibrate or remain silent. It's by far one of the best qualities of owning a OnePlus given how no other Android manufacturer has duplicated it, and we enjoyed its convenience during our review.
The rest of the OnePlus 10 Pro is in line with other Android flagships, with a USB-C port and SIM tray on the bottom, stereo speakers and volume/power buttons. It uses Gorilla Glass Victus on the front for extra durability, while the older Gorilla Glass 5 is used on the back. OnePlus coated the back with a frosted texture that adds a bit of grip to the device, although it's certainly not a replacement for a proper case. The frame is made of aluminum and comes with a glossy coating, which doesn't help in the gripability department.
A solid screen, but it's not very compact
It's really hard to find issues with the OnePlus 10 Pro's display, at least in the quality department. OnePlus uses its signature Fluid AMOLED technology that delivers inky black levels and vibrant, punchy colors. Its 1,300 nits of peak brightness are enough to make viewing the screen effortless in direct sunlight, and the 120Hz refresh rate keeps everything silky-smooth.
The resolution is also plenty sharp. When looking at the phone's 3216 x 1440 screen, you'll never notice any individual pixels when interacting with the device. Out of the box, OnePlus sets the screen resolution to 1080p in order to save battery life, so if you want to get the most out of it, crank it up.
There are two areas of contention some users may have with the screen, and one involves the size. OnePlus stuck with the same 6.7-inch form factor as the OnePlus 9 Pro, and while that does give you a spacious canvas to work with, it will do anything but appeal to those who may prefer a smaller phone. Matters get even worse when you consider that OnePlus doesn't make a smaller version of its latest flagship, so you'll need to be okay with having a larger-than-average phone.
The other area of contention is the edges. OnePlus decided to slightly curve the left and right sides of the display to mimic thinner bezels, and it certainly looks premium. But when you try to watch a video or play a game, content can easily slip off the edges and get warped in the process. Luckily, the curves aren't too steep where they'll become a nuisance, but fans of flat screens won't be pleased by this design decision.
Solid security and stereo speakers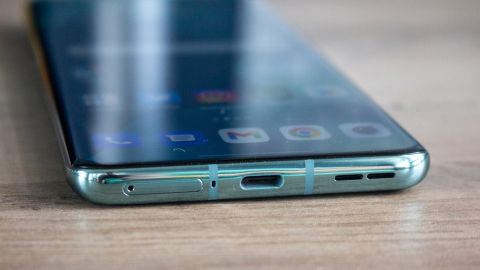 Under the display, OnePlus includes an optical fingerprint scanner that sits a bit higher than it did on the OnePlus 9 Pro. Performance is solid, with the sensor registering a fingerprint in a very short amount of time. Of course, excess water or sweat still gets in the way, as does any dirt you may have on your hands.
The stereo speakers flanking the screen are also good. OnePlus offers a solid stereo pair with a bottom-firing driver and the earpiece. Songs like "Don't Think Jesus" by Morgan Wallen sounded open and vibrant, with guitar strums offering great clarity and the deep bass of drum kicks adding depth to the listening experience. While they still aren't on par with speakers on devices like the iPhone, they aren't bad by any means.
Performance is underwhelming, and the software doesn't help
Historically, OnePlus has been known to ship some of the fastest phones you can get. The company has always been on the bleeding edge when it comes to specifications and software optimization. That's ultimately led to great success for the company, but it appears to be taking a different direction with the OnePlus 10 Pro.
Instead of crushing the competition with gobs of storage, RAM and processing power, OnePlus has taken a more conservative approach with the OnePlus 10 Pro in the US. The device ships with a Snapdragon 8 Gen 1 processor (the same one found in other devices like Samsung' Galaxy S22 series), 8GB of RAM and 128GB of storage. The company said it plans to bring a version with more RAM and storage Stateside at some point in the future.
Regardless, the phone delivers reliably good performance. It managed to handle every task we threw at it, whether it be juggling productivity apps, playing heavy games like Asphalt 9 or editing photos on the go with Adobe Lightroom. It also stayed nice and cool thanks to OnePlus's new five-layer 3D Passive Cooling System, ensuring the CPU doesn't overheat and begin throttling.
But while its day-to-day performance was impressive, it struggles in certain areas compared to beefier devices like the iPhone 13 Pro and Galaxy S22 Ultra. Switching between apps was particularly slower, as was loading heavier applications like games and Adobe Lightroom.
The difference in performance is especially evident when you compare Geekbench 5 scores. The OnePlus 10 Pro lags behind both the iPhone and Galaxy in terms of processing power, with a relatively large gap between the three devices' scores.
| | OnePlus 10 Pro | Samsung Galaxy S22 Ultra | Apple iPhone 13 Pro |
| --- | --- | --- | --- |
| Single-core score | 987 | 1199 | 1716 |
| Multi-core score | 3264 | 3467 | 4651 |
However, what we found interesting about the device's performance was the software. OnePlus's OxygenOS has been widely regarded as one of the best versions of Android you can get on a smartphone with its slick animations, general tidiness and excellent optimization. With the OnePlus 10 Pro, there seems to be less of all that. Apps don't open as quickly as previous OnePlus phones we've tested, animations take longer to load and the entire OS feels more cluttered than ever.
The stock launcher, for example, feels more like a low-grade third-party launcher from the Google Play Store rather than a lightweight stock launcher like on previous phones. The notification shade feels laggy and far from instantaneous to reveal. The UI also feels a lot heavier with more custom iconography, colors, shapes and transparency effects.
This is not the same OxygenOS many users have fallen in love with over the past few years. Instead, it's much more bloated and falls in line with the vision behind ColorOS, Oppo's take on Android that is generally geared toward alternative markets. This is likely because ColorOS and OxygenOS now share the same codebase, meaning they're built on the same general system. The two operating systems were even going to merge at one point before OnePlus decided to call it off.
If you crave a lightweight version of Android 12 on your next phone, the OnePlus 10 Pro probably isn't for you.
A camera that perfectly qualifies as "good enough"
OnePlus has never been at the top of the market in terms of camera quality. Competitors like Apple, Samsung and Google have regularly outperformed them while OnePlus tries to catch up. Over the past couple of years, we've seen OnePlus partner with Hasselblad to better optimize the way pictures and videos are processed while also delivering a unique shooting experience. The result is a second-generation system that still can't top its competitors, but is generally very good.
The main 48MP f/1.8 sensor does a good job at capturing detail in most well-lit scenarios, while colors are vibrant and contrasts aren't overdone. ISO and white balance are supposed to be notably improved with the OnePlus 10 Pro, but things generally felt a little too washed-out for our liking. The same thing can be said for the 50MP f/2.2 ultra-wide camera which boasts an impressive 150-degree field of view, as well as the 8MP f/2.4 3.3x telephoto lens.
Compared to other phones, it's easy to tell the OnePlus 10 Pro can't keep up. The iPhone 13 Pro produces much more lifelike photographs with better color reproduction and processing balance, while the Galaxy S22 Ultra can zoom in much further thanks to its 100x Space Zoom feature. Even Google's Pixel 6 Pro wins in comparison thanks to better contrasts and a more-even white balance distribution.
OnePlus says its night mode is improved with the OnePlus 10 Pro, but we found it difficult to imagine that photographs taken while using it would impress anyone. The entire scene generally feels too bright and almost overexposed, to the point where the camera doesn't want to acknowledge that it's dark. This leaves photos feeling unnatural and far too processed for our taste. Devices like the iPhone 13 Pro and Pixel 6 Pro do a far better job at capturing photos like this.
Luckily, OnePlus's improved Pro shooting mode can help get a better shot regardless of your conditions. Every tool you could imagine from ISO adjustment to focus peaking can be found here. The phone also supports capturing images with 10-bit color for a more vibrant image on supported devices.
The new RAW+ shooting format is similar to Apple's ProRAW and Samsung's Expert RAW in which it combines the extra detail and control you have over a RAW image with the processing of a standard JPEG image. The result is a photo that's ready for sharing right after you tap the shutter button, but can be easily manipulated in your favorite photo editing app as well. We found this feature to be particularly useful since you can apply much finer edits compared to a standard photo.
Video quality is very sub-par, especially for a flagship phone. Artifacting (aka strange rectangles around subjects in your videos) is prevalent in almost every scenario, colors are a bit too saturated and white balance is far from perfect. OnePlus gives you the option of shooting in 8K, but given the fact the camera crops in when switching to the mode and 8K screens are far from mainstream, there's not much reason to use it.
Overall, there's nothing impressive about the OnePlus 10 Pro's camera system. Don't let the Hasselblad jargon fool you — these cameras just barely qualify as being "good enough" for a flagship phone. That's disappointing to see from a company that's slacked behind the competition for so long.
A battery that lasts all day and charges incredibly fast
The OnePlus 10 Pro offers a 5,000mAh battery that's big enough to last all day. During our testing, we noticed that we had about 25% to 30% left in the tank after a full 16-hour day filled with mixed usage consisting of taking photos, checking email, endlessly scrolling social media and jotting down reminders.
It's worth noting that while it's capable of lasting a full day, it's by no means equipped to last more than that. If you want to stretch it any longer, you'll have to ratchet down the screen resolution, turn on battery saver mode and use dark mode. That's not a recipe for a great experience, so if you're interested in buying this device, keep in mind that it's only good for a single day on a full charge.
Fortunately, getting back to a full charge takes no time at all. We drained the OnePlus 10 Pro until it shut down, then plugged it into the wall using the included charge. It managed to get back to 100% in just 38 minutes.
That's all thanks to OnePlus's 65W SuperVooc fast charging system. It uses a special wall adapter and USB-C cable to recharge the battery, which is split into two cells to maximize efficiency. Overseas, OnePlus includes even faster 80W wired charging, but we can assure you 65W is plenty fast for most people.
OnePlus also includes 50W fast wireless charging on the OnePlus 10 Pro, although we weren't able to test that. You can also use reverse wireless charging to charge accessories such as earbuds. In our testing, it worked well, although the charging process was pretty slow.
What's up with 5G?
The 5G conversation regarding the OnePlus 10 Pro is confusing, to say the least.
In the US, the device isn't getting millimeter-Wave (or "mmWave") 5G, meaning you won't be able to use the crazy-fast speeds advertised by carriers. That's not much of an issue, of course, since mmWave connections are extremely hard to come by.
What's more of an issue is sub-6Ghz, the 5G spectrum that's widely available across the country. The OnePlus 10 Pro only supports 5G on T-Mobile and Verizon, whereas AT&T customers (and anyone who uses a carrier that relies on AT&T's network) are out of luck due to compatibility disputes between the companies.
Having 5G on your phone is good for future-proofing if you plan to hold onto it for a number of years, so if that's important to you, you'll either want to be on T-Mobile or consider switching.
Bottom line
The OnePlus 10 Pro is a solid alternative to other popular smartphones with its premium design, solid performance, good battery life and charging speed and decent camera system.
However, the device isn't without its shortcomings. You can get a much better camera from Samsung, Google or Apple for around the same amount of money. Performance, while decent, isn't on par with our picks for the best phones. And if you want something more compact, this phone isn't for you.
At $899, the OnePlus 10 Pro is certainly priced appropriately. Anything more and we would have to advise against purchasing it. However, at that price point, it's worth considering if you want something different from your next smartphone. Just know that in the process, you'll have to give up certain qualities that could be deal breakers.