NZXT has made a name for itself with PC cases and CPU coolers, but the company has been branching out to peripherals recently, and the Capsule Mini is proof it should continue doing so. The NZXT Capsule has already been around for a while, slotting in directly against the Razer Seirens and the Blue Yetis of the world, but the NZXT Capsule Mini delivers a mic of similar quality in a smaller and, more importantly, more affordable package.
But while it is quite a bit more affordable than the larger NZXT Capsule, there are plenty of mini gaming microphones on the market these days at around the same price. The NZXT Capsule Mini definitely looks the part, but that's not quite enough to stand out amongst the best microphones.
The NZXT Capsule Mini's sleek looks and strong audio recording make it a good gaming and streaming microphone, but unless you're married to its design, you can get just as good audio quality for less.
What we liked about it
An absolute beauty
Take one look at anything NZXT makes, and you'll get a good idea of its design philosophy. White and black colorways with high contrast make all of the company's products look extremely clean. The NZXT Capsule Mini is the exact same way.
The microphone is white, with a black trim on the top and bottom, along with a black microphone grille. There's only one dial on the entire unit, which is a little dial that adjusts system volume — that's for anyone who wants to plug a 3.5mm headset into the microphone rather than their computer.
On the back, there's a little grid of holes, which is what makes it such a great cardioid microphone. But while other microphones may hide this filter behind an identical grille to the front of the mic, the NZXT Capsule Mini looks completely different from behind. Every time I install this on another system or mount, I know from a quick glance exactly which direction it's supposed to face.
If you use a lot of white PC gaming peripherals and components, the design goes to a whole new level. Desk aesthetics are everything these days, and the NZXT Capsule Mini will look excellent for anyone looking to create a clean white-and-black gaming space. And with the diminutive size, the Capsule Mini will fit anywhere you want it.
What a voice
For such a small microphone, the NZXT Capsule Mini has impeccable sound quality. Even sitting right next to a gaming PC strapped with an Nvidia GeForce RTX 4090, an AMD Ryzen 9 7950X and all the fans needed to keep those high-end components cool, the microphone barely picked up any of the loud humming I live with every day.
That's due in large part to the Capsule Mini's cardioid sound pattern. This basically makes the microphone pick up sound in a heart-shaped area around it, favoring inputs that are right in front of it. This makes it perfect for streamers who just want to catch their voice without much interference, but it might not be great for people who want to capture sound from multiple different people, especially if they're sitting across from one another.
That doesn't mean the microphone won't pick up noise from behind it, but it will be much quieter than anything in front of the NZXT Mini.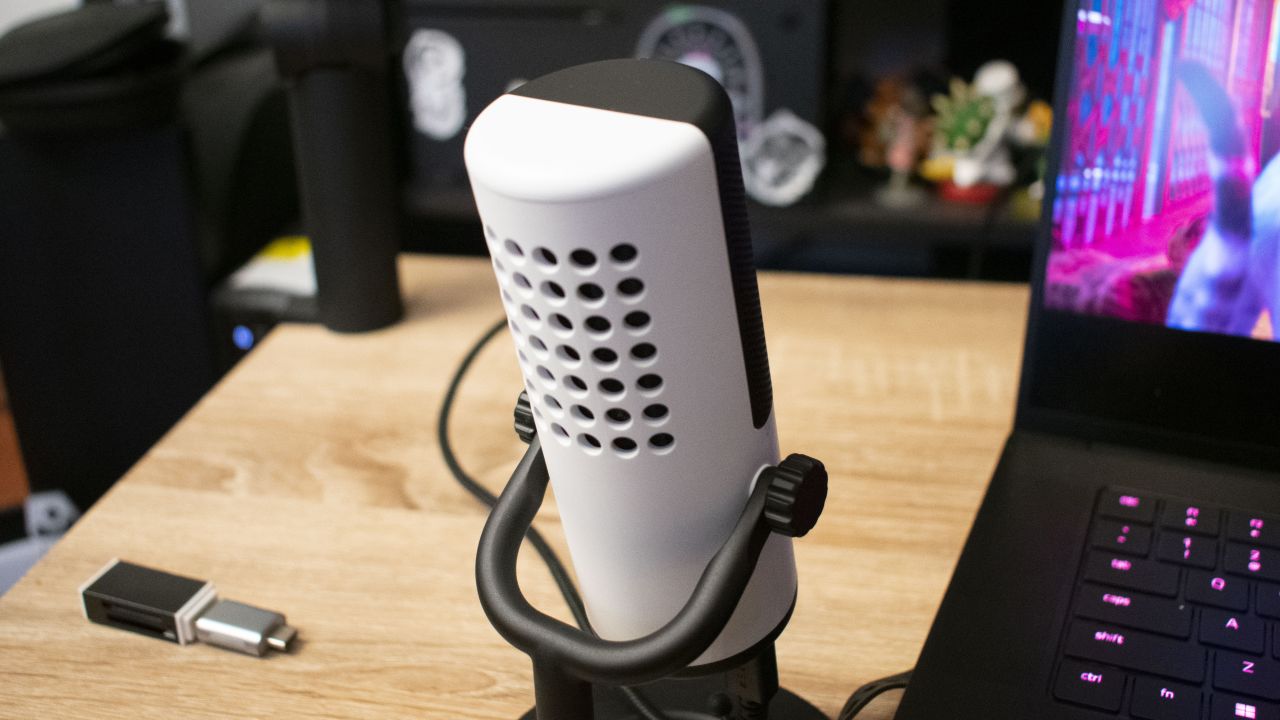 What the NZXT Capsule Mini does pick up, though, sounds incredible. After testing the mic extensively through various meetings, streams and even a bit of recording in Audacity against the Razer Seiren X, the NZXT Capsule Mini delivers crystal-clear voice no matter what is happening. I even did a bit of streaming with this thing with desktop audio coming out through my living room soundbar, and my partner and I's voices weren't drowned out by the noise at all.
NZXT designed the Capsule Mini for game streaming, and it honestly knocks the sound quality out of the park.
Simplicity is everything
There are so many PC gaming peripherals out there that just pile on garish RGB lighting and other features that don't really add anything worthwhile. The NZXT Capsule Mini avoids this, both through the physical design and the software. You won't find any buttons here, and there's just a USB-C port and a headphone jack on the bottom. If you want to fiddle with sound settings, you can do so in the NZXT Cam software, but even then the controls are limited to gain, output volume and sidetone.
That might sound like a bad thing, but with a USB microphone, you want to plug and play and not have to worry about dialing in a bunch of extraneous settings. You don't have to worry about that with the NZXT Capsule Mini. It just works.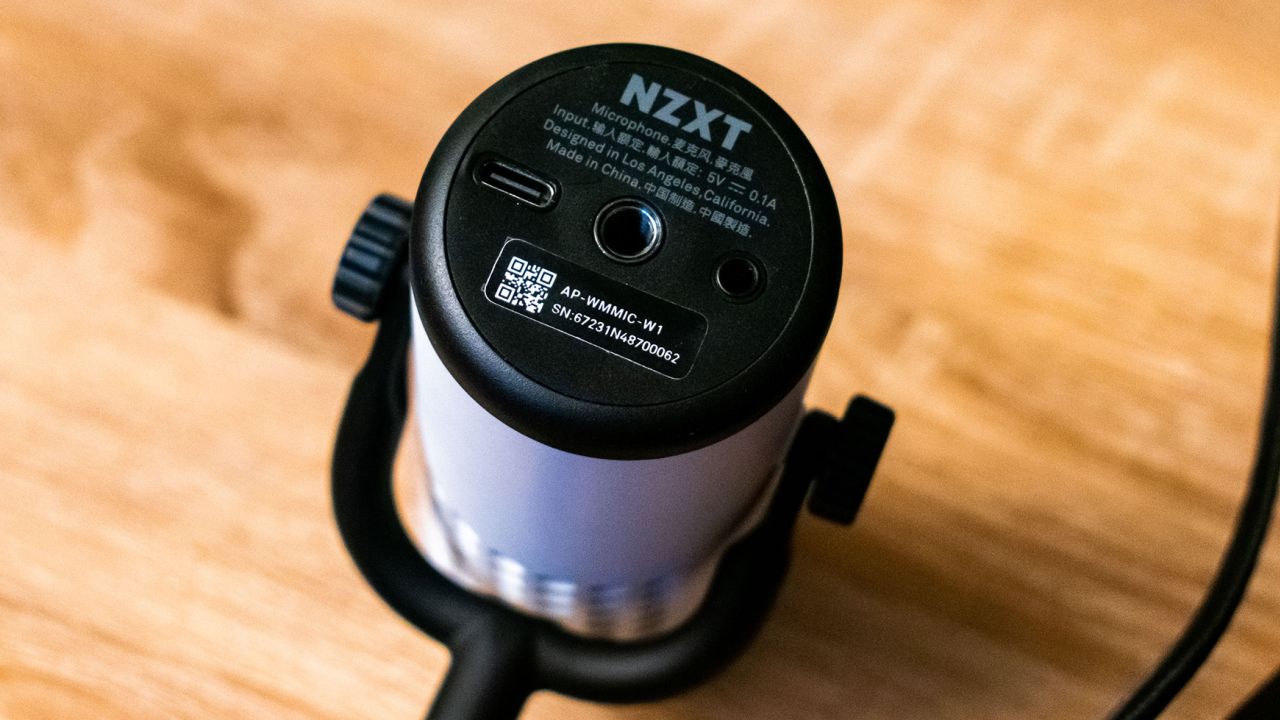 What we didn't like about it
A high price compared to peers
The NZXT Capsule Mini will set you back $70. While that might seem like a nice price, the Razer Seiren Mini only costs $50 while delivering similar sound quality. At this price point, the NZXT Capsule Mini competes directly with the Blue Snowball, which is a much more premium product.
Because while it's in cardioid mode, the Blue Snowball is essentially the same as the NZXT Capsule Mini but with a much more premium chassis, and the ability to swap between different recording modes. You're paying the same amount of money for the Capsule Mini, but you're losing out on the flexibility that the veritable king of the space offers.
It's made of plastic
If I'm going to be spending $70 on something, it better feel like it'll last a while. The Capsule Mini just doesn't. It's light, and feels like the moment it gets dropped off of a desk it'll just burst into a million pieces. I can say one thing about Blue microphones: They're built to last, and the NZXT Capsule Mini absolutely is not.
The plastic it's made out of is extremely easy to mark up too, given that it's white. I took it out of its chassis to install it on a boom arm and it ended up with an ugly mark when taking it out of its standard mount.
Bottom line
The NZXT Capsule Mini is a solid little gaming microphone. You get good sound recording in a package that won't take up a lot of room on your desk. But, it's far from the only USB mic that can say the same. It's hard to recommend the NZXT Capsule Mini over the myriad different mini USB gaming microphones out there already, like the Fifine K669B (our current budget pick) and the Razer Seiren Mini, especially at the Capsule Mini's high $70 price.