Nothing, the company founded by OnePlus co-founder Carl Pei, is back with a new pair of wireless earbuds for 2023. The $149 Nothing Ear (2) buds offer a very unique design, a great set of features and an appealing price point. But here's the question: Should you buy them over a pair of AirPods, Galaxy Buds or Sony LinkBuds S?
After all, they're from a company that not a lot of people have heard of. First making headlines in 2021 with the release of the Nothing Ear (1), the company — founded on a more open and communicative connection with its customers — has gained a bit of traction in the United States, especially thanks to the surprisingly decent Ear (stick) from last year.
But it's still in its infancy; the Ear (2) are the third set of earbuds from the brand, the only phone Nothing sells isn't launching in the States and plenty of people in North America simply aren't familiar with anything the company does.
So why buy these earbuds? Put simply: They're excellent. Not only do they look cool, but they offer a really well-rounded experience, one that's only limited by the length of time you can use them on a full charge.
I've been using these earbuds for a little over a week, comparing them to other buds in my collection. Here's how they break down.
If you're looking to spend less than $150 on a quality set of noise-canceling earbuds — and want something that stands out from the pack — the Nothing Ear (2) are worth it.
What we liked about them
Transparent design = *chef's kiss*
It's hard to pull off a design as unique as the Ear (2)'s, but that's just what Nothing did. Like the Ear (1) and Ear (stick), these earbuds are primarily made of transparent plastic, giving them a very futuristic look that stands out among the rest. Admittedly, there's very little difference compared to the Ear (1), but that's not a bad thing. It means you're getting a design with high-quality construction that'll help you stand out in a world full of AirPod knockoffs and tiny dot-shaped buds.
The case for the buds is also transparent, and it's almost identical to the one for the Ear (1)s. The biggest difference is the coating of the plastic, which Nothing says is more scratch-resistant this time around. In my brief time with the buds, I haven't scratched the case at all, and it seems to repel fingerprints pretty easily as well.
Oh, and it still comes with a divot in the lid so you can fidget with it. It's … kind of addictive.
Comfortable buds with easy-to-learn controls
The Ear (2) earbuds look a bit like AirPods due to their shape, and that's not a bad thing at all. I took them out of the case, kept the preinstalled medium ear tips attached and slotted them into my ears to find that they fit like a charm.
They're not loose, they don't hurt after long listening sessions and they're IP54 rated — new to Nothing's earbud range — so you don't have to worry about sweat. I honestly couldn't be any happier with how they're designed; Nothing really hit it out of the park.
In the box, you get a handful of extra ear tips to fit whatever size ear you have, and Nothing even makes it easy to figure out which size is best with a new feature in the Nothing X companion app. The company's ear fit test will determine whether the buds have formed a good seal for maximum noise cancellation and sound quality performance. If it thinks you need something bigger or smaller, it'll recommend you swap the ear tips. The preinstalled ones were enough for my ears to achieve a good seal, but it's a handy feature nonetheless if you aren't quite sure of the size you need.
Also like AirPods, the Ear (2)'s stems offer pinch controls for controlling media playback, and they're all pretty intuitive. A single pinch will play and pause your music, a double pinch skips the track or rejects a phone call, a triple pinch skips back to the previous track and a pinch and hold will trigger noise cancellation. You can customize all of the gestures as well, and it's next to impossible to trigger a false positive.
Great sound quality with plenty of personalization
Sound quality is the make-or-break for any pair of earbuds, especially from a company not as established as some of its competitors. Fortunately, I can report that the Nothing Ear (2) sound great.
In fact, I'd go as far to say they're excellent, and they easily match the sound quality of the second-generation AirPods Pro, Galaxy Buds 2 Pro and Sony LinkBuds S. Nothing rebuilt the 11.6mm drivers inside each bud with a dual chamber design in order for softer tones to be more accurately represented, while louder sounds are more defined.
The result is a listening experience that's on par with the best wireless earbuds you can get. I listened to a swath of music during my review period, from Morgan Wallen's behemoth new record "One Thing at a Time" to Frank Sinatra's greatest hits to the latest hip-hop, and it all sounded fantastic. The high end was accentuated elegantly, mids were well balanced and situated right in the foreground and the low end packed a punch solid enough to jam out to.
To further perfect the sound of your music, Nothing includes a new Personalized Sound feature that analyzes the way your ears pick up a range of frequencies. Through a relatively lengthy test that plays multiple beeps over white noise, it tracks which volumes your ears are most responsive to and when, then creates a personalized sound profile you can adjust the intensity of or turn off completely.
I did the test, and I noticed that the sound got a bit more narrow and wasn't as pleasing to listen to. However, once I adjusted some of the settings, I got the profile to a point that sound quality was a bit better. It wasn't a night-and-day difference compared to the out-of-box experience, but it was certainly an improvement.
If the Personalized Sound feature isn't for you, there are additional EQ settings in the companion app (more on that later) that you can tweak to nail the perfect sound.
Nothing also equips these earbuds with support for the new LHDC 5.0 codec, which can deliver high-resolution audio as long as the phone you're using supports it as well. Unfortunately, I didn't have a device on hand to use the new codec since it's only supported — so far — on the Nothing Phone (1) and a handful of Oppo, Huawei, Honor and Xiaomi phones, so we'll update this review once I've gotten to play with it.
Finally, for listening to music across your devices, Nothing added multipoint connectivity. This allows the Ear (2) to connect not just to your phone but also to your laptop and tablet. They'll automatically switch between your two devices whenever you start playing audio. I love this feature on other earbuds since it's one of the best conveniences to have, and I'm glad Nothing included it here.
Active noise cancellation is solid
The Ear (2)'s active noise cancellation (ANC) is very good. I wouldn't say it's better than any pair of earbuds I've tested in the past, but it's certainly good enough to block out unwanted sounds in your surroundings. Personally, I think the second-generation AirPods Pro and Galaxy Buds 2 Pro are slightly better.
Much like the sound profile of the buds, Nothing is also introducing Personalized ANC with the Ear (2). It works similarly to Personalized Sound in that it runs a test through a series of beeps at various frequencies to decide how aggressively the microphones inside the earbuds block noise. I ran the test and found that it didn't improve the ANC all that much, but that's OK since the way the feature is configured by default is already good enough.
Nothing also throws in an Adaptive Mode for the Ear (2), which, when enabled, can automatically adjust the level of noise cancellation by adapting to how loud your changing environment becomes. This is particularly helpful with wind mitigation since it's able to better block out gusts and stop them from interrupting whatever you're listening to. I found the feature to be quite helpful, especially while walking along the ocean on the boardwalk in Ocean City, New Jersey.
Excellent companion app
I said this before in my Ear (stick) review and I'll say it again: The Nothing X companion app for Android and iOS is superb. It's laid out well without overwhelming you with buttons or options, it has a slick design that's very on-brand for Nothing and it's fast and responsive. Those are all things you can't say about every companion app for wireless earbuds, so I'm happy to report that Nothing absolutely nailed it in this department.
What we didn't like about them
Battery life is very disappointing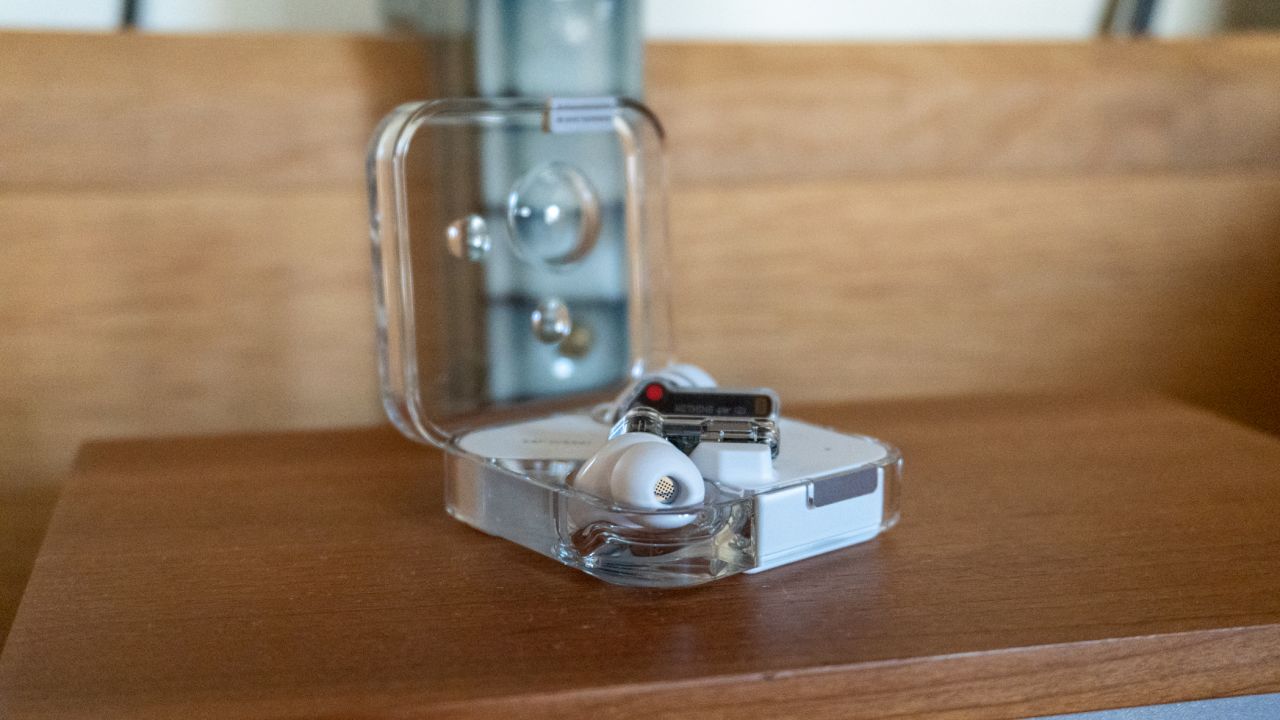 Despite succeeding in so many different ways, the Nothing Ear (2) earbuds simply can't last that long on a full charge.
With ANC turned off, the earbuds can last up to 6.3 hours. That is, in fact, an improvement over the Ear (1), which could last up to six hours. But the second you turn ANC on, that endurance drops significantly, all the way down to four hours. That pales in comparison to the competition. Apple's second-gen AirPods Pro can last up to six hours with ANC turned on, Samsung's Galaxy Buds 2 Pro last up to five hours and Google's Pixel Buds Pro can last as long as seven hours while using ANC.
The charging case can supply a total of 36 hours of battery life with ANC off, while keeping it on will give you about 25 to 26 hours of listening. That's about in line with other pairs of earbuds, but it's still unfortunate that the buds themselves won't last that long when removed from the case to begin with.
Fortunately, you do get both wireless charging and quick charging with the Ear (2), with 10 minutes of wired charging supplying eight hours of listening time.
No spatial audio support
One of the trendiest new features in the world of headphones is spatial audio, which gives you a more immersive 360-degree listening experience with compatible audio. The feature has crept into many pairs of earbuds over the years, from Apple's AirPods to Google's Pixel Buds Pro to Sony's high-end WF-1000XM4.
But on the Nothing Ear (2), the feature is completely missing. I'm assuming the brand kept the feature out to get the price down, which is a fair trade-off to make given how spatial audio has yet to really catch on. Still, it's a shame it's not available for the many folks who use it daily.
Transparency mode could be better
Pinching and holding either earbud's stem, you're greeted by transparency mode (which is preceded by an odd breath exhale to let you know the feature has been enabled). This is when the microphones pick up sounds around you and play them back into your ears so you don't need to take your headphones off to have a conversation with someone.
I compared the transparency mode on the Ear (2) to other buds like the AirPods Pro, Galaxy Buds 2 Pro and LinkBuds S, and it's unfortunately behind all of them. While it's certainly not a bad implementation, voices are often hard to hear given their low volume, while higher frequencies sound damp and not as clear as other headphones.
The feature is certainly usable. If you need to order a cup of coffee quickly and don't want to take your earbuds off, this is a nice feature to have. But compared to the competition, the quality isn't all there.
They're not great for iPhone users
The Nothing X app is consistently great across Android and iOS, but you won't be able to take advantage of every feature the Ear (2) are compatible with if you pair them to an iPhone.
The biggest downside is the lack of high-resolution audio. On Android, you can stream lossless audio through music services like Tidal, Amazon Music and even Apple Music since the necessary codecs to make that happen are available on those devices. Meanwhile, Apple uses a proprietary codec for streaming high-res audio on the iPhone that only works with its headphones, so if you want to listen to your music in a higher definition with the Ear (2), you'll be out of luck.
Another missing feature is quick pairing, which springs to life a pop-up on Android that lets you quickly connect to the Ear (2) during initial setup. That's simply not present on iOS. There's also no way to sync the Ear (2) to your Apple ID and have them pair to all of your devices (which you can do with your Google account).
Admittedly, the experience of using the Nothing Ear (2) with my iPhone hasn't been terrible. In fact, it's good enough that I could see myself using them over my AirPods. But you get a sense that the Ear (2) are second-class citizens on anything but Android, and that's a shame.
How they compare
| | | | |
| --- | --- | --- | --- |
| Active noise cancellation | Yes | Yes | Yes |
| Transparency mode | Yes | Yes | Yes |
| Weight | 0.16 ounces | 0.17 ounces | 0.22 ounces |
| Water resistance | IP54 (buds), IP55 (case) | IPX4 | IPX7 |
| Colors | White | White, Black, Desert Sand, Earth Blue | White, Graphite, Bora Purple |
| Battery life (rated) | Up to 36 hours | Up to 20 hours | Up to 30 hours |
| Wireless charging | Yes | No | Yes |
| Spatial audio | No | Yes | Yes |
| Price | $149 | $148 | $200 |
Bottom line
At $149, the Nothing Ear (2) earbuds offer an exceptional experience. They're comfortable to wear, they look awesome, they sound great and they have most of the premium features you'd expect like ANC and transparency.
The Ear (2) are similar to the LinkBuds S, which are our current favorite earbuds for Android. They provide equally as good sound quality, a much cooler look and a price that's $50 lower. The only sacrifice you really have to make is battery life, which is a couple hours shorter than the LinkBuds S' six hours of endurance with ANC on.
If you can live with that, and limited iPhone functionality, I recommend checking out the Ear (2). Not only are they pretty affordable, but they're incredibly solid earbuds that can go toe to toe with the best of them.