Being comfortable at camp is one of my top priorities whenever I head into the woods. My packing list always has a warm sleeping bag, a blanket to curl up in next to the fire and, most importantly, a cozy camp chair to help me relax after a long day of hiking.
I take my camp chair very seriously, which is why I've spent the last few weeks testing Nemo's newly updated Stargaze Reclining Camp Chair. It's got a hefty price tag of $300, but it's the most comfortable camp chair I've ever tried.
The Nemo Stargaze has an incredibly durable build, and its auto-reclining design makes it immensely comfortable to sit in. Perfect for those who spend lots of time relaxing at camp, this chair is an investment, but one you'll take to every car camping trip, beach outing and soccer practice.
What we liked about it
Superior comfort
What makes the Nemo Stargaze so special is its ability to recline and swing, mimicking the weightless feeling normally reserved for hammocks. The chair is able to swing because the seat is connected to its stand by two attachment points and a series of straps that automatically adjust as you shift your weight back and forth. That means you can have your feet on the ground and sit up straight to tend the fire or eat a meal, and when it's time to relax, you can lean back into the chair and it will recline to a near-horizontal position.
I've set up the Stargaze and sat in it multiple times, and each time I love how comfortable it feels. By distributing your weight more evenly, the Stargaze feels more like a hammock or an egg chair than a normal camp chair. And after a long day of hiking and adventuring, there's really nothing that can beat sinking into that weightless sensation. I especially like how the high sides of the Stargaze make it feel like the chair is cocooning you, making it truly one of the coziest chairs I've ever sat in.
Comfort was clearly top of mind when Nemo designed this chair, because not only does the Stargaze recline, but it also has a litany of other features that will make you want to spend all day sitting and swinging. The chair has a large section of mesh material that runs through the middle of the chair so you can stay cool and breezy when the weather is hot, and its integrated armrests ensure a comfortable way to spread out. Its adjustable pillow can be moved up or down depending on your height, which makes for super-cozy star-watching, and two cup holders are conveniently placed so you can always keep your beverage close by.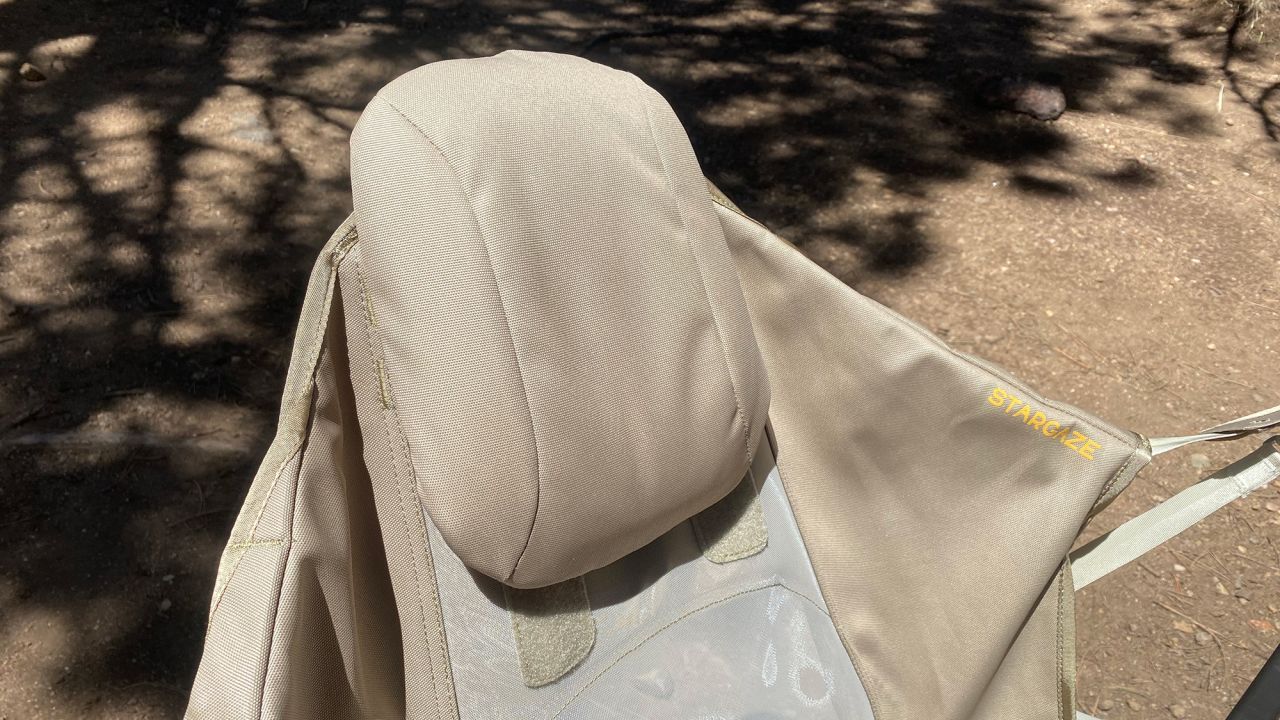 I'm also impressed by just how far you can recline in the Stargaze. It goes far enough back that you could easily take a mid-afternoon nap or use it as its name suggests and gaze at the stars without getting a crick in your neck. The ability to sink back into the chair to find the coziest angle for whatever you're doing is something I really grew to love about the Stargaze. The luxury of this Nemo chair is a big upgrade from any other camp chair I've tried, not to mention the random rock or log I've used to sit around the fire.
Simple and quick setup
One of my biggest gripes with the old version of the Nemo Stargaze was its setup. In particular, there were two thin poles on the back of the chair that you had to shove into a small cloth pocket to prop up the headrest. The length of the poles was just a little bit too long, which made them difficult to maneuver and shove into the small pockets. Thankfully, the new version of the Stargaze has those poles already inserted, which not only eliminates the frustration of wrestling with the poles but also takes an entire step out of the process so you can start sitting faster.
The base is quick and easy to set up, and if you've ever set up a tent, the process will be very familiar. The stand is made from aircraft-grade aluminum poles that are connected by an inner cord and click together to create a low, wide base that's stable on all sorts of terrain. Once you click all the poles together, just unfold the chair and pop its two connection points into the frame and you're ready to relax. The whole process only takes about one minute, which still isn't as quick as setting up a traditional folding camp chair but is much improved upon from its original version.
Breaking it down is similarly easy, and packing it into its included bag means that traveling with the Stargaze is a breeze. Since the new version's headrest isn't folded down, the size of the Stargaze all packed up is slightly bigger than the old version, but it's still compact enough to throw in the trunk of your car along with all your other camping gear.
What we didn't like about it
The Nemo Stargaze is built with comfort in mind, but there are a few small details that could make it even better. First off, the two cup holders aren't ideal. They're not very deep, and since there isn't much structure to the seat itself, the cup holders angle out quite a bit. While you're sitting in the chair, your beverage will stand up straight, but if you get up or swing too much, your drink is likely to spill over, especially if it's full. The pockets do have elastic so you can fit beverages from a small seltzer can to a 32-ounce Hydro Flask, but any cup or bottle that's tall will stick out precariously. Some added depth and more structure would make these cup holders perfect, although they aren't a deal breaker as-is.
On top of improved cup holders, I would also appreciate a pocket somewhere on the Stargaze so you have an extra place to stash a book or other gear you might have lying around. The cup holders are big enough to fit a phone, but it'd be nice to have another spot to put bigger items so you don't have to leave them on the ground.
The last thing — which I personally like but is definitely not for everyone — is how low to the ground the Stargaze sits. Its bucket-style seat is constructed to be low so it has more balance and stability on rocky or uneven ground compared to normal camp chairs, but some might find it hard to sit down and get out of the Stargaze because of this. And since the chair swings back and forth, there isn't a ton to hold on to if you need support getting in or out.
How it compares
The world of camp chairs is vast, but the Nemo Stargaze fits into quite a nice little niche. There aren't many other chairs that offer the same level of comfort along with the ability to swing and recline. If you're interested in comfort over everything, there are plenty of camp chairs to pick between, from the Yeti Hondo's ($300) breathable yet plush mesh and the ultra-padded and fluffy Woods Mammoth Folding Padded Camping Chair ($89) to Eno's low-sitting Lounger DL Chair (from $140) and the ultra-wide Kelty Low Loveseat ($140).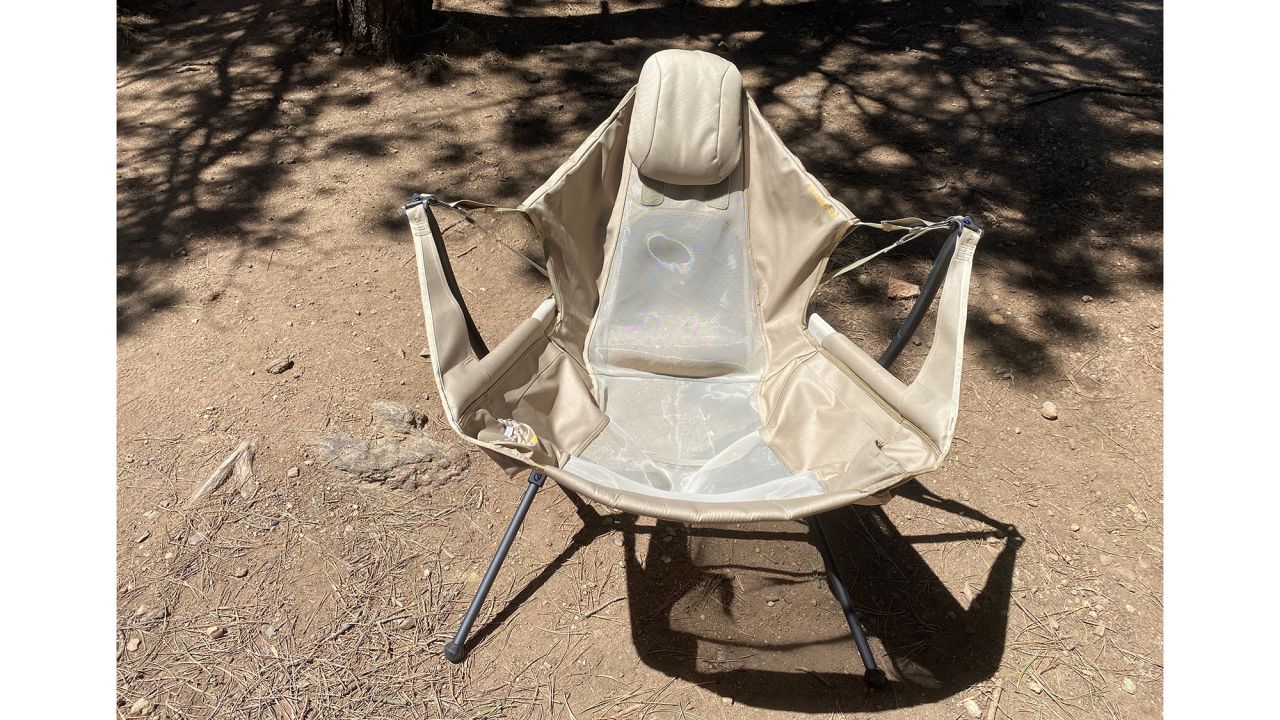 If reclining or swinging is something you want, the GCI Freestyle Rocker ($77) is a popular option that uses shocks to provide a smooth rocking function, or you could go the classic route and use a hammock like the Kammok Roo Double ($85). But if you want the best of both worlds, it's hard to beat the comfort, features, packability and ease of use of the Nemo Stargaze. If you want to save on the Nemo Stargaze and don't mind setup time, you might even be able to find the old version of the Stargaze for a deep discount. Right now, there are a few chairs available on Amazon for around $190. Beyond more setup, the old Stargaze also has a smaller pillow that isn't adjustable and a smaller frame that might not be comfortable if you have wide shoulders.
Bottom line
People are very particular about their camp chairs and for good reason. After trying the Nemo Stargaze, I'm not sure I'll want to sit in any other chair. Yes, it's very expensive, but it checks off almost every box on my list for the perfect camp chair. It's easy to set up; packable enough to bring it to the campsite, park or beach; and, most importantly, supremely comfortable. The Nemo Stargaze is truly the ultimate luxury camp chair and I believe it's worth the investment. I've never been more comfortable in a camp chair and it's the one I'll be bringing on all of my trips from here on out.