The Moto G Power series has always been quite successful in the budget smartphone market, primarily thanks to its affordable price and long-lasting battery life. The new Moto G Power 5G for 2023 adds a few new features like a nicer screen, 5G support (hence the name) and a faster processor. The obvious question is whether it's as good as its predecessors, but a more important question to ask is whether it's the $300 phone for you.
You see, budget phones have gotten good. Really good. In fact, there are some that I enjoy so much, I'm almost tempted to switch to them long-term. As a phone reviewer, that's not really possible, but it's a true testament to the work each company puts into its budget handsets.
The Moto G Power 5G is a phone I could never see myself switching to. Does it have good battery life? Yes. Is the software nice to use? Absolutely. Does the screen produce a nice image? It sure does. But despite all this, there are a number of deal-breaking features that leave me scratching my head.
It's a $300 phone, so I expect it to be missing a few things. But these missing features will likely be non-negotiables for a lot of people, which makes the Moto G Power 5G hard to recommend.
The Moto G Power 5G offers good battery life and a great screen for the price, but there are better sub-$300 phones out there.
What we liked about it
Long battery life, as you'd expect
The Moto G Power series is known for having good battery life, and the new 5G model doesn't disappoint. On average, you're looking at a full day to a day and a half on a full charge, all thanks to the big 5,000mAh battery inside. If you're extremely careful about your usage, you could stretch it to two days, while those who play lots of games or multitask will likely need to plug in when they go to sleep.
In our battery test where we loop a 4K video at 50% screen brightness with airplane mode on, the phone lasted less than 10 hours. That's a little odd for a phone so focused on providing good battery life, but it makes sense given the device's poor standby time (the amount your battery drains while you don't use your phone).
Luckily, you'll still get good battery life out of the G Power 5G during typical day-to-day use
A good screen with a 120Hz refresh rate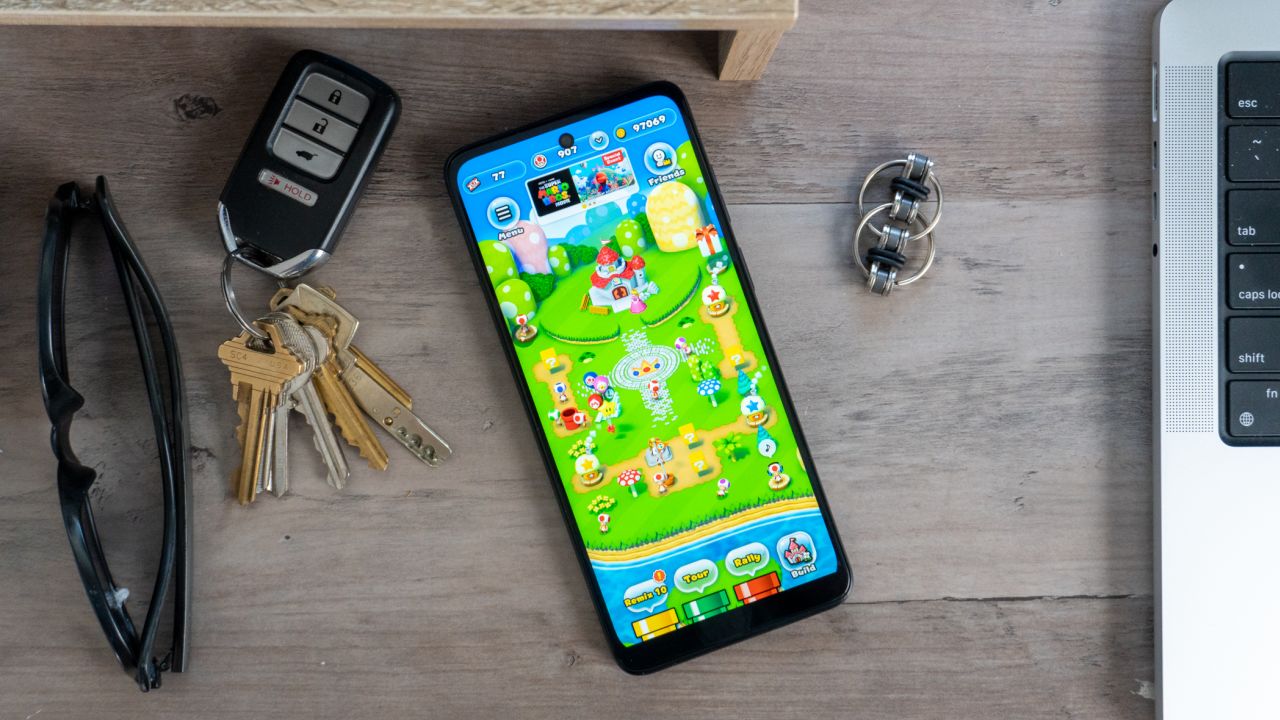 The display on the Moto G Power 5G is a 6.5-inch IPS LCD panel with a full HD+ (2400 x 1080) resolution, and it looks very good.
I'm impressed by how colorful and vibrant the panel is, and the extra resolution is great for making content sharper and clearer (the previous version of the G Power only had a 720p resolution). Sure, you don't get the inky black levels of an OLED display, but that's generally not common in the sub-$300 range anyhow.
My favorite feature of the display is its refresh rate, which has been boosted to 120Hz over the normal 60Hz rate. This means the screen refreshes twice as fast per second as a traditional screen, so everything from scrolling through your inbox to watching animations looks a lot smoother. I'm a big believer that once you've seen a refresh rate faster than 60Hz, you can never go back to 60Hz, so get ready to have every normal screen ruined for you the second you start using the G Power 5G.
Lightweight and comfortable to hold
When I unboxed the Moto G Power 5G, I was very impressed with how light and comfortable it was. The phone is made entirely of plastic, yes, but it's still a delight to pick up and use.
The edges are slightly curved to contour to your hand, while the device itself weighs just 6.5 ounces. That's a lot lighter than my iPhone 14 Pro Max, which weighs 8.4 ounces.
Plus, the screen isn't ginormous and impossible to use with one hand. On the contrary, I found this phone to be a great size for texting people on the go when one of my hands might be holding a cup of coffee and not available for typing. Sure, it's tricky to reach the top of the display with just one thumb, but Motorola makes reachability easy with a software gesture that lets you bring the contents of the screen down to a more reasonable level.
In addition, the buttons are clicky, the earpiece pairs with the bottom-firing speaker for a stereo effect (which doesn't sound half bad for a $300 phone), and there's even a headphone jack for the wired headphone warriors out there.
My only gripe is the fact that it's a bit of a fingerprint magnet, but that's nothing a quick wipe-down on a shirt sleeve or microfiber cloth can't fix.
The fingerprint scanner is very reliable
The power button on the right side doubles as a fingerprint scanner, and I found it to be very reliable.
During my review period, the sensor was quick to identify my thumb and unlock, with little to no errors whatsoever. You can't say that about every budget smartphone with a fingerprint scanner, so I was happy to see Motorola provide a high-quality scanner here.
An almost-great software experience
The software Motorola includes on its phones is nice. The G Power 5G runs Android 13 with a very clean user interface and a nice font selection. I enjoy the simplicity of the experience, with very minimal tweaks to the core interface (unlike other Android skins such as Samsung's One UI and TCL's custom interface). Subtle animations can be found throughout the system, and the pre-installed Moto app adds a handful of niceties such as Peak Display (lift the phone to check the time or your notifications) and a Sidebar (similar to the Edge panel on Samsung phones).
Overall, it feels close to the software you'd find on a Google Pixel phone, which I consider to have the best Android experience on the market.
It's not perfect, like most budget phones. The home screen has a good amount of bloatware with fake folders that advertise apps not installed on your phone, while some apps like the default Weather app are chock-full of advertisements. If you buy a carrier version of the Moto G Power 5G, you're bound to be greeted by a slew of carrier-branded garbage. Also, Motorola is only promising one major version upgrade for the device, with three years of security updates.
Despite this, the core experience of Motorola's software isn't taken away. This remains one of my favorite Android experiences I've used in recent memory, so I'm glad it's here on the G Power 5G.
What we didn't like about it
The cameras are lackluster, and there's no ultrawide lens
Motorola includes a 50-megapixel primary camera on the back with an f/1.8 aperture. I ran around and took a bunch of pictures with it, and I wasn't impressed. It's fine if you're shooting in broad daylight, but it's easy for details to start to get fuzzy whenever the sunshine is taken out of the frame. I also noticed that colors are a bit over-saturated, while highlights and shadows are overblown. Oh, and you can forget about shooting with this camera at night.
Meanwhile, the other two cameras on the back of the Moto G Power 5G — a 2-megapixel depth sensor and a 2-megapixel macro — are completely useless. I wasn't able to capture any macro photos that I found were worth having a dedicated lens over, and I certainly didn't notice an uptick in quality in the few portraits I captured thanks to the depth sensor. Really, these cameras are here just so Motorola can gloat about having three cameras on the back of this phone.
The worst part is none of these sensors have an ultrawide lens. Nowadays, ultrawide cameras are pretty standard across the smartphone landscape, so to see a phone ship without one (even though it costs $300) is disappointing. Prepare to take a few steps back every time you want to capture a landscape or a group of friends.
Other than the sensors themselves, there's not much to talk about. Motorola's camera app is pretty simple and has a couple of nice features like a Pro mode, but that's about it. Video recording is capped at 1080p, the 16-megapixel selfie camera is barely passable in terms of quality and there's no option to capture a full 50-megapixel photo using the main camera on the back.
If you want good cameras, you'll need to look elsewhere.
No NFC for mobile payments
I was blown away during my review to find out the Moto G Power 5G doesn't include NFC, unlike many other budget phones like the Samsung Galaxy A23, TCL 30 and OnePlus Nord N20 5G. That means you can't make payments at credit card terminals at all. You can still send your friends money over apps like PayPal, Venmo or even Google Pay. But you can forget about bringing your card up on your phone to pay at the grocery store, gas station or coffee shop. And that, my friends, is a big deal breaker in this increasingly digital age.
Performance is middling
Powering the Moto G Power 5G is the MediaTek Dimensity 930, an upgrade over the Helio G37 chip inside last year's G Power. It's supposed to deliver reliable performance for basic tasks like social media and light games, but in reality, I found it to be very underwhelming.
For anything that involved any sort of horsepower, whether it be switching between apps or keeping a consistent frame rate while gaming, the Dimensity 930 failed to impress. In a benchmark test using Geekbench 5, the phone scored 599 on the single-core and 1,794 on the multi-core, which is similar to other budget devices but definitely a bit behind.
If you barely do anything on your phone, you'll probably be okay. But if, for example, you're playing a game and want to switch quickly to your camera to capture something in front of you, you'll be waiting a solid 6 to 7 seconds waiting for the camera app to finish loading, which could mean all the difference between getting the shot and missing your opportunity.
Apps also tend to crash on the G Power 5G. You have the option of either 4GB or 6GB of RAM (depending on how much storage you get), and I will tell you that neither is enough for this phone. I have the 6GB model and it can't keep up with all the apps I have open in the background.
Truthfully, the only good internal spec on this phone (besides the battery) is the storage capacity. You can get either 128GB or 256GB of internal storage, and there's a microSD card slot in case you want to expand.
Charging isn't very fast
While the Moto G Power 5G can last you all day, you might be waiting just as long for it to recharge. Motorola includes 15W charging, which, by today's standards, isn't very fast at all. I found that it took at least two hours to fill this phone up to 100% from zero, so don't count on it to recharge quickly in a pinch.
Oh, and in case you're wondering, there's no wireless charging here.
Bottom line
The Moto G Power 5G is a fine smartphone, but it doesn't do anything exceptionally well. Sure, battery life is easily the best feature of the device, but there are plenty of sub-$300 phones that can last all day on a charge, namely the OnePlus Nord N20 5G and Samsung Galaxy A13 5G.
Those phones also have nicer screens, better performance and far better cameras. At the end of the day, the only things the Moto G Power 5G has going for itself are that 5,000mAh battery, 120Hz refresh rate screen and a subjectively great software experience.
If that sounds appealing to you, I'm sure you can get away with using a G Power 5G as your daily driver. For everyone else, I'd shop around a little bit more.