CNN Underscored reviews financial products such as credit cards and bank accounts based on their overall value. We may receive a commission through the LendingTree affiliate network if you apply and are approved for a card, but our reporting is always independent and objective. 
Our quick take: The Marriott Bonvoy Bold® Credit Card lets you rack up more points in the Marriott Bonvoy loyalty program and get automatic Silver Elite status and several travel insurance protections, all without paying an annual fee.
Pros:
Earn 3 points for every dollar you spend on Marriott purchases
Earn 2 points per dollar on all other travel purchases
Earn 1 point per dollar on everything else
Complimentary Silver Elite status for being a cardholder
Purchase protection against damage or theft, lost luggage reimbursement, baggage delay insurance and trip delay reimbursement
No annual fee
Cons:
Meager elite hotel benefits
Marriott Bonvoy points aren't as valuable as some other hotel rewards points
Current welcome bonus: Earn 30,000 bonus points when you spend $1,000 on purchases within the first three months of opening the account.
Best for: Marriott loyalists who don't want to pay a fee for their credit card, but want to earn more Marriott points on spending and get basic elite status without any paid stays.
Introducing the Marriott Bold credit card
If you love staying with the Marriott hotel brand and you want a credit card that lets you earn rewards in this program without an annual fee, the Marriott Bonvoy Bold credit card should be at the top of your list. There are definitely more rewarding Marriott credit cards out there, including ones that offer higher elite status, annual travel credits and important elite perks. However, the Marriott Bonvoy Bold is more of a basic hotel credit card for the occasional traveler who wants some rewards without making a big commitment.
In addition to the initial bonus points you can earn, the Marriott Bold card is fairly rewarding on your regular spending. For example, you'll earn 3 points for every dollar you spend on the card at Marriott properties. That's in addition to 10 points per dollar at Marriott for being a Marriott Bonvoy member and another 1 point per dollar for being a Silver Elite, a status that's complimentary with this card.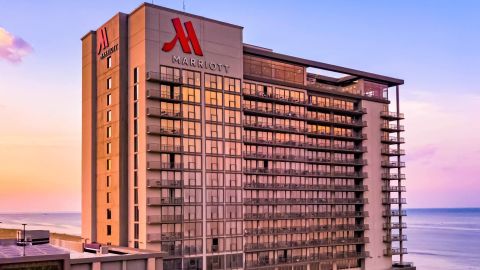 What else does Silver Elite status with Marriott get you? To be honest, not a lot, although it's better than nothing. The perks include an ultimate reservation guarantee, late checkout and a 10% bonus on the points you earn on paid Marriott stays.
More importantly, signing up for the Marriott Bold card gives you a leg up because you're starting out with 15 elite night credits each year that you have the card. This makes it much easier to climb the elite status ladder through additional paid nights and spending.
Advantages of the Marriott Bold credit card
The two major advantages of the Marriott Bold card are its lack of an annual fee and the automatic Silver Elite status you get as a card holder. However, this card's initial sign-up bonus offer is also worth pursuing — even if you're not especially loyal to the Marriott brand.
Considering free night awards with the Marriott Bonvoy program start at 5,000 points, the current sign-up bonus on this card could be worth more than 20 off-peak award nights in a Category 1 property. And in case you don't know, Marriott gives you a free night when you redeem points for five consecutive nights in one reservation.
The Marriott Bold also offers a surprising number of benefits for a hotel credit card, much less one with no annual fee. For example, card holders receive purchase protection against damage or theft, baggage delay insurance, lost luggage reimbursement and trip delay reimbursement.
Disadvantages of the Marriott Bold credit card
The main disadvantage of the Marriott Bold is its lack of major benefits. Silver is the lowest tier of elite status in the Marriott program, and it won't get you major hotel perks like free breakfast or complimentary upgrades.
Also, keep in mind that Marriott Bonvoy points aren't as valuable as some other hotel loyalty points, such as rewards in the World of Hyatt program, which means you'll need a lot of points to book even a middle-tier Marriott property. For example, one night in a Category 4 property over standard travel dates would set you back 25,000 points. That means you could fork over the whole sign-up bonus from the Marriott Bold for just two nights at the TownePlace Suites in Ann Arbor, Michigan.
However, Marriott got rid of its award charts in March 2022 began pricing awards based indirectly on the cash rate that you'd normally pay for the same room. This undoubtedly makes some redemptions cost more than they used to, but it could also lead to some current redemptions dropping in price.
Stacking up the Marriott Bold credit card against our benchmark
CNN Underscored uses the Citi® Double Cash Card as our "benchmark" credit card. That doesn't mean it's the best credit card on the market — rather, it means we use it as a basic standard to compare other credit cards, and see where they score better and where they're worse.
Here's how the Marriott Bold scores against our benchmark. The features of each card in the below chart are colored in green, red or white. Green indicates a card feature that's better than our benchmark, red indicates the feature is worse than our benchmark and white indicates the feature is either equivalent or cannot be directly compared to our benchmark.
The chart above makes it easy to see where the Marriott Bold card comes out ahead — and where it falls short. Standout features include its initial bonus offer and its cardholder protections, including travel insurance coverage.
However, you do need to keep in mind that hotel points are less flexible than cash back. Also, the Citi® Double Cash Card's introductory rate for balance transfers makes it an excellent choice if you need to consolidate high-interest debt.
Before you sign up for a rewards credit card, it can help to consider the best credit cards that are available and the types of rewards they offer to see which card might best fit your needs.
Other credit cards similar to the Marriott Bold
If you're willing to pay a $95 annual fee, you can sign up instead for the Marriott Bonvoy Boundless™ Credit Card and earn 3 free night awards (worth up to 50,000 points per award night) after spending $3,000 on purchases within the first three months of opening the account. This Marriott credit card also earns more points on Marriott purchases and comes with a free night award (good at properties worth up to 35,000 points) starting with the second year you have the card and every year thereafter.
Luxury travelers can also consider the Marriott Bonvoy Brilliant® American Express® Card, which offers new card members the chance to earn 150,000 bonus points after spending $5,000 in purchases within the first three months of opening the account.
This card charges a hefty $650 annual fee (see rates and fees), yet true Marriott enthusiasts will get plenty of value thanks to benefits like a $300 annual credit for restaurant purchases worldwide (up to $25 per month), a Priority Pass Select airport lounge membership (enrollment required), cell phone protection, a fee credit for Global Entry or TSA PreCheck membership and more. With this card you'll also receive an Annual Free Night Certificate which can be redeemed at any Marriott property up to 85,000 points per night.
Finally, let's not forget that Marriott Bonvoy is a Chase Ultimate Rewards partner. This means you can use cards like the Chase Sapphire Preferred® or Chase Sapphire Reserve® to earn rewards and transfer them to Marriott at a one-to-one ratio. While Chase points are worth considerably more on average than Marriott points, the ability to transfer points to Marriott can be helpful if you need to top off your account for a redemption you want to make.
Should you get the Marriott Bold credit card?
At the end of the day, you should decide whether you're willing to pay an annual fee, as well as whether the earning rates on cards you're considering align with your normal spending habits. If you're not a regular Marriott traveler, than you might be better off with a different card, or you can pick up this card just for the sign-up bonus and keep it since it has no annual fee.
But true Marriott enthusiasts who are avoiding credit cards with annual fees should consider the Marriott Bonvoy Bold credit card. While you'll get more from other Marriott credit cards, you'll pay an annual fee for the privilege, which makes the Marriott Bold an intriguing option for the budget-conscious traveler.
Learn more and apply now for the Marriott Bold credit card.
Find out which cards CNN Underscored chose as our best credit cards currently available.
Click here for rates and fees of the Marriott Brilliant Amex card.
Get all the latest personal finance deals, news and advice at CNN Underscored Money.