CNN —
It's finally release day for Apple's macOS Big Sur — and there's a lot to unpack here. It's arguably the biggest change since the original macOS, with new features and a full redesign.
Big Sur is also designed from the ground up to work with Apple's M1 chip, the first Silicon chip for Mac. That means it works with the chip on the new Mac Mini, MacBook Air and 13-inch MacBook Pro for an experience that's faster throughout.
You don't need to get a new Mac to run Big Sur, though, as compatibility goes back pretty far. Apple will start rolling out Big Sur November 12 via the Mac App Store (read how to install it below). But first let's dive into all that's new with Big Sur.
A refreshing design
Big Sur is essentially a full redesign of the user interface. It can be jarring for some at first, but we've quickly fallen into a groove.
Up until now, any corner of any window in macOS has been square with subtle curves. But now in Big Sur, they're noticeably rounded. It's a sleeker design that feels in line with the rest of the experience of the Mac. There's also a lighter casting on all the windows that makes the edges more see-through and helps you navigate or find your desktop a little quicker.
But, most importantly, it equalizes the palette of colors across macOS, iOS and iPadOS. Apple has made it clear that the Mac (and macOS) isn't going anywhere, but the ecosystem is going to work even better together. Apps for iPad and iPhone will be able to be turned into Mac apps with ease. That's why we saw the new Sidebar interface on the iPad that looks more like a computer.
Similarly, when you save or export a document, you'll see a new interface that reminds us of the share sheet on iOS and iPadOS. It's clean, has larger buttons and puts the focus on helping you leave the window faster. It especially cleans up the printing interface.
You'll also notice that since the top menu bar is nearly fully translucent, it lets your desktop shine through more.
Arguably, the larger point of discussion is the new icons for nearly every stock app on the Mac. For starters, they're more rounded, which is similar to iOS and iPadOS, but some of them just look entirely different. We'll let you judge, but check out the photos.
For the most part, the design changes streamline macOS and help it fit in better with iOS and iPadOS.
Control Center is terrific
We never would have thought to bring the Control Center to the Mac, but it's been our go-to feature of Big Sur, alongside Messages.
It's built into the menu bar on the top-right side, next to the time and date. From there, you can access Wi-Fi, Bluetooth, AirDrop, Do Not Disturb, Keyboard Illumination, Brightness and Sound with relative ease.
Like Control Center on iOS or iPadOS 14, you can customize it. We really like the Now Playing bar, especially if you have the Music tab hidden or minimized.
The redesigned Notification Center, which pulls a lot from iOS 14, is in the same boat. Namely, widgets are here, and the Mac will support third-party ones as well. With our testing, we opted to keep the normal push notifications at the top and have a grid of three widgets that we handpicked: a rectangular calendar and two squares containing weather and photos, which is more for quick doses of info.
Messages is what we've been wishing for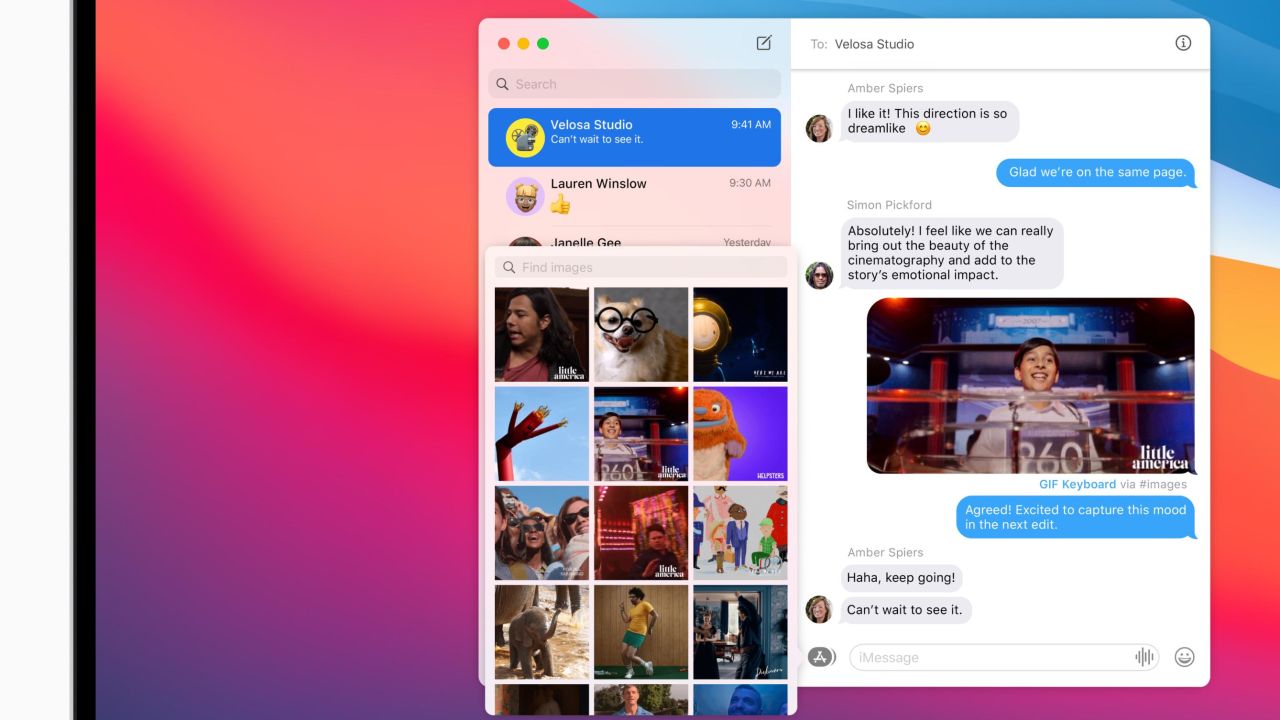 Redesigned Messages is what we've been craving. Essentially, Apple imported Messages from iOS and iPadOS to the Mac, and it's a tremendous experience.
It's also a familiar one. You still have the Messages app split into two core sections: The left has all of your messages, and the right spotlights the one you've selected. The ability to pin a contact, like on iOS 14 and iPadOS 14, is on Big Sur as well.
It's handy and a great way to show off Memojis or contact photos. Search is also enhanced, allowing you to find specific documents and Messages dating back in time, thanks to Messages in the Cloud. The latter serves as a backup for your iMessages and uses iCloud storage.
The best news? Memoji, Memoji Stickers and effects are finally arriving on the Mac. This way, when you say, "Congrats," it won't just say "sent" with confetti below, but you'll see the confetti effect. Memoji on the Mac might seem underrated, but it's a great way to showcase emotions or respond with a sticker. GIFs are fully supported in the same way they are on your iPhone. You'll click the little icon and can search to find the perfect one. Similarly, you won't need to open Photos to send a specific shot, as there's a mini selection window built into Messages.
It's well done and doesn't sacrifice the core features. You can still send iMessage and SMS messages via your Mac in record time.
How to get macOS Big Sur
Big Sur is a free update for all compatible devices — and it's a long list of devices that you can tack the M1 Mac Mini, MacBook Air and 13-inch MacBook Pro onto.
To get the update, simply open the Mac App Store on your Mac and you'll see Big Sur front and center. Apple has begun to roll out the software, but it can sometimes take a few minutes for it to populate. You can click download to get the installer file, wait for that to finish and then double-click to open it. As we'd always recommend, be sure to back up your Mac before completing the update.
This is the final release version of macOS Big Sur, so it will be much more stable than the betas from this summer and fall. And if you're getting a new M1-powered Mac, you can expect an even zippier experience with Big Sur. Plus, you get always-on, which means as soon as you open the lid on a MacBook Air or MacBook Pro or shake the mouse on a Mac Mini, the computer will be ready and turned on in a matter of microseconds. It's equivalent to the always-on experience on the iPhone and iPad.
And lastly, macOS Big Sur brings the iconic chime back to all Macs. We missed it and are happy to see it return.