CNN —
Allow us to start off with a cliché: You can't judge a book by its cover. Sorry, but the phrase is apt for the new Apple MacBook Air.
A quick glance gives the impression that it's the same old MacBook Air we got in 2018 — the same color choices, the same three ports, and the same 720p webcam at the top.
But after spending a week with the latest generation MacBook Air, it's clear that Apple rewrote the script here. The latest Apple laptop offers double the storage, handles daily tasks more seamlessly, and, most excitingly, features the Magic Keyboard.
There's plenty to be jazzed about here — especially at a starting price of just $999. So let's dive into our full review of the 2020 MacBook Air.
The Magic Keyboard
The feature that excites us most on the MacBook Air is definitely the Magic Keyboard. With it, you'll immediately notice more travel (the distance of a key gets pushed down) and more responsiveness. There's a certain joy that comes from typing on a keyboard, and the MacBook Air gives you a traditional, punchy typing experience. You'll feel the press of each key, and there is no bottom-out feeling.
The layout remains the same. You still get a physical row of function keys at the top, including a physical ESC key in the top left corner. The top right corner of the keyboard keeps a square (with rounded edges) Touch ID sensor. You can use this for unlocking the MacBook Air and authenticating purchases.
The arrow keys also have some separation and are in an inverted T format. The left and right keys are thin and don't take up a full square key cap. This is a change from the Butterfly keyboard used on previous Air generations and, while we didn't take issue with that design, this new format makes it a bit easier to find while blind typing.
In our testing over the past week, we've typed a lot. We typed out reviews, stories, emails, statuses, searches and tons of notes. It's been our daily driver for a week, and it's thoroughly enjoyable. Like the 16-inch MacBook Pro, it really enhances and delivers a rewarding typing experience. It's easy to get the hang of it, and it feels right to get feedback from each key press. It'll also make some noise, so you'll hear the clack of the keys.
Simply put, Apple really did a good job here. The Magic Keyboard on the MacBook Air is reliable and easy to use. It even has us crossing our fingers that the Magic Keyboard will be expanded to other devices — cough, cough, how about an updated 13-inch MacBook Pro?
A slim design
As mentioned, the 2020 MacBook Air looks just like the 2018 model. It has a sleek aluminum build all around, and you'll have a choice between gold, silver or space gray. There's an Apple logo smack center on the top case and it has a shiny finish, while the rest of the MacBook Air is matte.
The left side features two USB Type-C ports. You'll use these for charging and for connecting any peripherals. The right side is home to the headphone jack. When it's opened, the bottom case features the Magic Keyboard and the trackpad. Above the display you'll find that not-so-great 720p webcam with the green LED indicator next to it.
It's really portable — you can easily carry it with you. Since we couldn't go outside, we simply threw it in some backpacks and did some trial runs up and down the stairs, along with repetitive walks around the house. It weighs just 2.8 pounds and is only 0.63 inches thick. So yes, it holds up the legacy of the MacBook Air.
Overall, the new MacBook Air is clean and sleek — classic Apple.
Performance will be good for most
For the new MacBook Air, Apple doubled the storage, kept the base RAM at 8GB, and gave us new Intel processors. All of this gets paired with macOS Catalina.
The MacBook Air is geared mostly to everyday users and students. It's the entry point into the Mac notebook line. If you're primarily doing productivity tasks, web browsing, streaming, emails, social networking and even light creative tasks, you'll be fine.
The $999 base model gets a 10th Generation Intel Core i3 processor with Intel Iris Plus Graphics. This processor will be the main component powering the experience, and at the $999 price point, this should handle most of the activities mentioned above. Just don't expect to be batching out hundreds of photos in record time — that's always been, and still is, a task more suited for the MacBook Pro. You can probably get through creative tasks like photo editing and video editing, but expect it to take a while and for the fan to kick in.
For $300 more, you can get the $1,299 MacBook Air (which is the model we've been testing), with an upgraded 10th-Generation Intel Core i5 processor with Intel Iris Plus Graphics. It keeps the 8GB of RAM, which is the standard configuration from Apple across the board. Still, the upgraded processor will give you more headroom — we were able to export some batches of photos with filters applied and were even able to export some 4K footage in iMovie and Final Cut Pro. It just takes a bit more time.
But in everyday use with writing, web browsing, video calls, messaging, streaming and plenty of productivity tasks, it held up well. We heard the fan kick in during those higher-power tasks, but we didn't see the MacBook Air choke or fail to complete a task.
To match our qualitative and real-world testing, we ran the 2020 MacBook Air through GeekBench. This is a benchmarking test that puts the device through a series of tests that aim to mimic world use cases, as well as stress testing. With the CPU test, our 2020 MacBook Air scored a 912 on single-core and 1743 on multi-core. On the graphics side, we ran the compute test and the MacBook Air scored 4528. Both these scores were better than the previous generation MacBook Air by about 100 points. And that seems to match up with our real-world testing.
With all this performance, the MacBook Air needs a fast and well-sized solid-state drive for storage. The base model comes with 256GB, and our model features 512GB; both are SSDs and offer a fast way to access data. If you want to go big, you can upgrade the MacBook Air up to 2TB of storage. That's wild.
We found that macOS Catalina was zippy and performed swimmingly with all the preinstalled apps. We especially like Dark Mode on the MacBook Air, which essentially dims the lights on all applications. Windows in apps that typically use white or lighter colors switch to black or dark grays. In fact, it intelligently layers dark colors so it's easier to see. Plus, getting FaceTime, iMovie, Garageband, Photos, Pages, Numbers and Keynote out of the box adds to the appeal of the MacBook Air. Someone going off to college would really get all the necessities. And with Apple's productivity suite, you can save your work in files that also work with Microsoft Office.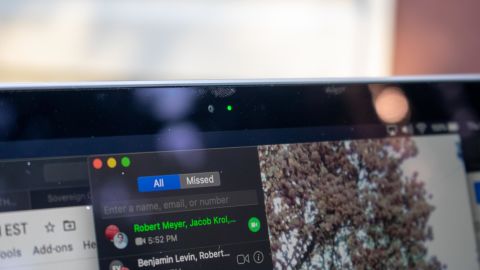 We do wish Apple had updated the 720p webcam — it's 2020, after all. It does show its age when it comes to FaceTime and video calls. It takes us back to middle school and high school days of taking fun photos in PhotoBooth. And while it's fun and all, we hope future Air models get a better camera.
Also, while the 16-inch MacBook Pro blew us out of the water when it came to sound, the MacBook Air didn't get as big an update. We will say, though, it does get about 25% louder than the previous generation. The speakers still sit on the left and right sides of the keyboard and offer a good experience. It's good sound for a notebook of this size.
Last but not least, the battery life is still really good and reliable. That's been a trademark of the MacBook Air, and you can still expect to get nearly a full day of use, so lasting through a full day of classes or a work day at home is possible. We got close to 11 hours of full use, and nine hours or so with a day of heavy use.
Bottom line
Apple designers clearly knew what they were doing here. The 2020 MacBook Air delivers a nice performance jump, a really appreciated storage bump and a terrific keyboard. It fixes many issues we had with the previous model and, as the cherry on top, it's cheaper.
At $999, the gateway into the Mac notebook world comes with the specs most daily users need. If you want a little more headroom, we'd recommend the $1,299 model. If you're a creative and don't want to shell out more for a 16-inch MacBook Pro, you'll want to upgrade the MacBook Air to a quad-core processor and 16GB of RAM. It won't come cheap, but you'll at least have a portable creative machine with the updated keyboard. Otherwise, wait for a refreshed 14-inch Macbook Pro.
For most people, though, the MacBook Air is the obvious choice that will last for many years.
Note: The prices above reflect the retailer's listed prices at the time of publication.