Among the thousands of bags on the market, it's hard for products to stand out from the pack. But, of course, some are better than others. And when a product comes around that offers a well-rounded packing option with plenty of features for travelers of all kinds, we're intrigued. Meet the July Carry All Weekender Plus bag, which ticks just about all of the boxes that make for a great piece of travel gear.
While the name suggests it's just a weekender bag, it's much more than that. It has space to store not just everything you'd need for a long weekend trip, but it can also function well for a nearly weeklong vacation or to use while spending the night away from home. We tested out the bag to see if it lives up to the hype, and this is one trendy bag that meets the mark.
The bag that's just about perfect for any traveler looking for organizational compartments, optimized packing features and a sleek, chic look. With a massive 50-liter capacity, this is the weekender bag that could very well replace your rolling carry-on luggage like it did for me.
What we liked about it
The packing compartments
What really sets this bag apart from other weekenders is its clamshell-style packing system. On the exterior, the bag has a zipper down its center, which, when unzippered, opens horizontally so each side lays flat against the ground. Then, you can organize your belongings exactly how you want.
In effect, this gives the Carry All Weekender Plus the functionality to be used as a traditional rolling suitcase but in the format of a weekender bag.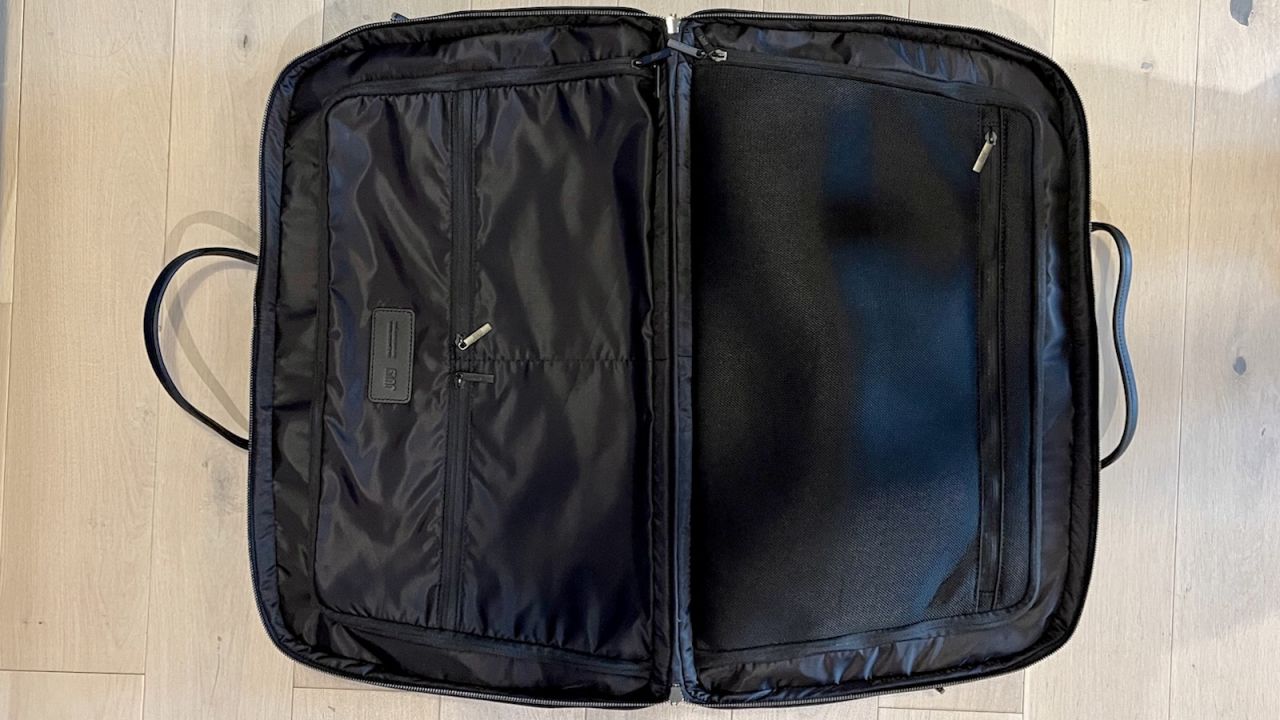 If you're a fan of packing cubes — and really, who isn't? — it's a great way to be able to use your favorite set of cubes for quick trips. Unlike some weekender bags that turn into a black hole of a bottomless pit, the Weekender Plus bag allows you to organize your belongings in a way that gets us excited to take along on our next trip.
Weekend trips away from home can be tricky, as you've got to be strategic with what you bring. You tend to not have the room to overpack, but you definitely don't want to be without your essentials. With that in mind, I found the July Carry All Weekender Plus to be the perfect solution. When used in conjunction with my set of four packing cubes from Away, I was able to easily fit enough clothes for a four-day trip away from home. If you're even more strategic than me with your packing, you could easily fit more days' worth of clothes in the July Carry All Weekender Plus. Plus, since each of the compartments is so deep, I was able to fit a pair of sneakers without them getting squished.
Once you've packed all of your belongings, each of the clamshell side compartment zippers shuts so your things stay in place while in transit. The bag then zips back up, ready to take on your trip.
It's the perfect size
If a weekender bag is too big, you run the risk of not being able to take it along on any given trip. Not this one. The Carry All Weekender Plus allows you to replace a traditional rolling piece of luggage without sacrificing on space, thanks to its clamshell-style packing capabilities. Oh, and it's got a massive 50 liters of packing capacity. By comparison, our pick for the best hard-shell carry-on, Away The Carry-On, has a capacity of 39.8 liters.
Heading off on a plane journey? The Carry All Weekender Plus fits the carry-on size requirements of most major US airlines, so it can replace any need to roll a traditional piece of carry-on luggage through the airport. Alternatively, if you're bringing a piece of luggage with wheels, the built-in trolley sleeve on the Carry All Weekender Plus means you can easily roll both along with a single hand.
Its above-and-beyond organizational features
While the real highlight of this bag is its clamshell-style packing style, its additional pockets and compartments go beyond what I expected. Each of the two side zipper flaps has its own mini storage space, including a padded zipper pouch that can hold up to a 16-inch laptop. My 13-inch MacBook Pro was easily able to slide into the pouch, and I felt there was sufficient padding for keeping it protected.
On the other side of the clamshell bag, the pouches are divided in two, allowing you to store smaller essentials. I used them for some of my toiletries like a toothbrush and deodorant, but they really can be used for anything from jewelry to sunglasses, books and more.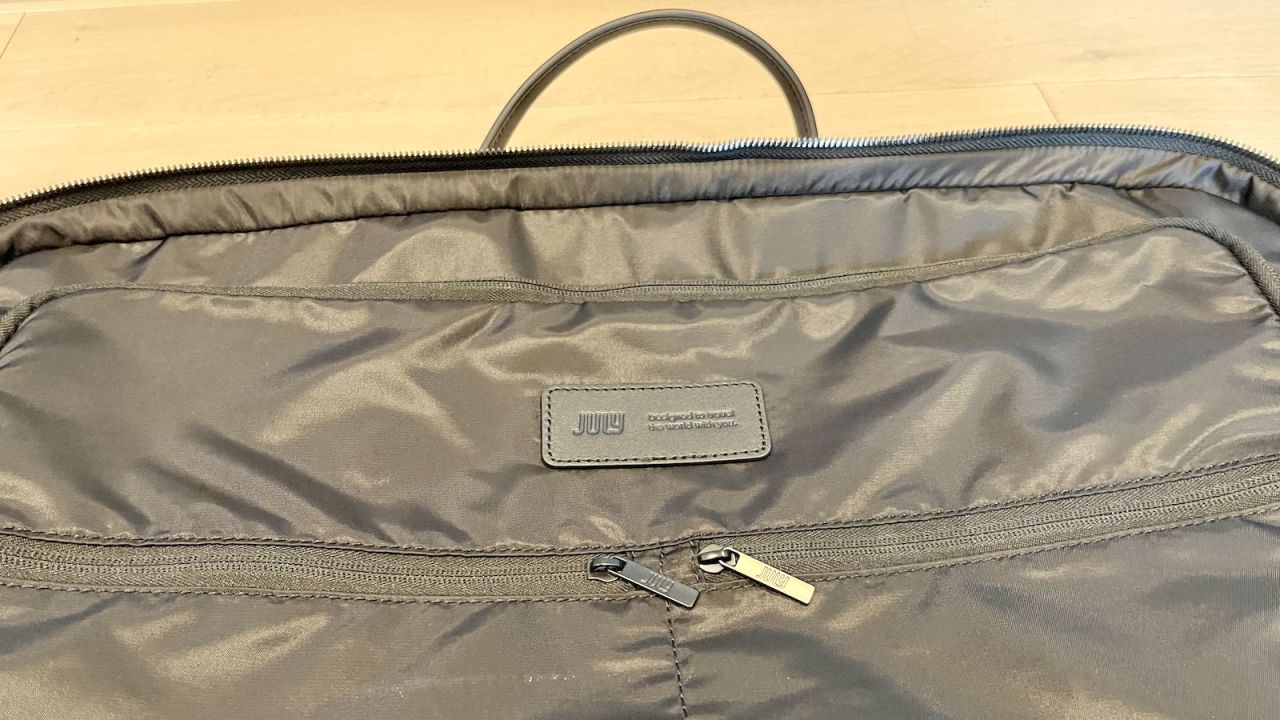 Meanwhile, on the exterior of the bag, there's a hidden pocket that July has dubbed the QuickPass. It's an easy-to-miss hidden magnetic pocket that's perfect for storing items you might want to keep close by like your passport, boarding pass or phone. There's also a separate zip pocket on the exterior of the bag for other important items.
I found the number of organizational pockets to be sufficient for a quick weekend trip. Not only did I have sufficient space for packing all of my clothes and other large items, but when it came time to travel, I felt like I had enough space for smaller items that I wanted to keep close by.
It looks chic
The Carry All Weekender Plus bag is an exceptionally chic bag. I've seen — and tested — many bags in my travels, and this weekender bag from July sits above many others. Its simple design and quality finishes like grain leather handles and trims go a long way to making this a bag that you want to carry around for more than just its functionality.
Even when it's empty, the bag stands upright, thanks to its quality build and structural support. Best yet, you can personalize the bag for free to truly make it your own.
Plus, not only does the bag look chic, but it's incredibly durable and built to last. In our testing, we tossed the bag around quite a bit and the bag didn't suffer any rips or tears — instead, just some easy-to-remove scuffs that I could wipe off. The exterior of the bag is made from a waterproof weighted 420D twill nylon fabric that will keep the contents of the bag dry if you get caught in a rain shower. And on the base of the bag, there are four gunmetal feet to keep it protected. Inside, it's coated with a water-resistant and stainproof nylon lining that will stay looking fresh for trips to come.
What we didn't like about it
It's pricey
Let's face it: The July Carry All Weekender Plus isn't exactly cheap. At $295, it definitely carries some sticker shock. If you only travel for short periods a couple of times a year, it may not be worth the splurge. However, if you head away from home on quick multi-day or overnight trips more regularly, we think it's a sound investment.
Not only are you getting a bag that's versatile enough to take on an overnight trip, but if packed light, it can also be used as a gym bag or something to carry around when you're running errands. Plus, when you consider that many of the best rolling carry-on bags are in the same price range, if you're planning to use the July Carry All Weekender Plus to replace your traditional suitcase, it doesn't seem as steep.
Perhaps best of all, the July Carry-All has a five-year guarantee. The included warranty covers any manufacturing faults, anywhere you are in the world. So, you know that when you're buying the Carry All Weekender Plus, it's made to last.
The shoulder strap isn't very comfortable
When I tested out the Carry All Weekender Plus bag, it was on the heavier side, as I packed it for a four-day trip. When I hooked on the removable shoulder strap to carry from my apartment to the train station, I found the shoulder strap to be quite uncomfortable. It didn't have adequate padding on the strap to make for a comfortable carry.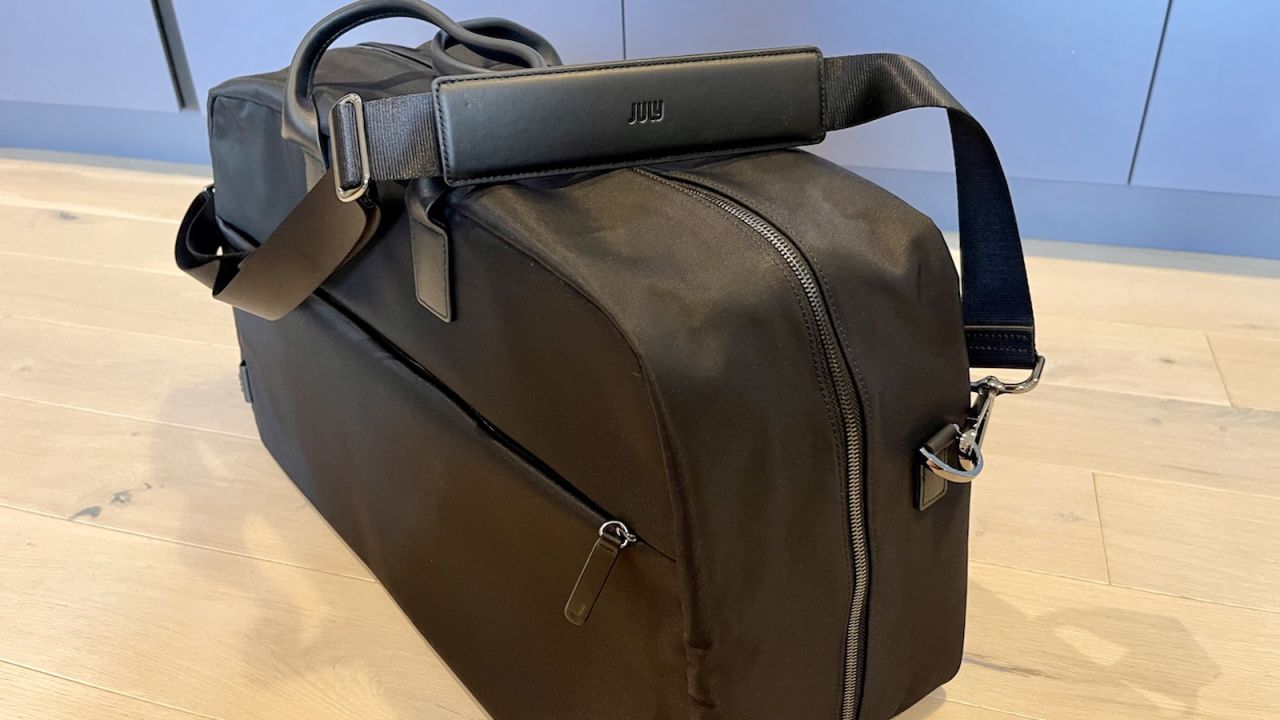 That said, I did appreciate that the shoulder strap was adjustable. So, regardless of how tight or loose you want it to be, you can situate it however best suits you.
How it compares
| | | | |
| --- | --- | --- | --- |
| Dimensions (w x d x h) | 22 inches x 9 inches x 12.5 inches | 20.9 inches x 11.8 inches x 9.4 inches | 19 inches x 9.8 inches x 15.7 inches |
| Capacity | 50 liters | 38 liters | 49 liters |
| Clamshell packing | Yes | Yes | No |
| Shoe compartment | No | No | Yes |
| Adjustable shoulder strap | Yes | Yes | Yes |
| Waterproof | Yes | No (water-resistant) | No |
| Weight (empty) | 4.2 pounds | 3.3 pounds | 3.86 pounds |
| Exterior material | 420D twill nylon fabric | Nylon fabric | Jute canvas |
| Colors | Black, Chalk, Navy | Black, Navy, Coast | Beige, Black, Atlas Pink, Navy, Grey, Citron, Purple, Plaid, Orange |
| Number of customer reviews | 136 | 37 | 10,993 |
| Customer rating | 5.0 | 4.5 | 4.7 |
| Warranty | 5-year warranty on manufacturing faults | Limited 1-year warranty | No |
| Price | $295 | $245 | $108 |
Bottom line
July has made a weekender bag that has turned my head. Once a roller bag devotee, I'm now carrying the July Carry All Weekender Plus Bag on my long weekend trips — and beyond. Even for longer trips when I'm checking a suitcase, the Carry All Weekender Plusy is the perfect carry-on to sit on top of my checked luggage and act as a carry-on bag.
While its price tag will set you back nearly $300, its durability and functionality mean that you'll get plenty of use out of it if you travel more than a couple of times per year. Thanks to its five-year warranty, too, you know this bag will be with you for many vacations to come.
Looking for a travel credit card? Find out which cards CNN Underscored chose as our best travel credit cards currently available.