CNN —
Here's the thing with cordless vacuums: You can skimp to try to save a few dollars on a vacuum that loses suction the second it senses a crumb, or you could opt for a Dyson that'll do more damage to your bank account than a weekend in Vegas.
Now, thankfully, we've found something in the middle: the Jashen V18 350W Cordless Vacuum Cleaner ($189.99, down from $350; store.cnn.com). This Dyson-like cordless vacuum boasts tremendous suction, useful smart capabilities and a long battery life to make all your cleaning dreams come true.
We've been using the vacuum for four weeks and, overall, have very few complaints.
Superior cleaning
Dyson may be synonymous with all things luxury household appliances, but (and we're not being superfluous here) the Jashen V18 made us forget all about Dyson.
The vacuum features a digital screen that alerts you to the suction power (which can be easily adjusted from low to medium to high with a button on the front of the vacuum), battery life and when to clean the filter. So it feels a bit more high-tech compared to other cordless vacuums and doesn't leave you guessing as to when it'll up and die on you midway through tidying up.
The Jashen is also incredibly light at 6 pounds and easily twists and grooves around (and under) furniture, so we were able to reach spots other vacuums wouldn't come close to hitting.
And then (sorry for burying the lede) there's the suction. Even on mid- and low-powered suction, the Jashen had no problem lifting dirt and debris from floors — be them hardwood or carpet. You're able to switch out the brushes (there's a smooth dust brush and a more toothy brush for deep carpets) on the main stick attachment. Better yet, a simple pop and click is all it takes to switch between the two.
Our favorite feature with this smart vacuum: It automatically shifts suction power depending on how much debris it senses. So, when running it over a mostly litter-free hardwood floor, it'll shift to a lower setting. But get to the spot you spilled those coffee grounds and you'll hear — and feel — it kick into high gear. Those auto adjustments, we noticed, saved the battery from dying too quickly, which means you can actually complete a multiroom cleaning spree without fear of it dying midway through.
We really put the Jashen to the test. Dust bunnies in the corner were no match. Crumbled chips on both hardwood and a light carpet disappeared. Coffee grounds on a carpet were easily dispensed of without a trace. Lint on a white couch picked up immediately.
And with 2020 being, well, 2020, we got to put the Jashen V18 to an unexpected test when a ceiling light fixture shattered all over the living room floor — spraying glass atop hardwood and a light area rug. The Jashen didn't so much as putter when we ran it over the disaster area, aptly picking up the fine shards and even some oversize ones that would likely send most other vacuums into retirement.
After picking up so much dirt and debris, the filter is easy enough to empty out. You can either remove it fully to bang it out into the trash, or you can opt for the quick and easy method of simply hitting the hinge that pops open the bottom of the filter to dump out any lint and dirt that may be quickly accumulating.
Long battery life
Thanks to the smart functionality of changing suction levels while in use, the Jashen lasts much longer than most other vacuums we've personally tried. We used it for upward of one hour and 20 minutes (despite the company estimating runtime between 15 and 40 minutes) before needing to dock it to charge. It lasted all that time, though, without it losing suction. It takes a good 40 minutes to fully charge back up once it dies.
Our only qualm was with the mountable charging dock. While it's nice that mounting hardware is included, you need to have the dock plugged in at all times, so if you're short on outlets, it might be hard to find an ideal, out-of-the-way spot to hang it in your home. But it's by no means a deal breaker.
What's included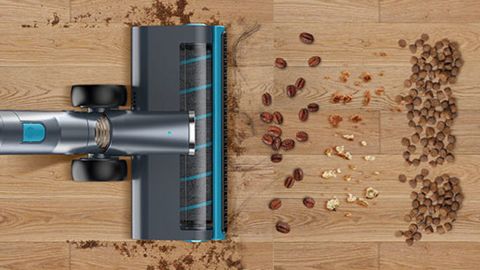 Unboxing, you might get a bit of a shock, what with all the separate parts staring you in the face. Fret not: While it looks like an impossible 3D puzzle, the vacuum is a cinch to put together.
You'll find the main motor, a battery, the stick, three smaller attachments and the dual charging wall mount (you can purchase a spare battery separately). All that's needed is charging up the battery (it takes about an hour to fully charge the first time on the mountable charging dock), clicking it into the motor once juiced up and popping whichever attachment strikes your fancy and you're on your way to cleaning bliss.
Jashen V16 vs. Jashen V18
We previously wrote a similar love letter to the Jashen V16 ($159.99, down from $299; store.cnn.com). You'd be hard-pressed to find even a minute difference in terms of suction, and they both feature the smart screen. The only difference we noticed was in terms of the smart suction feature, which led to superior battery life in the V18 model (1 hour and 20 minutes compared to the V16's 40 minutes).
So if this smart feature, and in turn longer battery life, don't matter all that much to you, then we think the Jashen V16 is a great choice.
Bottom line
Combining smart functionality, powerful suction, adequate runtime and ease of use, the Jashen V18 ($189.99, down from $350; store.cnn.com) is a formidable opponent to muck and dust. While it might not be as powerful as the top-of-the-line Dyson stick vacuum, at nearly half the price, you're not sacrificing much in terms of power.