CNN Underscored is bringing you the best of CES 2022 all week — be sure to check out our coverage hub for the biggest tech products worth getting excited about.
Jabra makes some of the best wireless earbuds you can buy, but until recently, they haven't been the cheapest. That started to change with the excellent $80 Jabra Elite 3, and now, they're back with the Elite 4 Active: a $119 pair of earbuds designed to keep you pumped up at the gym without forcing you to spend a fortune.
The good news is that the Elite 4 Active retain most of what makes Jabra's pricier earbuds great, including a secure, comfortable fit; good audio quality and even some impressive noise cancellation. But do they hold up against the ever-increasing pool of quality earbuds at this price? Here's what we think after spending several weeks with the Elite 4 Active in our ears.
An excellent, affordable pair of workout earbuds
The Jabra Elite 4 Active offer excellent comfort and great feature set (including active noise cancellation) for just $119.
The who, what and how
Who it's for: The Jabra Elite 4 Active are for folks seeking a pair of comfortable, workout-friendly earbuds that don't cost a ton. Jabra's platform-agnostic app makes these buds equally ideal for both iPhone and Android users.
What you need to know: These affordable workout buds stand out with a secure and water-resistant design, as well as a very impressive feature set for the price. That includes some solid active noise cancellation for blocking out the world around you, as well as a HearThrough mode for amplifying your surroundings when you need to stay alert.
How it compares: The Elite 4 Active beat out many similarly priced rivals when it comes to the features you get for the price, offering much more functionality than the $129 AirPods 2 and even the $179 AirPods 3. They're also roughly on par with the $129 Galaxy Buds 2 in terms of noise cancellation and ambient sound capabilities. The one tradeoff is that the Elite 4 Active's design feels a bit cheaper than that of its competitors.
A tried and true Jabra design
The Jabra Elite 4 Active will look familiar to anyone who's sported a pair of Jabra earbuds before, combining the tall charging case of the Elite 75t Active with the streamlined look we've seen on newer models such as the Elite 3 and Elite 7 Pro. Our navy blue model is attractive and unassuming (the buds also come in black and mint green), and more importantly, feels great to wear.
As with just about every pair of Jabra buds we've tested, the Elite 4 Actives are so comfy that it was easy to forget we were even wearing them during long hours of walking and working with them on. They include Jabra's usual three sets of swappable ear tips for multiple fit options, and are IP57 rated (dust- and water-resistant up to 1 meter) to endure everyday sweat when you're out on the track. We ran the buds under a few splashes in the sink, and they kept on pumping out music just fine after.
While the Elite 4 Active look great and are super comfortable, there are a few areas where these affordable earbuds feel a little cheap. We generally think Jabra makes the best earbud controls out there, but the rubber-coated physical controls on these felt a little too resistant for our liking and required us to press harder than we'd like to control our music. The good news is that all of the functionality we love about Jabra buds is intact here, including the ability to switch sound modes and adjust the volume with a few taps and holds.
It's also worth noting that, like on the affordable Jabra Elite 3, the Elite 4 Active's plastic charging case feels a bit flimsy and is susceptible to scratches. This isn't a huge deal breaker — we've been carrying it in our pocket for weeks with no major issues — but it is a small caveat that comes with the lower price.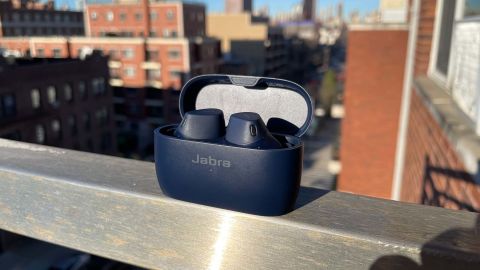 Good sound and great modes for the price
We were happy to use the Jabra Elite 4 Active as our main music headphones for close to a month, thanks to the balanced sound that made our favorite energetic rock tracks sound big and bright. The Elite 4 Active's output isn't as nuanced as that of the Beats Fit Pro, but for nearly half the price, you're getting clean audio with crisp vocals and plenty of bass for getting you through a workout. And unlike Apple's buds, the Elite 4 Active let you customize how they sound.
Using the Jabra Sound+ app on either iOS or Android, you can choose between six different sound modes (including Neutral, Speech and Bass boost) or play with an equalizer if you want to find the perfect mix of low and high tones. We were generally happy with the Elite 4 Active's default sound profile, but we heard a noticeable change in bass and treble when we played with their respective sliders using the app.
Despite their budget price, the Elite 4 Active feature active noise cancellation (ANC) and a HearThrough mode for amplifying your surroundings — the former of which has previously been exclusive to Jabra's pricier buds. The ANC is very solid for a pair of buds this cheap, as it was able to significantly dampen the airport sounds we played over our speakers during a test. Additionally, Jabra's buds were fairly comparable to the Beats Fit Pro in terms of dulling the noises of footsteps and blowing winds.
HearThrough mode did a good job making it easy to hear nearby pedestrians and car alarms when out walking our dog. The mode was a bit harsh at its default setting — occasionally making our dog's barking sound ear-piercingly distorted — but fortunately, you can customize the amount of outside noise that gets in via the Sound+ app. The ambient noise modes on the AirPods Pro and Galaxy Buds 2 are a bit cleaner out of the box, but we were able to tweak the Elite 4 Active to a level that was fairly comparable.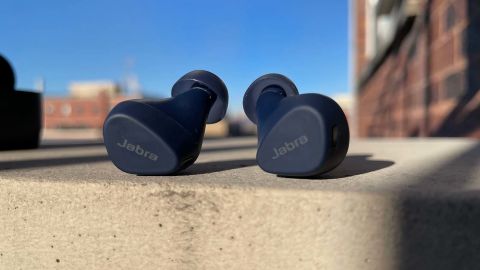 The Elite 4 Active have a handful of Android-exclusive features, including Google Fast Pair support for quickly getting them connected to your phone. This worked very well in testing — the second we put Jabra's buds in pairing mode, we got a prompt on our Galaxy Note 10+ to connect them. You also get built-in Alexa functionality for summoning Amazon's virtual assistant, as well as a Spotify Tap feature that lets you open the music app with a single click on the earbuds. These are all handy extras, but know that the Elite 4 Active's most important features — noise modes and sound customization — are available on both iOS and Android.
Strong battery life and call quality
As with most other Jabra earbuds we've tested, the Elite 4 Active last impressively long on a charge. We often went several days without having to even charge the case, and got 7 to 8 hours of continuous runtime when using a mix of ANC and HearThrough modes. This largely lines up with the earbuds' rated battery life of 7 hours of nonstop playback and up to 28 hours of juice with the charging case.
You can also rely on these buds for your daily conference calls, thanks to the crisp four-microphone setup packed inside. We never received any complaints when using the Elite 4 Active for calls with friends, family and coworkers, with one colleague noting that we sounded very clear during a work meeting.
Bottom line
The Jabra Elite 4 Active are an excellent value, delivering a comfortable and secure fit, good audio quality and dependable active noise cancellation and HearThrough modes for a very good price. You'd be hard-pressed to find more functionality than this at $119, especially when you compare the Elite 4 Active to similarly priced options like the $129 AirPods or the $119 Belkin Soundform Freedom.
In fact, the Elite 4 Active's stiffest competition is from Jabra itself, as the Elite Active 75t — our pick for the best workout earbuds — are often discounted as low as $100 these days. We still recommend Jabra's older workout buds for their more premium design and tighter controls, though you can't go wrong with either option if you're looking for a set of affordable and gym-ready earbuds.