A few years ago, the Jabra Elite 4 would have been revolutionary. These stylish earbuds sound great, feel fantastic, last days on a charge and even offer solid active noise cancellation — all for just $100.
But affordable ANC earbuds are everywhere these days, including models that can do even more than the Elite 4 for even less money. With that in mind, are Jabra's latest truly your best option under $100? I spent a week jamming out with them to find out.
If you're looking to spend less than $100 on a pair of noise-canceling earbuds — and want something stylish and low-profile — it's hard to do much better than the Jabra Elite 4.
What we liked about them
As slick and comfortable as ever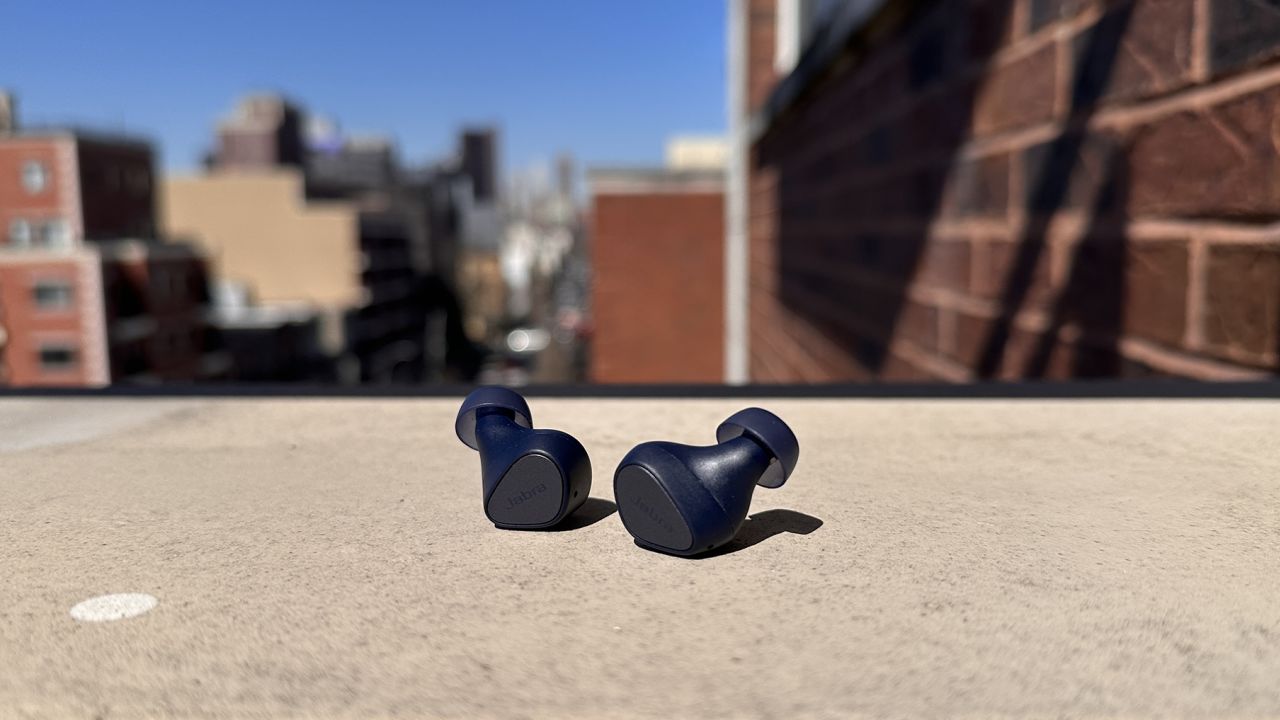 Budget earbuds have gotten considerably better over the years, but most of them still look kind of lame. Fortunately, the Jabra Elite 4 do not. Like the Elite 3 before them, these slick, understated buds are nearly as nice-looking as Jabra's more expensive models, with a low-profile design devoid of any unsightly stems or unattractive bulk. And while most cheap buds are limited to white or black — heck, even some pricey ones are — the Elite 4 are available in a nice range of colors that includes navy, lilac, dark gray and light beige. I'd personally spend my money on the lilac, but my navy review unit has proved unassuming enough for commuting while still providing a nice change from my white AirPods.
As I've come to expect from Jabra's true wireless earbuds, the Elite 4 feel as good as they look. You get three sets of silicon tips in the box, and once I switched to the largest ones, I enjoyed a soft, secure fit that never felt uncomfortable after long hours of walking, working, commuting and just hanging around. The buds' physical controls — a rarity at this price — were reliable for controlling my music playback and toggling noise cancellation. And while they weren't quite as snappy as those of more expensive options like the Beats Fit Pro, I definitely found them to be more precise and accurate than the touch controls on the EarFun Air Pro 3.
Good sound, noise cancellation and features
The Jabra Elite 4 sound very good for a pair of $100 earbuds, to the point where I didn't mind using them in place of my much-more-expensive AirPods Pro 2 for nearly a week. Jabra's buds made a nice companion to my daily mix — everything from the dueling guitars and synths of Tigers Jaw to the layered three-way harmonies of boygenius came through impressively clearly, making it easy to get fired up and stuck in my feelings, respectively. I found the Elite 4 to have a slight edge over the also-great EarFun Air Pro 3 in terms of overall quality, as the latter buds can get a bit bass-heavy.
Active noise cancellation was a similar story; these buds do well for the price. The Elite 4 did a good job quieting everything from my noisy bedroom fan to the sounds of cars, construction and chatter on my busy New York street, making it easy to focus on work or sneak in a quick nap. Again, the Elite 4 and Air Pro 3 were neck-and-neck here, with Jabra's buds being just a bit more suppressive in my experience.
You can fine-tune the Elite 4 to your liking via the Jabra Sound+ app for iOS and Android, which I find to be one of the cleanest and most user-friendly headphone apps out there. In addition to checking on your buds' battery life and toggling noise modes, you can flip between six music presets (with options for things like bass boost and speech), or fiddle with the equalizer to get things exactly how you like them. I personally liked how the Elite 4 sounded out of the box, but I always appreciate having the option to tinker. The app also has a handy Find My Jabra feature, which lets you track down your buds if you misplace them, much like you can on Apple's and Samsung's earbuds.
There's just one nitpick I have with this app. Outside of adjusting how the noise control button works, you can't use it to customize the Elite 4's controls. This isn't a dealbreaker — especially since the earbuds' default controls work well — but it's a bit of a letdown considering that the cheaper EarFun Air Pro 3's controls are completely remappable. Also, I ran into a few instances where the Sound+ app failed to recognize my Elite 4 buds right away, forcing me to refresh the app and wait a few seconds before I could make any changes.
Companion app aside, the Elite 4 have one feature I greatly appreciate: Bluetooth multipoint connectivity. This allows you to keep the earbuds paired to two devices at once, something that proved handy every time I bounced between my phone and laptop throughout the workday. It's a common feature on earbuds these days, but I'm glad to see it on something this cheap. Jabra's buds also support mono mode, which allows you to use a single earbud while the other charges back up in the case. It works as advertised, and seems handy for when you're low on battery and need to take a quick call. Speaking of which, the Elite 4 were super reliable throughout hours of phone calls and Zoom chats — I never got any complaints about my voice, and when comparing recordings, they edged out the Air Pro 3 in terms of overall clarity.
Incredible battery life
The Jabra Elite 4 are rated for up to 22 hours of total use with ANC on and 28 hours with it off, and they've well exceeded that in my testing. I went through nearly five full days of heavy use (including many hours with ANC on) before the buds finally gave out. The EarFun Air Pro 3 have a higher rating of up to 45 total hours of playback, but anecdotally speaking, I've found the Elite 4 to survive just as long — if not longer. I wish the case could be charged wirelessly (more on that below), but in terms of sheer endurance, the Elite 4 are some of the longest-lasting earbuds I've tested.
What we didn't like about them
A cheap case with no wireless charging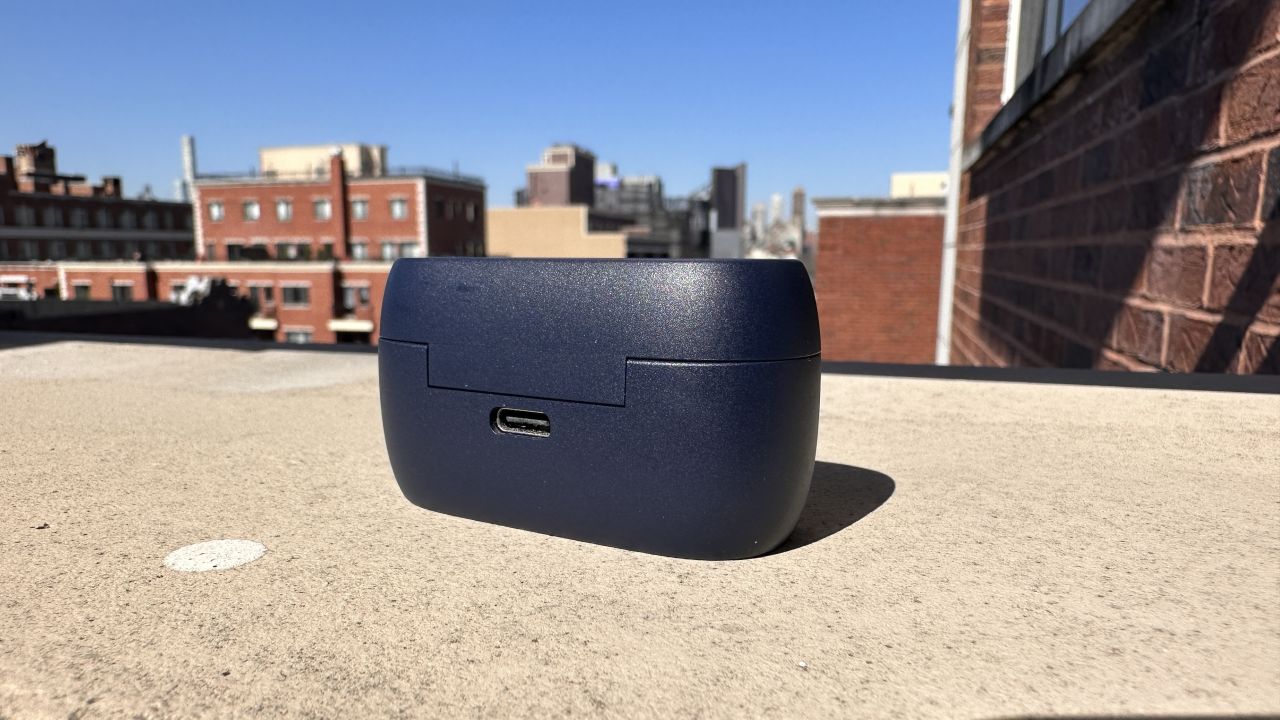 While the Elite 4 earbuds don't look and feel cheap, their case certainly does. The buds' plastic charging case is nearly identical to that of the Elite 3, which is to say that it's fairly slim and compact, but also feels fragile and accumulates scratches easily. However, the lack of wireless charging is the bigger offense here. We're at the point where some of the cheapest earbuds (including the standard EarFun Air that are about half the price) can still be charged wirelessly, so I was bummed to discover that the Elite 4 did nothing when I dropped them onto the Belkin Boost Charge Pro at my desk. This may not be a deal breaker for everybody, but it's still a bummer given where the rest of the budget competition is at.
You can get more for the money
That brings me to my bigger issue with the Elite 4: They're very good, but you can simply get more for your money these days. The EarFun Air Pro 3 — which cost about $72 after coupons — have set a new standard for budget noise-canceling buds, offering sound quality and ANC that largely keep up with the Elite while also providing better customization and wireless charging. You'll have to live without Jabra's nicer aesthetics and physical controls, but you're also paying nearly $30 less.
Related: Jabra Elite 4 Active review: These workout earbuds offer a whole lot for just $119
The Elite 4 are also more expensive than the $80 Elite 3 earbuds they're succeeding. The price difference makes sense — the Elite 3 don't have ANC — but it does make Jabra's buds just a bit more expensive on the entry level. Fortunately, you can currently snag the Elite 3 for $60, which is a steal for anyone that can live without noise cancellation.
How they compare
| | | | |
| --- | --- | --- | --- |
| Active noise cancellation | Yes | Yes | No |
| Battery life (rated) | 7 hours (earbuds), 28 hours (with case) | 9 hours (earbuds), 45 hours (with case) | 5 hours (earbuds), 24 hours (with case) |
| Wireless charging | No | Yes | No |
| Water resistance | IP55 | IPX5 | IPX4 |
| Ear tip sizes | S, M, L | XS, S, M L | S, M, L |
| Software support | iOS, Android | iOS, Android | Android |
| Colors | Dark grey, navy, light beige, lilac | Black | Clearly White, charcoal, dark olive |
| Weight | 0.16 ounces | 0.18 ounces | 0.18 ounces |
| Price | $100 | $80 | $80 |
Bottom line
Taken on their own, the Jabra Elite 4 are an incredible buy, and certainly some of the best Jabra earbuds yet. These $100 buds offer some of the best sound quality, battery life, noise cancellation and features you can find at this price range, and they look better — and come in more color options — than some rivals that cost considerably more.
However, unless style is your top priority, we think the EarFun Air Pro 3 is the better overall value. These buds mostly match the Elite 4 where it matters most, and have the added bonus of wireless charging and fully customizable controls. And if you really just want that nice Jabra aesthetic for cheap (and can live without ANC), you can scoop up the older Elite 3 for extra-cheap.
If I were spending my own cash, I'd probably spring for the Elite 4 — the nicer look and better controls really do make a difference to me. But it's worth knowing that you can get even more for even less money.