CNN —
There's a trend with smartphones: As models get cheaper, they generally lose features along the way. That's not the case with the $699 iPhone 12 Mini.
The small but mighty wonder is as feature-filled as the iPhone 12. Like the iPhone 12, there are two lenses on the back — a wide and ultrawide — with the ability to capture Night Mode and Portrait Mode shots. It's powered by the A14 Bionic chip and lets you experience iOS 14 to the fullest. All that despite being smaller than the iPhone SE, falling somewhere between the size of the iPhone 5 and the iPhone 8.
We've spent the last week with the iPhone 12 Mini and, quite frankly, think it's the answer for an affordable flagship device that's actually full-featured.
Refreshingly small with a sharp screen
The iPhone 12 Mini features the same design as the iPhone 12 — just smaller. It can easily fit in the palm of your hand, measuring 5.18 inches tall and 2.53 inches wide. In fact, you can fit it in the front of your pants pocket without it being noticed.
The modernized flat, squarish design with rounded edges is very tangible and easy to grip — much like the iPhone 4, 4S, 5 and 5S were.
You also get your pick from five colors: (PRODUCT) RED, green, blue, white and black. We've been testing out the latter; it feels very sleek but doesn't attract much attention. The glass back does show fingerprints when the light hits it right, though, and is incredibly reflective. The Mini's build belies its price tag — the aluminum and glass all around does not feel cheap, unlike the Galaxy S20 FE that trades glass for plastic.
The left side of the iPhone 12 Mini is home to the SIM card slot, volume up, volume down and silencer switch. On the right-hand side is the power button; those upgrading from an iPhone 5, 5S or SE will have to get used to a new location for the power button in a very similar form factor. The bottom of the device features a Lightning port. But remember: While a Lightning to USB-C cord is included in the box, a wall charger is not to be found.
The back is especially minimalistic. Like on the iPhone 12, the main back is glass with a glossy finish that isn't overly slippery. The camera module has a matte finish, with the ultrawide and wide lens stacked. An LED flash is in the same square as well.
And we'd be remiss if we didn't mention the magnets on the back of the device to support MagSafe — Apple's new feature for wireless charging with proper alignment and support for MagSafe cases.
For a device of this size, the Super Retina XDR (what Apple calls an OLED screen) is stretched to the max with minimal bezels all around. On the bottom, it's the smallest bezel out of the entire iPhone 12 lineup.
The 5.4-inch OLED screen provides an upgraded image compared to an X, XS, XS Max, 11 Pro or 11 Pro Max.
The 12 Mini's display clocks in at 2340 X 1080 resolution with 476 pixels-per-inch. Given the smaller screen size, that's a higher pixels per inch than the iPhone 12. It's packing support for HDR and P3 wide color, while also boasting True Tone Display that uses sensors to adjust the color temperature of the display to your environment.
What is missing, though, is a high refresh rate that we've seen with other leading smartphones (the Galaxy S20 and Note 20). In fact, no iPhone 12 model offers this. Apple is sticking with the very average refresh rate of 60Hz . Unless you've used a 120Hz smartphone, you'll likely not to notice. But it certainly isn't as buttery smooth as devices that have it.
The keyboard is a bit tiny and more compact if you're coming from a larger iPhone. It reminded us of what we felt about the iPhone SE keyboard. And similarly, with a smaller screen, you can use one hand to swipe up for multitasking, reach to the top corners and easily swipe down to adjust brightness. It almost feels like you have some more control with just one hand.
Let's talk durability
While we didn't experience any abrasions on the iPhone 12 Mini's screen, we did on the iPhone 12 and 12 Pro. You see, the iPhone 12 Mini (like the rest of the iPhone 12 family) features a ceramic shield display that Apple claims provides up to four-times the protection against drops.
So, in theory, when an iPhone 12 Mini drops and lands on the display, the chance of the display shattering is lessened. But, as we've seen in recent years as glass and screens build up resistance for cracks and deep scratches, the level of pressure or hardness needed to cause a microabrasion or a light scratch has also lessened.
While we haven't had any scratches on the 12 Mini, we still recommend you get a screen protector. We've even done the legwork and rounded up some of the best options here.
Dependable cameras on the front and back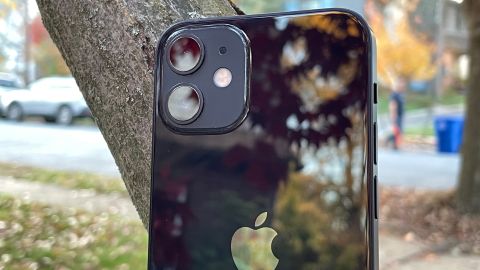 Let's be very clear: The iPhone 12 Mini features the same camera setup as on the iPhone 12. The iPhone has positioned itself as a dependable shooter in a variety of situations for both photos and videos in the past few years. Colors look fairly more realistic and neutral — the image processing doesn't up the saturation or turn it way down for a cooler image.
The Mini's main 12-megapixel wide lens is built from a seven-element design that features a low aperture: ƒ/1.6, which is an improvement from ƒ/1.8 on the iPhone 11. With a lower aperture, the lens lets more light into the shot. That adds up to a clearer shot , even in low-light environments. That lens is paired with a 12-megapixel ultrawide lens that boasts a ƒ/2.4 aperture and a 120-degree field of view. That lets you get more in the image without having to physically move.
What you won't find here is an additional 12-megapixel telephoto lens or a LiDAR sensor for improved focusing times like on the iPhone 12 Pro and 12 Pro Max. For many, though, you're still getting a dependable shooter that will let you capture memories.
The 12 Mini features Night Mode, allowing you to capture a large amount of detail without overexposing the shot. With Night Mode on, the iPhone 12 Mini takes a number of shots at varying exposure rates. The result is a detail-filled low-light image that lacks noise and lightens up without the need to use the harsh flash. This shot of the steps captures an image in which some locations are lit (like the fountain) and the buildings are in the dark. Smart HDR 3, which decides how to process and capture an image, handled it quite well without overexposing any one specific part.
Portrait Mode is in full force on the iPhone 12 Mini, and it's able to capture either a single person, a few people or even a dog with relative ease. Once it recognizes a person, it will apply the background blur. If anything, you can see that the 12 Mini, like the 12, is very detail-oriented around hairlines and ensures it doesn't cut off anything important.
As we experienced with the iPhone 12, the 12 Mini performed better over the iPhone 11 and previous models. You'll find that images capture more detail, are lit properly and deliver a dynamic range of colors.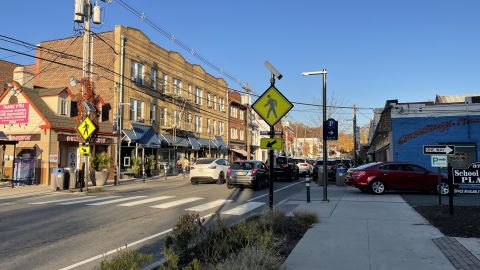 New for the iPhone 12 Mini is the ability to shoot 4K video with Dolby Vision. In fact, it's the first in the world to shoot in Dolby Vision out of your pocket. It's a proprietary HDR standard used in TV and movies, and the result is accurately shot video that allows color to pop and details to shine. The biggest difference is better lighting whether indoors or outdoors.
You can see a full gallery of shots below, and as long as you're cool without a telephoto lens, you'll be more than all right with the quality of this camera.
Let's talk about 5G on the iPhone 12 Mini
As we did with the iPhone 12 and 12 Pro, we've spent the last week testing 5G around New Jersey and New York. It adds another layer to our testing, but we found similar results with the iPhone 12 Mini. And we have three main takeaways:
First: If you're in an area that supports 5G Ultrawide Band (aka mmWave), you will see faster speeds, but you'll need to be in direct line of sight with a cell tower or at least very close to it. In our testing on both AT&T and Verizon 5G Ultrawide Band being inside a car, walking too many paces to the left — or even to the other side of the street — resulted in losing the signal. It wasn't every time, but enough to mention it. When we did get the signal on Verizon, we hit a maximum of 2,200 Mbps down, which is way faster than our gigabit connection. We were able to easily download a double album in just under a minute, and streams happened almost instantaneously. AT&T didn't present such high speeds, but we were able to hit 300 to 400 Mbps down. Neither carrier produced widely fast upload speeds, and it seems the technology is taking longer to develop on that front.
Second: Nationwide 5G from any of the carriers is not the super-fast speeds you've been teased with. It's the lower portion of the wireless spectrum, Sub6 Ghz, which is both easier to roll out and provides more capacity. But it doesn't deliver wildly fast speeds, and it's the 5G you likely have in your location. In our testing, AT&T, T-Mobile and Verizon all produced speeds somewhere in between 100 Mbps and 200 Mbps down. Uploads were pretty close to what we'd expect to see on LTE.
Third: For some people, you'll be able to take advantage of 5G on the iPhone 12 Mini right now. For many, though, opting for 5G compatibility is future-proofing your device, as you won't be able to connect right away (or stay connected). The iPhone will also decide when to use 5G or 4G LTE if both are available with the "Smart Data Mode" turned on in Settings.
In short: The addition of 5G support means you won't need to go out and buy a new iPhone next year or whenever it becomes truly nationwide. You'll have a phone with great cameras and zippy performance along with the latest networking standards.
Fast and smooth performance
The Apple-made A14 Bionic chip set is both powerful and efficient. The iPhone 12 Mini is running iOS 14.2 out of the box, and it provides all the features you'd expect from iOS 14. We're talking widgets, a redesigned messaging app and a new way to organize apps.
You can easily keep multiple applications open in the background, answer FaceTime calls (single or group), shoot 4K video and play graphics-intensive games without experiencing any interruptions. You'd be really hard-pressed to make the iPhone 12 Mini slow down.
But if you're coming from an iPhone 11, you won't see a significantly drastic speed improvement. For the most part on performance and with the camera, it's an iterative update from the 11 family of phones. Coming from an iPhone 8 or older — and even an X, to a degree — will deliver some big improvements, noticeably more speed when texting in a big group, responding to emails and capturing photos.
Whether it was a game or a productivity app that we use every day, we couldn't make the iPhone 12 Mini slow down. Games tested include Call of Duty: Mobile, Real Flight Simulator Pro, Real Racing 3 and Toy Story Drop. Everyday apps we used include Slack, Mail, Outlook, Chrome, Safari, TikTok, Twitter and Instagram.
If you're planning to perform creative tasks like photo edits in Pixelmator or movie exports in Adobe Rush or iMovie, you can expect exports to be completed a second or two faster over the iPhone 11 family. It was even quicker in comparison to the iPhone 8 or older devices. And yes, many people opting for an iPhone 12 Mini likely have an older device as well.
Long battery for a mini iPhone
On average over a week of testing, we've been getting eight to nine and a half hours of screen time with the iPhone 12 Mini. That's slightly under the iPhone 12 and 12 Pro, which average eight to 10 hours of screen time. Even still, with a full day of tasks, we were able to take it off the charger at around 7 a.m. and not get a low-battery alert until close to 10 p.m.
We also ran the iPhone 12 Mini through the CNN Underscored battery test. In it, we play a 4K video on loop with the brightness set to 50% and volume at 30% with the device in airplane mode and play the video on a loop until the device dies. We monitor the test with two cameras for redundancy. The iPhone 12 Mini lasted for 12 hours and 45 minutes. That's 15 minutes longer than the iPhone 12 and 20 minutes over the iPhone 12 Pro.
As we hinted at above, there's no charger in the box. You get the cable but not the plug, and opting for an older 5-watt Apple-made plug will not give you fast charging speeds on the iPhone 12 Mini. With a proper charger, like 20 watts, using a USB-C to Lightning cable, you can expect 12-watt charging speeds.
With Apple's MagSafe charger and the proper wall plug, you'll get 12 watts of charging speed wirelessly. MagSafe is one of our favorite accessory innovations, as it uses magnets on the back of your iPhone 12 Mini and magnets on the MagSafe charger for proper alignment to ensure the iPhone starts charging. Essentially, no more waking up after laying the device on a Qi charger and having no power in the morning. Apple is selling a MagSafe charger with a 1-meter cable for $39.
And MagSafe is also found in cases and other accessories. Apple is offering both silicone and leather cases for the Mini that sport the tech inside. This way, it will properly align on the charger for juicing up the battery but also display a neat graphic when you attach the case to the device. It matches the color of the case with a graphic on-screen. You can even opt for a MagSafe wallet that holds around three cards and will magnetically attach to the back of your device. These only come in leather and cost $59.
Bottom line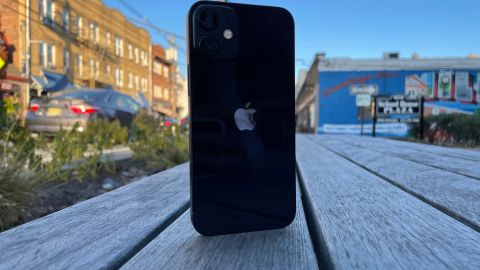 Simply put, the iPhone 12 Mini is a tiny phone but with flagship specs throughout.
This is the phone for you if you're coming from an older iPhone, specifically an iPhone 5, 6, 7 or 8. You're getting a similarly sized device that stretches the screens, adds an additional camera, swaps Touch ID for Face ID and boosts the power. As we said with the 12 and 12 Pro, you're also future-proofing yourself with 5G support and no doubts that this phone will last for several years to come.
At $699, it's missing a high refresh rate and reverse wireless charging, but it's the best affordable flagship right now. There are a number of deals from carriers (like AT&T, Verizon and T-Mobile), which will give you up to a $700 credit for a trade-in of an iPhone 8 or newer. You can even trade in your device to Decluttr and score an additional 10% with code CNNTEN.