At just less than $20, the Humangear GoToob+ Squeeze Bottles may not seem like a steal for three plastic bottles. However, if you're a frequent traveler like me, you'll quickly come to appreciate the features that make them reliably spill-proof, which makes up for the worry I feel every time I see an airline baggage handler tossing my luggage around.
The small bottles are TSA-compliant and hold 1.7 ounces each, but I opted to try them out on a road trip while visiting a friend in Miami that required a change of vehicles. In other words, my gear was tossed around from car to car, then from the car to the house and back again.
I'm happy to report that my lotion, shampoo and conditioner all made it through without spilling, and using the GoToob+ bottles was a clean and orderly experience too. When packing the small silicone tubes, I mixed them in a large toiletries bag with my makeup and other essentials, and even though the plastic is unusually soft and easy to squeeze as far as travel bottles go, none of them punctured.
An affordable way to travel spill-free with liquids
These small but mighty silicone bottles are made to withstand the rough treatment that often comes with travel. They offer protection from spills, they're an easy way to add your liquids and gels and they're a great way to stay organized while you're on the go.
How I found the Humangear GoToob+ Small Squeeze Bottles
A friend who travels way more than I do suggested I give them a try, and I'm glad she did. I don't know if I would have sought these out alone, partly because you tend to assume all plastic travel bottles are the same. Well, it turns out they're not!
They promised to be spill-proof, easy to fill and simple to use without everything inside squirting out all at once, and that was music to my traveling ears, so I gave them a go.
Why it's a score
There are a lot of plastic travel bottles out there, so finding a good set can be a near-impossible feat. However, these silicone GoToob+ bottles fit the bill perfectly.
If you twist off the cap entirely, a large opening is revealed, making it easy to fill with your shampoos and lotions without feeling like you're squeezing them through a small hole. Then, once you screw the cap back on, there's a smaller "no-drop valve" within the cap where the product comes out, minimizing spills and drips. It's the best of both worlds.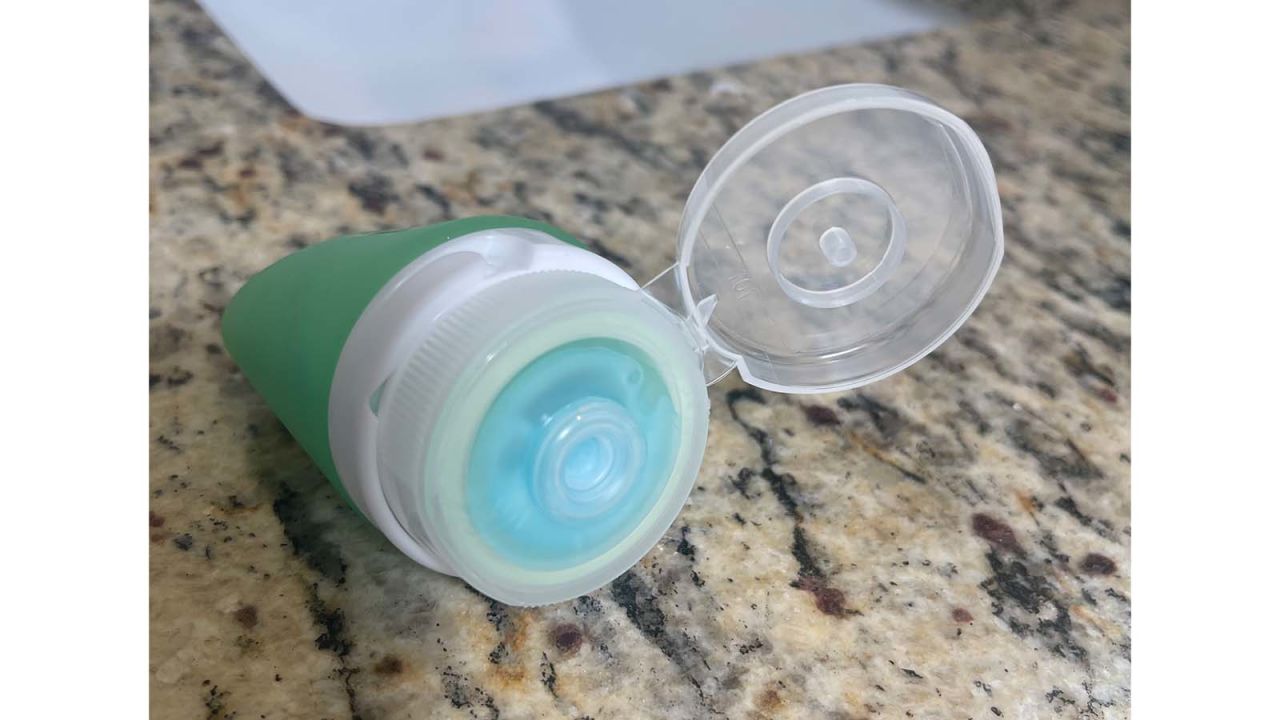 I also loved the cool "LoopLock" that pops out with a simple tug and allows you to hang each tube from a backpack, a shower handle or just about any hook. It keeps the cap closed tight, so there's no risk of it accidentally opening and your hair gel spilling everywhere. It helps that the bottles each have a rubber seal on the inside just in case it gets bumped around and the contents start trying to make their way out.
As an organizing enthusiast since I was in elementary school, the part that cinched it for me was the smudge-proof textured area that lets you write what's in each bottle so you don't accidentally put body lotion in your hair or gel on your legs.
If you're a neat freak, they're dishwasher-safe, so you don't have to worry about washing them by hand each time you travel. Plus, the set comes in three sizes, and all of them are TSA-compliant: the smallest (1.7 ounces), medium (2.5 ounces) and large (3.4 ounces).
All in all, these reusable bottles are a good value if you're a regular traveler, whether you're road-tripping, flying or simply going to Grandma's with the kids.
Looking for a travel credit card? Find out which cards CNN Underscored chose as our best travel credit cards currently available.