Just as the Meta Quest Pro dropped its price to $1,000, HTC has released a high-end virtual reality headset of its own that takes a different approach. During our time with the $1,099 HTC Vive XR Elite at CES earlier this year, we came away impressed by its thoughtful, efficient and incredibly lightweight design, as well as its mixed-reality capabilities and versatile use cases.
Those features have continued to impress on the review unit we've tested over the past couple of weeks. However, there are some improvements that'll need to be made before it becomes a true competitor to the Meta Quest Pro. most notably its issues with controller inputs. There's also the reality that, as a standalone headset, the Vive XR Elite's software library is fairly lackluster.
Right now, PC-based VR gamers looking for a premium headset that offers some standalone functionality or those already invested in the Viveport ecosystem will find a lot to like about HTC's latest. Anyone else looking for a higher-end take on headsets like the Meta Quest 2 or HTC Vive Flow may want to hold out a bit. Here are our thoughts after spending a little over a week with the Vive XR Elite.
The HTC Vive XR Elite offers a ton of versatility as both a standalone, mobile-based and PC-powered virtual reality headset, and it's one of the lightest and most comfortable models we've tested. However, unless you're using it with a computer, its game library and controllers are behind competitors like the Meta Quest Pro.
What we liked about it
An ultra-lightweight, thoughtful design
One of the most striking features of the HTC Vive XR Elite is the headset's design. Blending the lightweight sunglass aesthetic of the mobile-focused Flow device with its standalone Focus line, the XR Elite feels like the best of both worlds. The all-black colorway gives it an elegant yet fully functional look.
If you're using the XR Elite as a standalone device, the required battery pack connects to the headset's USB-C port and side temple hinges for excellent weight distribution. The hot-swappable battery pack features a tightening dial and charges via a nearby USB-C port as well. Those temple hinges can also be connected to temple tips when using a PC, which makes the XR Elite even lighter without the battery pack.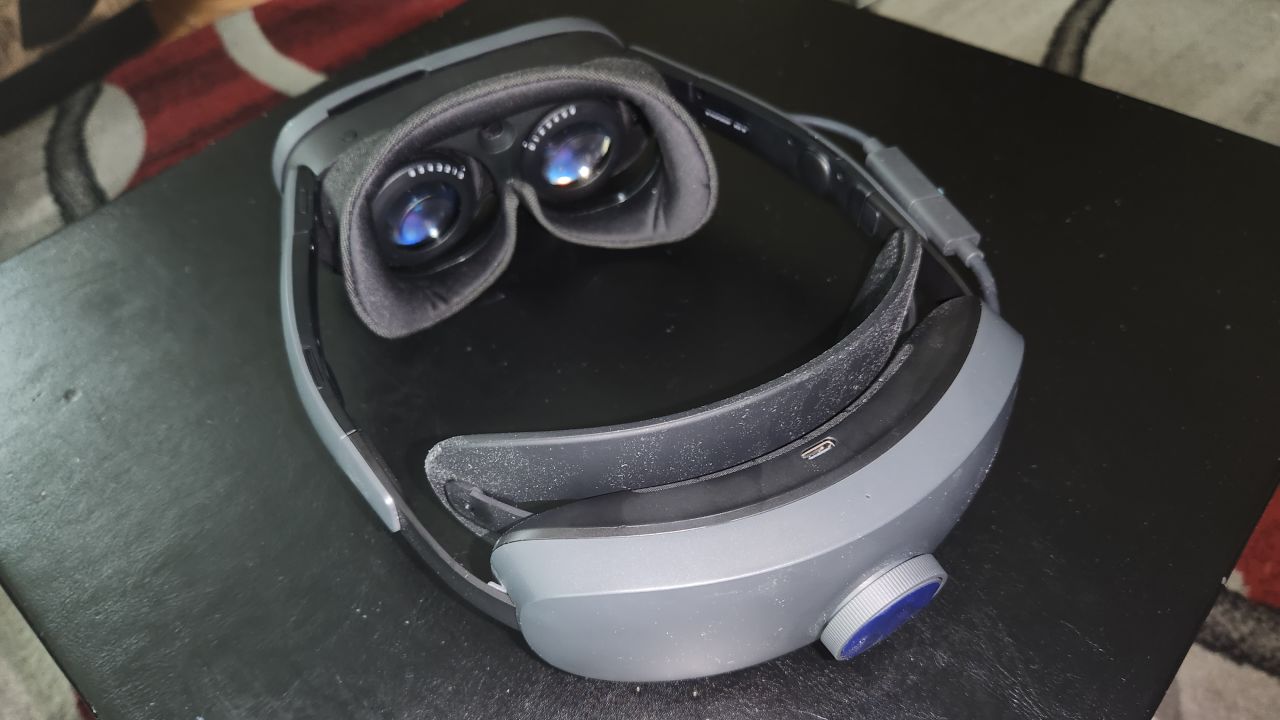 The headset's button placement balances discreteness with purpose. The right temple hinge features a small volume rocker, the upper right portion of the headset is where the power button is located and on the bottom right is an eye-distance slider. For good measure, there's a magnetically locked face mask that separates the user's face from the lens. This makes cleaning up after a sweaty VR session a lot more manageable. I also love that each of the pancake lenses are individually adjustable, similar to a phoropter, which allows users who wear eyeglasses to use the XR Elite without them.
Setting up the XR Elite is pretty simple, from establishing virtual guardian walls to syncing the included controllers. Streaming content from compatible Android mobile devices or playing PC-based VR games through SteamVR or VivePort is just as intuitive. For PC VR, all users have to do is link a gaming-ready desktop to the XR Elite headset via USB-C. Streaming content from an Android mobile device works wirelessly once you sync the headset to Vive Manager. Through and through, the Vive XR Elite's efficient design gives it a one-up on the competition.
It's incredibly versatile
Similar to the HTC Vive Pro, the XR Elite offers a variety of tethered and untethered use cases If you're new to VR, using the headset as a standalone device, like the Meta Quest 2 or Meta Quest Pro, will be your best bet. The lightweight design makes it one of the most comfortable standalone headsets available. Having the battery in the back allows for some quality weight distribution that is currently unmatched.
Then there is the PC-connected mode that's as easy as snapping off the battery pack and attaching the temple tips to the temple hinge. Being compatible with SteamVR and VivePort opens the XR Elite up to play more complex PC-based VR games including Half-Life: Alyx and Cooking Simulator VR (just note that you'll need a decently powerful gaming PC to run these titles).
While Meta is phasing out support for the PC Oculus app, which features dozens of popular VR titles including Medal of Honor: Above and Beyond and Asgard's Wrath, non-Meta VR headsets like the Vive and Valve Index headsets are still compatible through Revive, which is a complicated process. Revive is a SteamVR add-on that tricks the Oculus app into thinking it's playing a game on a Meta headset. Once installed, users open it through SteamVR.
One of the XR Elite's most distinguishing features is the ability to stream directly from an Android phone. If you're on vacation or out of the house, this is a great way to enjoy video content from your mobile device in VR. Watching Netflix, Hulu, Disney+ and other streaming service content was enjoyable both video- and audio-wise. The only thing that's missing is a headphone jack (more on that later).
Those who want to take their VR experience further can purchase Vive Waist Trackers which start at $129. The trackers work with the XR Elite's inside-out tracking system through inferred LED for more advanced hand tracking. Like mentioned previously, switching between the VR styles is as simple as snapping on or disconnecting the battery at the temple.
Solid gaming performance and pass-through visuals
One area where the HTC Vive XR Elite holds up well against the Meta Quest Pro is in general performance specs. Like the Quest Pro, the XR Elite features a Qualcomm Snapdragon XR2 processor and 12GB of RAM. This allows games to run at its 4K resolution and a smooth 90Hz refresh rate without any problems during standalone play.
Since there isn't a game available yet that maxes out the full capabilities of the headset, most titles ran smoothly without frame rate drops. Some of the most visually impressive games so far include Maestro: The Masterclass alongside higher-res ports of Hubris and Sam and Max: This Time It's Virtual! Though the quality of the launch titles is questionable, the general performance isn't. Having the LCD display, pancake lenses and a 110-degree field of view goes a long way towards keeping you immersed. This is most notable while exploring the home menu, which players can move around in as a giant whale floats around in the background.
There are four tracking cameras on the XR Elite and one 16-megapixel RGB camera, which allows pass-through viewing — aka, the ability to see your real-world surroundings. So far, there isn't a headset available that allows color pass-through at this magnitude. Colors are vivid and while the refresh rate isn't perfect, it's good enough to help you walk around the house without bumping into anything. There are even some titles that utilize pass-through, like Open Brush and the XR demo, for a mixed-reality experience.
What we didn't like about it
Hand tracking isn't very consistent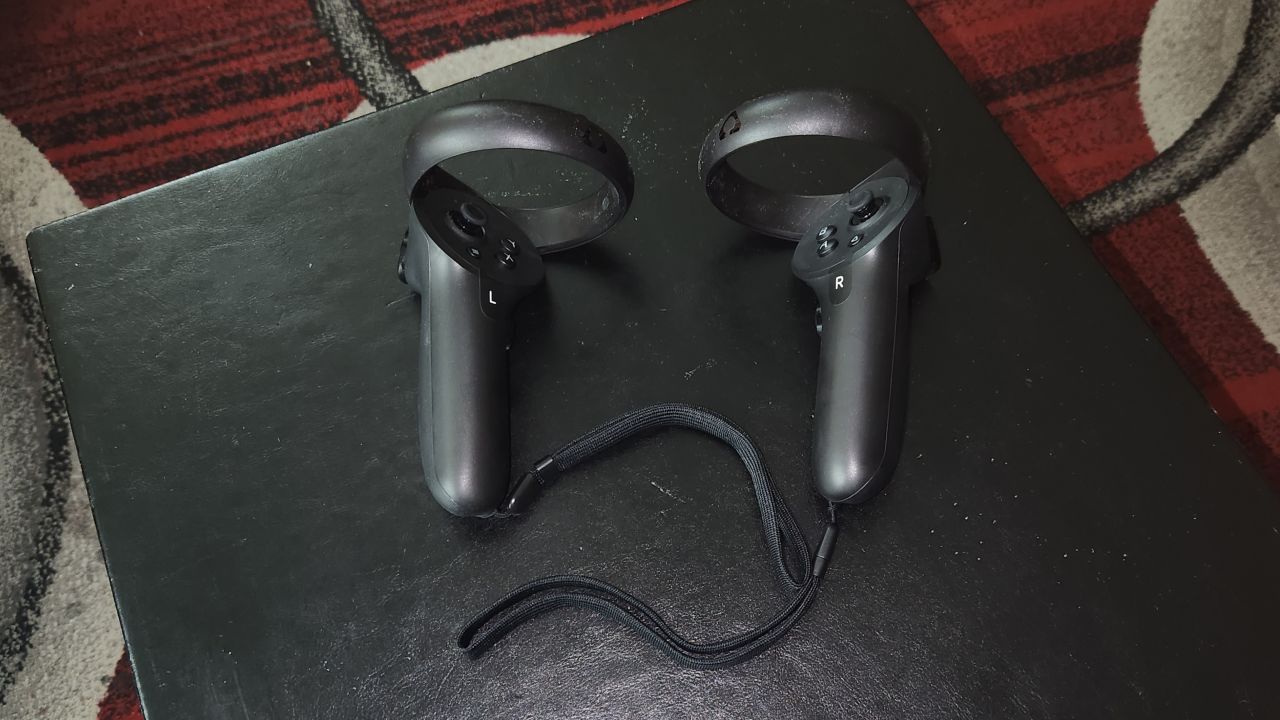 The HTC Vive XR Elite features hand tracking that isn't as precise or consistent as you'll find on rivals like the Meta Quest 2. Maneuvering around the home menu is a chore at times, especially in low light conditions. Setting up Wi-Fi and logging in to VivePort took longer than needed due to accidental button prompts.
Many of the best games like Unplugged: Air Guitar and Maestro: The Masterclass require usage of hand tracking. When the hand tracking is fully operational, all is well. However, when it's not tracking correctly, it can lead to overwhelmingly frustrating gameplay.
One way to improve hand tracking is through the HTC Vive Wrist tracker. The problem is that since you'll need one for each hand, users will need to spend $258 for a set, as each one costs $129. This makes an already-expensive purchase even more prohibitive. For right now, it's better to avoid hand tracking and just use the controllers available.
Input options are behind the times
Despite competing against the Meta Quest Pro, the controllers on the HTC Vive XR Elite are more in line with those of the Meta Quest 2. The two main differences are that the trigger and grab buttons can be pressed in, and it's rechargeable via USB-C. Outside of that, each hand is outfitted with three face buttons and an analog stick. These work well for a variety of games for both standalone and PC-based VR.
For a package that is priced competitively against the Meta Quest Pro, it would have been nice to let go of ring tracking and have a camera for the Vive XR Elite like its VR rival. A game like Dead Second, which requires complex reload motions, loses some of its immersion when the trackers on both controllers clack against each other. On a positive note, the controllers have an estimated battery life of around 15 hours between charges. During our week of testing, we only had to charge them once.
The strangest omission from the headset itself is the lack of a 3.5mm headset jack for audio — something that the Meta Quest Pro offers. Now, the included speakers are good enough. Audio is crisp, clear and full of volume. There are also plenty of titles that make good use of virtual surround sound, like Apollo 11 and Vive Lo-Fi. However, trying to get a bit more volume through headphones or trying to use app streaming in a noisy area can be annoying. The only way to get external sound is through a Bluetooth device, which is fine but can have a bit of latency during use.
The software lineup isn't very impressive (so far)
VR hardware is only as useful as its software and currently, the HTC Vive XR Elite lacks a game that has that "it" factor when it comes to standalone mode. Many of the most entertaining games available like Unplugged: Air Guitar, Maestro: The Masterclass, Yuki, Sam and Max: This Time It's Virtual! and Containment Initiative: Recon are already available on other platforms. Then there's the lack of notable fitness titles like Supernatural or FitXR.
Nothing stands out as much on the Vive XR Elite. Currently, there aren't any high-profile VR games similar to Resident Evil 4 VR on Meta Quest 2 or Horizon Call of the Mountain on PlayStation VR 2. Those looking specifically for a standalone VR headset may walk away disappointed with the current lineup of games available compared to what you'll get from Meta.
Thankfully, its PC-based VR capabilities allows you to play tons of games on SteamVR or Viveport. This opens the library up considerably. Viveport is one of the best deals in VR gaming — think Xbox Game Pass for VR — as you get hundreds of games at various subscription tiers that run between $6 and $13 a month. Those looking to upgrade their PC VR headset who aren't looking for standalone experiences may find the Valve Index a better purchase, as it's nearly the same price.
How it compares
| | | | |
| --- | --- | --- | --- |
| Resolution | 1920 x 1920 per eye | 1800 x 1920 per eye | 2448 x 2448 per eye |
| Refresh rate | 90Hz | 90Hz | |
| Field of view | 110 degrees | 120 degrees | 130 degrees |
| Wireless | Yes | Yes | No |
| Required system | None (optional PC mode) | None (optional PC mode) | Gaming PC |
| Software compatibility | Viveport, SteamVR | Meta store, SteamVR (via link cable) | SteamVR |
| Price | $1,099 | $1,000 | $999 |
Bottom line
HTC's Vive XR Elite is the best-designed VR headset available in terms of weight and comfort. Beyond the standalone design, it feels even better when hooked up for PC-based VR. There's something that feels so far into the future about its all-black design that builds on the sunglass-esque HTC Vive Flow. Regardless of your preferred VR experience, the 4K resolution and 90Hz refresh rate lend themselves to great performance. Then there's the full color pass-through abilities, which make transitioning back into the real world easy.
All of those great attributes are hampered by launch titles that don't necessarily move the needle. This isn't as much of an issue if you have a desktop PC powerful enough to play PC-based VR titles, but users looking for a standalone headset may be left underwhelmed. There are also technical issues, including the inconsistent hand tracking, controllers that still use ring-tracking and lack of a headset jack. The XR Elite has plenty of potential, but right now, prospective buyers are only investing in potential. At this price range, desktop users may want to look into the Valve Index (our best VR headset pick for PC gamers) while anyone wanting a standalone headset may find the Meta Quest Pro a better option.