CNN —
The HomePod Mini, the new apple-looking smart speaker from Apple, is just $99. That means it's cheaper than basic AirPods, AirPods Pro, Apple TV and the original HomePod.
It's going head-to-head with countless other smart speakers — mainly the Echo and Echo Dot from Amazon and the Nest Mini and Nest Audio from Google. Powered by Siri for smart home commands, queries and random questions, you can also play music via Apple Music and other music services that have updated to support HomePod OS 14, like Pandora. Plus, it also functions as an intercom to other Apple devices.
We've been testing the HomePod Mini for more than two weeks — 17 days, to be exact. The HomePod Mini is super impressive, certainly taking up the mantle as Apple's smart speaker for the everyday music listener. While it isn't as focused on sound quality as its bigger sibling, the HomePod (which is a more impressive smart speaker, both in terms of size and technology inside, but is still priced at $299), you still get a whole lot of smarts in a speaker for just $99.
If you're in the Apple ecosystem, it's a no-brainer — and here's why.
HomePod Mini now comes in yellow, orange or blue
Apple's HomePod Mini was first released in November 2020, but roughly a year later, three new color options have been rolled out: yellow, orange and blue in addition to white and Space Gray — all for $99 each.
Let's talk design and setup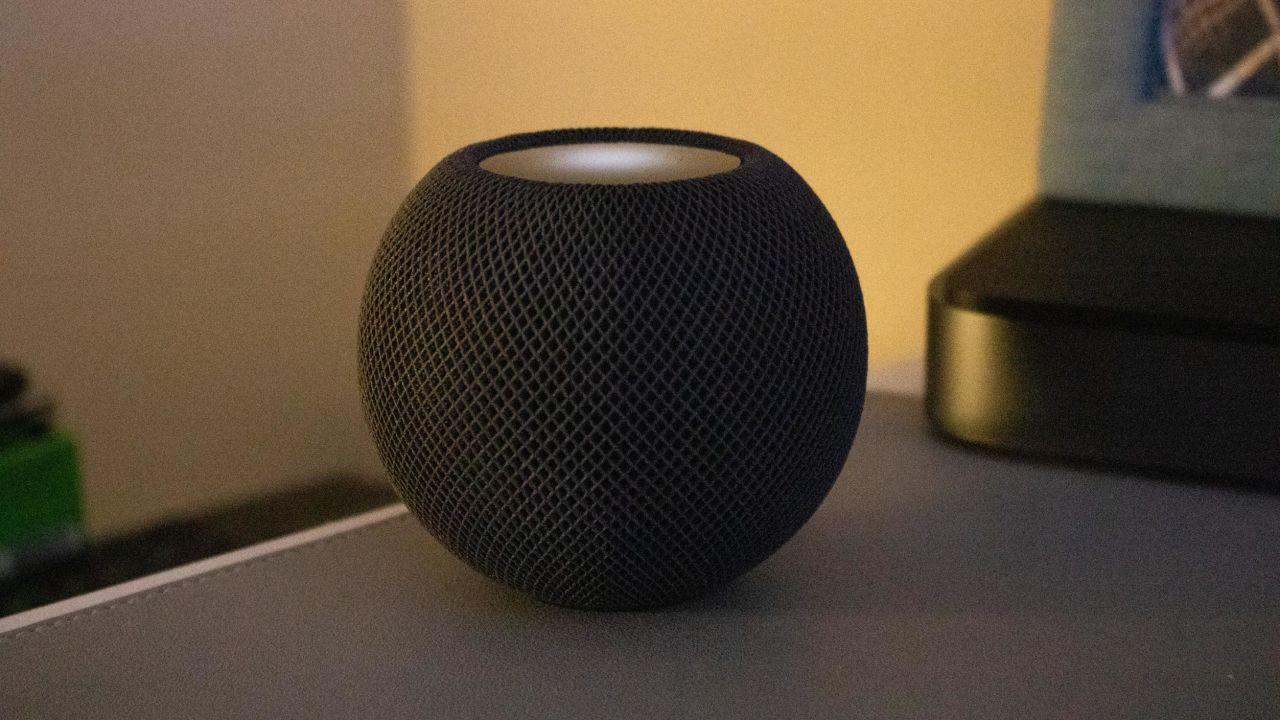 While its mesh outer shell mimics the full-size HomePod, that's pretty much where the visual similarities stop. The HomePod Mini is a globe-like build with a flat top and bottom — somewhere in size between a pear and an apple.
The bottom features a built-in stand to keep the HomePod Mini still when pumping up the jams and to keep the mesh clean. Up top is a circular touch surface with LED lights underneath. It can glow the normal purple, blue and green colors that you expect from Siri, with which you can engage by touch or with "Hey Siri" commands. There's also a minus and plus for volume control on the top. You can single-tap to play or pause, double-tap to skip a track and triple-tap to go back a track.
The HomePod Mini also has a tether cord with a USB-C end. It's a pretty sizable cord, and it's braided, which gives us some extra hope in the durability department. That's paired with a 20-watt USB-C power adapter to, well, power the Mini.
When setting up the speaker, you'll want to have your iPhone nearby for quick pairing — the same pairing technology that Apple uses for AirPods, AirPods Pro and the Apple Watch. During setup, you'll be asked what room the HomePod Mini is being set up in, and it'll walk you through creating a Home in the "Home app" on your phone if you don't have one already. This is all part of Apple's HomeKit standard for controlling smart home devices. The HomePod Mini doesn't require a stand-alone app, as it will live in the Home app. You'll set the room, and in the background, the Mini will be linking with your Apple ID.
This is important, as the HomePod Mini will give you the option to enable Personal Requests. Essentially, this allows the Mini to access personal information to read or send messages, make calls, give you alerts and more. As an additional security measure, the HomePod Mini is able to know who's asking questions. So if it's our tech editor, Jacob Krol, and his iPhone is in the vicinity, it will let him ask and request tasks that are personal. But if Henry or Max Krol are over, Siri will present them with their information if they're set up in the Home, as she recognizes voices. It's all very secure, and it's nice to know someone can't tap into messages if the personal device is not there.
Setup for us was complete in just shy of three minutes.
Sound is really strong
You may think that, at $99, the HomePod Mini won't sound as loud or fill the room quite like the $299 HomePod.
Wrong. Well, partially. The HomePod Mini can get surprisingly loud for its size and offers incredibly strong audio across multiple genres with bass, low, mid and high tones. Still, the larger HomePod does push out more sound, with clear definition across individual tracks that make up a song.
To create robust sound from a compact device, Apple opted for a full-range driver and dual passive radiators to create sound. The full-range driver sits center inside with the dual passive radiators on the side. There's an acoustic waveguide on the bottom, which ensures the sound is pushed out into space properly, essentially to deliver a 360-degree experience. It's not omnidirectional like Nest Audio or the spherical Echos. But we see that as a plus — opting for this in a corner of a room can have sound reflect off the wall and give the impression of larger sound.
The Apple-made S5 chip inside powers Siri, the audio mixing and the full experience here. It's computational audio, meaning the Mini will apply tuning or EQ algorithms to a track in real time to produce the best sound possible. Apple says it applies those algorithms at over 180 times per second to understand the best one to apply. It will also adjust tones and optimize for volume.
Let's take, for example, "Give a Little" by Maggie Rogers, a bouncy pop track with bass, flowing airy vocals and plenty of instruments. We started listening at around 30% volume. It all came through very clear, with the definition of each individual instrument or vocal. Turning the volume to around 75% produces a louder mix that doesn't lose any clarity; Rogers' vocals stay clear, and we didn't pick up any muddiness in the mix.
At full volume, we were able to calmly say, "Hey Siri, play 'Born to Run,'" and the four microphones on board picked us up fast. In fact, it took about 10 seconds from the command to hear the opening wall of sound at full blast from the HomePod Mini. It's not an overtly powerful speaker, but it presents a larger amount of sound for such a small package. It does fill an average-size bedroom.
"American Girl" by Tom Petty & The Heartbreakers opens with a deep drum and bass line as guitars and other instruments blast into a revving engine roar before Petty's vocals get overlaid. None of this gets lost on the HomePod Mini, even at full blast. You get the full force of instruments with no distortion introduced.
In comparison to the Nest Audio, Google's new $99 speaker, the HomePod Mini is louder and, frankly, better overall. The fourth-gen Echo, which also costs $99, can get louder than the HomePod Mini but loses some of the clarity at times. It's likely thanks to a larger design, as audio has more room to travel. The Echo has a tendency to vibrate a bit more as well, and it was harder to get Alexa's attention with the volume set high. So, again, HomePod Mini was the winner by comparison.
The $49.99 Echo Dot and $59.99 Echo Dot with Clock are about the same size as HomePod Mini, as is the third-gen Echo Dot. The HomePod Mini, though, provides more clarity, doesn't feature distortion, delivers deep bass and gets a lot louder. It's a night-and-day experience, especially at higher volumes.
The iPhone is deeply integrated into the experience. From your phone, you can control the sound experience — you can see playback in real time with the ability to adjust volumes and skip or reverse a track. If you want to use Spotify, just cast the sound from your iPhone, iPad, Mac or even Apple Watch via AirPlay to HomePod Mini. The same goes for Tidal and Pandora.
Apple also expanded which music service — beyond Apple Music — you can use as a default. Essentially, there's an API that services can integrate with. Pandora is currently on board. It will be seamless once more services are added, and we're keeping an eye on when Spotify will enable this. But Pandora worked effortlessly once enabled in our testing.
Siri has gotten smarter
During our two weeks of testing, we primarily used an iPhone, as we were simultaneously working on iPhone 12, 12 Pro, 12 Mini and 12 Pro Max reviews.
For the most part, it was a really great experience. The HomePod Mini, even with music very loud or us being in another room, generally always picked up our commands on the first try — though, at times, an iPhone or iPad would grab it first.
It was clear here as well that Siri has gotten more responsive and is smarter. She's quicker to respond back to commands. Turning on lights took about three seconds after she hears the command.
More smart home devices support HomeKit. During our two weeks, we used a Nanoleaf bulb, an LG CX 55-inch OLED, an Apple TV, an Apple TV 4K, a Logitech Circle View, several Wemo Mini Plugs, a Voccolinc smart plug, three Eero Pro routers, a Sonos One, a Bose Home Speaker 500, motion sensors and Philips Hue bulbs.
Many of these devices, aside from the Apple TVs and Logitech Circle View, play nicely with Alexa and Google. And right away we didn't need a separate hub to get these devices in HomeKit, aside from Philips Hue (they're wonderful but need a hub for every smart home ecosystem). It was as simple as opening the Home app on our iPhone and setting up an accessory by scanning the HomeKit code on devices. The app handles all the hard work of authenticating it onto your network and setting it up in your home. Heck, the app even suggests routines by default.
Bottom line
If you're in the Apple ecosystem or have an iPhone, we think the HomePod Mini is a no-brainer at $99. We've seen a trend this year, but Apple is focusing on value, and the HomePod Mini is a pure example of that.
It sounds really good, Siri is much improved, it's relatively compact in size with a nice design and it can be the starting point for creating a smart home.
To sum it up: Apple crafted an ideal smart speaker for its customers at under $100.
HomePod Mini is available now at $99 in yellow, blue, orange, Space Gray and white.