Lace up your hiking boots, trail lovers, this one's for you. The Gregory Maya 25 is an ideal hiking backpack for adventures near, far and everywhere in between. Daypacks — or backpacks that are sized for day-long treks — will help you carry all kinds of gear outdoors. A solid hiking backpack will fit all of the necessities, like a first aid kit, water, snacks, extra layers and more. Even better, consider packing all of the 10 Essentials with you while exploring outdoors, no matter how many miles you plan to go.
Gregory built the Maya 25 with comfort, ventilation and versatility at the forefront of its design. This pack is super comfy thanks to features like an elastic harness and padded aerodynamic back panel. It's also loaded up with a variety of accessories, like a durable front mesh pocket, phone and gear compartments along the hip belt and a flexible waist strap for added comfort.
I tested the women's fit Gregory Maya 25 on a few hikes to see how it performs on the trail. This pack also comes in a men's version called the Miko 25 if you're seeking out a gender-specific design. Here's what we thought of this versatile daypack.
A comfy, ventilated and spacious backpack built for day hikes
The Maya 25 is an ideal hiking daypack. It's super comfortable, loaded with compartments for gear, and made with a ventilated, padded foam back panel that hugs your back without trapping in heat. The Maya can fit any of Gregory's hydration reservoirs too. Snag this 25-liter backpack if you're looking for a versatile hiking companion for your adventures along the trail.
What we liked about it
A comfortable, breathable and accessorized backpack makes all the difference on the trail. Whether heading out on your favorite local hiking trails or taking an epic adventure to a new national park, having the right daypack with you will make or break your outdoor experience.
As a seasoned day hiker, I'm a firm believer in bringing a backpack that you not only love, but trust. From comfy shoulder straps and a breathable back panel to an array of pockets for carrying all kinds of accessories and gear, it's key to choose a backpack that will serve your needs wherever you go.
Comfortable and breathable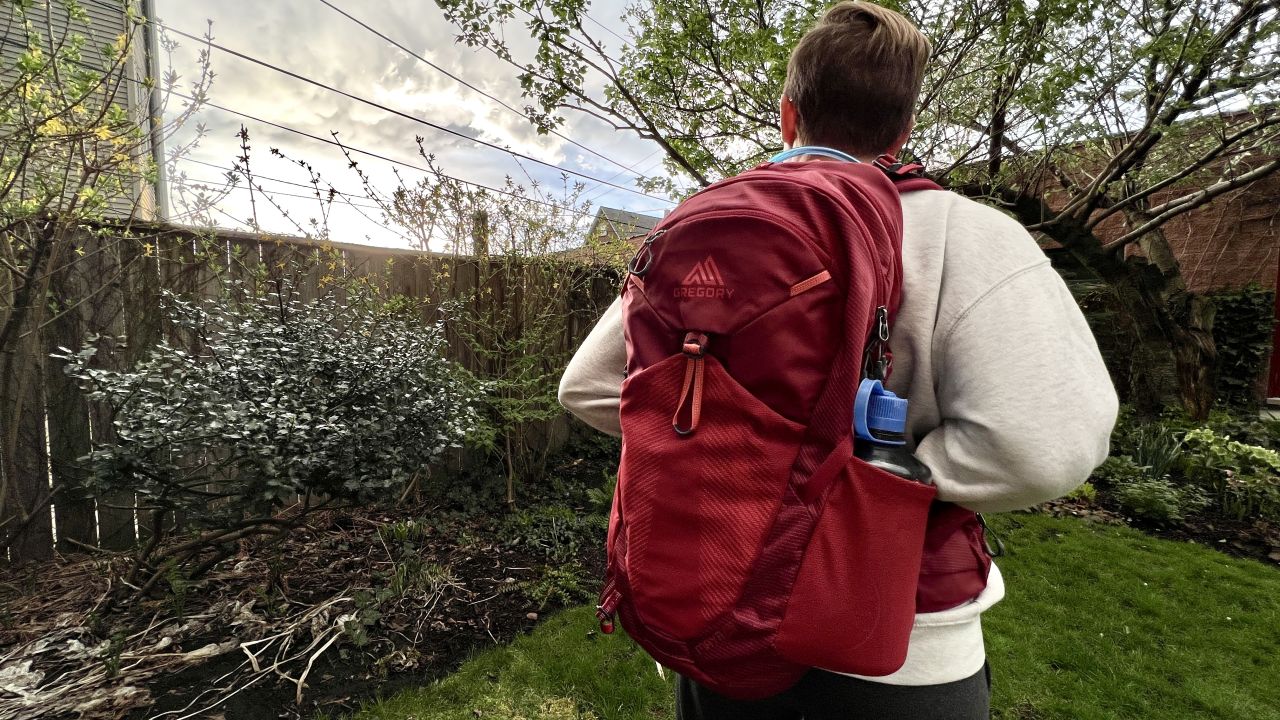 The Maya 25 fits like a glove, and it feels more like a comfortable hug around your back and waistline than a bulky hiking backpack. Gregory designed this pack with its BioSync flexible hip belt and shoulder harness, which stretch and flex with the natural motions of your body. While hiking on hilly sections of the Palos Trail System outside of downtown Chicago, I found the Maya to move with me as I stepped over thick tree roots, ducked under branches and bent over for more leverage while walking uphill. I was super appreciative of the elastic and padded shoulder harness and back panel system, which provided extra comfort with the added weight of water bottles and extra layers I was carrying in my pack.
The Maya's ventilated pack design is ideal for hikes in humid and hot climates. Its extremely sophisticated ventilation system and design make this daypack the most breathable backpack I've ever worn while hiking. A padded foam back panel provides unmatched comfort and a ventilated groove down the middle of the spine allows air to move down your back, keeping you cool and dry while you sweat. Gregory also designed the Maya with aerodynamic grooves on the foam padding so there's minimal contact along your back. Lightweight shoulder straps are also ventilated with air holes and mesh fabric, providing even more breathability.
Plenty of pockets and features
Pockets are a prized possession on daypacks. That's because having a variety of storage compartments within reach is critical for easily accessing and quickly stashing away your gear. The Maya's abundance of zippered and non-zippered pockets makes this pack stand out among others I've worn before.
Sizeable hip pockets on both sides of the pack's adjustable belt are big enough to store your phone and any other gear you need easy access to. This is ideal when you need to grab your phone quickly to snap photos of wildlife and stunning views or check your trail mileage and digital maps. Dual side pockets can fit an oversized water bottle (like a Nalgene) on either side of the pack. You can also secure your bottle in place using the Maya's adjustable side compression straps. And since these side pockets are made of stretch mesh, you don't have to struggle with trying to squeeze your bottle inside.
Two large zippered compartments on the top of the pack and one small zip pocket on the front of the pack allow you to organize your gear in different sections of the bag. The middle compartment has a ventilated zipper pouch inside for storing small items you want to be hidden but easily accessible, and the back compartment is specifically designed for water bladder storage.
An oversized, deep and durable mesh stuff pocket on the front of the pack also allows you to fit everything from extra layers to snacks for quick access while on the trail. Five loops on the front of the pack give you the option to clip gear like camp shoes, water bottles and bandanas on the outside of the bag. The Maya also features a trekking pole attachment with an adjustable upper bungee loop and reflective bottom loop. Lastly, I'm also a big fan of Gregory's ComfortGrip loop zipper pulls. They make unzipping large and small compartments way easier than having to fumble for standard-sized zipper tabs.
On my hike on the Palos Trails, I was able to fit a mid-layer, shell jacket and a small first aid kit in the middle storage compartment with plenty of room to spare. I also fit some snacks in the front stretch pouch and fit two phones (one on each hip) using the waistband zipper pockets.
Hydration-compatible
It's easy to stay hydrated while wearing the Maya 25. The pack's large back compartment features Gregory's SpeedClip hydration hanger that's compatible with all of the brand's hydration reservoirs. This clip allows you to lock the Gregory water reservoir in place so it rests securely inside of your pack. I'm a fan of the Gregory 3D Hydro 3L Reservoir ($45) because of its heavy-duty spine handle (for easy carrying) and integrated hanger clip (for secure storage). The 3D Hydro 3L also features a Drylock magnetic bite valve, which prevents water from leaking out of the mouthpiece while you hike and is super easy to lock, unlock and drink from.
A hidden slit near the top of the backpack allows you to feed the hydration hose to the outside of the pack, while elastic straps and a plastic clip on the right shoulder harness secure the hose to your body while you hike. You can also attach the hose to a magnetic clip on the right shoulder strap so it doesn't (annoyingly) bounce around while you walk.
What we didn't like about it
Limited use cases
There's not much to complain about when it comes to the Maya 25. However, if you're planning to take this backpack on long-distance hikes (or even a thru hike) you may consider purchasing a bigger and more supportive pack. The Maya 25 was really built with shorter trail distances and day hikes in mind, not long-haul adventures.
Packs like the Gregory Deva 60 ($330) and Osprey Aura AG LT 50 ($270) — both built for backpacking trips and carrying heavy loads — feature more technical suspension and durable frames to better support your back. Features like the Deva's alloy frame and the Aura AG LT's AntiGravity suspension provide the stability and protection needed for backpacking on technical terrain. These backpacking bags also have thicker waist belts, which help disperse the internal pack weight and cushion your hip.
How it compares
There's a backpack for everything: travel, biking, trail running and, of course, day hikes. And while packs come in all shapes and sizes, they're not created equal. Specifically when it comes to choosing a daypack for shorter, day-long hiking trips, it's important to consider comfort, capacity, versatility and durability as well as price point.
The Gregory Maya 25 is most similar to the REI Co-op Trail 25 Pack and Osprey Mira 22 Hydration Pack. The Maya 25 ($140) falls in between these packs for weight and price point while REI's Trail 25 pack ($80) and Osprey's Mira 22 ($200) sit on opposite ends of the price spectrum. Features like Osprey's DWR-treated and durable nylon outer fabric, as well as thick padded shoulder straps and a cushy waist belt, likely play into the price tag of the pack. The REI Trail 25 offers a much simpler design at a fraction of the cost of both the Gregory and Osprey daypacks.
Let's compare these three very similar hiking daypacks.
| | | | |
| --- | --- | --- | --- |
| Capacity | 25 liters | 25 liters | 22 liters |
| Weight | 2 pounds | 1 pound 15 ounces | 2 pounds 13 ounces |
| Frame type | Frameless | Internal frame | Internal frame |
| Materials | 100-denier high-density nylon; 210-denier high-density nylon | Recycled ripstop nylon; recycled nylon (bluesign approved) | 210-denier recycled high-tenacity nylon; 420-denier recycled high-tenacity nylon; 200-denier recycled polyester |
| Exterior pockets | 5 | 5 | 3 |
| Dimensions | 20 x 11.2 x 9.2 inches | 19 x 13 x 7.5 inches | 22 x 13 x 10 inches |
| Price | $140 | $80 | $200 |
If you want more support on dynamic hikes that include technical features like boulder scrambles, steep elevation and uneven terrain, opt for the Osprey Mira 22. However, for your average day hike at a variety of national parks, local wilderness areas or even in town or while traveling, the Gregory Maya 25 is our pick.
Bottom line
Wearing a comfortable, durable and breathable daypack will have a lasting impact on your adventure. The Gregory Maya 25 was built with ventilation and comfort at the forefront of its design. Trust us when we say the performance of this daypack is in the details.
Thick padded shoulder pads, a foam back panel with grooves engineered for added airflow and a variety of pockets (of all sizes) stand out in making this pack one of the most well-fitting and breathable you'll find. A variety of pockets on the front, sides and waist belt of this pack allow you to store any and all gear you'll need on the trail — and with easy access, too. Don't worry about staying hydrated with this pack either. Its specially designed hydration reservoir compartment will keep your water bladder easy to access and secure with magnetic clips.
No matter if your day hike takes you deep into the backcountry or on a trail at your local park, the Maya 25 is a pack you won't regret spending your hard-earned money on.