A device with a 90Hz display, the same performance as a flagship Pixel 7, a triple-camera system and a glass design for under $500? That almost seems too good to be true.
But lo and behold, that's exactly what we got. The Pixel 7a, a successor to last year's excellent Pixel 6a, focuses on acing the fundamentals of a great smartphone, all while letting the core Pixel experience shine through. This phone may be priced at $499, but it certainly doesn't feel like it. It also puts the regular Pixel 7 in an awkward position given how similar the two devices are.
With the exception of a couple minor caveats, the Pixel 7a is an incredible smartphone for the money. Here's what I learned about it during my 10 days of testing.
If you're looking to spend less than $500 on an Android phone, it's hard to do better than the Pixel 7a (unless you can find the standard Pixel 7 on sale, that is).
What we liked about it
Flagship-level design, yet again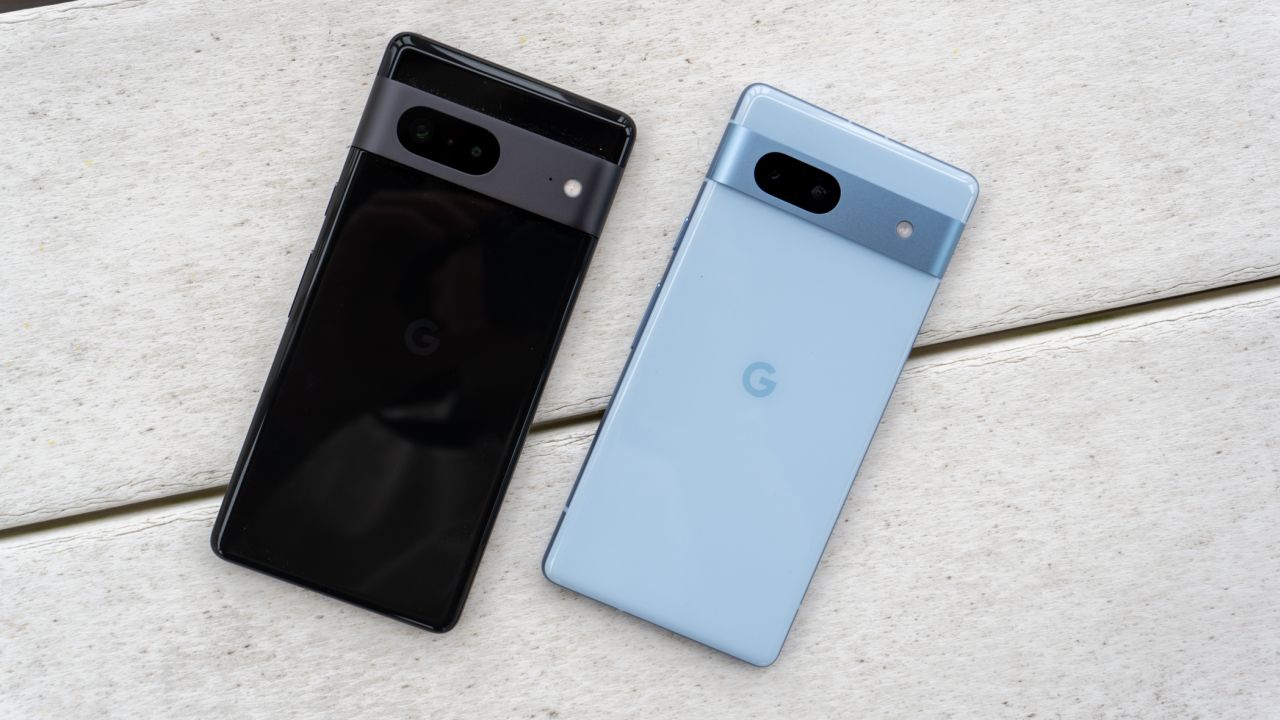 The Pixel 6a impressed me last year with its high-end design, and the 7a follows suit. It takes after the flagship Pixel 7 series with a glass and aluminum exterior accented by a large camera bump. It's essentially a smaller Pixel 7, making it one of the nicest-looking midrange smartphones on the market. I'd bet you could trick anyone into thinking this was an $800-plus smartphone from the design alone.
Google also nailed the size. Like I said, this is basically a smaller Pixel 7, swapping out that device's 6.4-inch display for one that measures 6.1 inches. That doesn't seem like a huge difference, but it makes the 7a even easier to hold and use in one hand. And while it's heavier than the 6a was at 6.8 ounces versus 6.3 ounces, it's still lightweight and comfortable to hold for long periods of time.
There are a few color options available: Charcoal, Snow, Coral and Sea. I got Sea, and I can confirm that it's a very nice blue. It's pretty subtle — a lot of the photos I took of the phone made it look white — but it's a very nice finish nonetheless. If you want your phone to pop, you'll want to grab the Coral model.
Around the device, you'll find the usual array of volume and power buttons, a USB-C cable, a SIM card tray and stereo speakers. The phone is rated at IP67 for water and dust resistance, so you won't have to worry about getting it wet. In addition, Google is selling $29 cases for the 7a with silicone finishes, and they're very nice. My case matches the Sea colorway of the 7a, which helps to accentuate the finish.
A smooth display that's just the right size
The Pixel 7a's 6.1-inch screen is the same size as the 6a, with the same Full HD+ resolution and OLED panel to boot. What's different this year is the inclusion of a faster refresh rate.
The 6a came with a 60Hz refresh rate, which means any content on the display updates 60 times per second. That's been the standard since the inception of all-touchscreen smartphones, but things have changed over the past few years as more and more phones adopt faster refresh rates like 90Hz and 120Hz, making everyday interactions with your phone feel smoother and faster.
As for the Pixel 7a, Google is giving it an upgrade to 90Hz, which is a big deal. Not only does it make the 7a the first Pixel A-series device to get one, but it also moves the device closer to flagship status. For context, it's the same refresh rate as the Pixel 7, which makes using the 7a feel just like you're using the regular 7. Everything from scrolling Twitter to animations is silky smooth, and the entire software experience feels more responsive as a result.
Unlike the Pixel 7, the 7a doesn't ship with 90Hz turned on out of the box. You have to go into display settings to turn it on (just look for "Smooth display" and flick the toggle). I asked Google why it wasn't turned on by default and the company said it's to maximize battery life. I'll get to battery life later, but it's worth mentioning that I didn't notice a huge drop in endurance with 90Hz enabled.
I encourage everyone to flick it on the second they take their 7a out of the box. It's one of those features that's truly life-changing; if you've never used a smartphone with a faster refresh rate than 60Hz, the 7a will convince you never to go back.
Beyond that, the actual quality of the Pixel 7a's display is nice. I enjoyed watching many movie trailers and "South Park" episodes, thanks to its vibrant colors, good contrast and wide viewing angles. It's an OLED panel, so you also get true-to-life black levels that you simply can't replicate with LCD. It reaches 500 nits using the brightness slider and can max out at 1,000 nits in direct sunlight, which is about as much as you could ask for from a $500 phone. In addition, the 2400 x 1080 resolution is sharp enough that nothing looks blurry, including tiny text.
Google's Tensor G2 makes the Pixel 7a a performance champ
Following in the flagship trends of the Pixel 7a, Google decided to throw its Tensor G2 processor in this phone, which gives it nearly identical performance to the Pixel 7 and 7 Pro. It can easily beat the performance you'd get from a typical sub-$500 Android phone, all thanks to Google's incredible optimizations. This phone is a screamer for the price.
Compared to the Pixel 7, the 7a is a tad slower. Google assured me that it's using the same Tensor G2 as that device, but using the two devices side by side, I noticed that apps didn't open with the same responsiveness, graphics-heavy games would drop frames more frequently and Google's processing magic after tapping the shutter button in the camera app took a bit longer. I ran Geekbench 5 on the Pixel 7a and compared it to the scores I got from the regular 7, and the 7a fell a little bit short.
It also fell far behind the iPhone SE (2022) from Apple, whose A-series processors continue to outpace Google's own chip line. You'll also get better scores out of the Galaxy S23 with its Snapdragon 8 Gen 2 chip.
However, none of that is to say the Pixel 7a is a bad performer. In fact, it's one of the best you'll find on the entire smartphone market. Typical sub-$500 phones that come with a Snapdragon 400 or 600 series processor can't hold a candle to what the Tensor G2 is capable of, so if good performance is on your wish list from a new smartphone, the 7a won't let you down.
The chip is paired with 8GB of RAM, which is plenty to keep apps from crashing or reloading frequently, and there's 128GB of storage for storing all the content you need.
The best camera on any midrange smartphone … of all time
I was honestly baffled every time I took a photo using the Pixel 7a. Not because the camera app was confusing or I couldn't find where the pictures were stored, but because of how good each one came out.
Google includes a new 64-megapixel main camera on the back of the 7a, which is a massive upgrade over the aging 12.2-megapixel sensor from the 6a. It's technically a less capable camera than the 50-megapixel shooter on the Pixel 7 and 7 Pro, but it has more resolution for Google's processing algorithms to play with. And let me tell you, it kicks out some impressive results.
I spent most of my time comparing photos taken on the 7a to the regular Pixel 7, just to see how similar they are. To my surprise, they're more similar than you could ever imagine. Here's a quick side-by-side comparison — I'd bet you wouldn't be able to tell which photo was taken on the 7a and which was taken on the 7 if I didn't label them.
That's been the case with every photo I've taken with the 7a. Each offers excellent color reproduction, Google's signature contrasty aesthetic, excellent white balance and good detail — even in low light. In fact, I'll go as far to say that if you want to take pictures at night and you're on a budget, this should be the only phone you consider; Google's Night Sight and Astrophotography modes are just that good.
The main camera sits next to a 13-megapixel ultrawide with a 120-degree field of view. That's wider than the 114-degree, 12-megapixel ultrawides on the Pixel 7 and 6a, allowing you to capture more of a scene in a single photo. It, too, comes with solid color reproduction and contrast, while highlights at times can get a bit overprocessed with Google's HDR. It's also a decent performer at night, but the main camera was able to capture a bit more light and detail overall.
There's no telephoto sensor on the Pixel 7a, but Google does include a 2x zoom toggle if you want to punch in a bit without losing a ton of resolution. In addition, both rear cameras can shoot 4K video at 30 frames per second (fps) — 4K 60 fps is exclusive to the main lens — and footage is extremely solid for a $500 phone. While it won't top the kings of smartphone videography — currently the iPhone 14 Pro and Galaxy S23 Ultra — it will provide some nice-looking clips for your next project or digital photo album.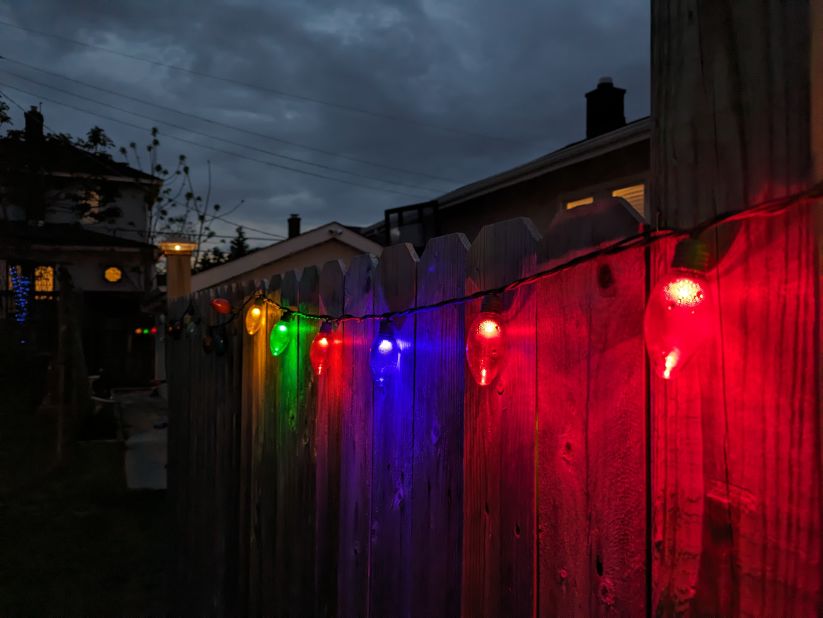 Photos taken with the Google Pixel 7a
In addition, there's a 13-megapixel selfie shooter that's sharp and wide enough to capture you and your friends in plenty of detail.
Google's smart camera features like Night Sight, Magic Eraser (for removing unwanted objects and subjects using AI), Long Exposure, Photo Unblur and Real Tone (for representing skin color more accurately in processed photos) are on board the Pixel 7a, but there are some that are missing. Most notably, you won't find Cinematic Blur or Action Pan, two features that remain exclusive to the higher-end Pixel 7 and 7 Pro. That simply means you can't add a blurry background to your videos, which is a small sacrifice to make given this phone's price point.
Overall, there wasn't anything about the Pixel 7a's cameras that I disliked. Not only will they beat out the quality of any other sub-$500 smartphone's shooters, but they're about on par with that of the Pixel 7 and 7 Pro, which says something about Google's incredible post-processing magic.
All-day battery life
During my review period, I never found it difficult to get through a full day on the Pixel 7a. Google includes a 4,385mAh battery (a tad smaller than the 4,410mAh cell in the 6a), and it provides just enough power to last a full 16-hour day before dropping to about 15 to 20%.
Mind you, this was with the 90Hz refresh rate enabled. If you turn it off, you'll get even longer endurance. I ended days with 40 to 50% left in the tank under that condition, which means you could pull off two full days on a single charge if you're careful.
If you run out of power, Google includes both wired and wireless charging, giving you more versatility to juice back up and get on with your day.
Android on Pixel phones continues to delight me
I say this a lot whenever I talk about a Pixel phone, but boy do I love the software experience. Google's take on Android 13 is a simple delight to interact with, whether you're sifting through your home screen pages, tweaking your device's settings or managing notifications. From its springy animations to the abundantly welcoming Material You interface, the Pixel experience is simply unmatched in the world of Android. It's a lot cleaner than something like Samsung's One UI, which, at times, can feel overwhelming. And it's far superior to anything OnePlus, TCL or Motorola is putting out.
It's also incredibly smart. I adore having Call Screen so I can utilize the Google Assistant and ask who's calling before answering, Direct My Call gives me a visual menu of pressable keys on phone trees when I call a business, At a Glance gives me a preview of my day right on my lock screen and voice typing with the Assistant helps jotting out long paragraphs a breeze. There's also the handy Recorder app with live transcriptions and speaker labels, Clear Calling for higher-quality voice calls and Quick Phrases that let you give the Assistant simple commands to get things done (like saying, "Stop" when an alarm goes off or "Answer" when a call comes in, all without having to say, "Hey Google" first).
On the Pixel 7a, Android feels just as fast and fluid as it does on any other Pixel phone I've tested. I've said it before and I'll say it again: This is my favorite incarnation of the Android experience. If you appreciate good software, you'll love using the 7a.
Top-notch security
The Pixel 7a also has great security. It's driven by the Titan M2 chip, which encrypts the personal information on your phone and makes it less likely you'll get hacked. There's an optical fingerprint scanner under the display that's fast and locks your device from prying eyes, and Google even throws in facial recognition for extra convenience.
In addition, Google includes access to a free VPN through Google One, even if you aren't a paying subscriber. Just visit the Google One app and find the VPN section on the main page. From there, you can toggle it on or off whenever you want, allowing you to encrypt your web traffic whenever you're on a public Wi-Fi network.
What we didn't like about it
Charging is slow by today's standards
If you plug the Pixel 7a in to charge, you'll max out at 18W of power. That used to be considered pretty fast, but in the current world of smartphones we live in, it's particularly slow. More often than not, phones ship with 30 to 45W charging, which gives you that extra boost of power much quicker. From 0 to 100%, you'll be waiting at least an hour and a half with the Pixel 7a, which is unfortunate.
On the wireless charging front, there's 7.5W support here. It's not all that common to find fast wireless charging on midrangers, but let's not forget that Google once shipped a Pixel Stand that supported 23W charging. We know the company has the technology to make fast wireless charging possible — it just didn't include it on the Pixel 7a.
You have to pay extra for mmWave 5G, and it's exclusive to one carrier
In the United States, the Pixel 7a supports sub-6GHz 5G on every model. That's good enough for most people, but for those who live near a mmWave tower (aka those in major cities who live on certain street corners), you'll have to have service through Verizon.
That's the only carrier supporting mmWave 5G on the 7a. What's more, it'll cost you an extra $50 to get a device with the band built in, totaling $549 for the whole package. Whether that's worth it is up to you; for most people, it's simply not because mmWave isn't very widespread. Still, it's an odd quirk.
How it compares
| | | | | |
| --- | --- | --- | --- | --- |
| Display | 6.1-inch 1080 x 2400 OLED display, 90Hz | 6.3-inch 1080 x 2400 OLED display, 90Hz | 4.7-inch 1334 x 750 Retina HD display, 60Hz | 6.4-inch 1080 x 2340 Super AMOLED display, 120Hz |
| Processor | Google Tensor G2 | Google Tensor G2 | Apple A15 Bionic | Octa-core Samsung Exynos |
| Memory | 8GB | 8GB | 4GB | 6GB |
| Storage | 128GB | 128GB / 256GB | 64GB / 128GB / 256GB | 128GB |
| Rear cameras | 64-megapixel main camera, 12-megapixel ultrawide camera | 50-megapixel wide camera, 12-megapixel ultrawide camera | 12-megapixel main camera | 50-megapixel main camera, 12-megapixel ultrawide, 5-megapixel macro |
| Front camera | 13-megapixel | 10.8-megapixel | 7-megapixel | 32-megapixel |
| Dimensions | 6 x 2.9 x 0.35 inches, 3.2 ounces | 6.1 x 2.9 x 0.3 inches, 6.9 ounces | 5.45 x 2.65 x 0.29 inches, 5.09 ounces | 6.22 x 3 x 0.32 inches, 7.1 ounces |
| Colors | Charcoal, Snow, Coral, Sea | Obsidian, Snow, Lemongrass | Starlight, Midnight, (Product) Red | Awesome Violet, Awesome Graphite |
| Price | From $449 | From $599 | From $429 | From $450 |
Bottom line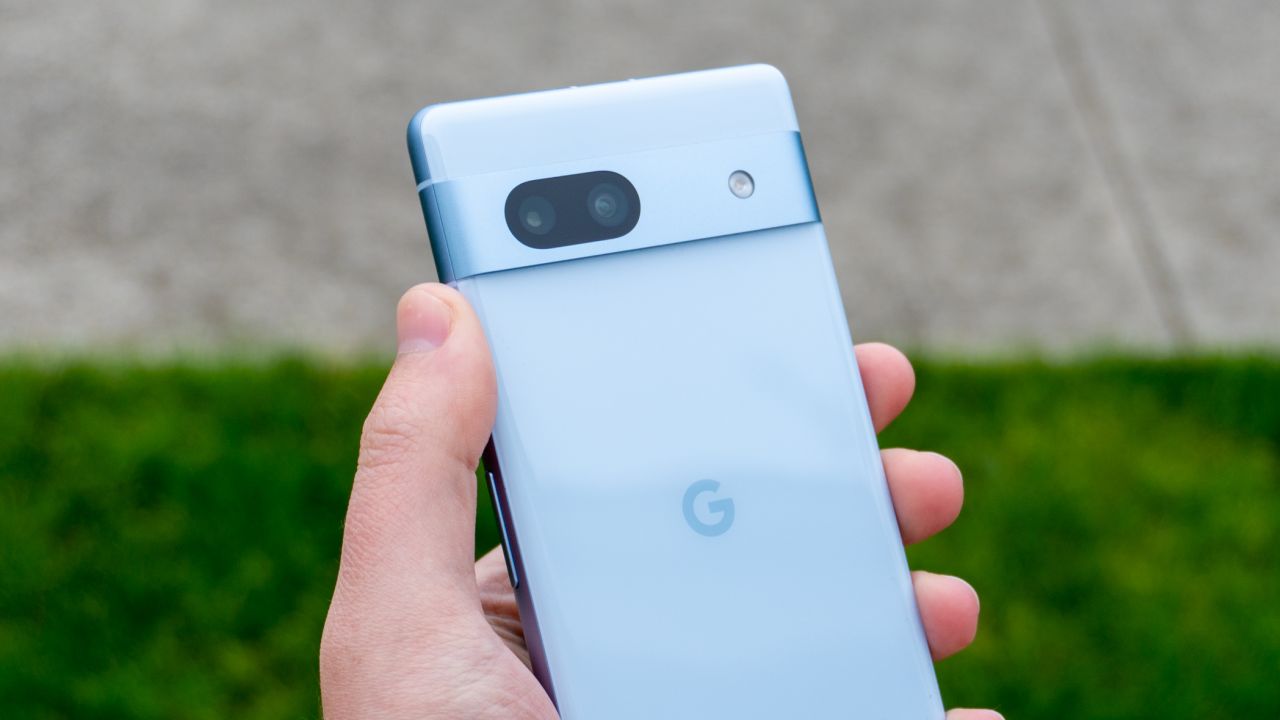 I found it extremely difficult to find bad things about the Pixel 7a. For $499, this is one of the best smartphones I've ever used, let alone one of the best on the market today. The combination of a great display, great performance, stunning cameras, all-day battery life and a software experience unlike any other, Google has a true winner on its hands.
The Pixel 7a easily beats out other midrangers at similar price points like the Galaxy A54. It has better performance, cameras and software support than any other midrange phone.
Of course, it's worth considering that the Pixel 7 can be had for the same $499 when it's on sale, which is quite often. If you can find it for that price, you might want to skip the 7a and go for the proper flagship. You should also keep in mind that the Pixel 6a will continue to be sold for $299, which is a remarkable value in and of itself.
That being said, the moment the Pixel 7a gets discounted — and you know it will, if history is any indication — it'll be a no-brainer. This phone under $400 would simply be impossible to compete with. It's one of Google's best phones to date, and it's a force to be reckoned with.