When it comes to dry skin issues, I've dealt with them all. Eczema, flaking, patchiness — the list goes on. And especially in winter, when it's colder and the air gets even drier, it's a constant battle to keep my skin hydrated and healthy. So it's no surprise that my No. 1 priority when it comes to skin care in this season is retaining moisture and making sure my skin looks as dewy and radiant as possible.
Naturally, I was immediately intrigued by Glossier's latest launch: After Baume. Described by the brand as a moisture barrier recovery cream for those with dry or sensitive skin (or both!), it's specifically formulated to help repair and heal skin that's been exposed to everything from chilly winter winds to harsh sun and even mask wearing — because, yes, maskne is totally a thing.
Ahead, we put this moisturizing cream to the test. From KN95 masks and dry offices to mild sunburn and relentlessly cold weather, my skin was constantly getting hit with environmental skin stressors. Fortunately, After Baume held up — and earned itself a coveted spot in my medicine cabinet.
If your skin is in constant need of quenching, I would think about whether it makes sense to include an occlusive moisturizer (if you don't already have one) like After Baume in your skin care routine. While heavy-duty repair creams aren't an everyday essential for everyone, there are so many benefits to prioritizing the overall health of your skin's natural barriers
The rundown: A suite of healing, hydrating ingredients
After Baume is vegan, noncomedogenic (meaning it won't clog pores) and formulated without fragrance, essential oils, dyes or drying alcohols. All these make it a super-friendly option to those with sensitive skin or those struggling with eczema, which isn't a coincidence. After Baume has also been awarded the National Eczema Association Seal of Acceptance, so you can be sure it won't further irritate or exacerbate any skin issues.
It's also what Glossier describes as its thickest, most occlusive moisturizer. An occlusive moisturizer forms a physical barrier on your skin to lock in hydration and prevent any further loss of water. It's a great addition to any skin care routine, but particularly if you've put your skin through strong acne treatments or exfoliation, or you're dealing with damage from environmental factors like sunburn or windburn.
Because of an occlusive moisturizer's reparative benefits, it makes sense that After Baume is specifically aimed at helping all skin types heal from exposure to harsh environments, in addition to being a daily moisturizer for those with very dry or sensitive skin. And while it's great for your face, it can also be applied to any persistently dry areas, such as your elbows, knees or hands. Regardless of where you're applying it, Glossier claims that this recovery cream keeps skin moisturized for up to 24 hours.
After Baume's formulation features a suite of plant-based ingredients that simultaneously helps your skin retain moisture and heal itself. Cupuaçu butter (which can retain up to 440% its weight in water) works on keeping your skin hydrated, while babassu oil (a noncomedogenic oil) combined with linoleic acid (which helps to build up your skin's natural defenses) reinforce your skin's moisture barrier. On the reparative side of things, postbiotic ferment (which helps restore your skin's microbiome) and green microalgae extract (derived from a resilient plant and packed with vitamins and minerals) replenish your skin.
The lowdown: Melt-into-your-skin moisture
Glossier's After Baume is packaged in a totally adorable, luxurious mint green glass jar with an aluminum lid in the brand's signature light pink shade. It's super easy to open and close and has a great weight to it while still being conveniently compact for travel or smaller medicine cabinets. It feels more sophisticated than some of Glossier's other offerings, which is a nice touch to this otherwise utilitarian product. One big thing to note here, of course, is that the product is packaged in a jar as opposed to a typically more hygienic tube or bottle.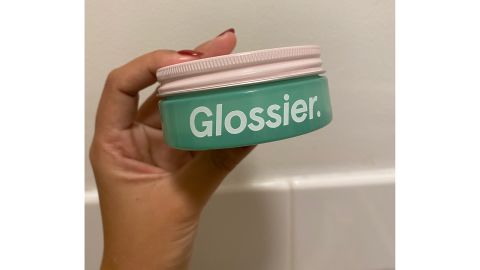 In order to really put After Baume to the test, I used it day and night for about a week. My initial impressions were that it's super thick, it's creamy and a little goes a long way. Glossier recommends using it as a daily moisturizer (which is what I did) or whenever your skin needs a little extra TLC. If you have oily or combination skin, I would recommend using it exclusively at night, or when you need something exceptionally moisturizing and reparative. If your skin is on the dry side, I wouldn't hesitate to use it twice a day, especially if you love a dewy and radiant look.
When it comes to application, Glossier recommends warming the product up in between your fingers, then gently massaging the cream into your skin. Perhaps due in part to the babassu oil in the formulation — which, according to the brand, melts at body temperature for "optimal absorption and minimal greasiness" — the product really does feel like it's melting into your skin. It feels super luxurious and nourishing, and it layered beautifully with my other skin care products. I also found that because After Baume isn't greasy or liquidy, you can really build it up for even more benefits. While I used less during the day and ahead of makeup application, I really layered it on at night, which I feel also helped my skin reap the benefits from other products in my skin care routine.
My favorite part of After Baume was how it made my skin look. When I say this thick, super-moisturizing cream isn't greasy (and I promise, it isn't), I get how that's almost unbelievable. But because the product has that unique melting effect, it doesn't sit on top of the skin and look shiny or greasy. What you're left with is glowing, radiant, super-hydrated-looking skin. In fact, one friend commented on how healthy my skin looked during a recent FaceTime chat in which I didn't have any makeup on, which is truly the ultimate compliment.
Another unique characteristic of After Baume is the almost sticky or tacky finish that it leaves on your skin. I personally look for primers that leave a sticky or tacky feeling because I love how foundation layers on top of it. You get a natural, dewy-looking base, which is always what I'm striving for. However, if you prefer moisturizers that you can't feel after application, the finish of After Baume is something to be aware of. For me, it was a big win, and a moderate layer of the cream worked perfectly under my typical makeup look.
Bottom line: A win for dry skin
Glossier is really good at putting its unique spin on an otherwise simple or standard product, whether it's a gentle, nourishing retinol cream or sunscreen that doesn't leave a white cast. I'm always looking for high-quality, effective moisturizers that are free from extra stuff like fragrances and essential oils, and with After Baume, you're getting all the skin goodness you need without anything extra.
While it's a bit pricier than most drugstore options, it's way more affordable than other higher-end skin care items. And with how little you can get away with using, one jar is sure to last you quite a while. While the cosmetic benefits (like instantly dewy-looking skin and a nice finish) are fantastic, it's undoubtedly helped my dry skin and its overall health enormously in just a couple of days.
If your skin isn't like mine, I would think about whether it makes sense to include an occlusive moisturizer (if you don't already have one) like After Baume in your skin care routine. While heavy-duty repair creams aren't an everyday essential for everyone, there are so many benefits to prioritizing the overall health of your skin's natural barriers. You could try using it exclusively at night as well and wash off the remaining product in the morning ahead of your daytime skin routine.