My posture is a problem. Point in fact: It doesn't matter how many minutes I work out in a day. I know — I just know — I'm undoing half the benefits by spending the rest of my day hunched over my laptop or melting into my couch as I scroll through my phone. The worst part? I know my sedentary habits are having an effect on my workouts (a fact my massage therapist loves to remind me of as she tries to work out all the knots in my upper and lower back).
Which is why I was intrigued by Forme's posture-correcting Power Bra. The company bills this sports bra as a wearable that "immediately trains alignment … while treating and correcting posture for improved lifestyle and athletic performance." (They also make workout clothes like shorts and leggings aimed at alleviating back pain, sciatica or hip pain; T-shirts and long-sleeve tops designed to correct posture disorders; and socks that help eliminate sore or flat feet).
A sports bra that can stand up to high-performance activities and help me embrace more efficient form — while possibly combatting my poor posture during work hours? I was ready to be wowed. Here's what I thought after several weeks of testing.
The Forme Power Bra is a wearable that aims to help women correct their posture throughout the day. Comfortable and lightweight, we felt it helped make us more aware of our poor posture rather than actively changing it. Plus, it's fashionable enough to wear as a cropped tank. However, without authentication from the FDA and an expensive price tag, the only way most women can afford this is to use their insurance (which Forme makes available).
What we liked about it
It had a noticeable short-term effect
The first time I put on Forme's Power Bra, I instantly felt it pull my shoulders down and backwards, the same way a fitness class instructor might cue you to do before a certain exercise. It felt good! The bra is made using six fabrics of varied tension (think of it like a set of resistance bands, which range from light to heavy) and eight double-fabric panels, which the company claims will work together to deliver correction and balance in your spinal posture.
I don't really think it realigned my spine in any significant way, but that initial change in positioning was a nice physical reminder to check in with my body while sitting at my computer and working out. Unfortunately, because there's nothing in the bra to force my body into that position for long periods of time, the initial feedback wore off quickly; when I wore the Power Bra on an 11-hour flight to Japan, for example, my posture sagged back to its standard slouch after directly boarding.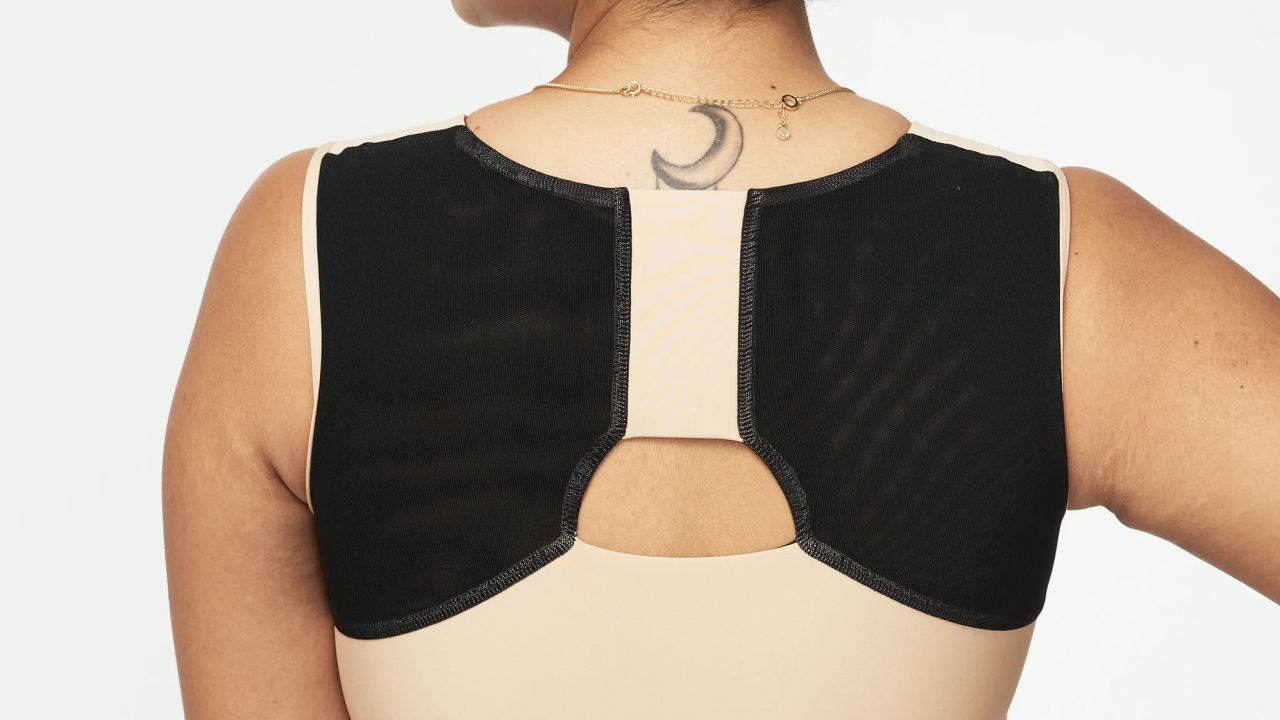 Posture features aside, it's a comfortable sports bra
I ran; did yoga, Pilates and strength-training classes; and weight lifted in the Power Bra, and it felt like any standard sports bra during all of those workouts. The straps and underband are wide and comfortable, the fabric is smooth and lightweight and the extra length allowed me to wear it as a crop top. The website suggests stretching the armholes a few times before wearing the bra for a more comfortable fit, and I found that to be true; due to the tension fabrics, it can be a slightly tighter fit overall, but after the first wear, I didn't have any issues.
What we didn't like about it
Posture-correctors aren't really proven to work
Forme says its apparel is FDA-registered, which sounds nice — but that does not mean the FDA has authenticated, validated or approved the products in any way. One 2019 scientific review published in the Scandinavian Journal of Pain declared that "there's no good quality evidence to support recommendation of posture-correcting shirts as a management strategy for musculoskeletal pain." Even if there are some short-term benefits, adding a posture modification system to a compression garment "is not intended as a therapeutic device to correct posture abnormalities or as a long-term solution to less-than-ideal posture," according to a 2021 study published in the International Journal of Industrial Ergonomics.
The expensive price
I don't care what a sports bra purports to do, charging $168 is not financially feasible to me. Even Lululemon bras max out at $108! Unless a piece of apparel that's being marketed as a medical device is thoroughly backed up by science and vetted by the FDA, I'd have a hard time spending as much as I pay for a monthly gym membership on one single sports bra.
How it compares
Forme's apparel uses tension fabrics to encourage postural changes. Similarly, AlignMe uses a "matrix of bands, panels and seams," which the company refers to as Neuroband technology, to support the alignment of the chest, neck, scapula, and spine in their Zipper Posture Sports Bra for Women, which is available for $95 (it's also not FDA-approved). FWIW, you can use insurance to pay for the Forme bra, but not for AlignMe's bra.
Bottom line
Before you invest in a posture-correcting sports bra to counteract slouching at your desk all day, consider this: There's no single correct definition for "good posture." People think of good posture as a straight-backed position, while slouched gets classified as bad posture. What actually matters is varying your movement and strengthening your body — two things that fall by the wayside when you're sitting for upwards of eight hours a day.
Forme recommends wearing it for four to six hours throughout the day for four to six months in order to see posture improvements; instead, I'd suggest changing up your position throughout the day and incorporating strength training into your routine two to three times a week. And then if you still want to spend $168 on a bra, that's on you.