Ever since college, I've had this idea stuck in the back of my mind of how great it would be to move all of my belongings out of an apartment and into a van. A life without rent and being able to drive wherever you want, whenever you want is tempting for obvious, wanderlust-induced reasons, which is why it's no surprise the idea of van life has exploded in popularity in recent years.
If you, too, have got the van life bug but don't want to go all-in on a Mercedes Sprinter Van, you can still get a taste of what it's like to live out of a van. Escape Campervans is a company that lets you rent fully built-out campervans by the day so you can live on the road without a long-term commitment. Last October, I rented a van from the company's Denver outpost and drove it to Moab, Utah, for a five-day adventure. Here's how it went.
If you've ever wanted to experience van life without actually buying your own vehicle, Escape Campervans is an amazing way to see what living the nomadic life is about. With a wide variety of vans to fit any group, the brand makes vacationing in a van a must-do experience.
How does Escape Campervans work?
Renting and living out of a van is surprisingly easy with Escape Campervans. The company has 11 convenient locations across the country including Denver, Los Angeles, Seattle, Chicago and New York City, along with multiple van sizes to cater to any adventure. Small one- to two-person groups will be cozy in the Santa Cruz, while families of up to five will have enough room in the Del Mar or Big Sur. And if you want to go even further off the beaten path, Escape offers Jeep campers that are equipped with a rooftop tent and can sleep up to two.
You can pick up and drop off your van at one location or you can drive your van from one location to another. Just note there's a minimum number of days you need to rent the van depending on which location — or locations — you'll be visiting.
Each van model has different amenities, but no matter which car you get, you'll be fully equipped to live on the road. You'll have somewhere to sleep (it might be inside the van, on top of it or both), an electric cooler, a sink with a water tank and a stove. That way you can cook, eat, clean and sleep whether you're in a supermarket parking lot or the middle of the desert.
The Mavericks, Big Sur and Del Mar models have a table and dining area inside the van, which converts into the sleeping area once you're finished eating dinner or playing games. Plus, all the vans come with varying amounts of storage, so you can stash away your gear in between destinations. No matter which van you choose to take on your adventure, there's one thing that's common throughout the entire fleet: Each van has a big personality thanks to its hand-painted designs created by artists in LA.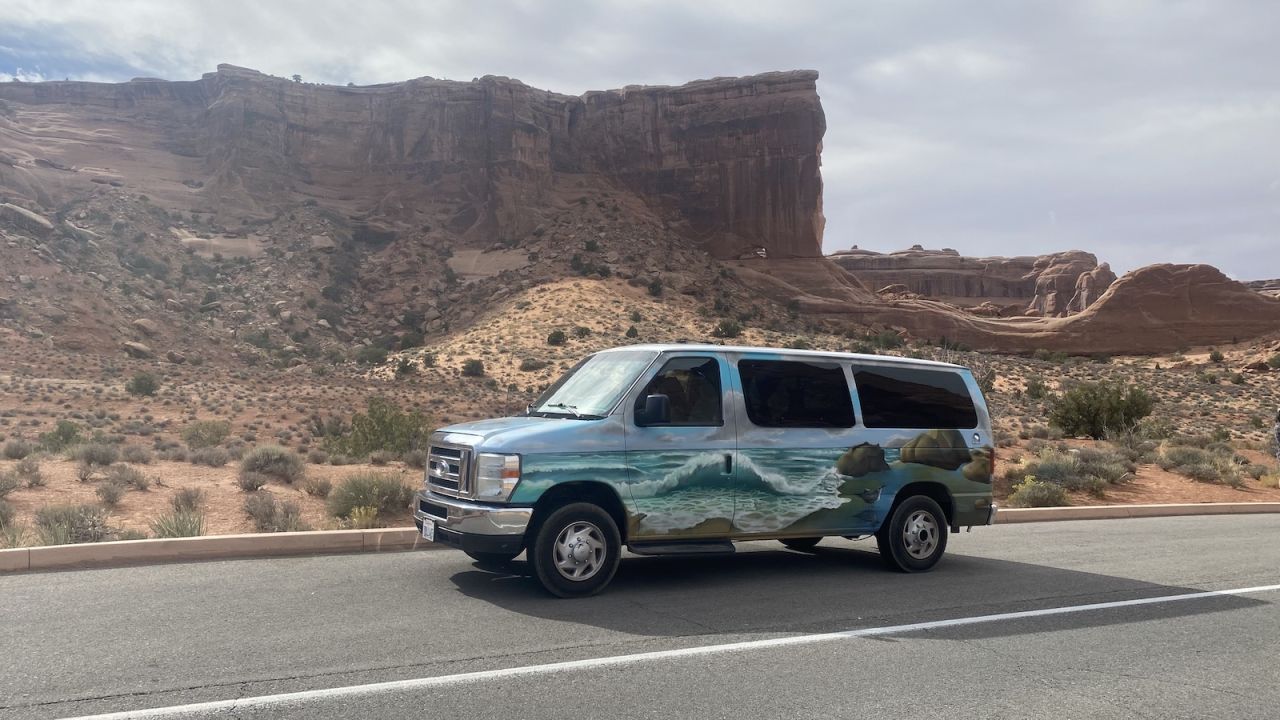 Pricing depends on the season, location, van model and the length of your trip, but the cost is broken down into a nightly fee for the van, an estimated mileage charge and insurance. Escape estimates your mileage charge based on how many miles you're expected to drive during your trip, and you'll be charged at the same rate for any miles above the estimated amount. However, if you don't hit your estimated mileage, you'll get a refund for the leftover miles you already paid for. More on the cost and the final price tag for our trip is below.
What we liked about Escape Campervans
Unmatched feeling of freedom
Testing an Escape van was an absolute blast. The feeling of freedom you get from driving a vehicle that has everything you need to survive is so exhilarating it makes any drive feel like a wild adventure.
On my trip, I rented a Mavericks van, which sleeps up to five if you add the rooftop tent, but we opted for a van without the roof sleeper since it was only me, my partner and our dog. We picked up our van at the company's Denver location, which is conveniently located close to Denver International Airport, making it perfect for visitors who are flying in to visit the state. All you'd have to do is get a ride to the Escape depot, throw your bags in and start driving. Since we're local, though, we made the drive into the city and then back home to pack up before we set off.
We packed a few duffel bags and drove to Moab, Utah, where we toured Arches National Park, Canyonlands National Park and Dead Horse Point State Park. Coming off a cross-country road trip in a moving truck, I wasn't looking forward to driving another giant, slow vehicle, but I was pleasantly surprised by the experience. I wouldn't go so far as to say it was nice to drive, but wheeling it for six hours on the highway wasn't terrible. Checking blind spots was easy thanks to the van's super long windows, however, the engine was struggling as we climbed through the mountains on Colorado's infamous I-70.
Living in the van
We got into Moab sometime after midnight, so once we rolled into our campsite we immediately broke down the van's "dining room" and converted it to a bed. The process wasn't too difficult, taking about 10 minutes in total, which included moving our gear from the back seats to the front and setting up our bedding. Escape's vans have a litany of extras and add-ons that you can purchase to make your experience more comfortable, including canopies, camp chairs, kitchen supplies and more. One of these extras is a bedding kit, which comes with two pillows and pillowcases, one comforter, a duvet cover and a fitted sheet for an extra $40.
Since we stopped by our home before heading out, we skipped on the bedding package and brought our own sleeping bags and pillows instead. It was probably a good call, too, since the van was uninsulated and the temperatures in Utah dropped below freezing. With good sleeping bags and a couple of extra blankets, we stayed warm enough, but I think we would have been pretty miserable if we only had the company's bedding kit. If you're planning your trip, make sure to take a look at the overnight weather where you plan on sleeping and pack accordingly.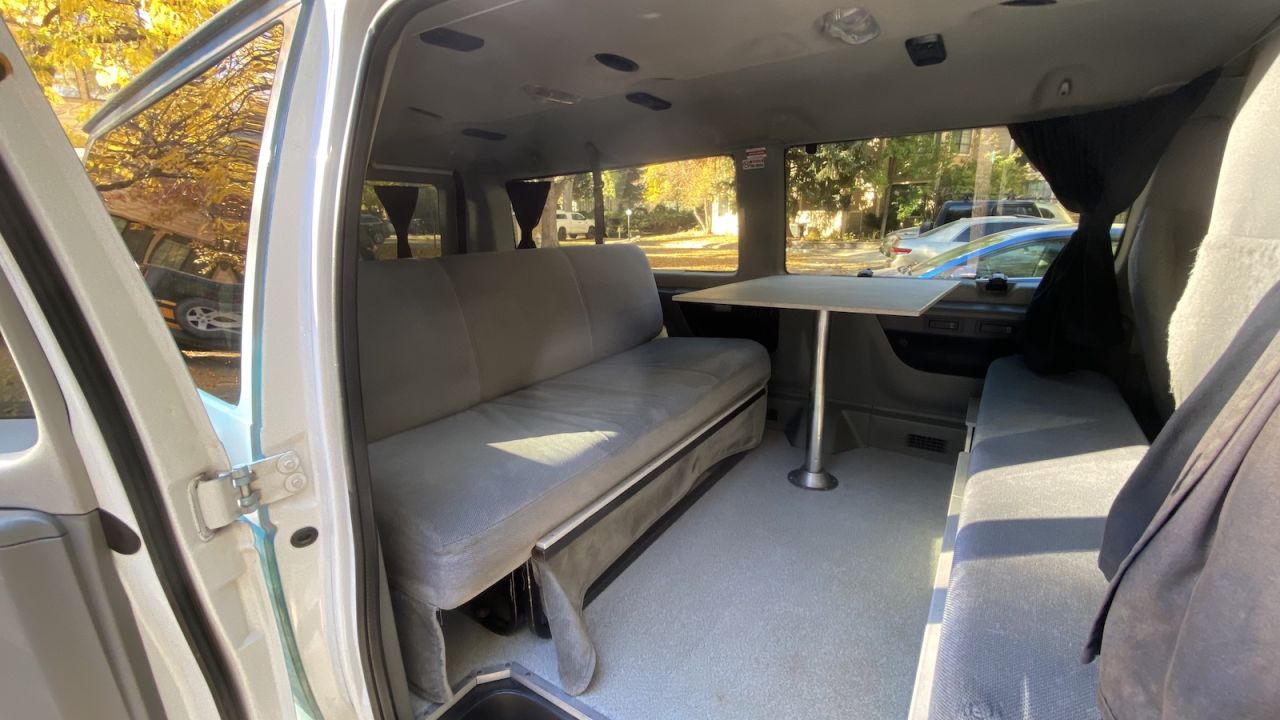 Besides the temperature, the sleeping arrangement was quite comfortable. The couches on the inside of the van folded down and turned into a bed, and while there were a few small gaps in between the cushions, they were super plush and surprisingly comfortable. All the windows of the van also had curtains, which blocked out a solid amount of light and provided much-needed privacy.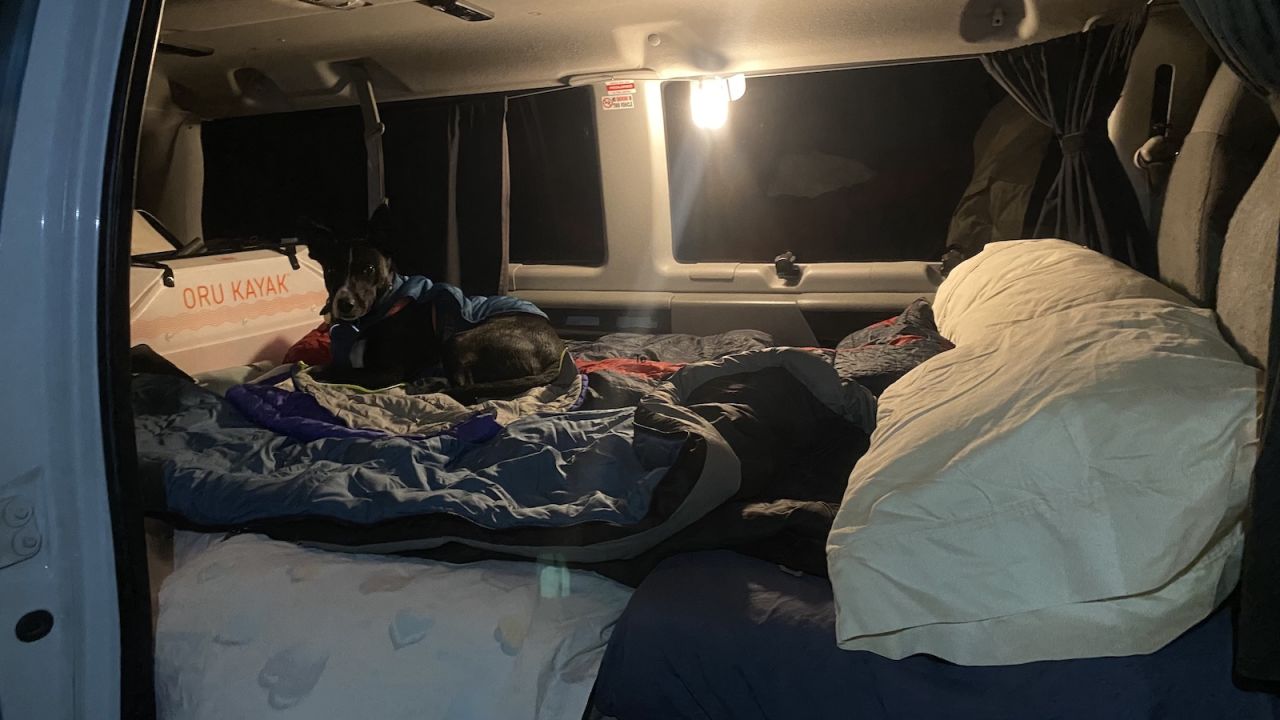 Besides the sleeping arrangements, the other thing that makes these campervans so special is their integrated kitchens. In the Mavericks, the back doors open up to reveal a pull-out fridge, a pull-out stove, a sink connected to two water tanks and ample storage for supplies. The stove is a basic, two-burner Coleman stove that runs on propane, and it worked well enough for our dinners, which included some soups and stews to keep us warm in the frigid evenings. The fridge was also surprisingly large, and we were able to stuff all the food we needed to keep cool for our four-night excursion. The sink wasn't great, but more on that later.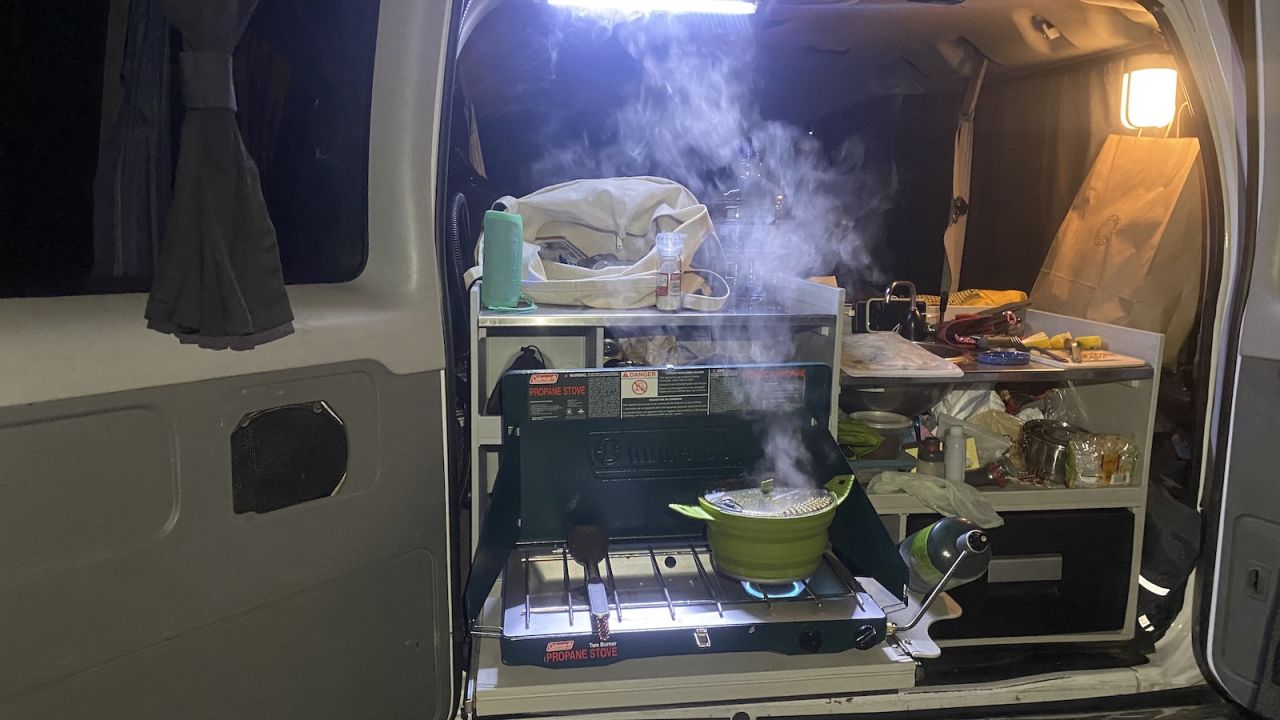 When you're living in a confined space, things can get messy fast. That's why I really appreciated how much storage there was in the van. We brought along a few duffels with our supplies for four nights, a couple of daypacks with hiking gear and we even managed to stuff an inflatable and a foldable kayak into the van so we could paddle around Ken's Lake. The van had tons of sneaky nooks and crannies to stash gear, which really helped keep our clutter to a minimum.
Price
While the cost of renting an Escape Campervan depends on a ton of factors including van model, location and the duration of your rental, I'll give you a breakdown of all my expenses so you can get an idea of how much your trip might cost.
For me, a five-day rental of a Mavericks van cost $66 per day for a total of $330 for the van itself. The way Escape charges for mileage is a bit confusing, but it starts by charging you for an estimated mileage at the beginning of the trip, then adjusts your payment depending on if you drove fewer or more miles. I paid $150 for 500 estimated miles at $0.30 per mile. Since I drove from Denver to Moab and all around the national parks, we really racked up the mileage and traveled a whopping 1,221 miles. When I returned the van, they refunded me the $150 for the estimated miles, then charged $366.30 for my actual mileage, still at the same rate of $0.30 per mile.
If I had driven under the estimated mileage and went 400 instead of 500 miles, Escape would have refunded me $30 for the miles I didn't use. The company makes it complicated, but basically, you'll be paying the agreed-upon rate per mile (around $0.30, depending on your van model) no matter how much you drive. After paying for my miles, I still had to fork over $148.94 for insurance (I got the "Absolutely No Worries" package), $65 directly to Escape Campervans and another $83.94 to a third party, along with $93.95 in fees and taxes.
For my five days in the van, I paid $855.25 to Escape Campervans and $83.94 to a third-party insurance company, for a grand total of $939.19. This is probably a bit more than a typical rental since we drove 721 extra miles and purchased the most expensive insurance option, but it can give you a ballpark for the price tag of your adventure. Since we did drive so much, we had to fill up on gas quite a bit, totaling $280.80 between three trips to the pump and bringing the grand total for our trip up to $1,136.05.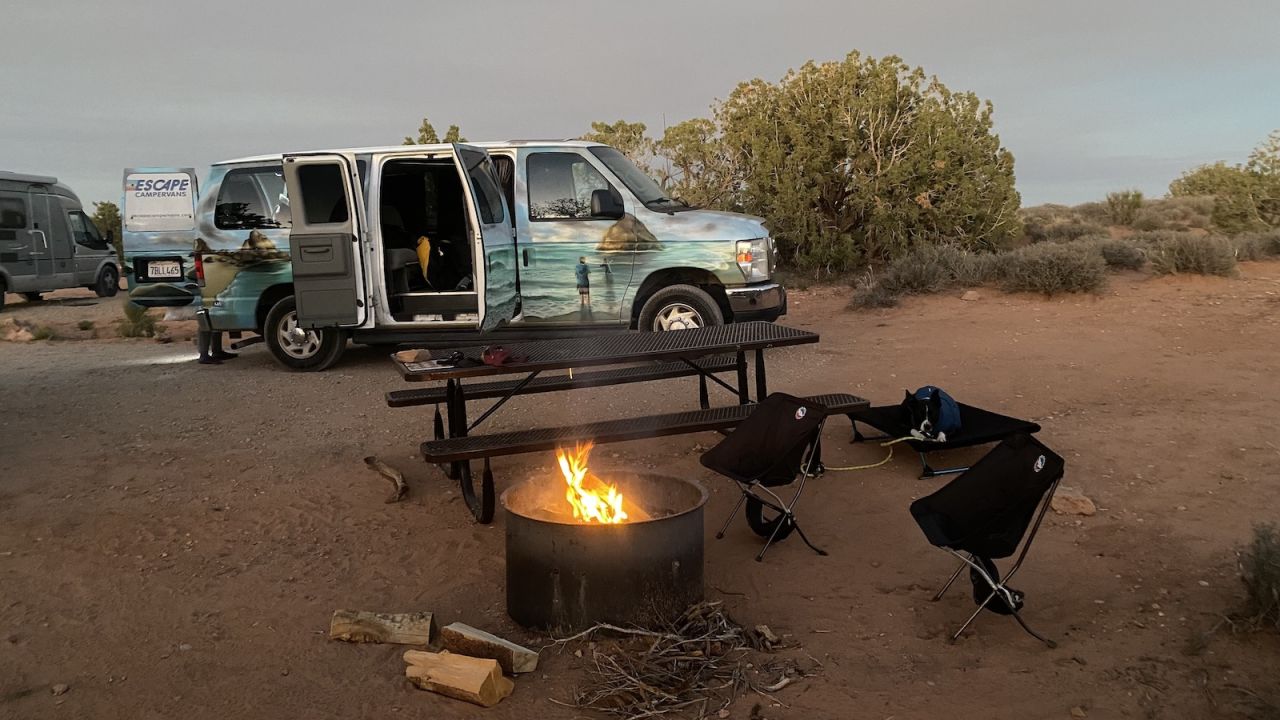 It may sound pricey to spend more than $1,000 to sleep in a van, but if you compare it to traditional travel itineraries, it's actually a pretty good deal. If you wanted to book a hotel for four nights and a rental car for five days around a tourist-heavy area, there's a good chance you'll end up forking out more. Yes, a hotel has a comfier bed and a toilet, and a normal rental car drives better, but an Escape Campervan is a surprisingly cost-efficient way to satisfy your wanderlust and head off into the wilderness. Plus, this deal gets even better if you're able to skip out on paying for campsites and park your van in free, dispersed camping areas.
What we didn't like about Escape Campervans
The overall experience of renting an Escape Campervan is one I would recommend to anyone who wants to experience living in a van or go on adventurous road trips. I had a fantastic time during my five-day rental, although there were a few inconveniences that, if fixed, would have made the experience even better.
Picking up and dropping off the van is a pain
My biggest issue with Escape Campervans is its availability for picking up and dropping off the van. The company says it operates "like a hotel" and only offers van pick-up between 1 pm and 4 pm on the first day of your reservation, and you have to drop it off between 8:30 am and 10 am on your final day. This means that, if you want to drive a considerable distance, you might not have enough time on the first day and you'll have to be quite close to the drop-off location the night before your final day.
You also have to book an appointment to pick up your van, and since they fill up quickly you're not guaranteed to get your ideal time. Even in October, which is far from Escape's peak season, we weren't able to pick our van up at 1 pm like we wanted, so we had to settle for 2 pm. This, along with the fact that we had to go back home to pack up before we could leave, is why we weren't able to get into Moab until after midnight. The drop-off times are also incredibly early and the window is quite small at only an hour and a half, so there was no way we would be able to wake up early enough to drive back to Denver before the 10 am deadline. Instead, we decided to head back home the night before, sleep in our own bed, and then wake up at a normal time to return the van back to Denver.
The pick-up and drop-off times should ideally be switched so people who want to drive their van further than a couple of hours from the rental location can pick it up in the morning to cover more distance and return it later in the day so it isn't an early morning sprint. Escape does offer early pick-up, but it says that it's rarely able to accommodate them during the peak summer season, and you have to pay for an extra day anyway. It feels like the time slots are a way to force you to book extra days on each end of your trip and spend more money.
Inconveniences of living in a van
My other gripe with our van in particular was the kitchen sink installed in the back. I'm not expecting a perfectly running faucet in the back of a moving vehicle, but it was a pain to work with. First off, it was very high off the ground. This might be a problem that differs depending on which van you rent, but in the Mavericks, it was uncomfortably high. I'm 5' 10" and I had to hold my arms up awkwardly whenever I was using the sink, which isn't a big deal if you're washing your hands for 20 seconds, but if you're washing the dishes for 20 minutes, it can get really annoying.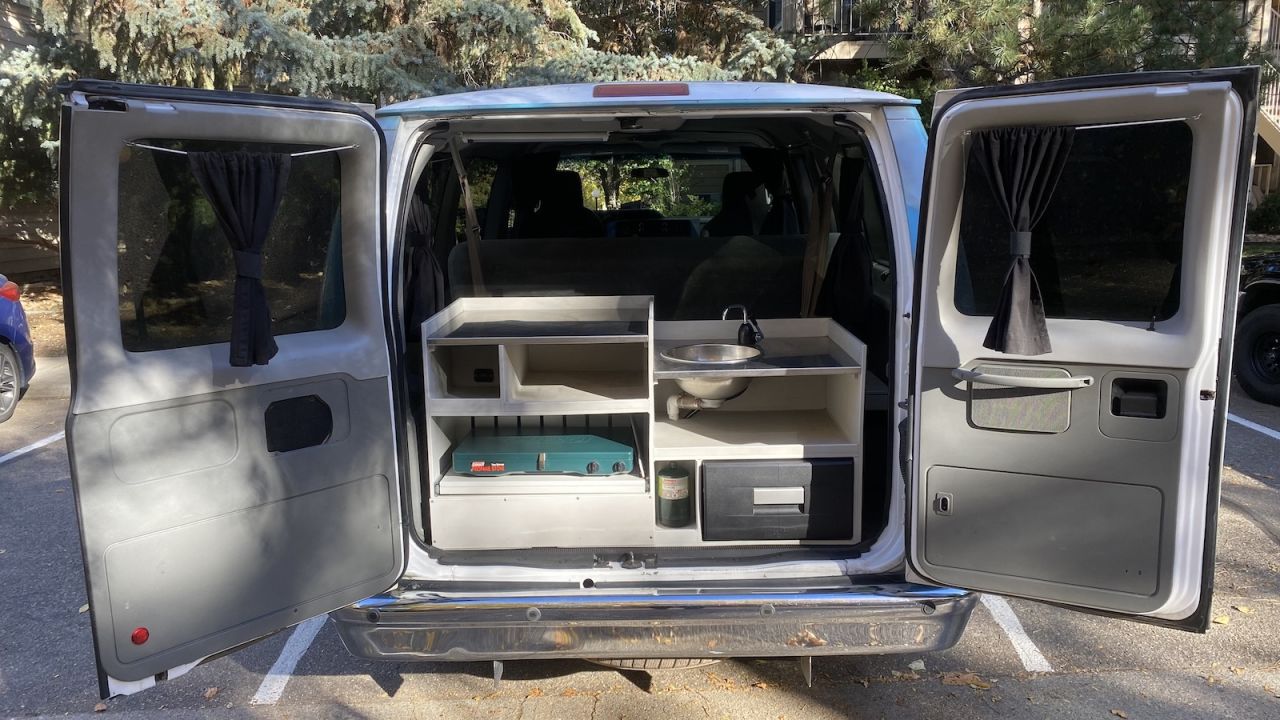 The sink also operates off the van's water tank system, which has one tank that holds clean water for washing and another tank that stashes the dirty water. To get water to run from the sink you have to pump it like a well, which, when the water tank is full, just takes a few pumps to get things going, but if your water level is low, you'll be standing there frantically pumping for minutes before anything comes out. I'd recommend buying extra water jugs so you can keep your water tank full — just remember you'll have to responsibly dump your gray water at a dump station once your dirty tank gets full.
Lastly, it's important to note that Escape Campervans don't have toilets or showers. This isn't necessarily a negative and it should be expected (you're living out of a van, after all), but it does require some extra planning. On our trip, we just decided to take wet wipe showers whenever we felt dirty, and luckily, got a spot at a campsite with a surprisingly clean toilet so it wasn't a big issue for us. We had a bucket on hand just in case, but know that if you're planning on staying in the wilderness for days on end in your campervan, you might have to dig a few holes or pack out your waste.
How it compares
There are a few other campervan rental services across the country, however, most are localized in certain areas, like Vintage Surfari Wagons for those looking to chase waves around LA, Boho vans in the desert of Arizona or Peace Vans in the Pacific Northwest. Sites like RVShare and GoCamp allow owners of RVs and campervans to list their personal vehicles for rental, sort of like an Airbnb for homes on wheels.
Escape Campervans has some of the best coverage across the nation, with depots in popular areas like Las Vegas and LA, as well as less thought-of locations like New York City and Chicago. Escape also has quite a massive fleet, clocking in at more than 600 vans, which definitely gives you a better chance of scoring a reservation during the busy months.
Bottom line
Whether you want to try out van life before starting your own build, make your road trip feel more adventurous or just you're weird like me and want to see what it's like to sleep in a van, Escape Campervans is a fun and exciting way to experience the natural wonders of the US.
There are a few inconveniences, some inherent to living in a van and some that could be fixed with a better booking system, but overall I loved renting an Escape Campervan. I plan on taking more trips in the future and would recommend the experience to anyone looking for an adventure.
Looking for a travel credit card? Find out which cards CNN Underscored chose as our best travel credit cards currently available.