Whether you're at camp, the park or in your own backyard, nothing encapsulates summer relaxation like swinging in a hammock. Now that the weather is warming up, you might want to ditch your camp chair for a hammock, and you've likely come across two brands: Eno and Kammok.
It can be hard to tell what the differences between these hammocks are, so to help you decide which is right for you, we got our hands on both and tested them head-to-head. Both are great hammocks and have a lot in common, but there are a few key differences you'll want to consider before you pick one over the other. Here's everything you need to know about two of the most popular hammocks on the market.
Kammok Roo Single vs. Eno SingleNest at a glance
| | | |
| --- | --- | --- |
| Packed size | 3.3" x 3.3" x 6.1" | 4" x 5.25" x 5" |
| Unpacked size | 100" x 50" | 114" x 58" |
| Weight | 11.4 ounces | 16 ounces |
| Weight capacity | 500 pounds | 400 pounds |
| Material | GravitasX 40D diamond ripstop nylon 100% Recycled, bluesign approved with DWR waterproofing and crinkle treatment | FreeWave 70D bluesign approved nylon |
| Color options | 11 | 11 |
| Price | $75 | $55 |
Size and weight
We tested the Kammok Roo Single and the Eno SingleNest to compare each brand's most basic hammock. Both brands have hammocks in bigger sizes (Roo Double and Eno DoubleNest) as well as lighter-weight hammocks and other, more specific options that cater to backpackers or getting the ultimate in comfort.
The first noticeable difference between the two hammocks is that packed down, it's obvious that the Roo Single from Kammok is a lot smaller. When compressed in its bag, it's about half the size of a 32-ounce water bottle, while the Eno SingleNest is quite bigger — about the size of a square tissue box. This doesn't make a huge difference, but if you're packing for a camping trip and you're tight on space, you'd definitely be happier if you had the Kammok.
When unfurled, however, the Eno SingleNest has the Roo Single beat. The SingleNest has more than 1 foot in length and more than 6 inches in width over the Roo Single. That means if you're a taller or larger person, you'll have a lot more room to get comfortable with in the Eno.
I'm 5 feet, 10 inches tall, and while it was plenty cozy, there wasn't a whole ton of extra room in the Kammok Roo Single. In the Eno, on the other hand, there was plenty of length to scoot up and down and enough width to completely cover myself in the material like a cocoon (which is super helpful when trying to block out the sun for a mid-afternoon nap).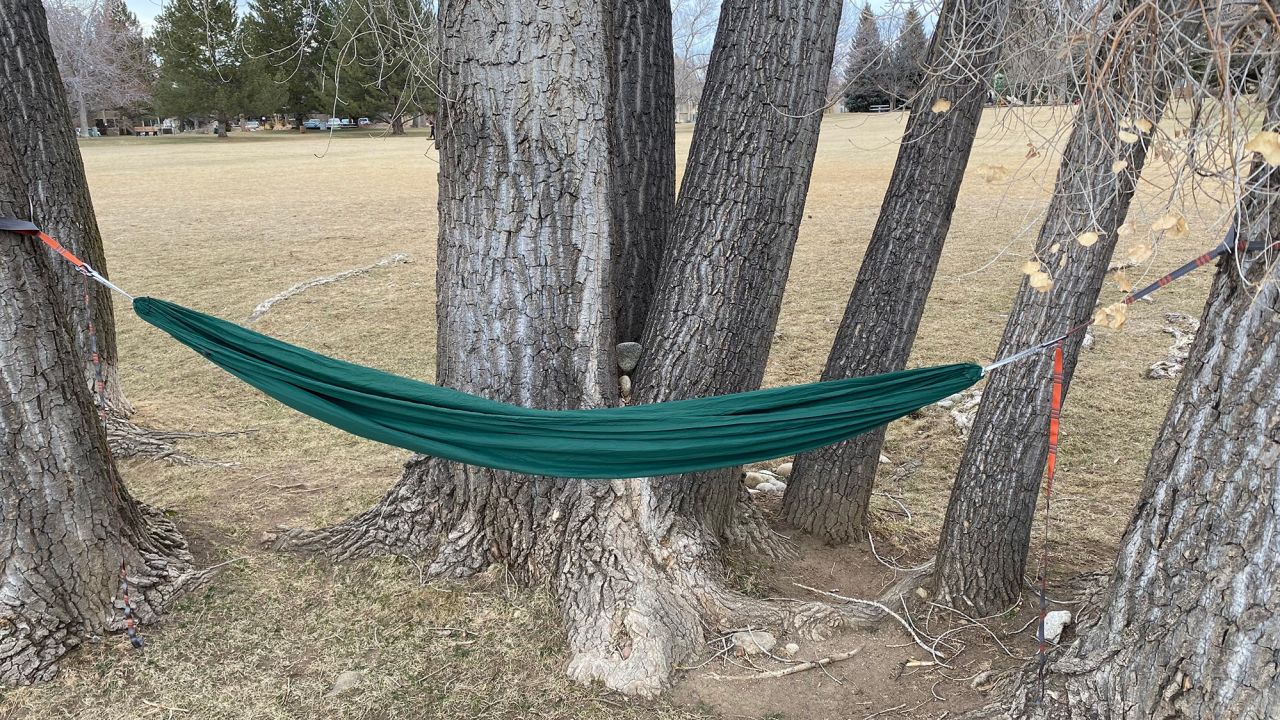 Since the Kammok Roo Single is smaller than the Eno, it makes sense that it's lighter too. This is a big deal if you're going backcountry camping and you'll be carrying every ounce on your back, or if you just don't want your hammock to take up too much space in your bag. The difference isn't a huge one, with the Eno weighing about 5 more ounces than the Kammok, but combined with the larger packed size, the Eno can definitely be harder to squeeze into your bag.
Material and comfort
There's no question the Kammok is lighter and packs down smaller than the Eno, but its unfurled size isn't the only reason for that difference. The material of the Kammok Roo Single is also thinner than that of the Eno. Kammok's material is a 40-denier, water-resistant, ripstop nylon that's made from 100% recycled, Bluesign-approved fabric that has a weight capacity of 500 pounds. And even though it's thinner, the Roo Single actually has 100 pounds more capacity than the Eno SingleNest's 70-denier, Bluesign-approved nylon material.
Even though the weight capacity of the Roo Single is higher, the thinness of the material means that it stretches a bit more when you first get in. First-time hammockers might already be a bit dubious about trusting their weight to a thin layer of nylon, and the Roo's stretch won't help their confidence. But of course, there's no need to worry. You get used to the stretch quickly, and the Kammok doesn't bounce around while you're in it; in fact, it feels incredibly stable once you're situated.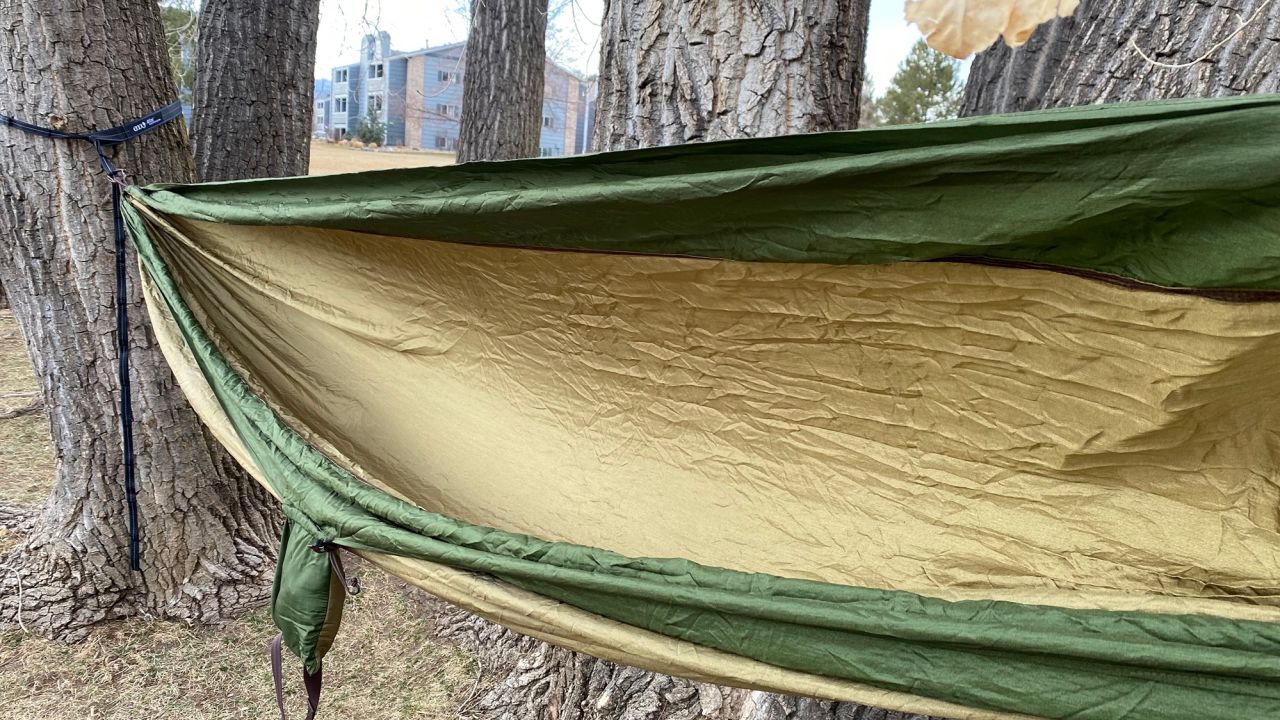 Both hammock materials felt soft to the touch, but we did like the feel of the Kammok slightly more. It feels a bit softer than the Eno's material, not to mention a lot lighter and airier when you're lying down in it, which is especially useful on super-hot days when you need as much breathability as you can get.
On top of performance, we'd be remiss if we didn't talk about how stylish these hammocks can get too. The Kammok Roo Single has 11 solid colors to choose from, including five limited-edition options. The Eno SingleNest also has 11 color options, but instead of being one single color, each hammock sports two hues. If you upgrade to the Roo Double or the DoubleNest, your color options increase immensely. Not only are base colors available, but both brands have print versions of their larger hammocks too. Eno has 12, with designs like tie-dye and tropical, while Kammok has two in ripple and camp.
Mounting and accessories
Unfortunately, neither hammock comes with a pair of straps to hang your hammock and you will have to buy them separately. Both brands have multiple options, but the standard straps are the Atlas straps for Eno ($30) and the Python straps for Kammok ($30). Eno does have a cheaper hammock that comes with straps, the TravelNest, which is available for $55 and is slightly shorter and wider than the SingleNest.
Hanging each of the hammocks is extremely similar. Both brands use straps that don't require any knots, so all you have to do is secure each strap around a tree, then connect the hammock to the straps using integrated carabiners. The process is incredibly easy and takes less than five minutes, no matter the hammock brand.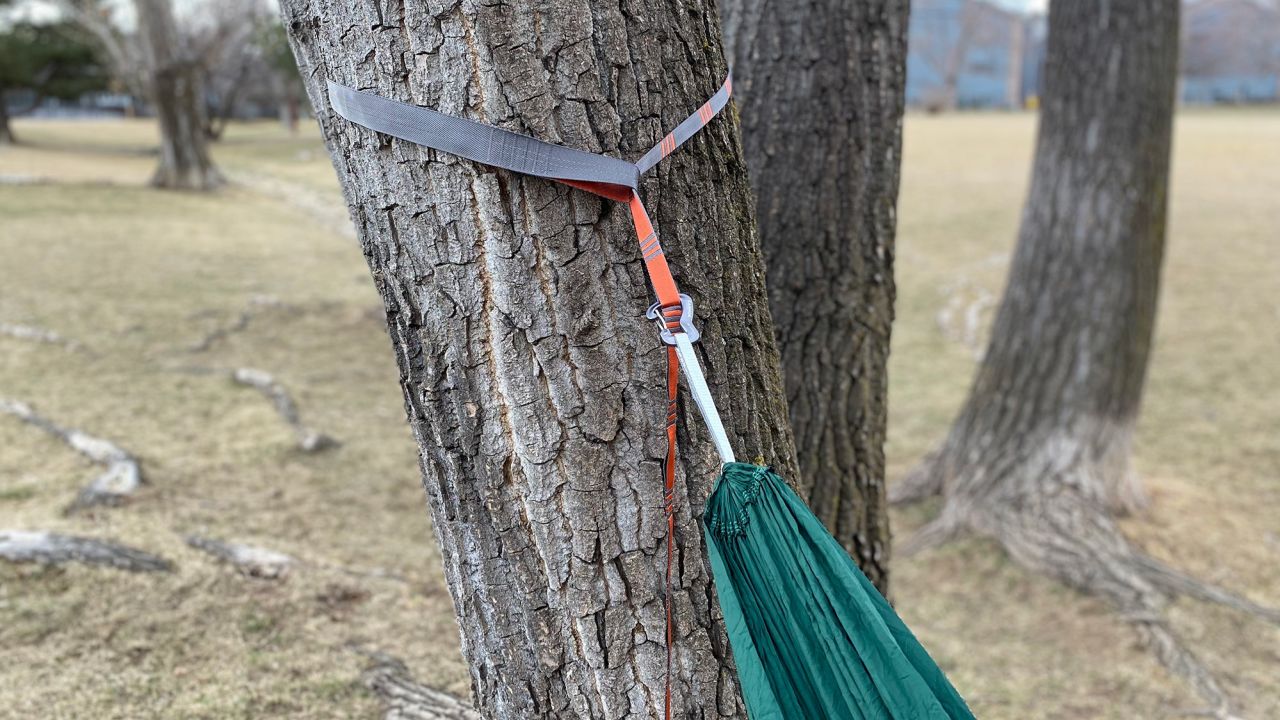 Both Kammok and Eno also have all sorts of accessories to upgrade your experience, or even turn your hammock into a full-blown camping shelter that can replace your tent. Bug nets, rain tarps, insulation and so much more allow you to customize your Eno or Kammok hammock however you want.
The two brands also have hammock stands, so you can swing in relaxation even if there aren't any trees around. Eno's most basic stand is the SoloPod ($300), but it also offers the Enopod ($500), which can hang three hammocks at once, and the Nomad ($300), which folds up and weighs only 15 pounds. Kammok's base stand is the Swiftlet ($279), another extremely portable option weighing 17 pounds, and the brand also has a new stand that attaches to your car named the Outpost ($500).
Bottom line
Kammok and Eno hammocks are quite similar and it's hard to say one is overall better than the other. The Kammok hammocks are a little bit more expensive than the Eno options, with the Roo Single costing $75, which is $20 more than the SingleNest and the Roo Double at $85, $10 more than the DoubleNest.
Since they are so close in features, you should really decide what you want most out of your hammock. If you want a hammock that's small, supremely packable and lightweight, the Kammok is the one for you. If you don't care as much about size and weight and want a bit more comfort and room to relax in, the Eno is a fantastic choice. You really can't go wrong with either of these hammocks, and whichever one you choose, we know you'll be happy with your purchase when you're weightlessly swinging under the summer sun.