Keeping up with pet hair, dust and messy spills can be hard work, but Dreametech wants to make it less of a chore. The new H12 Pro is the latest entry into the burgeoning smart vacuum/mop combo category, with a wider roller brush for more targeted cleaning and a self-cleaning function with hot air dryer to ensure this lightweight stick vac won't smell moldy.
Cordless stick vacuums are nothing new, but in addition to cutting the cord, they are compact, powerful and easy to maneuver (I'm a fan of Dyson's high-end V15 Detect). However, the category is still somewhat undefined. Some of the newer combo floor cleaners, like the new Eufy Mach V1 Ultra, are a true all-in-one solution and include a separate vacuum mode, while others, like the Dreametech H12 Pro, are strictly for mopping and vacuuming at the same time.
I've been using the Dreametech H12 Pro for two weeks, and though it also lacks the steam feature of the more expensive Eufy product, its lightweight cordless design, wider brush and lower price tag ($460) should make this a contender in any home's arsenal of cleaning tools.
Is it right for you? Here's what you need to know about the Dreametech H12 Pro before you decide.
This cordless vacuum/mop combo quickly cleans up all types of messes. We like its longer roller brush, which not only makes it easier to get into hard-to-reach places, but also self-cleans so there's no musty smell. But without a dedicated vacuum mode, it's not a full all-in-one cleaning solution, though it's still a lightweight, handy device.
What we liked about it
A lightweight design with a wider roller brush
Like similar vacuum/mop stick vacs, the H12 Pro has a roller brush on the bottom of the base so it can mop while it vacuums. What sets it apart is its unique roller brush, which goes from one end of the vacuum's base to the other in what is dubbed an edge-to-edge placement. This lets it mop better under cabinets and get closer to baseboards.
In fact, I was able to get it into some corners that my Dyson and the Eufy Mach V1 Ultra I'm testing could not reach. For comparison, the roller on the Dyson stops about 1/3 of an inch away from the edge of the base, while the Eufy has 1 full inch of space between the brush and the base.
The vacuum has a slim matte black design with two removable water tanks for mopping: the clean water tank on the back, which holds about 4 cups of water and (included) cleaning solution, as well as the dirty water tank, both easy to remove and clean. In addition, the brush roller is removable for a quick cleaning if needed and can be swapped out with the included replacement brush.
An easy-to-grip handle glides the vacuum without much effort, though it does weigh in at almost 10 pounds. But like any good stick vac, it's light enough that I can lift it and move it to a new location on the floor with minimal effort as I'm mopping.
When not in use, the H12 Pro sits on a small charging base that plugs into a wall outlet to charge the vacuum. It's small and compact and comes with attachable storage boxes to hold the included spare brush and filter. I especially like this feature because I tend to lose track of things like this when I stow them in my garage. So it's nice that these cleaning tools live right on the base where I can find them at will.
Modes for all kinds of messes
The H12 Pro has three cleaning modes to take care of all your messes: auto, ultra and suction. You can easily switch between them by pressing a button at the top of the handle, right above the power button.
I used auto mode on my hardwood floors. Not only did it pick up cat litter and small pieces of dirt, but by vacuuming and mopping at once, it cut my cleaning time in half. It wasn't perfect, I did find some small specks of dirt left on the floor, but overall, it got the job done.
It also was a huge timesaver on the tile floor in the kitchen, where I opted for ultra mode, which is intended for a deeper clean. Though I didn't sense any difference in how the machine felt or the amount of water it used, it did get up a sticky spot in my tile's grout that didn't get clean in auto mode.
For simply cleaning up spilled liquids without mopping, there's suction mode, which came in very handy when my cats knocked over their water bowl. The same could be said for kids, dogs and for anyone who spends a lot of time in the kitchen, among other spillage scenarios.
Bright LCD screen with large numbers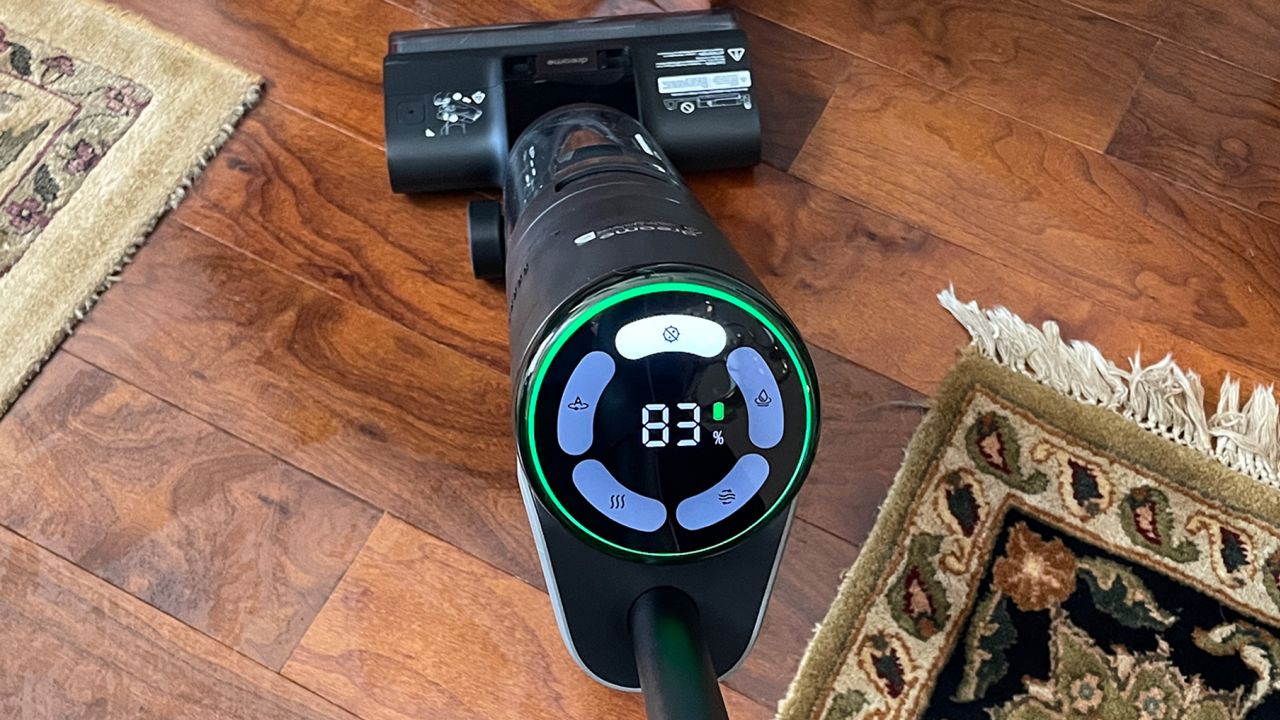 The bright LED display comes with large, easy-to-read numbers, and was a welcome surprise after struggling to read the words and numbers on other similar devices. The round display at the top of the vacuum base is your information center, showing off battery level, cleaning mode, water level for both tanks and alerts if there is a need for you to act, such as fill the water tank or unclog a blockage.
And, in case you still need a prompt, the H12 Pro offers visual and audio feedback as well. A smart dirt detection light shows up as a ring around the display that changes from green to orange to red, indicating how much dirt and dust the vacuum is picking up. It was mostly green and orange for me but turned red each time it went over cat litter in the bathroom.
Voice notifications offer additional guidance, letting you know what cleaning mode you've switched to, whether the dirty water tank needs to be emptied and other real-time updates. It startled me the first time I heard the voice, but it is easy to understand and I found it to be helpful, especially when switching modes while cleaning.
A self-cleaning mode with hot air dryer
One of the most helpful features on the H12 Pro is its self-cleaning feature, which has become a welcome addition to newer stick mop/vacs as well as robot vacuums. No one loves getting their hands dirty wringing out mop heads and I was pleased to find I didn't have to do much of anything to clean the H12 Pro except manually hit the self-clean button on the handle when I placed it back on the charging base. The voice assistant chimes in to remind you if you forget.
During the cleaning process, the H12 Pro uses water from the clean water tank to wash the roller brush as well as the inside chamber. The brush is rotated back and forth to remove the dirt and once it's done, the hot air dryer kicks in to rotate and dry the brush, keeping it fluffy and mildew-free.
Once dry, the brush felt warm to the touch, and I couldn't detect any dampness or odor. I like that you can use the drying mode anytime, not just after a self-cleaning run. The whole process took about an hour, with 10 minutes to clean and 45 to dry. Of course, you can manually clean the roller brush if you prefer, but I was happy to let the vacuum do the dirty work for me.
What we didn't like about it
Battery needs a boost
Battery life can be an issue in cordless stick vacuums with multiple power levels and the H12 Pro is no different. It could definitely benefit from a bigger battery, especially because the 35 minutes of runtime shrink to half that if you're running in ultra mode. The Eufy Mach V1 Ultra also loses battery life when bumped up to a higher level, but makes up for it with a whopping 82 minutes of runtime on a single charge — nearly triple of the H12 Pro.
There's no vacuum-only mode
At $460, the H12 Pro seems expensive, especially since it won't totally replace your vacuum. If you just need to clean up a quick mess without the mopping, you're out of luck. And, though it does a great job cleaning up hardwood and tile floors, you can't use it on carpeting. For comparison, the $700 Eufy combo stickvac has a suction mode designed for use on carpeting or general vacuuming, which might make it worth the higher price tag.
How it compares
| | | | |
| --- | --- | --- | --- |
| Max runtime | 35 minutes | 80 minutes | N/A |
| Weight | 10 lbs, 12 oz. | 12 lbs, 6 oz. | 11 lbs |
| Self-cleaning | Yes | Yes | Yes |
| Cordless | Yes | Yes | No |
| Steam | No | Yes | Yes |
| Edge-to-edge | Yes | No | No |
| Modes | 3 | 3 | 3 |
| Dirty water tank | Yes | Yes | Yes |
| Clean water tank | Yes | Yes | Yes |
| Price | $460 | $700 | $300 |
Bottom line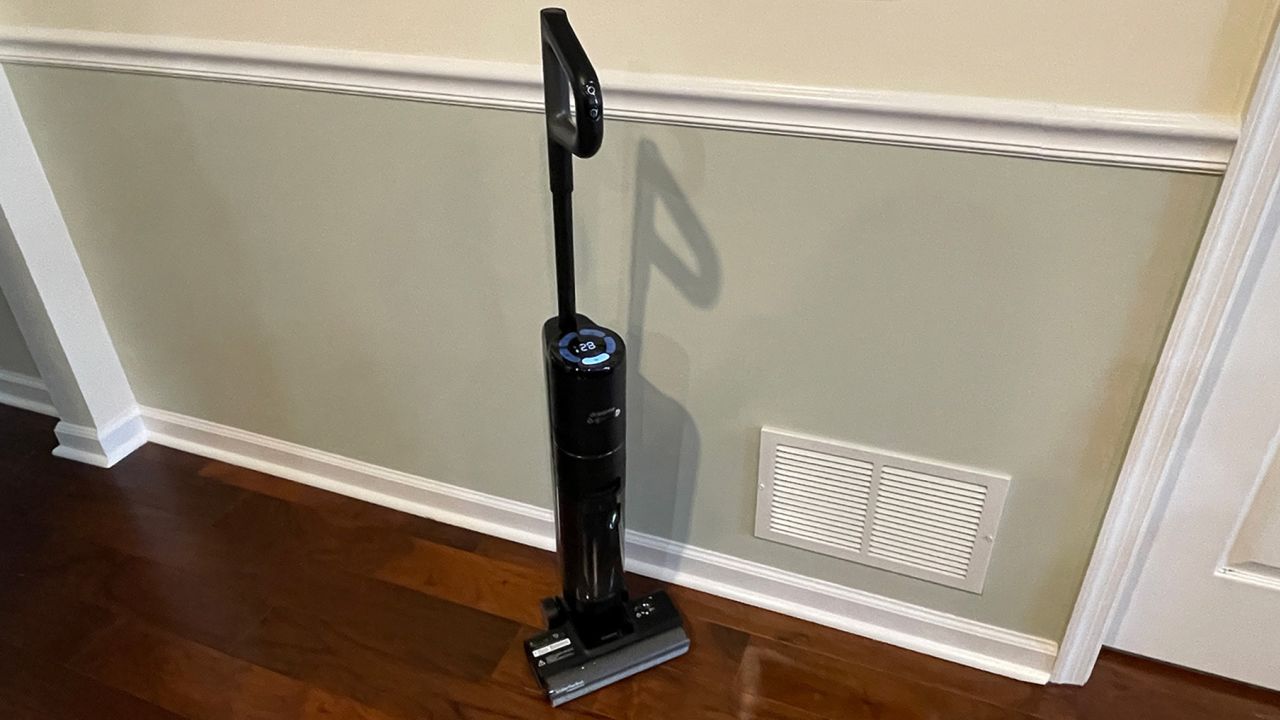 The H12 Pro is a capable and efficient floor cleaner that vigorously mops and vacuums at the same time. And it earns kudos for adeptly cleaning itself when it's done. Though it's not super lightweight, I can still easily grab it when there's a spill or liquid mess to deal with.
At $460, it's still an investment, and even more so because it won't take over all your vacuuming duties. Yet, we loved how the wider roller brush extends through the entire base of the unit, letting you reach areas like baseboards and right up next to the wall.
In essence, the Dreametech H12 Pro is a great addition to your cleaning arsenal and especially helpful if you have lots of hardwood floors and are hoping to better mop into corners, under cabinets and along baseboards. And it's an extra bonus if you're cleaning up after kids and pets. But, alas, you won't be able to ditch that vacuum just yet.