CNN —
Chromecast started off as a relatively simple idea when it was unveiled back in 2013. Give the dongle power, plug it into your HDMI and cast content from your phone to your TV. If anything, it stuck with this simplicity for far too long, especially as Roku and Amazon carved themselves larger slices of the streaming pie.
Now Google is adding the $49.99 Chromecast with Google TV to its streaming lineup. It adds in a remote (which might be the saving grace) and a full operating system called Google TV. It's essentially a rebranding and redesign of Android TV, not to be confused with the older and now defunct Google TV platform.
Like other Google-made products, it comes in fun colors, and it works quite well. So let's dive into the Chromecast with Google TV.
A flatter dongle in three colors with a matching remote
The 2020 Chromecast doesn't look all that different from the original, and it still has an HDMI attached. Essentially it's a small cord sticking out of the oval design. You get your pick of white, blue or pink.
Despite the colors, the Chromecast is meant to be hidden. It plugs into your TV on one end and gets power via the included USB-C to USB-A cord on the other. You likely won't see it, as it lives behind your TV.
The Chromecast now features a remote so that you're no longer tethered to the connected device — be it a phone, tablet or computer. It's a pretty ergonomic remote that fits comfortably in your hand. We could easily stretch to the top with just our thumb — no finger straining required. The remote includes the following buttons:
A circular D-pad for navigation (you will need to physically click in to get the desired control)
A home and back button
A dedicated Google Assistant button
Dedicated buttons for YouTube and Netflix
A volume rocker and mute button on the right-hand side
A power button and input button that can control your TV
We'd also like to applaud the Chromecast team for not only including the needed AAA batteries but also matching said batteries to the color of the device. We're not sure about you, but we hadn't seen pink batteries too often. And with the remote being a brighter color, it's easier to spot, which is especially helpful because because it doesn't feature a remote finder option like on the Roku Ultra.
During setup for the Chromecast with Google TV, it will walk you through the pairing process to sync your home entertainment devices. You'll try out different codes that the Chromecast serves up, and you'll hit the power button to see if it works. Essentially, the end goal is that clicking your power button on the Chromecast remote with everything off will turn the TV on and switch the input to the streamer. Volume controls will also work once this is set up.
All in all, the design is familiar yet a step in the right direction. We're fans of the flatter design of the Chromecast itself, and the Sunrise color adds a pop.
Deep integration with Google and YouTube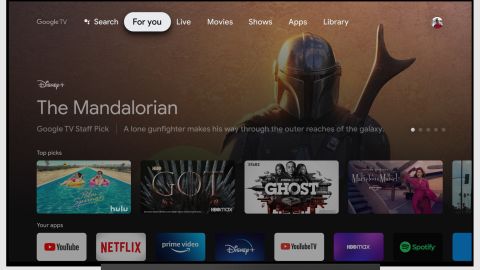 Let's be real: The addition of an operating system makes the Chromecast a true streaming stick. And Google TV is quite the platform, with some flashy animations and a pretty simple user interface — which, for Google, is a complete rethinking and retooling of the platform.
It doesn't remove the ability to cast, either; you can still cast content from your phone, tablet or computer as long as the app or service supports Google Cast.
When you first plug in the Chromecast with Google TV, it will prompt you to open the Google Home app on your Android or iOS device. You'll tap "Set Up Chromecast" in the app and scan the QR code that's displayed on your TV. We had some minor issues during setup, namely with getting the Chromecast to appear in our input. We had to unplug it and plug it back in about three times. Once we got the process working and were able to scan the QR code, we had a lengthy 10-minute software update.
Using the Google Home app saved us from typing in our email and password using the remote, and it let the Chromecast know who we were, some of the services we were connected to and that we already had a Google account.
Google TV is split up by a top menu bar into seven main pages: Search, For You, Live, Movies, Shows, Apps and Library. It's easy to get the hang of and is a bit of a cross between Apple TV and Fire TV's respective interfaces.
The For You section pulls from the services you have linked and content you've engaged with on other devices. As expected, it will get better over time as you continue to use the Chromecast. Logging on to the Chromecast on the evening of October 7 presented us with a pretty timely top pick: the vice presidential debate via YouTube TV. Top Picks presents some of the content that's trending from streaming services and the Chromecast, and we especially like the Continue Watching row, which is an easy way to pick up an episode or flick we might have stopped midway through.
The Live tab is deeply integrated with YouTube TV and requires the service to see it. YouTube TV is Google's cord-cutting platform and gives you access to more than 85 channels for $49.99 a month. It's really like a smart TV guide and one of the best ways to use YouTube TV. You get a top row of what's being watched the most, in real time, and a full channel guide below. YouTube TV is the only service that supports this tab at launch. Google noted that other TV providers will be integrated in the Live tab at some point in the future.
And as you might expect, the Movies and Shows tabs really just display popular and recommended content from a variety of services. In some cases, like with "Star Wars: The Rise of Skywalker," it took us to a description page that suggested we watch on Disney+ (because we're subscribed), played the trailer and allowed us to view other ways to watch. If Google TV can, it will show you the free option first, and if you have it on multiple services, it seems to opt for the Google-owned one.
It took about 20 seconds for the film to start after clicking the Watch Now button, which isn't all that shabby. And, for the most part, the Chromecast experience felt pretty seamless. There were at most five times when the screen went blank looking to refresh the content on one of the menu screens. Most importantly, though, there wasn't an "oh crap" moment where there was a delay in getting the content we wanted. The whole software side was roughly on par with a Fire TV Stick or Roku but wasn't as snappy as an Apple TV 4K or a Roku Ultra.
The Google Assistant is pretty handy here as well, and it's about time it arrives on a Chromecast. With a Nest Audio or Nest Mini smart speaker, you can ask for content on your Chromecast. We were able to start movies and even turn to live TV. But on a device, you'll hold in the dedicated Google Assistant button on the remote. You can ask for a TV show or for it to tune to a channel or movie.
You'll see it transcribe your voice in real time, and it will even show results (if there's more than one). You can also ask for general queries like the weather or traffic, and it's also integrated with the smart home (namely Nest products). For instance, you can ask, "Who's at the front door?" or say, "Let's see the backyard camera."
Google TV also supports a ton of apps, thanks to its Android base. In fact, Google TV has more than 6,000 apps at launch, and the core streaming services are all here: Netflix, Hulu, YouTube, YouTube TV, Plex, Starz, Prime Video, Twitch, Peacock and HBO Max (which is still not even found on Amazon or Roku). The big one missing is Apple TV Plus.
The Chromecast with Google TV supports full 4K, HDR, Dolby Vision and Dolby Atmos, though apps and services will need to enable support for these.
Bottom line
For $49.99, the Chromecast with Google TV is a very competitive offering and gives the family of devices a fighting chance against other streaming devices.
There's a lot to like: Google TV is simple and intuitive to navigate, there's no shortage of content, the remote is a blessing and there's deep integration with the Google Assistant. Furthermore, if you use YouTube TV as your primary entertainment source, this is the streaming stick for you.
The Chromecast with Google TV is available now for $49.99 in colors Snow, Sunrise or Sky.