Toothpaste is a daily staple in more than 300 million Americans' oral hygiene routines, and more people are looking for sustainable oral care products that are made with safe ingredients and reusable or biodegradable materials.
Commercial dental care brands have a checkered history of using ingredients that are bad for your oral health like emulsifiers, harsh surfactants, pesticides and even microplastics. After squeezing out every bit of paste from the tube, most toothpaste containers get tossed into the trash where they contribute to the over 27 million tons of annual plastic waste in landfills — waste sites that are the third-largest contributor of human methane emissions in the US. New recyclable toothpaste tubes are making headlines, but as plastic production continues to increase, fewer plastics than ever are reused and the country's plastic recycling rate looms at a record low of 5%.
The rising concern about plastic waste and toxic additives has led to a fast-growing market for boutique oral care companies that promise healthy ingredients and sustainable packaging, but do their products hold up under scrutiny? We tested Bite Toothpaste Bits, a plastic-free and refillable line of vegan dental tablets, weighing the pros and cons of their environmentally responsible packaging, ingredients, cost and (most importantly) effective oral care.
A nontoxic, plastic-free toothpaste made from science-backed ingredients, perfect for anyone who wants to reduce waste and break away from plastic toothpaste tubes. A month's supply includes 62 bits for twice-daily brushing.
What we liked about them
It's not easy to hit the toothpaste Venn diagram of refillable plastic-free containers, cruelty-free methods and scientifically researched ingredients, but Bite succeeds where others have fallen short. Made in Los Angeles, California, its transparent formula omits toothpaste culprits like sodium lauryl sulfate (SLS), artificial flavorings and dyes, and it eschews animal testing. Unlike most natural drugstore brands, Bite offers two versions of its bits with and without fluoride. Flavors include fresh mint with fluoride, and fluoride-free fresh mint, mint charcoal and berry twist.
Launched in August 2018, Bite began when founder Lindsey McCormick decided to make her own plastic-free and natural toothpaste tablets. After completing online chemistry classes, consulting with dentists and purchasing a tableting machine, she began hand-pressing toothpaste bits in her living room.
Fast-forward five years, and Bite now manufactures whitening gel, mouthwash bits, compostable vegan dental floss, compostable bamboo toothbrushes, aluminum-free deodorant in a refillable metal case, sea kelp soap and more to provide customers with sustainable and holistic personal care products.
Bite uses science-backed ingredients
Bite's fluoride-free formula utilizes the power of hydroxyapatite (HAp) in oral care, which is the same material that tooth enamel, dentin and bones are primarily made of, according to Dr. Mark Burhenne, founder of Ask the Dentist. A meta analysis confirms the benefits of using nano-hydroxyapatite (nHAp) in regenerative dentistry by remineralizing teeth and effectively reducing tooth decay. Hydroxyapatite is a safe alternative to fluoride that poses no risks or side effects and is biocompatible with your teeth.
NHAp is shown to reduce tooth sensitivity and improve periodontal health, and, unlike fluoride, which is toxic to humans if ingested and poisonous to aquatic life, nHAp is nontoxic to adults and children, even when swallowed. However, Bite does not recommend children under age 3 brush with bits unless they are pre-crushed in water.
"A lot of these boutique brands have figured out that having fluoride in your mouth and your oral mucosa does get into your blood supply; it can get to your brain and cause problems, especially in infants and growing children," explains Burhenne in his podcast, citing the pros and cons of Bite for effective biofilm management (aka oral hygiene) compared with its toothpaste analogs.
Toothpastes, powders and tablets all have a relative dentin abrasion (RDA) level that measures how abrasive the substance is on teeth as it polishes, cleans and whitens. According to Burhenne, anything from 0 to 70 is considered safely low abrasion, and Bite's bits are rated less than 50.
An upgrade from mouth-drying toothpaste
I have been using Bite for the last three years, and have tried both the fluoride and nano-hydroxyapatite formulas. As someone prone to cavities, I take oral health seriously, and since switching to Bite, my biannual dental cleanings receive cavity-free bills of health and gold stars from my dentist.
Bite bits are easy to brush with, but there is an adjustment period when you transition from toothpaste, even the natural brands. The bit is small and low-foaming, because it doesn't contain chemical emulsifiers, so you have to thoroughly crunch it up for about 10 seconds before you begin brushing in order to achieve the desired tooth polishing effect that pastes are designed to accomplish.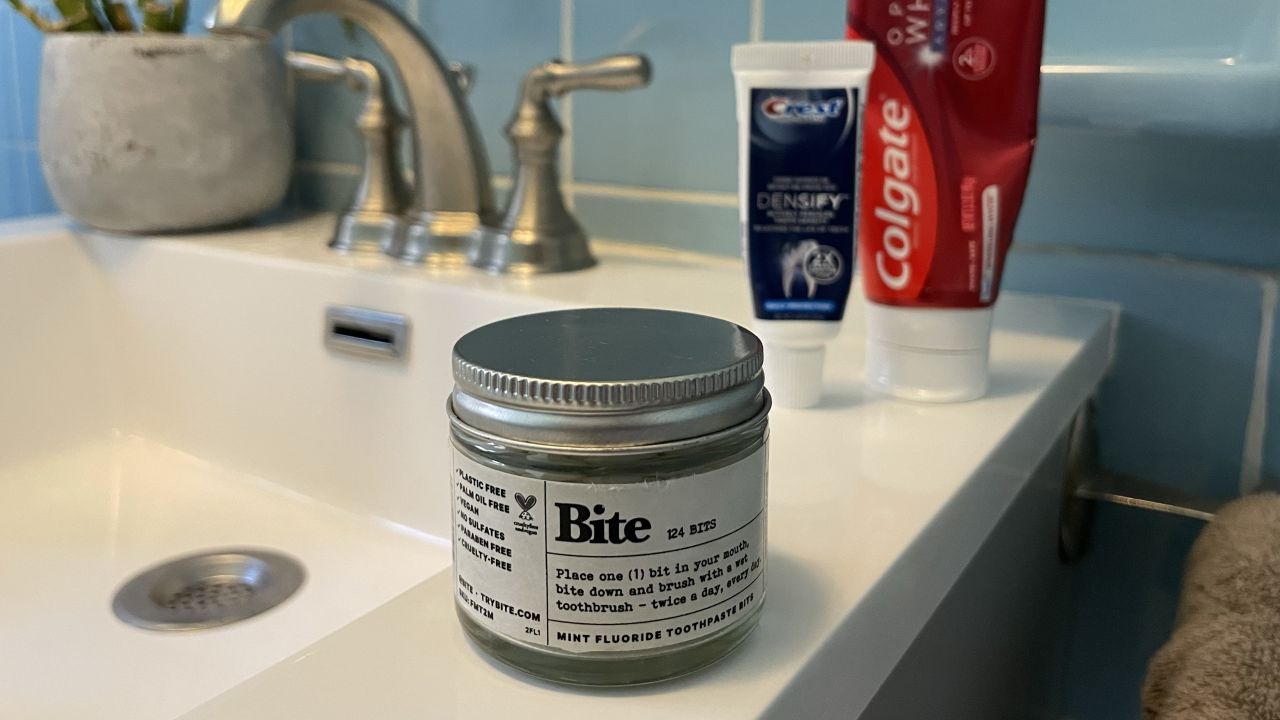 For the purpose of this review, I compared Bite with two tubes of drugstore toothpaste in my apartment, left behind by houseguests. I brushed with Colgate Optic White Advanced and Crest Pro-Health Densify Daily Protection, both fluoride toothpastes that contain ingredients like propylene glycol, SLS, sucralose and "flavor." After years of using Bite, my mouth wasn't used to the harsh ingredients in traditional toothpaste, so even though I used a small amount, I was surprised by how intensely the toothpaste foamed; it even made me gag and left my mouth feeling dry.
If you can stomach washing your hands with toothpaste, Burhenne recommends doing so to fully grasp the effect of surfactants stripping all of the natural oils from your hands, let alone what it does to the delicate skin inside of your mouth. A parched mouth isn't the only negative outcome from commercial toothpaste: These foaming soaps can break down the lipid layer, disrupt your oral membrane and oral mucosa as well upset your cell wall of bacteria. Returning to Bite after sampling conventional toothpastes deepened my appreciation for its effective cleansing power without the artificial foamy soaps.
Convenience in a tablet
The concept of dental tablets like Bite's offer convenience where toothpaste poses a hassle. The glass jar is easy to store in a medicine cabinet, toss in a handbag or pack for a trip. Airline travel restrictions on liquids, creams and pastes make it necessary to buy single-use travel-size toothpaste tubes for carry-on luggage, but dry tablets make it a breeze to get through TSA and are lighter in weight.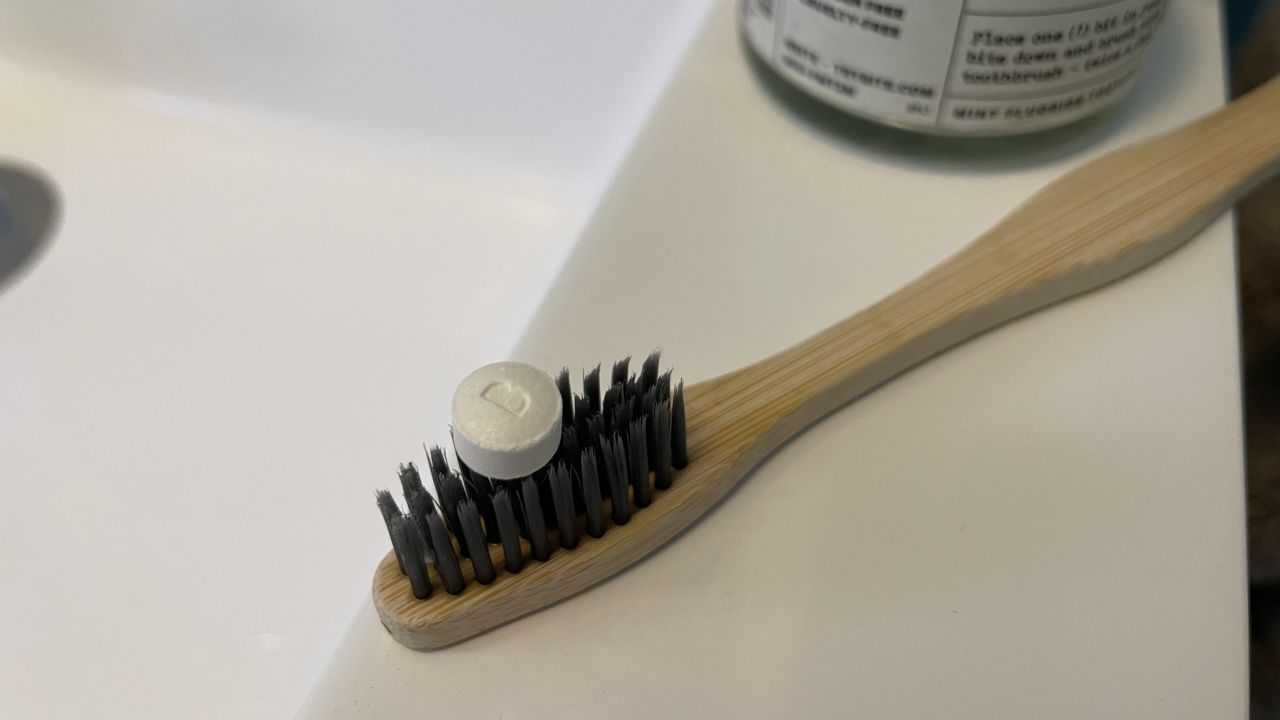 Related: Maintain great oral hygiene on your next trip with these travel toothbrushes
If you share oral care products with someone else, tablets make it easy to avoid buying duplicate products for on-the-go brushing. Simply count out how many tablets you need to take with you, store them in a small bag or reusable container and leave the glass jar at home.
Tablets provide a quick clean when you don't have time for a thorough brushing, which can reduce dental erosion from consuming high-acidic beverages like soda, energy drinks, coffee and fruit juice. If you are running late to get out the door after a meal or after a night of drinking wine, you can crunch on a tablet to help stop the demineralization process and rinse with a drink of water, although you still need to find a place to spit.
Plastic-free packaging to reuse, recycle or biodegrade
Unlike conventional plastic toothpaste tubes that are made from fossil fuels and never biodegrade, Bite's glass bottles are sturdy and reusable, endlessly recyclable and completely plastic-free with aluminum lids and paper liners.
Orders are packaged in recyclable corrugated cardboard boxes and sealed with paper tape. Refill bits are packed in FSC-certified home compostable paper pouches and mailed in kraft envelopes with postconsumer recycled newspaper padding — no plastic poly-mailers in sight.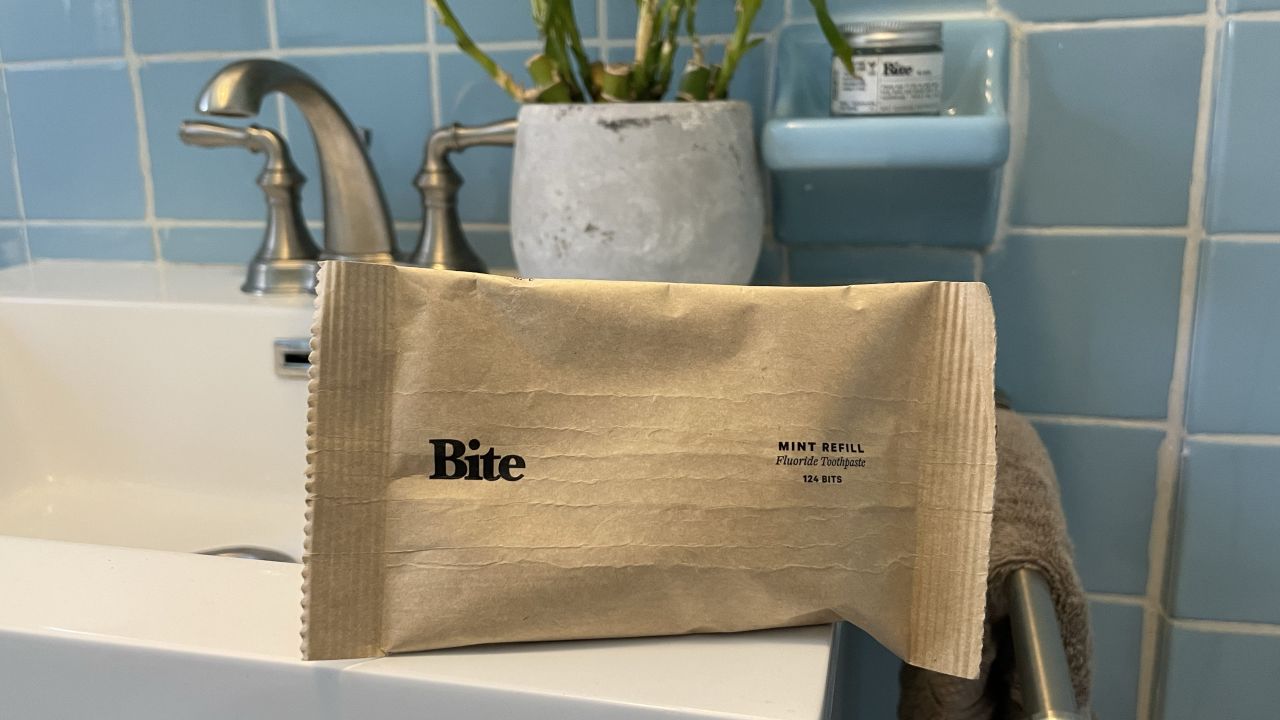 There are three different subscription options: A one-month supply jar holds 62 bits, a two-month supply holds 124 bits and the four-month supply holds 248 bits. It's easy to adjust the subscription level and reschedule refills at any time before they are shipped. And if you accumulate an extra glass jar or two from switching your subscription like I did, you can repurpose them to hold jewelry or use them as spice jars in your kitchen.
What we didn't like about them
One of the downsides to oral tablets is the uneven application of ingredients, depending on how finely you grind up the bits with your teeth. The benefit of toothpaste is that it produces a soft premixed solution, ensuring an even distribution of tooth polish in every dollop of paste. Whether or not Bite's bits are as effective as polishing paste has yet to be tested because most toothpastes lack rigorous testing and research, thanks to their categorization as cosmetics.
Bite toothpaste does contain a natural surfactant, sodium cocoyl glutamate, that is derived from coconuts. Although not as harmful as SLS, this low-foaming surfactant can still cause disruption to the oral microbiome or irritate the soft oral tissues, cautions Burhenne. The oral mucosa is only a single cell thick, similar to the lining of the gut, and is susceptible to erosion from soaps, even gentler ones like sodium cocoyl glutamate.
Perhaps the biggest reason you might not try Bite toothpaste is its cost. The lowest price is the four-month supply for $32. For one person brushing twice a day, that breaks down to $8 per month or 25 cents per day. A two-month supply costs $20, and a one-month supply is $12, which is roughly double the cost of a standard drugstore toothpaste. Given the quality of ingredients and sustainable packaging, the Bite's price point seems fair, but it is likely inaccessible for a household of several people.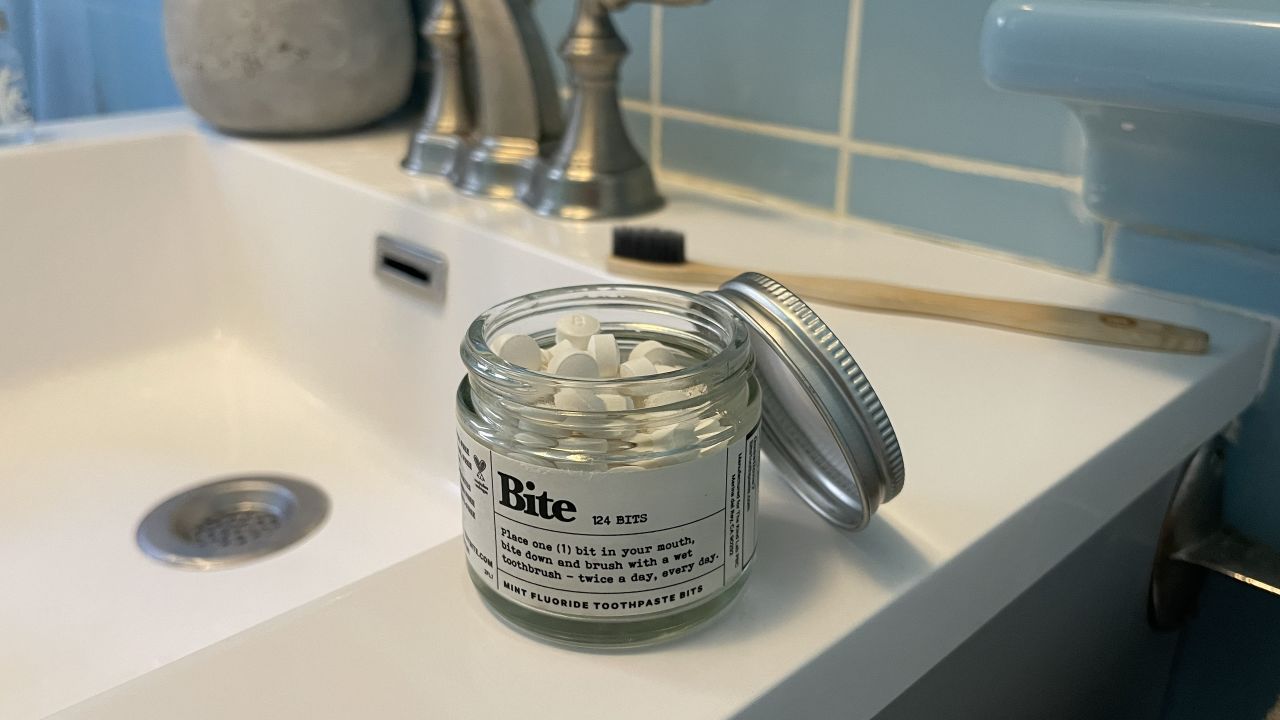 Bite's tagline boasts "zero waste toothpaste tablets and more," a claim that tiptoes toward greenwashing. Its mission to reduce plastic waste and provide reusable, refillable and compostable packaging is laudable, but no company that manufactures in a facility using even the smallest amount of fossil fuel energy, and operates an e-commerce site transporting packages across the country, can truly be without waste.
We also wish there were more consumer-facing information about where each ingredient is sourced, and under what labor conditions Bite's products are produced in California. Bite also lacks an ADA seal of approval due to fluoride requirements.
How they compare
New brands focused on nontoxic ingredients and biodegradable packaging are a boon for the oral care industry that is largely unregulated because products are categorized as cosmetics, and the market is cornered by toothpaste giants Colgate-Palmolive, Crest (Procter and Gamble) and Sensodyne (GlaxoSmithKline).
There are other boutique toothpaste brands that use tooth-friendly, vegan and gluten-free ingredients like Bite's, but the big difference between them comes down to having a fluoride option and using sustainable packaging materials.
Hüppy Toothpaste Tablets use nontoxic ingredients to freshen, whiten and remineralize teeth with nano-hydroxyapatite. The tabs are free from fluoride, SLS, parabens and, similar to Bite, they are available in three flavors: Peppermint, Charcoal Mint and Watermelon Strawberry. A transparent ingredients list boasts the addition of aloe vera to decrease sensitivity and coconut oil for gum health, and they use a coconut-based surfactant, sodium cocoyl isethionate. Unlike Bite, Hüppy adds magnesium stearate derived from palm oil, which it claims is sustainably sourced, but its certification from Roundtable on Sustainable Palm Oil (RSPO) has been widely discredited for its false claims, collusion with plantation owners and failed auditing system.
The tablets are stored in plastic-free reusable and refillable aluminum containers printed with water-based ink. Tablet refills are packaged in wood cellulose pouches and are backyard compostable along with their mailer boxes. Hüppy's shipping labels are industrial compostable only. Hüppy pricing is competitive with Bite's: A one-month supply of 62 tabs costs $10.20 with a subscription, $12 without; 248 tabs is $32.30 with a subscription, $38 without. Its subscription offers larger quantities for two or four people, the latter being the cheapest at $6 per month per person.
Davids Premium Toothpaste uses nano-hydroxyapatite to replace fluoride for dental protection and remineralization. The vegan and cruelty-free ingredients are listed transparently and free from SLS and parabens, but they do add sodium cocoyl glutamate, the same mild coconut-based surfactant for foaming that Bite uses.
Its tube cannot be refilled or reused, but it is made of recyclable aluminum with a food-grade BPA-free liner to protect the toothpaste from touching metal. It can be tossed in the same bin as other recyclable metal, glass and plastic. The downside with this tube is you have to cut it open and thoroughly clean it before discarding. The cap is made with #2 recyclable plastic. Davids does not publish information about its shipping materials. The 5.25-ounce tube costs $9.95 for a one-time purchase or $8.96 for a subscription.
Boka Ela Mint Toothpaste formula is free from fluoride, SLS and paraben. It uses nano-hydroxyapatite to keep teeth healthy, with the soothing addition of aloe vera, and flavor profile of minty green tea and cardamom. Boka uses a mild surfactant, sodium lauroyl sarcosinate, for foaming.
The toothpaste comes in a BPA-free plastic tube that is impossible to refill, reuse, recycle or compost. The company does not provide any information about its packaging materials. Its 4-ounce plastic tube costs $9.60 with a subscription, $12 without.
Related: The best electric toothbrushes in 2023
Bottom line
Considering the costs, environmental impacts and time-tested results (at least for my set of teeth), Bite toothpaste tablets are worth the price tag. The company holds certifications for B-Corp, Cruelty-free and Vegan by PETA's Beauty without Bunnies, and its toothpaste and mouthwash bits are certified palm oil-free by the Orangutan Alliance Certification.
Unlike most toothpaste brands, Bite has researched and designed oral care products around renewable resources from the outset, not after the fact. Through sourcing high-quality ingredients and low-waste materials, Bite is creating dental care alternatives that are better for the planet and for everyone's oral health.