CNN Underscored is constantly testing products — be it espresso machines or pizza ovens or sheet sets — to find the absolute best in each respective category. Our testing process is rigorous, starting out by spending hours of research to find the top products in each category. Once we create a testing pool of products, we test and retest each product multiple times in real-world settings over several weeks or even months.
This year, we've already tested many dozens of products — from budget phones to vacuums to headphones — to find the best products you need to make life better. Here are the winning products from March.
Bedding
Cotton sheets
$159 for queen size at L.L.Bean
The L.L.Bean sheets are the nicest feeling sheets we tried; breathable and crisp, they're great at regulating temperature throughout the night, and the eyelet hem along the top sheet and pillowcases made these sheets feel straight out of a hotel.
$179 for queen size at Casper
The crispest set we tested, Casper's percale sheets were the best we tried for hot sleepers. They are light and airy while wicking away sweat, and feel ultra-smooth to slip into at night.
$169 for queen size at Brooklinen
Brooklinen's gauzy percale material manages to be softer than others we tried, while still cooling effectively. Available in more fun patterns and colors than any other set we tried, they're ideal for people tired of neutrals or wanting to take their bedroom decor up a notch.
Our hotel-ready recommendation for sateen lovers, the Boll & Branch Signature sheet set was silky and sumptuous. The sheets were soft to slip into at night, and imparted a sense of luxury we didn't get from others we tested. Only available in a broad array of tasteful neutrals, the Boll & Branch sheets are chic and guaranteed to impress.
$140 $79.99 for queen size at JCPenney
If you don't mind somewhat dated colors, JCPenney's Wrinkle Guard cotton sheets are the silkiest sateen that we tested. They always look crisp, but don't require ironing, coming out of the laundry completely smooth each time we washed them. With most sizes costing under $100, the JCPenney sheets offer serious quality for the price.
• Read more from our testing of cotton sheets here.
Down comforters
$269 for full/queen size at Brooklinen
With the Brooklinen Down Comforter, we truly felt like we were sleeping on a cloud and never wanted to get out of bed. Between the softness of the outer material and the fluffiness of the fill, it's one of those comforters that make you want to stay in bed all day — 12 months a year.
If you're looking for a comforter to give you that extra warmth, The Company Store Legends Hotel Alberta Down Comforter is on the heavier end, giving you the extra weight needed during colder months.
$169 for full/queen size at Buffy
Not a fan of down and feathers in your comforter? If so, then the Buffy Cloud Comforter is the best down-alternative option. This quality-made comforter will give you a great night's sleep, thanks to its soft, lightweight build that provides plenty of warmth.
• Read more from our testing of down comforters here.
Duvet covers
$139 for full/queen size at Brooklinen
Made from crisp, luxe percale, the Brooklinen Classic Duvet Cover is light and airy, with large, easy-to-fasten buttons, and comes in tons of colors to suit any style.
$89 for queen size at L.L.Bean
If you're looking for a cover that's ultra-soft and adds warmth, then you'll absolutely love the feel of the L.L.Bean Ultrasoft Comfort Flannel Comforter Cover.
$358 for full/queen size at Boll & Branch
The Boll & Branch Signature Eyelet Duvet Cover offers a combination of smooth comfort with unparalleled craftsmanship that puts it above anything else we tested, and it even includes shams, making it easy to ensure that your bedding will match.
From $34.97 for queen size at Amazon
With hidden button covers and matching shams and pillowcases, the Mellanni Microfiber Duvet Cover will lend an elegant vibe to your bedroom, and it's affordable enough for kids rooms or if you're just trying to protect your bedding from pets.
$129.90 for full/queen size at Quince
For a classic crinkly linen look and soft feel that's sure to improve with time and satisfy for years to come, the Quince European Linen Duvet Cover is comfy, cool in summer and deeply restful in any weather.
• Read more from our testing of duvet covers here.
Flannel sheets
$197 for queen size at Garnet Hill
Luxurious without feeling overly thick or too weighty, Garnet Hill offers a delectably comfortable flannel sheet at a mid- to high-end price point, starting at $197 for a queen set (which includes two pillowcases, a fitted sheet and a flat sheet). These flannels come in lots of varieties of color and size, and instill confidence you're getting a quality product that'll last for years to come.
$180 $72 for full size at West Elm
Very close to our overall favorite because it is both supremely cozy and the most lightweight of all the sets we tested is West Elm's organic flannel sheet, which currently starts at $72 for a full set. These sheets didn't come out on top because they're available in only two colors and cannot be ordered à la carte like Garnet Hill's sheets
$129 for queen size at L.L.Bean
If you're sleeping in really cold weather and you want to feel positively bundled, then L.L.Bean makes a weighty flannel sheet for you — at a competitive price for its level of craftsmanship at $129 for a queen set.
• Read more from our testing of flannel sheets here.
Linen sheets
$294 for queen size at Parachute
Among the most luxe-feeling we tested, the Parachute linen sheets have pleasant weight in hand and a unique texture. The Parachute sheets come in a broad range of colors and sizes, and each different piece of the bedding set is available individually for replacements or to mix and match with other fabrics.
$250 for queen size at Citizenry
The light and gauzy, but durable Citizenry sheets are a master class in stylish rest. Woven in a mill in Portugal from French flax, these have deep pockets and an amply sized top sheet to fit on any depth of bed.
$289 for queen size at Brooklinen
The Brooklinen sheets are soft and light, wicking heat away effectively for people who sleep warm, but still regulating heat nicely in cooler climates. Simultaneously high-end and already perfectly worn in, these were delightful from the first touch.
• Read more from our testing of linen sheets here.
Silk pillowcases
From $49.99 at Amazon
The Fishers Finery pillowcase felt luxuriously silky, fit our pillows perfectly, offered beautiful nights of sleep and was easy to wash and dry both by hand and in the machine.
The MYK Silk Natural Silk Pillowcase, featuring silk on one side and white cotton on the other, offered a good fit and restful sleep for about half the price of the Fishers Finery option — though it's notably less luxurious-feeling.
We couldn't get enough nights of sleep on the Lunya Washable Silk Pillowcase, it was so pleasant. Lunya's silk surface case was lavish to the touch, and design details made it feel significantly elevated.
The Company Store's silk pillowcase was the smoothest we tried, with a shiny, satiny feel, and it left our hair the smoothest in the morning. It's a great alternative to the Lunya, though it is only available in a standard size.
• Read more from our testing of silk pillowcases here.

Home
Alarm clocks
From $19.98 at Amazon
The Jall Wooden Digital Alarm Clock looks great and has everything you need in an alarm clock. It's simple to set, read and use, and can wake you dependably with multiple alarms.
$25.99 $19.99 at Amazon
An easy-to-use alarm clock without any bells and whistles to get in the way, the DreamSky is simple, durable and highly readable, and will get you out of bed in the morning with a loud beep that isn't too startling.
A luxury clock with the best non-sunrise alarm: Loftie
While $149 is a lot to pay for an alarm clock, the Loftie is well worth the money, thanks to its simple design, easy-to-navigate interface, soundscapes that lull you to sleep and a gradual two-tone alarm. It's a thoughtful product that makes the sleep experience feel like self-care.
Best sunrise alarm clock (and best with radio): Philips Wake-Up Light
Able to wake you gently with lights that gradually brighten to mimic the dawn, the Philips Wake-Up Light is a great sunrise alarm clock and one of the best all-around alarm clocks we tested, with intuitive programming, a wide range of alarm tones and a radio.
From $34.99 at Amazon
With the most intense, abrasive sound of any alarm we tested, a strobe light and a vibrating puck that you place under your pillow, the Sonic Bomb can awaken even the heaviest sleepers.
• Read more from our testing of alarm clocks here.
Anti-fog for glasses
$14.99 $7.99 at Amazon
The Gamer Advantage FogAway spray provided consistent anti-fog protection that easily held up during a full day in cold winter conditions.
From $7.99 at Amazon
OptiPlus anti-fog wipes lasted for nearly 24 hours and instantly created a streak-free finish. The OptiPlus wipes also had a milder smell compared to competing anti-fog wipes.
• Read more from our testing of anti-fog sprays and wipes for glasses here.
Canister vacuums
The Miele Classic C1 Turbo Team is powerful, maneuverable and built to last. Its six suction speeds and great tool loadout make it great, even pleasant to use, for hard floors, low carpets and rugs, upholstery and dusting.
Folks with deep-pile carpet or pets that shed will be well-served by the Kenmore BC4026. It's bulky and inelegant, but its powered floorhead outperforms vacuums twice its price and the motorized pet hair brush keeps upholstery looking fresh.
An upgrade canister vacuum that does it all: Miele Complete C3 Kona
$1,099 at Abt
The Miele C3 Kona is the best vacuum we tested, with great filtration and excellent cleaning on hard floors and thick carpet alike. It has the best traits of the Kenmore and Miele Classic C1, but costs more than both put together.
• Read more from our testing of canister vacuums here.
Cooling fans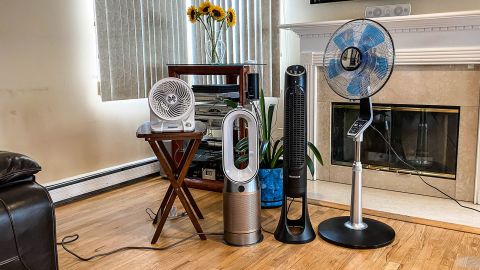 $74.99 $64.99 at Amazon
The Honeywell tower fan has a small footprint and sleek design, a sturdy base and eight speed settings, plus it's quiet and affordable.
$159.99 $135.99 at Amazon
This Rowenta fan had the sturdiest base and rod of the pedestal fans we tested, a clearly labeled control panel and easy-to-assemble and maintain metal grilles.
This Vornado fan is compact, sturdy and powerful, with a tiltable head and adjustable speed knob that is easy to use.
With striking design and impressive features, the Dyson is unlike any other fan we tested and is far more expensive, but it combines a fan, heater and air purifier, potentially replacing three appliances.
• Read more from our testing of cooling fans here.
Handheld vacuum cleaners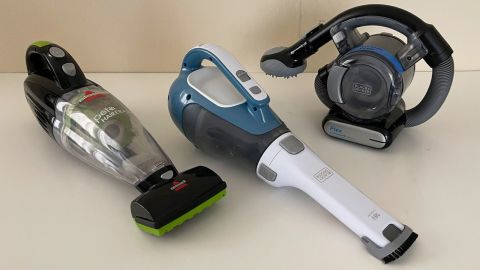 $59.99 $49 at Amazon
The Black+Decker Dustbuster is the easiest to use, charge and empty of all the handheld vacuums we tested, with a large capacity canister and convenient built-in attachments that make it convenient and versatile enough for any small cleanup.
$124.99 $109 at Amazon
The compact Black+Decker Max Flex features a 4-foot hose and an abundance of attachments — including a soft brush for delicate surfaces like your radio — making it perfect for detailing your car or truck.
• Read more from our testing of handheld vacuum cleaners here.
Sleep masks
$19.99 $9.98 at Amazon
The Mavogel Cotton Sleep Eye Mask features a genius nose wire, so it blocks all — and we mean all — of the light. The mask is soft on the eyes and comfortable on the head, and it never so much as budged during the night, no matter our sleep position.
• Read more from our testing of sleep masks here.
Upright vacuums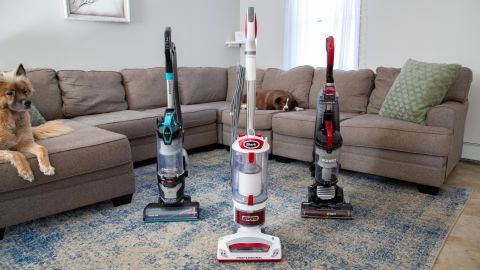 $299.99 $269.99 at Amazon
With great cleaning power and maneuverability, the Shark Rotator Professional Lift-Away NV501 was a standout in all of our testing.
Lightweight, easy to maneuver and affordable, the Eureka DashSprint Dual Motor Upright Vacuum had the smoothest swivel and excellent suction power, and it didn't get tripped up on high-pile carpets or when transitioning from hard floors to area rugs
• Read more from our testing of upright vacuums here.

Vacuums for pet hair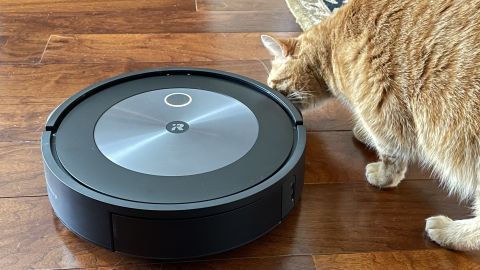 The best robot vacuum for pet hair: iLife V3S Pro
The budget-priced iLife V3S Pro uses a suction tube like a traditional vacuum cleaner rather than the roller brushes employed by other robot vacuums, and it does a better job picking up pet hair without clogging.
The best robot vacuum that can allegedly avoid dog poop: iRobot Roomba j7+
The iRobot j7+ is the best robot vacuum you can buy right now, with simpler mapping, more cleaning power and smarter features (like dog poop avoidance) than anything else we tested.
Best cordless stick vacuum for pet hair and deep carpet: Dyson V11 Animal
With impressive power and the ability to tackle cleaning tasks on surfaces ranging from high-pile carpet to hard floors, the Dyson V11 Animal is the most capable cordless stick vacuum we tested.
The Bissell Pet Hair Eraser Lift-Off Upright Vacuum's standout feature is the Pet Turboeraser tool, which has a spinning brush head with bristles that easily pull dog and cat hair off upholstery and stairs, making it the best upright vacuum for pet owners.
The Kenmore BC4026 canister vacuum is great for large homes, deep-pile carpet and folks with allergies. It's bulky and inelegant, but its powered floorhead outperforms vacuums twice its price, the motorized pet hair mini brush keeps upholstery looking fresh and its dust bags and exhaust filter are HEPA-compliant.
• Read more from our testing of vacuums for pet hair here.
White noise machines
Best white noise machine overall: Sound+Sleep Mini
The Sound+Sleep Mini white noise machine contains 48 different sounds like rain, brooks, fans, ocean sounds and white noise. The other devices we tested feature some of these sounds, but the Mini is one of the only ones that has them all.
Best upgrade white noise machine: Hatch Restore
$129.99 at Hatch
While our overall pick is a classic sound machine, the Hatch Restore white noise machine packs extra features like a color-changing light on the front, a digital clock display and routines to help you wind down and fall asleep easier.
Best white noise app overall: White Noise
We liked the White Noise app for its ease of use, handy timers and alarms, and large selection of various types of sounds. You can download additional sounds in its marketplace.
Best upgrade white noise app: Calm
The Calm app offers white noise and other sounds, and also meditation and breathing exercises, daily movement videos, music, motivational talks and tons of sleep options. The app also offers a free trial period.
• Read more from our testing of white noise machines here.
Kitchen
Espresso machines
If you want to make real espresso drinks at home but you're on a budget, the De'Longhi Stilosa will give you great coffee and steamed milk with a little practice.
The Breville Bambino Plus takes the guesswork out of great espresso, with automatic features to help you through every step of the process of making café-quality drinks.
Best espresso machine for beginning coffee hobbyists: Gaggia Classic Pro
The latest update to a 30-year-old design, the Gaggia Classic Pro doesn't have as many automatic features as some more modern machines, but there's no better machine for learning barista skills. And it makes great espresso and milk drinks.
Best automatic espresso machine with grinder: Breville Barista Pro
If you don't have a grinder or if you prefer an all-in-one-machine, then the Breville Barista Pro has the same great automatic features as the Bambino Plus, plus a quality grinder and a little more programmability.
Best high-end single-boiler espresso machine: ECM Casa V
Beautifully designed, built like a tank and well suited to the serious hobbyist looking for a luxury machine, the ECM Casa V is a traditional single-boiler machine that should last many years and give you café-quality espresso and steamed milk along the way.
If you want to make a lot of milk drinks, then the well-engineered Rancilio Silvia Pro X — the most updated version of the classic design — has two boilers for always-on convenience, whether you want an espresso or a latte.
If you want espresso drinks at the touch of a button, the Philips 3200 does everything for you, from grinding to milk steaming, without any additional effort. It's always ready to serve up a quality espresso, latte or cappuccino.
• Read more from our testing of espresso machines here.

Personal blenders
$99.99 $89.99 at Amazon
The clear standout in our testing, the Ninja Nutri-Blender Pro was easy to use, created smooth blended drinks and included a travel lid that was both comfortable to use and closed securely.
$39.88 $29.95 at Amazon
If you don't require multiple blending modes or settings and just want to make a single-serving drink quickly and easily, the low-cost Magic Bullet Blender is an excellent option.
• Read more from our testing of personal blenders here.
Pizza ovens
The only electric pizza oven we tested, the Breville Pizzaiolo was our favorite oven overall because of its predictable, consistent results and even cooking.
The gas-fueled Ooni Koda 16 had the most even heat distribution of the gas ovens we tested, making for fuss-free operation and perfectly charred and blistered artisanal pizza crust.
The Ooni Karu 16 was the simplest-to-use multi-fuel oven we tested, with straightforward switching between wood and gas and easy fuel loading — plus, it made great artisanal pizzas with either fuel source.
The Cru Model 30 has an incredibly simple, sturdy design and plenty of room to work in, and it turned out delicious wood-fired pizzas.
• Read more from our testing of pizza ovens here.
Portable induction cooktops
Compact and powerful, the Duxtop is quick to heat food and cooks more evenly than any other we tested. This burner also comes with a bevy of useful settings like a child safety lock, timer and boil and keep warm presets.
Priced much lower than the 9600LS, the Duxtop 8100MC Portable Induction Cooktop is just as powerful and equally great at cooking, though it drops the convenience features and isn't as attractively styled.
• Read more from our testing of portable induction cooktops here.
Pressure cookers
This app-enabled version of the popular Instant Pot may cost a bit more than the brand's other models, but it gave us the best results, has the simplest, easiest-to-use interface and even allows you to release steam via app.
The most popular Instant Pot doesn't have the convenience features of its Pro siblings, but it impressed us with its simplicity, ease of maintenance and — most importantly — good results at a low price.
The creamiest risotto in five minutes? Perfectly cooked beans and oh-so-tender stew meat? Precision cooking, hands-free steam release and a sleek, intuitive display make this pressure cooker worth the price.
$250 $214.10 at Amazon
Pricey? Yes. But this high-quality design is simple to use, includes a lid that's a snap to lock into place and, most importantly, gave great cooking results with every recipe we threw at it.
With a unique one-handed lid design, durable base and easy-to-grip handles, this stovetop cooker is simple to use and delivers great cooking results for under $100.
• Read more from our testing of pressure cookers here.

Stand mixers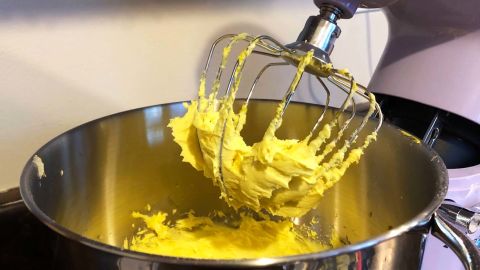 The KitchenAid 5-Quart Artisan Series Tilt-Head Stand Mixer delivered the best performance of the mixers we tested. With more than 20 available colors and a classic profile, you'll want to keep this tilt-head mixer on display in your kitchen.
If you prefer a bowl-lift mixer because it feels sturdier, the KitchenAid Professional 600 Series is a solid upgrade option from the Artisan series. It has a bigger stainless steel bowl and a more powerful motor that can handle bigger batches and recipes.
The Cuisinart SM-50 outperformed all of the cheaper mixers we tested, so if you're looking to upgrade your baking or cooking tools without stretching your budget too much, it's a great choice.
• Read more from our testing of stand mixers here.
Work-from-home essentials
Budget phones
Like all Pixels, the 5a gets Google's Android updates first. It also has 5G support, good cameras, a headphone jack, solid battery life and IP67 water resistance. It's the best Android phone under $500.
The 2022 iPhone SE keeps the small size and single camera of its predecessor (and the TouchID fingerprint sensor) but adds 5G support and the same powerful processor as the iPhone 13. There's no headphone jack, of course, but it is water-resistant and will get software updates years longer than any Android.
The Galaxy A13's 90Hz screen and 5G support are unusual in a phone this inexpensive. Its three cameras and processor are decent for the price, and it has a headphone jack and microSD card slot.
• Read more from our testing of budget phones here.

Gaming routers
The best gaming router overall: Asus RT-AX86U
The Asus RT-AX86U has excellent speed and range, and can handle several people streaming 4K video, playing online games, working from home and taking video calls at the same time. It's a great Wi-Fi 6 router for small and average-sized homes with demanding networks.
• Read more from our testing of gaming routers here.
Kids headphones
The Puro Sound Labs PuroQuiets offer effective noise cancellation and volume limiting for safe long-term listening; our testing panel found them the most comfortable headphones they tried, and everyone appreciated the grown-up styling.
Multiple volume limiting modes, an easy-to-use boom microphone, solid Bluetooth connectivity and solid, stylish construction make the Onanoff BuddyPhones School+ Wireless a great choice for remote or in-person learning.
The comfortable, straightforward, wired-only Onanoff BuddyPhones Explore+ stood up to all of the abuse our younger testers could dish out, and they're perfect for children under 8 years old.
Best budget wireless Bluetooth headphones for kids: JLab JBuddies Studio
$30 $23.99 at Amazon
Offering easy-to-use Bluetooth connectivity, a comfortable fit and a range of kid-friendly features, including daisy-chaining, make these a solid low-cost wireless pick for kids across a wide age range.
• Read more from our testing of kids headphones here.
Video doorbell cameras
Ring's Video Doorbell 2 Pro uses radar to give you highly accurate motion alerts, has stellar-looking video with a wide, tall field of view and crisp audio, and can even show you on a map the route someone took as they made their way to your door.
$149.99 $124.99 at Amazon
The Arlo Wired Video Doorbell has a sleek design and is easy to set up, plus it gives you clear video and a multitude of settings to fine-tune the video quality, all at an affordable price.
Best wireless video doorbell: Nest Doorbell
The wireless Nest Doorbell can be installed anywhere, thanks to an integrated battery; gives you intelligent alerts without making you sign up for a subscription; and produces clear, crisp video so you can stay informed about your visitors and deliveries.
The new Belkin Wemo Video Doorbell finally provides a good option for those locked into the HomeKit ecosystem. The Wemo doorbell offers a 178-degree field of view, making it easier to view people standing to the side of your doorbell or packages that are placed closer to your door.
• Read more from our testing of video doorbell cameras here.

VPNs
Best VPN overall: Mullvad
5 euro per month at Mullvad
If you're looking for privacy — and that's the most important thing to think about when you're looking for a VPN in the first place — Mullvad goes the extra mile, even letting you pay anonymously. They don't have the most servers of the VPNs we tested, but the service is accessible, fast, convenient and affordable.
A runner-up VPN: IVPN
From $6 per month at IVPN
IVPN offers a VPN service with serious privacy, subscriber anonymity, fast performance and flexibility, with multiple subscription options.
• Read more from our testing of VPNs here.

Wi-Fi routers
The best Wi-Fi router overall: Asus RT-AX86U
The Asus RT-AX86U has excellent speed and range, and can handle several people streaming 4K video, playing online games, working from home and taking video calls at the same time. It's a great Wi-Fi 6 router for small and average-sized homes with demanding networks.
$99.99 $89.99 at Amazon
For smaller spaces and less demanding workloads, the TP-Link Archer AX21 is a great Wi-Fi 6 router for under $100. Its speed and range rival routers twice as expensive, though it can't handle as many high-bandwidth devices at the same time.