Whether you're looking for a portable media experience or a powerful, lightweight laptop replacement for travel, a tablet can fit the bill. These increasingly do-it-all devices can handle work and play, and even replace a laptop. After months of testing, we've found four top picks, one of which should fit your touchscreen needs, whichever platform you prefer. Apple's iPad can handle work and play, the iPad Pro can replace your laptop, Amazon's Fire HD series is great for on-the-go streaming and Samsung's Galaxy Tab series continues to push Android tablets further with their DeX productivity environment.
Best tablet overall
The ninth-gen iPad stood out as the best overall option in our testing, thanks to a faster processor that crushes everyday tasks with ease. It mixes performance and value in a way that no other tablet can, and tosses in support for core iPad accessories.
Best performance
The iPad Pro M2 is the best tablet out there for serious creatives who want the power of a laptop and the flexibility of a touchscreen. It's one of the most powerful machines we've ever tested, outpacing every tablet we've ever tested — and some laptops.
Best Android tablet
The Galaxy Tab S8+ impresses with a vibrant, clear display that's great for play and has plenty of power for nearly any task, from drawing to video calls. And it works great with the rest of Samsung's Galaxy products.
Best budget tablet
The latest Amazon Fire 7 tablet is a great affordable option for kids or anyone who needs a no-frills device for reading and watching shows. It's perfect if you need an extra device in the house or when you're taking a car trip or vacation.
The new ninth-generation iPad keeps the classic design and a quality display but upgrades the front-facing camera and tosses in a faster chip, the A13 Bionic, which should keep this tablet working for many years to come. Most importantly, the price still starts at $329 with 64GB of internal storage. Last year that only got you 32GB, which filled up way too fast. It's plenty of iPad for most users.
It may not have the laptop-like horsepower of the iPad Pro, but the ninth-gen iPad is best for everyday tasks — emails, web browsing, word processing, gaming, movies, video calls or even making your own films in iMovie. And all of the new features of iPadOS 15 work just fine. We threw all of this and more at the device during our testing period and it chugged right along. Unless you're doing big-batch photo exports or outputting 4K movies, you're unlikely to run into issues.
We wouldn't rush out to upgrade if you have the eighth-gen iPad, though, since you won't see massive improvements. Those coming from a Fire tablet — like the 8 Plus, our budget pick — or an older iPad, however, will find that the new iPad is snappier.
The ninth-gen iPad still features a 10.2-inch display, and it shines here. Text is both sharp and bold, while images and videos offer a lot of details with great colors. It also features True Tone, which adjusts the screen's color temperature to match lighting conditions. This has reduced eye strain in our testing, making it easy to use the ninth-gen iPad for an entire day.
That's good, since you'll easily make it through a day of use without needing to recharge. The iPad lasted for nine hours and 45 minutes on our battery test, a 25-minute increase over the eighth-gen iPad.
The ninth-gen iPad now features a 12-megapixel camera, a significant upgrade over the previous 1.2-megapixel front camera. Apple's Center Stage, which first premiered on the 2021 iPad Pro, is included here and performs just as well to identify who's in the frame and keep them in the shot. This worked great for both video calls and capturing clips of our other projects during our testing
And if you want to use your older accessories with the ninth-gen iPad, you're in luck. It still supports the first-generation Apple Pencil, so if you have one lying around from an old iPad Pro, you won't need to buy a new one. If you need a keyboard, it supports the Smart Keyboard or Logitech Combo Touch. We'd opt for the latter since it's an entire case and the keys provide much more travel if you're looking for a keyboard. Trust us: Your fingers won't bottom out nearly as often as they do on the Smart Keyboard. And if you have a seventh- or eighth-gen iPad, it's the same design so you won't need to buy new accessories. And conveniently, Apple ships the new iPad with a Lighting to USB-C cable and a 20-watt charging brick in the box.
The ninth-gen iPad continues to deliver an exceptional blend of features and performance for a very affordable price. We'd be willing to bet that this tablet will fit your needs perfectly, whatever they may be, and at a price point that won't break the bank.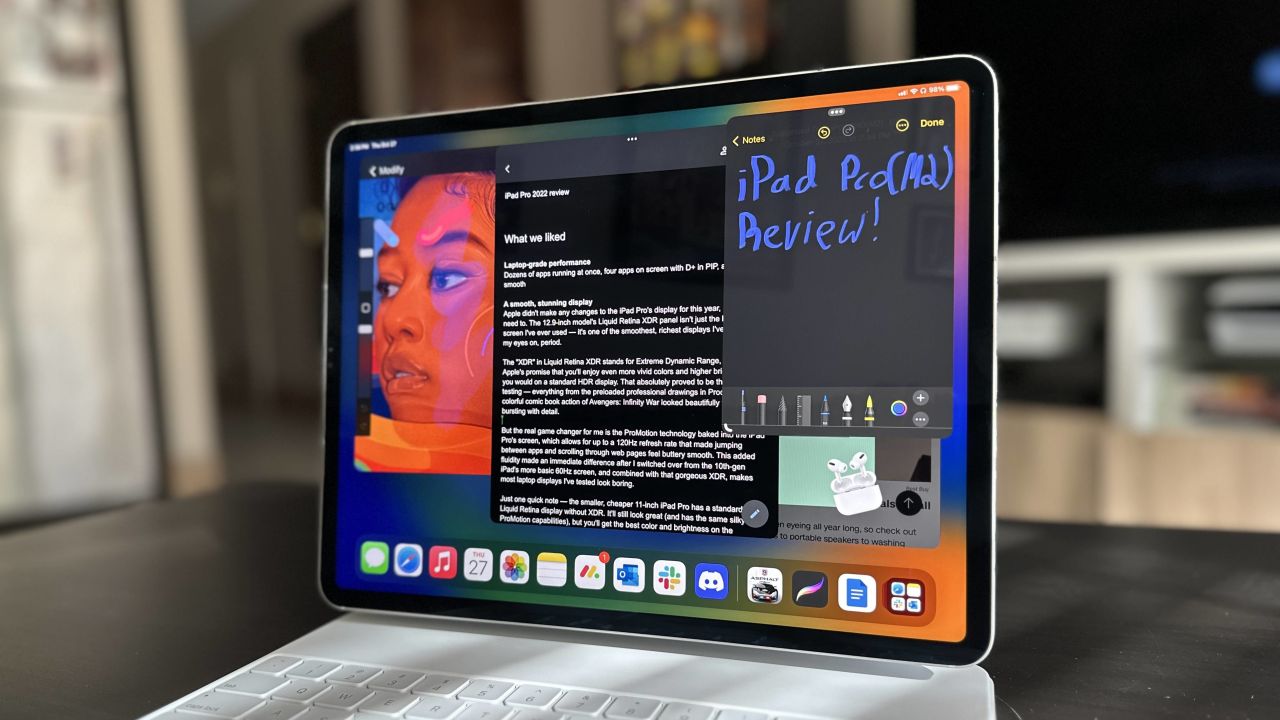 The latest iPad Pro is the fastest tablet we've ever tested. With the same stunning display, lightweight design and great keyboard experience you've become accustomed to in previous Apple models, the new iPad Pro has the addition of the blazing-fast M2 chip (yes, the same one on the MacBook Air and MacBook Pro) that runs circles around most tablets and laptops.
While the standard iPad models will work just fine for most folks, the iPad Pro M2's best-in-class performance makes it the obvious best pick for serious creatives who need something more flexible than a laptop. Aside from its faster processor and a few extra perks like Apple Pencil hover, the iPad Pro M2 is virtually identical to the M1 model that came out last year. That's not a bad thing for new buyers — the display and design are still excellent — but recent iPad Pro owners have little reason to rush to buy the newest upgrade.
Everything about this machine moves with a beautiful fluidity, from the ultra-smooth and vibrant display to the sheer speed at which it's able to juggle dozens of apps without a stutter. It's the new best tablet for serious artists and editors who want the power of a laptop and the flexibility of a touchscreen. However, at a near $800 price tag, it's not the best fit for the everyday users who just want something that streams, calls and can search the web.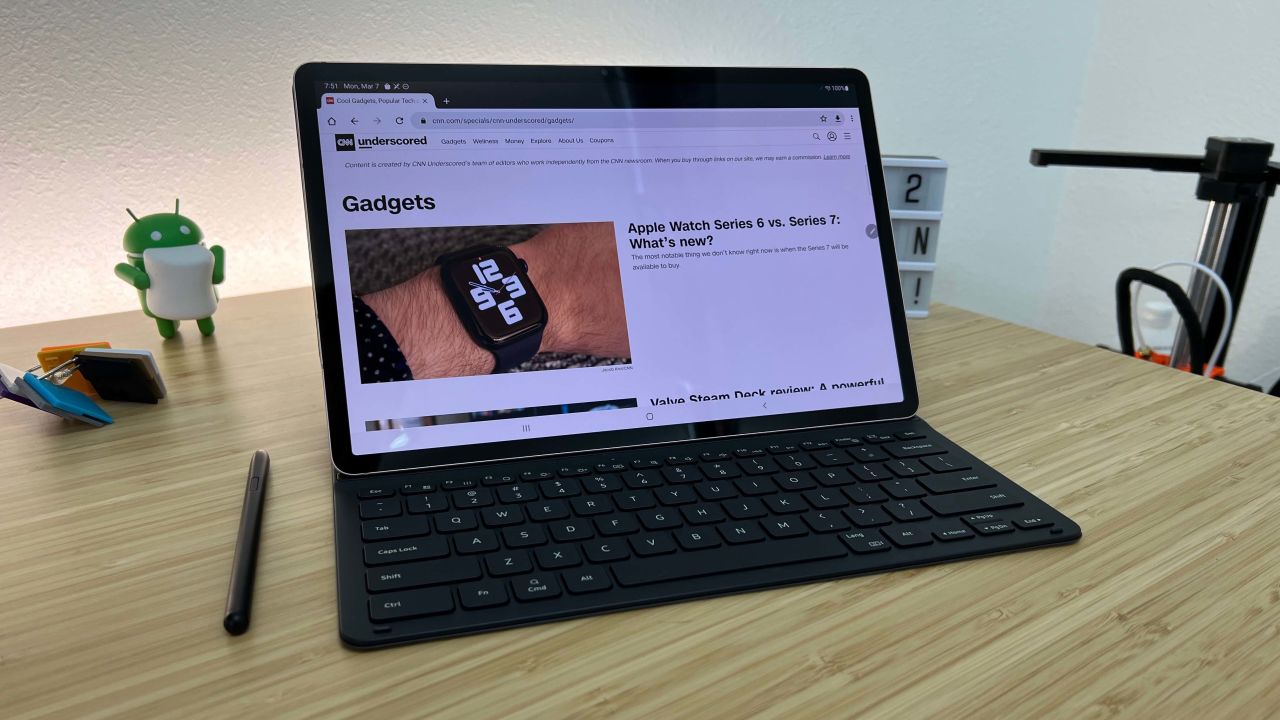 The Tab S8+ looks a lot like Samsung's previous line of Galaxy S7 tablet models, which make it familiar territory if you're already use to Android devices. The display colors are bright and vivid, while blacks are deep and dark — just like we've come to expect from all flagship Samsung products — and the tablet is great for watching content. The Tab S8+ is comfortable to hold and light enough that it doesn't cause any sort of fatigue when using it for long periods of time.
The Tab S8+, like Samsung's tablets before it, is ideal for watching movies and videos while not ideal for reading books or creating documents. There are a total of four speakers on the Tab S8+, which combine to provide an impressive mix for both music and streaming videos.
On the front of the Tab S8+ is a single 12-megapixel ultrawide camera, while there are two rear-facing cameras on the Tab S8+ — a 13-megapixel main sensor and a 6-megapixel ultrawide sensor. The cameras aren't as sharp as what you'll find on a Galaxy S22 smartphone, but they're good enough to take the occasional photo when your phone isn't nearby. The front-facing camera, however, is a big upgrade over the Tab S7+, with a wider field of view that's perfect for video calls.
Powered by Qualcomm's Snapdragon 8 Gen 1 processor, we found the Tab S8+ to be fast and responsive, with no slowdown even with multiple apps open at the same time in various split-screen modes. It also has a stellar battery life so you can get through a full day of use between casual YouTube videos, browsing the web and triaging emails.
Amazon refreshed its popular Fire 7 tablet in 2022, giving it a USB-C charging port, a faster processor and double the memory — a significant improvement over the 2019 Fire 7 tablet. Those upgrades, along with longer battery life, make this $60 (with ads) tablet a smart choice for those who want an affordable tablet for consuming media, especially for younger kids.
The Fire 7 tablet is an ideal content consumption device for younger kids, when you need an extra device in the house or when you're taking a car trip or vacation. At 7 inches, it's the right size for holding and watching videos, reading and playing simple games. While the screen resolution is not HD (1024 x 600), kids watching videos on a screen not much larger than a Pro or Max version of a smartphone are unlikely to notice or mind very much. They'll probably just be glad to have their own tablet to watch and not have to share with a sibling.
The Fire 7 runs on Amazon's Fire OS 8 software and uses its own Silk browser. You're limited to the apps available in Amazon's app store, which is not nearly as extensive, so you might be disappointed at not being able to download some of your favorite games or apps. However, most of the popular social and streaming apps are available.
We found the Fire 7 to be more durable than the iPad Mini and great for parents who want to monitor the apps and sites their kiddos are accessing. Plus, with a 10 hour battery life on a single charge, you can easily go from gaming to reading to listening to music without having to search for a charging port.
How we tested
Tablets can vary a lot in what they aim to accomplish and deliver, but we wanted to take a look at a diverse variety of devices. After sorting through dozens of expert reviews (including our own) and applying our own knowledge of the tablet market, we drew up a list of devices to compare. These ranged wildly in price from $109 to $999. But before we took price into account, we wanted to objectively test qualities that we expect from a good tablet.
Every device was scored on the following properties: design, display, battery life, performance, software, speakers, connectivity, ports, accessories and warranty. The categories we considered key were weighted greater, namely design, display, battery life and performance. A tablet is a largely visual device, seeing as it's one big screen, so display and design are important. And performance determines how smooth your experience is going to be and what you can do on the device. Of course, better battery life means you don't have to put the device down to charge as often.
With each tablet, we ran out the battery from full to empty while playing a movie with screen brightness set to 50% and airplane mode engaged. We multitasked with numerous apps, streamed shows and movies, listened to music, played games of various intensities and more. Plus, we looked into the quality of the display and actual construction of a tablet. In terms of design, we looked into the shape and portability, how it feels in the hand and more nuanced aspects like bezel-to-display ratio. Finally, we considered and tested available ports and connected various other tech via Bluetooth.
Other tablets we tested
From $446 at Amazon or from $449 at Apple
The 10th-gen iPad is a great tablet for first-time iPad buyers or those who haven't upgraded in years. However, most folks are better off saving money on the ninth-gen model, or spending a bit more for the faster, more advanced iPad Air.
$799 $749 at Amazon
The 2021 iPad Pro is a fast-performing tablet that runs effortlessly through all sorts of tasks — Photoshop exports, video renders, gaming, productivity tasks and streaming all happen without a hitch. It got knocked out of our top-performing tablet spot once we tested the 2022 iPad Pro model, which is now powered by an M2 chip.
From $650 $350 at Samsung
The Tab S7 was our previous pick for best Android tablet. It has enough power to keep up with whatever you can throw at it and plenty of battery life. While Android isn't quite on par with iPad OS, Samsung DeX brings Windows-like multitasking to the Tab.
Our previous best budget tablet pick, the Fire HD 8 Plus can handle a host of everyday tasks and access Amazon's library of content, including streaming movies and TV shows, e-reading and even some light gaming. For $109.99, it can do a lot, but the Amazon App Store does limit its top tablet abilities.
From $501 at Amazon or From $599 at Apple
The $599 iPad Air sits in the middle of the iPad lineup with a modern design and really fast processing speeds. It goes a step beyond the entry-level iPad or the Mini, and really is a consumer-level Pro model. It sticks with a Touch ID in the power button but has minimal bezels and supports all the core accessories.
$499 From $400 at Amazon or from $499 at Apple
The iPad Mini 5 still serves a niche as an ultra-portable yet powerful iPad, but with a 7.9-inch screen size, the iPhone 11 Pro Max is closing in from behind. It's a packed device that runs iPadOS 13 really well and, even on a tighter display, supports considerable multitasking. We just think for most people, the iPhone might be serving most of the use cases and opting for the seventh-generation iPad will give you more versatility and, ultimately, more bang for your buck.
The new Fire HD 10 gets a lot right and fixes a lot from its predecessor — mainly a faster processor delivers a fluid FireOS experience that doesn't choke under pressure. Its 10.1-inch HD display is just fine for streaming, but at $149.99 it doesn't scale much beyond our budget pick. For the money, you're better off sticking with a Fire HD 8 Plus. It's also more portable.
Samsung's Galaxy Tab S6 Lite offers an Android experience with a slow but steady performance and exceptional battery life. Its headlining feature is the included S Pen stylus that works seamlessly with Samsung's suite of productivity apps. The Tab S6 Lite ultimately falls short of being a top pick because its slower performance doesn't live up to its $349.99 price tag.
$550 $340 at Amazon
Microsoft's Surface Go 2 looks just as good as the previous generation and runs a full-fledged version of Windows 10. Its display is sharp and crisp, and battery life is more than enough to get through a day of work. But the entry-level model isn't something we would recommend to anyone, due to the impact its slower processor and storage has on overall performance. In the end, you'll have to spend $629 for a more powerful model. The Go 2 is perfect for someone who has a strong desire to remain within the Windows 10 ecosystem with Microsoft's hardware, but it's going to cost you.
Read more from CNN Underscored's hands-on testing: