If you're here, you already know that a single monitor is not enough, especially if you're on a laptop. If you need the benefits of a second screen but don't have the space for a full-sized computer monitor, there's a whole class of thin, USB-C-powered displays out there you can use anywhere. They work great on your desk or kitchen table and can just as easily slip into your bag to whisk off to a remote destination.
We pulled together a list of some of the best-reviewed portable monitors on the market today and put each of them through a battery of tests that included web browsing, gaming, movie-watching and testing out each of their unique features, from pass-through charging to touchscreen capability and speaker quality. From the batch I tested, I looked for nice, sharp images, good color, solid ergonomics, portability and broad compatibility. Here are the four models that stood out.
Best portable display overall
The ThinkVision M14T is the best portable display for most people, delivering a bright, colorful screen and touch support within a sleek design for an attainable price.
Best budget portable display
If you're on an extra-tight budget, this AOC monitor pumps out good overall image quality and packs a generous warranty for less than $140.
Best portable gaming display
This portable NexiGo monitor checks all the key boxes for gamers, including a smooth 300Hz refresh rate, plenty of ports and beautiful picture quality.
Best portable display for creatives
If you need a high-quality portable display for photo and video editing, the ViewSonic Color Pro's rich OLED screen and highly flexible design makes it the best of its kind we tested.
The 14-inch Lenovo ThinkVision M14T checked more of my boxes than anything else in this list. It's a well-constructed, nice-looking touchscreen display with thoughtful design elements, and very little about it annoyed me, which, from my brief time with all of these displays, isn't a given.
The ThinkVision M14T, which is now available for less than $300, features a glossy glass front (that's not recessed into its thin bezels) over its colorful 1080p panel. The image it produced was very close, in terms of both sharpness and color accuracy, to that of my 2022 M2 MacBook Air, and one I liked more than my Samsung Galaxy Book 2 360's own OLED display. Colors were vibrant, if a bit warmer than my Apple laptop out of the box. It worked well for both video streaming and gaming, thanks to its 6-millisecond response time (though with only a 60Hz refresh rate, some more dedicated gamers will prefer a display more along the lines of our best gaming pick below).
The ThinkVision M14T uses an IPS panel, which typically means good contrast and viewing angles. It won't beat a good OLED display on either point, but unless you're especially picky about those things, you really won't notice it in ordinary use.
The two USB-C ports, which can both take power and a video signal, live on either side of a sturdy base that also serves as the screen's stand, which sets the cabling back behind it. That's great for keeping the clutter of your USB-C cables out of the way while you work, and it offers the bonus of better stability than some of the magnetic folding folio covers that many of these displays ship with. However, it does come at the cost of some thinness. Still, at a certain point, vanishing thickness yields diminishing returns, and this screen is slim enough to easily slip into a bag for transport. (It also ships with its own soft sleeve so it's not just banging around in the nude, screen exposed to your keys, laptop accessories, and the like.)
There's very little I don't like about the ThinkVision, but some things bear mentioning. Its recessed side buttons are hard to press without holding it steady with a second hand, and having only two USB-C ports feel a little limited at its current price tag, where many others offer at least an HDMI port. Also, its glossy display, while lending it a more premium feel, won't diffuse light very well. So if you're taking it to a coffee shop with you, it might be hard to find a good place to sit where you aren't occasionally leaning to peer around reflections.
The biggest drawback is that if you're buying the ThinkVision for its touch screen, you'll only be able to use that feature with a Windows machine. That's an Apple issue and not a Lenovo one — Macs currently don't support touch displays — but given the precision of its touch screen with included stylus, it really is a shame that I can't take advantage of the more powerful processor in my MacBook Air for Photoshop.
Speaking of which, if you're going to draw with it, you probably want one of those Minority Report gloves that cover the side of your hand that rests on the display. It gets warm enough that my hand got just sweaty enough to stick to the display, making it hard to draw smooth lines at times. That aside, I liked how Lenovo incorporated a small kickstand in the base so I could lay it down, angled up at me slightly, without the display rocking on the base that was now folded under it.
As for the included stylus, it's just okay. It's pressure-sensitive and includes two side buttons, but the pressure sensitivity is hard to dial in while drawing, and at times it just didn't register my lines at all. It won't replace a dedicated drawing tablet with a screen, but it's good enough for casual drawing or sketching out ideas.
Still, the Lenovo ThinkVision M14T has enough going for it that most people will be perfectly satisfied. It's one of the brightest portable displays I looked at, it's ergonomically considerate and it's just a nice-looking device overall. At its original list price of $484, its selling points lose their luster, but as an under-$300 portable display, it has a lot to offer that makes it the best portable display for most people.
Best budget portable display: AOC I1601FWUX
At just $135, the 15.6-inch AOC I1601FWUX is a remarkably good FHD portable monitor for anyone just looking to add real estate to their mobile workstation. What you exchange for the affordability is mostly creature comforts — it's got beefy 2008-style bezels, only a single USB-C port, poor viewing angles, an awkward on-screen display (OSD) menu control that uses a single button to operate and only 262,000 colors (most of the displays I looked at have colors numbering in the millions). While the bezels hinder its portability somewhat by adding an extra inch around the outside, the whole package is just one-third of an inch thick, so it could slip easily into just about any bag big enough to hold a 17-inch laptop.
At 250 nits, this monitor is very bright for the money. The picture it produces is sharp and vibrant and its screen's matte finish keeps reflections at a minimum. It has no speakers, and that's just as well — none of the portable displays I tested have speakers worth using. Can you pick it up and twist and bend its frame with almost no effort? Absolutely, but you can get around that by just not doing it.
In all seriousness, there's something refreshing about the simplicity of AOC's portable monitor. Though it has no kickstand, the magnetic screen cover pulls double duty as a folding stand that lets you easily use it in both portrait and landscape mode, and it offers more-intuitive adjustment and better stability than a lot of the more overengineered stands you find with pricier models. There's no guesswork in how it works, either, and that's nice. Plus, sometimes a giant bezel is a feature, allowing you to liberally paw at the thing without getting fingerprint smudges all over the screen.
Impressively, AOC offers a three-year warranty with its display, although its quirky policy appears to require that you hang onto the box and packaging materials, or the company will charge a repackaging fee. That's a bummer, but at least it's a small box. Beyond all of that, there's really not much to say about AOC's budget portable monitor. It's cheap and it works. What more could you ask for?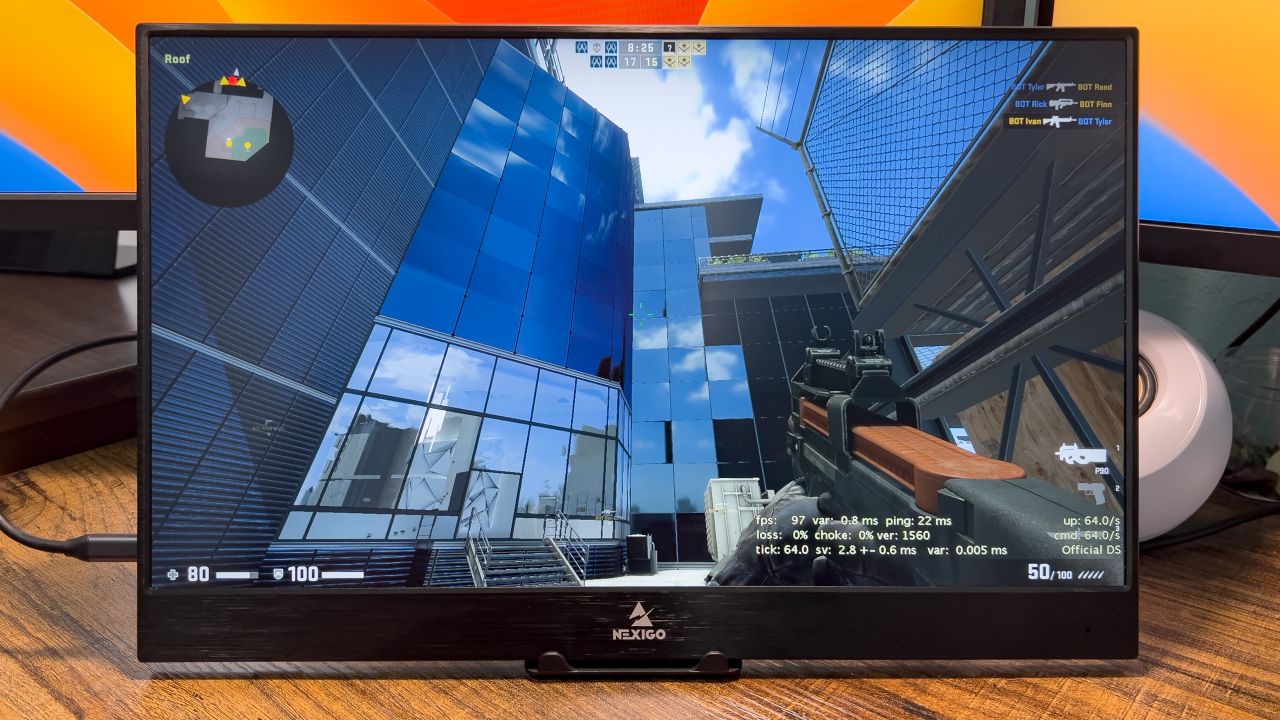 The NexiGo 17.3-inch portable monitor was the sneaky killer display of the bunch, coming from a brand that's only been selling its own manufactured products since 2020. Its portable display is big and brighter than most I tested, and even has a full-size HDMI port in addition to its two USB-C ports and single USB-A port, making it the most versatile monitor I tested from a connectivity perspective. Its biggest bullet point, though, is its 300Hz refresh rate.
If you don't know why that matters, it comes down to smoothness: The higher your screen's refresh rate is, the smoother the onscreen action. It's why modern game consoles brag about having 120Hz refresh rates, though whether your TV actually supports that may be debatable. But it means that the NexiGo's image refreshes 300 times a second, so for computers that can push an equivalent number of frames per second, games will have less blur and uncannily smooth animations, and that was true for me, both in games and using TestUFO. With FreeSync on, the refresh rate ranges from 50 to 240Hz, and I didn't see any evidence of screen tearing — the name for when part of the screen seems a beat ahead of the rest of it.
NexiGo's monitor has a crisp picture with great color out of the box, though I wasn't a fan of its HDR performance, which tended to push reds too hard and gave movie characters a sunburn. With a maximum 300-nit brightness, that's not a surprise, as HDR works best with brighter screens. Without the feature toggled on, colors are very natural and rich, even if they don't quite pop the way good HDR does. In short, if you care about HDR, this monitor isn't for you.
I did have one big beef with NexiGo's display: It really needs a better stand. It's a flimsy little folding plastic easel-style stand that's really not wide enough, so if you're a hard enough typist, the screen ends up rocking gently side to side if you're not using a sturdy table. It comes with a magnetic folio cover that really seems like it should double as a stand, but the flip-out portion of it seems only intended to flop over to the display side to cover it for transport.
NexiGo includes a small IR remote with its display, and that's good, because control of the OSD is awkward with the buttons on its edge. There's no way to go back once you've selected an option, forcing you to wait for the OSD to time out if you want to dive into another menu. Would it have killed them to put in a back button? Still, the remote is a great option that I wish more monitors, portable or not, had.
Small shortcomings notwithstanding, the NexiGo is a beautiful display, and its 300Hz refresh rate is almost unheard of in the world of portable gaming monitors. It could stand to be a little brighter, and its HDR capability is little more than a marketing gimmick, but nothing disqualified it from being the best portable option for gaming of the slate of displays I tested.
For creatives, the ViewSonic ColorPro VP16-OLED is a no-brainer. Where the other ViewSonic displays I looked at felt very cheap, with flimsy stands and subpar panels, the 15.6-inch ColorPro felt like a complete product aimed very squarely at creative work, and it's all the better for it. It's got a sharp 1080p panel that gets as bright, at 400 nits, as my M2 MacBook Air; though it was a bit too saturated for my tastes out of the box, it took to calibration well. Thanks to the OLED panel, it has excellent contrast by comparison.
As for the overall design, well… It's practical, but it ain't pretty, and that's fine. The casing is plastic, the glossy screen is recessed into the slightly thick bezels and the stand is a chunky folding thing that hinges in two places so it acts a little like an iMac stand, except it's actually adjustable. The buttons for adjusting the monitor through the OSD are either very accessible or extremely inconvenient depending on which configuration you've got the display in — either in upright mode like an ordinary desktop monitor or down at roughly laptop level, with the stand folded behind. In the latter case, the buttons end up being in the back, centered so you'll have to either reach awkwardly around it or turn it around for quick adjustments, which you'll need to do anyway, since this display, like the vast majority of external monitors, doesn't support hardware brightness control without sometimes-tricky third-party software like MonitorControl.
Still, I liked the flexibility the stand gave me, and it was far more stable than some of the kickstands and folios other portable displays offer. Its practicality also extended to the dual USB-C (with 40-watt pass-through charging for your laptop), MicroHDMI and 3.5mm audio jack ports, which live out of the way in its side, so you can keep them routed behind your laptop. Speaking of cables, ViewSonic included nice, braided cables instead of the stiff, rubber-housed ones that shipped with every other portable I looked at — a slick touch that the company easily could've gotten away with not including.
That's not the only clever bonus. The ColorPro VP16-OLED comes with a folding screen cover that can also serve as a light-blocking hood in brighter rooms. It's little touches like this that take a huge amount of the bite out of the $400 price tag that ViewSonic is asking.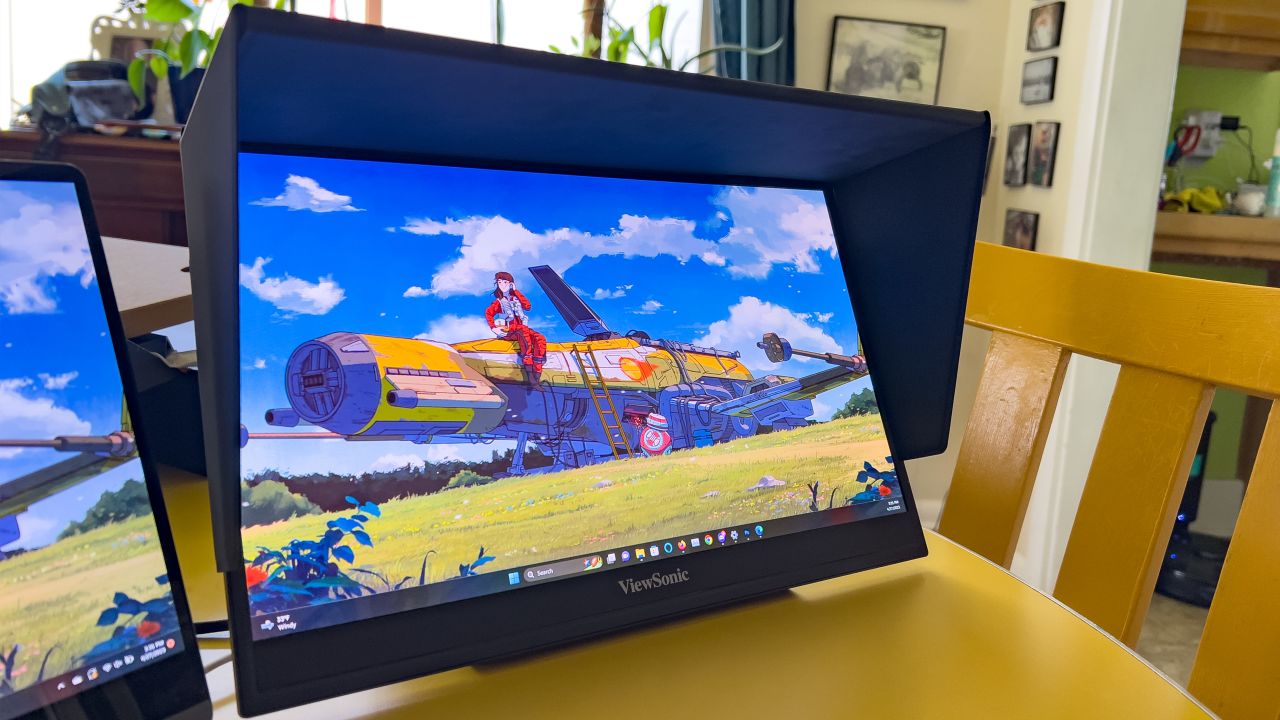 Should you get a portable monitor?
If you don't have the space for a proper multiple-display desktop setup or you just prefer the mobility of a laptop, a portable monitor can be a game changer, and you often don't have to spend a huge chunk of change for the privilege. Laptops, with some high-end exceptions, tend to max out at around 17 inches, and although you can get them with full 4K resolution, the extra screen real estate that gives is an oft-expensive upgrade that comes with smaller, harder-to-read text.
Adding a portable display, then, is a great way to expand your digital workspace and beef up your productivity. They have a lot of benefits over typical monitors, too. Generally speaking, a portable display only needs a single USB-C cable for power and video, so you won't need to bring an extra power cable with you beyond the one that charges your laptop. Their small size means they also travel well and take up less space on a desk.
Before you rush out and buy one, you do need to be sure of a few things. For one, since a lot of them only use USB-C for video and power input, it's good to be certain your laptop supports both power and USB-C DisplayPort Alt mode — that is, that it can actually push a video signal through that port. If you don't have that, you'll need another way to get video to the monitor. Many laptops have an HDMI port, and most of the displays above have some form of HDMI input — either full-size, mini HDMI or MicroHDMI — and all shipped with an appropriate adapter.
It's also good to keep in mind that, if you want to add touchscreen support, it's going to be difficult to find that for an Apple laptop. None of the ones we tested for this guide offer it, nor does MacOS officially support it. If you own a MacBook and an iPad that each meet certain requirements, your iPad may be capable of functioning as a compact second display using Apple's Sidecar feature, potentially obviating the need for a full-on external display.
How to choose a portable display
Before you buy a portable display, sort out your actual use case. Do you really need an OLED screen or a high refresh rate, or will a simple 60Hz LED-backlit panel do? If you're just looking for something to keep a notes document or browser window open in while you research or do other work, you probably don't need anything fancy, and you can get some surprisingly good portables for under $200. However, if you're going to use it to edit photos, look for something with a bright panel (for me, that's at least 300 nits) that has great color accuracy, especially if the pictures are intended for print.
Once you've set your use case, take a look at known brands' displays — cheaper monitors from brands you've never heard of can be unreliable or have odd tendencies that make them more of a headache to own than is worth whatever money you may have saved in the process. Look first at companies like Lenovo, Dell, ViewSonic, LG and others like them, and if you do see one from a lesser-known brand, be sure to try to find reviews from reputable outlets. If a review from a site you've also never heard of makes it seem too good to be true or reads like marketing copy, it's probably not a genuine, tested review.
In reviews, look out for notes about sharpness, brightness, ease of use and port selection. And definitely pay attention to the stand; a flimsy stand can be a huge annoyance, and not all of them support turning your monitor on its side for portrait mode use. If you're going to be spending a lot of time looking at it, consider something with a tall stand to preserve your neck.
How we tested
For each of these monitors, I connected them to my 2022 MacBook Air with an M2 processor, as well as my Samsung Galaxy Book 2 360, which has an Intel Core i7-1255U processor. For color representation, I used my M2 MacBook Air, which Rtings lauds for outstanding out-of-the-box color accuracy, as my baseline and did visual comparisons against that, both before and after using MacOS' very good color calibration assistant.
During setup, I noted each display's ports, where they're located and how they functioned. I also paid attention to the stand — is it easy to use? Does it hold the monitor securely and offer broad adjustments? Does the monitor flop around while I type or is it stable? I also looked for driver support and apps that offer software customization — not all monitors offer or need these things, barring those with special features. Where there were compatibility issues between Windows and MacOS, I made note.
I tested each display's capabilities first with the Eizo monitor test, which helped me look for issues with evenness of both color and brightness, test a display's ability to show content at various viewing angles and look for "ghosting" — the faint trail you might see behind an object in motion on screen.
Next, I used it in the brightest, most sun-bathed room in my house. Web browsing, streaming video and gaming were all part of my testing. With streaming video, I like to use movies with challenging color and motion — "Mad Max: Fury Road" is a particular favorite of mine, thanks to its heavy use of deep saturation and frantic motion, as well as plentiful dark scenes to check out contrast. If a monitor can handle this movie well, it can probably handle almost any other videos just fine. Also during this section, if a screen supported HDR or had a high refresh rate, I did A and B testing to see if these things truly made a difference in practice.
If the display had its own speakers, I tried them out with music and video, though none impressed me enough initially to test further in this initial batch. Frankly, you're better off bringing your own speakers or headphones.
Finally, I checked out special features — stands and screen covers that support multiple configurations or add functionality (such as the light-blocking hood for the ViewSonic ColorPro VP16-OLED), for example. If a display had a touch screen, I checked for accuracy and latency, and if there was a stylus, I used it with Adobe Photoshop to make sure it worked well.
Other portable displays we tested
The 14-inch Dell C1422H is functionally nearly identical to the Lenovo M14T. It sits on a hinged base that folds behind the screen for better cable management, has two USB-C ports that both offer pass-through charging and video, a 1080p resolution and similar other specs all around. The picture it produces is likewise sharp and colorful, and it has a matte screen instead of a glossy one for better reflection handling. It's even a little smaller and lighter than Lenovo's option. However, it lacks the Lenovo display's touch capability and auto-rotate feature, and it feels cheaper overall. Given the Lenovo M14T is currently available for $10 less on Amazon, Dell's portable monitor simply doesn't offer a reason to choose it instead.
ViewSonic's low-end portable display, the 15.6-inch VG1655, isn't a very good portable monitor. Although it has good color and a sharp picture, its issues with trailing make it bad for watching video or playing games. Its stand was particularly bad — ViewSonic used a flimsy, thin metal kickstand that could easily scratch a wooden surface and makes it very easy for the screen to slide around, which is problematic when factoring in the short, stiff cables it comes with. If you need to adjust your laptop, you'll probably drag the screen with it. ViewSonic included a magnetic screen cover, and that helps on both counts, but it's an added headache in a cluttered space or small table, like those you'd find in some coffee shops. At a much lower price, it could be a good budget option, but the AOC option above shows you can get a much better screen for far less money.
The 17-inch ViewSonic Omni VX1755 seemed a compelling portable gaming option until I actually tested it. Its specs are promising, of course — 144Hz refresh rate, large display and pass-through charging are all great things to have. But in practice, the Omni was dim and didn't work very well with my MacBook Air (it didn't seem to communicate HDCP support properly, so I was unable to stream video with it, and pass-through charging wouldn't work, either — both seemed fine with my Galaxy Book 2 360, though). Its color was dull, and though it offered smooth motion, the panel was very smeary, which combined with the dim backlight and muted colors gave the picture a muddy appearance. It might've made a good budget choice when it was released in 2021, but there are many other options available now, including a similar-looking 144Hz portable display from NexiGo.