When you're looking to get the most out of your music, a great pair of headphones can make all the difference. Over-ear headphones, at times affectionately referred to as cans, can give you some of the best sound. But with such an abundance of options, it's not always easy to find the pair that'll fit your needs. How do you ensure you're getting the best quality? And, if you're on a budget, which ones strike the best balance between cost and quality?
Well, we're here to answer those questions for you. We continually test the latest and greatest headphone offerings as they come onto the market (evidenced here, as our top overall pick, Sony's latest over-ear cans, have unseated our previous top choice, the company's older XM3s). We rate each pair based on sound quality, build, comfort and more. After jamming out to countless playlists over the past six months, here is our current list of the best over-ear headphones:
Best overall over-ear headphones
Sony's WH-1000XM4s proved to be the best over-ear cans. Simply put: They completely outperformed the rest of our testing pool in terms of sound quality, comfort, battery life and noise cancellation.
Best over-ear wireless headphones
For running, working out and just getting in the zone, our runner up, the Jabra Elite 85h, hit all the right notes. Though they're on the bulkier side, they have a great control scheme for exercise, featuring large, easy-to-locate buttons on the right cup.
Most comfortable
If you need headphones that can be worn on long walks, intercontinental flights or just around the house, the Bose Noise Cancelling Headphones 700 are our go-to for comfort. There's some serious memory foam plush in both the ear cups and top headband.
Best budget over-ear headphones
JBL's Live 650TNC shined as our value pick. The JBL cans held our attention with clear playback of vocals (no artifacts like crackling), punchy drums and an impressive three-dimensional soundstage.
A deeper dive into the winners
Best overall over-ear headphones: Sony WH-1000XM4 ($348; amazon.com)
It seems like Sony's recipe for the WH-1000XM4s was to keep everything that was great about the WH-1000XM3s, then add a dash of smart features to truly outmatch all headphones in their class. Namely, it's the XM4s' improved chip and processing capabilities, which work in tandem to upscale audio in real time — without introducing latency on the track or big changes to the original EQ mix — that make them the best over-ear headphones to date.
The WH-1000XM4s produce crisp and clear audio — the way music should be, no matter the track you're listening to. Sony's been known for dimensionality in the headphone space, which remains true here. Listening to "I'm on Fire" by Bruce Springsteen makes you feel as if you're in the recording studio, with his soft, warm vocals flowing around you. The instruments lying beneath those vocals were easy to make out, whether it was the constant pattering of the drums or each distinct guitar riff. A bass-heavy track like "Bad Guy" felt solid and raw, with vocals that came through clear on top without any reverb — a sign that the bass, while powerful, wasn't causing issues with hardware.
Noise cancellation is just as stellar as the audio quality. Compared with the other headphones in our testing group, the XM4s were better at reducing higher-pitched frequencies, such as arguments about what's for dinner or even loud neighbors talking outside your window. In our tests with a TV and a washing machine, the XM4s reduced the sounds to light background noise, even with no music. A backing track resulted in outside ambiance being fully blocked out.
And you'll be able to enjoy that class-leading sound quality all day long and then some — as the XM4s survived for up to 30 hours off a single charge during our testing. As we did with the other headphones on this list, we put the battery life of the XM4s to the test. Two separate times, we locked the volume to 75%, set playback to a normal EQ mix, and played through a 32-hour playlist. The WH-1000XM4s lasted exactly 30 hours, on average. Once they do run out of juice, their quick-charging capabilities will get you an hour of playback after just 10 minutes of charging.
The XM4s' comfort won't hamper that long life, either. They don't feel tight around the ear or the top of the head. That's because, compared with the older XM3s, Sony doubled down on padding in both areas. The ear cups feel quite spongy and don't result in the plastic build of the WH-1000XM4s pressing hard against your skull. The padding at the top reduces pressure that some other headphones might apply. We were easily able to wear these for 12-hour sessions without any noticeable discomfort.
No matter which of our testing categories you consider, the WH-1000XM4s are pretty much the gold standard for what over-ear headphones should be. Battery life lasts longer than most, sound is robust with even more clarity than any headphones we tested and their distraction-busting noise cancellation capabilities are a cherry on top. At $349.99, these aren't the cheapest option, but thanks to their future-proofing audio upscaling, the pair will last you quite some time.
Best over-ear wireless headphones: Jabra Elite 85h (starting at $209.87; amazon.com)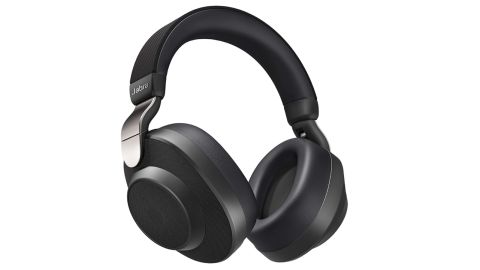 The Jabra Elite 85h are a robust set of headphones priced at $249.99. Our overall score for these cans was the same as the Sony WH-1000XM3, except with a bit of a different distribution of points. These fell slightly short of the Sony cans in sound, comfort and ANC, but surpassed them in build quality, on-device controls and warranty.
There are several factors that put these headphones at the top for working out. Firstly, while there is no IPX rating (a widely used metric by which a device's water resistance is measured) to be found, Jabra does claim these are dust- and water-resistant. Despite lacking this rating, we drizzled water on the Elite 85h for almost a minute and they came out unscathed. In addition to their one-year limited warranty, they have a separate two-year warranty for dust- and water-related damage.
We tested these running both outdoors and indoors, and while the design is quite bulky, they sit firmly on the head. The top band is wrapped with a somewhat firm cushion and fine mesh that rests comfortably yet securely on your head. The ear cups offer the same firm cushioning, wrapping around the entire ear with similar results. Point being: These never fell off during our testing, despite not feeling overly tight. Their ultimately secure, bulky build can be condensed down into the included carrying bag, with both cups folding inward for portability.
And about those earcups: We also appreciated the controls from a fitness perspective. The buttons on the right cup, large and easy to navigate without much thought — a win when you're running — serve core functions like music playback and phone calls. (Conversely, we experienced a bit of fumbling around with the touch controls on the Sony WH-1000XM4 and the Bose 700.)
Additionally, on other headphones that relied on buttons on the side or center of the earcups (JBL Live 650BTNC and Beats Studio 3), the controls weren't as easy to locate on the fly. Some headphones (such as the Beats Studio 3 and Skullcandy Crusher ANC) even produce audible feedback when you press their buttons. Jabra made sure to include cushioning around the buttons on the Elite 85h to dampen this drastically.
In general, we found that the Jabra Elite 85h felt sturdier and had a better control scheme than the WH-1000XM3s. The latter use the entire right cup as a touch control, which can lead to some accidental song skips or phone call hangups. The Elite 85h, on the other hand, use large buttons that are easy to locate. Their battery life also lasts 36 hours, beating out Sony's 30.
In terms of sound, the Jabra Elite 85h delivered a similar quality to Sony's, made even closer by Jabra's comprehensive Sound+ app (available for iOS and Android). The bass of the Elite 85h is satisfyingly deep, but doesn't reach quite the same studio-quality depth as that of the Sony headphones. We also noted that the sound felt slightly flatter on the Elite 85h. It did not necessarily suffer on three-dimensional sound, but it did feel more compressed, notably reducing the maximum tones it was able to reproduce. With a custom equalizer in the app focused specifically on bass, the quality gap actually closed to a point where quality was comparable. Still, this did not fix the compression issues.
And to put it lightly, we loved the Sound+ app, in which you'll find an equalizer to customize your sound with presets that create notable boosts to vocals and bass. There are countless settings available as well, such as toggling on-ear detection, which detects whether the headphones are on your head and pausing music when you take them off. Pretty neat, right? You can even set up Find My Jabra to get a rough location on where your headphones are if you lose track of them.
Jabra's Elite 85h promised 36 hours of battery life, and we put it to the test with a 40-hour playlist. We connected the headphones and let the music play at 75% volume. They lasted for the full 36 hours, and then some — pretty impressive!
Most Comfortable: Bose Noise Cancelling Headphones 700 ($379; bose.com)
When it comes to comfort, the Bose Noise Cancelling Headphones 700 topped our list. Though their $399.95 price point is on the steep end, the pair's ergonomic nature and exceptional sound quality still made them one of our standout picks.
The foam lining within the headband and ear cups is designed with especially comfortable layers of memory foam cushioning. It produces virtually zero pressure, to the point it's almost like wearing nothing. The Bose 700s are capable of ample extension on the ear cups, allowing these to fit heads of almost any size. For those who love portability, though, the ear cups don't fold in. And while Bose does include a carrying case, you'll have to settle for their unfolded size.
The Bose headphones don't skimp on sound or noise-canceling, either. In fact, they scored just below the Sony WH-1000XM4s in both categories. We found that soundstage and compression quality were similar to those of Sony's cans. Both headphones offered clear piano, saxophone and drums on our testing track "Jazz Crimes" by Joshua Redman. And while the sound wasn't quite as crisp and the bass wasn't quite as intense as the Sony cans, we were still impressed with what they could put out. Listening to "Might Be Right" by White Reaper, the drums and vocals didn't come through with quite as much definition as they did on the Sony headphones. The bass on "Bad Guy" by Billie Eilish is also a small step down in depth and intensity. Despite these minor shortcomings, you're still getting a balanced mix that's very enjoyable.
If you're someone who likes to customize the experience via a companion app, you won't find that with Bose. The app itself is quite bare, notably lacking an equalizer feature. It's a letdown, especially at this price point. So if you're looking to boost the bass or vocals, you simply can't; the app's primary use is toggling Noise Cancellation and Transparency Mode. That being said, these modes excel on the Bose 700s. Transparency mode is especially cool as it amplifies surrounding sound so you can hear better. Inversely, when you're on a phone call, the microphones do double duty by lowering environmental noise and amplifying your voice. There is no customization to modify this feature.
In the end, the Bose 700s deliver a build that's unmatched in comfort. They feature a seamless modern design, which, unless you're on a ninja mission, could do with a pop of color from the silver or white and gold varieties. You also won't be disappointed with the balanced sound experience and ample battery life. Just know that for $399.99, you're paying for premium comfort.
Best budget over-ear headphones: JBL Live 650BTNC ($129.93, originally $199.95; rei.com)
The JBL Live 650BTNC provides the most value out of all the headphones we tested.
The JBL cans didn't lose too many points in the sound department. As they're still high-end headphones, they deliver crisp sound, falling in line with the Bose 700. In fact, they scored better than the Beoplay H9s, which cost more than twice as much. We also loved the vocals from these, performing just below the epic quality of the Bose 700 and Sony WH-1000XM4. Unfortunately, they suffer somewhat on compression and bass. In terms of the former, we found that the higher and lower range of sound was limited compared to the Beats Studio 3 and the WH-1000XM4. This was especially prominent in "Jazz Crimes" by Joshua Redman, wherein the higher saxophone notes seemed to mix together and became muted.
When it comes to bass, the JBLs were average. They came out less deep than devices like the Beats Studio 3, and produced less kick than the WH-1000XM4. On the flipside, while listening to "Bad Guy" by Billie Elish, the bassy beat that repeats for the whole track came through slightly muddled. That being said, these issues are relatively minor. The 650BTNC still put out bass that was about as deep as more expensive picks like the Bose 700 and Jabra Elite 85h. They also sport an impressive soundstage, bringing out instrument placement and vocals almost as well as the WH-1000XM4.
The companion JBL Headphones app tries to perfect these setbacks with specific sound profiles. What we found was that they overemphasized what they sought to improve. In other words, the bass sound profile made the bass overpowering, which drowned out some of the subtler notes, which can steal some thunder from the vocals. When you look at the bass sound profile, it increases the lower frequencies to the extreme. These changes result in the bass being way too strong. If you're looking to tweak the bass, try creating your own custom sound profile with less extreme changes for better results.
The 650BTNC headphones have a sleek, relatively minimal design. The headband and its cushion is covered in mesh, which is interesting on a visual level. Inside is a metal bar with a good amount of flexibility, allowing it to bend generously and fit large heads. The cushion that rests on your head is pretty thin, and can result in a tight feel. Along with the headphones' relatively firm ear cup cushioning, the JBL cans aren't ideal for long usage, so they lost some points for comfort. Despite the weaker areas, these headphones still blew several more expensive devices out of the water and significantly outperformed the Plantronics BackBeat Pro 2, which share their price point.
How we tested
The testing process for these headphones was a rigorous one. We wanted to put them through the paces of normal use, focusing on what would be most important to the user. We examined design and comfort over time, learned every control, listened to various music genres, tested out the active noise cancellation and noise isolation, put the batteries to the test and read up on warranties. Throughout the process, we cross-compared these features with whichever headphones were best in the category.
Read on for the categories and their breakdowns.
Sound quality
Design
Build quality: We determined the quality of the materials from which each device was built, examined how they were put together and looked at visual design. To test the build, we checked how flexible the headband was and looked into what material, such as metal or plastic, held the headphones together. We also checked whether the earcups folded in for portability, and took a look at the layout of controls and how buttons felt to press. Visually, we looked at bulkiness, texture and overall design.
Ear cups: We wore the headphones for an extended period of time to determine whether ear cups felt tight over time. We also noted whether they were sufficiently comfortable, to the point that one could forget they even had them on.
Headband: We wore the headphones for an extended period of time to determine whether the headband felt tight over time or created localized pressure. This is where we noted headband flexibility, too, as well as whether the open back headphones were comfortable enough to fade from our concentration.
Overall comfort: This subcategory combined ear cups and headband notes. We also looked at whether tightness occurred over time in the area where the headband and ear cups were connected.
Features/Usability
Controls: We learned and tested each control to find out whether controls were easy to understand and how intuitive it was to control playback, calls, volume, Bluetooth pairing and toggling features like ANC. Finally, we noted whether or not there was a voice-narrating control, such as stating "ANC on" when turning on noise cancellation.
Bluetooth connectivity: We tested the latency of controls between the headphones and the device to which they were paired. We also measured how quickly the headphones, after being turned on, reconnected to a device with which they were previously paired. Finally, we checked whether the headphones could be connected to multiple devices at once.
Companion app: If headphones had a companion app, we explored the options that the app provided. Some examples are displaying battery percentage, toggling or changing ANC level, presenting custom sound profiles and the ability to make your own and setting a standby timer. Essentially, the more control an app provided, the better.
Ports: We tested whether the ports on each pair of headphones functioned.
Controls off-device: This subcategory combined Bluetooth connectivity and companion app notes. We then checked which smart assistants could be used, if any. We also took a look at whether an AUX cord was included and whether it had a control box on it. If it did, we looked into how much control this provided.
Battery
Usage time: We created a playlist with a variety of genres such as jazz, rock, pop, rap, classical and EDM, among others, to determine battery life. Each pair of headphones received a playlist that was about two hours longer than its purported battery life. We then ran them through their respective playlist at 75% volume with ANC off.
Quick charge: Quick charge is a feature wherein charging a device for a short period of time will restore a lot of battery life. For the models that supported this feature, we calculated the percentage of battery they received within the time they advertised a quick charge takes.
Overall: This subcategory combined usage time and quick charge notes. We wanted to simply get the picture of which devices had both great battery and quick charge functionality.
Active noise cancellation
Pure ANC: We determined how well the ANC of each pair of headphones dampened environmental sound. We created two noisy conditions to test: running on a treadmill with a TV on high volume nearby and sitting next to an active washing machine. This section also required intensive cross-comparison to figure out which headphones were dampening more sound, and what range of sound was being affected.
Warranty
Warranty: We researched what warranty/warranties were available for each device. Warranties with more years on them, or devices with more than one available, scored better.
How we rated
Using the procedures described above, we gave each pair of headphones scores in each subcategory. The combined scores of these subcategories comprised their respective category's maximum possible scores. Below, we quickly break down these point systems.
Sound quality had a maximum of 40 points: bass (10 points), compression (5 points), soundstage (5 points) and overall (20 points).
Features/usability had a maximum of 30 points: controls on-device (5 points), Bluetooth connectivity (5 points), companion app (5 points), ports (5 points) and controls off-device (10 points).
Design had a maximum of 25 points: build quality (10 points), earcups (5 points), headband (5 points) and overall comfort (5 points).
Battery had a maximum of 20 points: usage time (10 points), quick charge (5 points) and overall (5 points)
ANC had a maximum of 5 points: pure ANC (5 points)
Warranty had a maximum of 5 points: Warranty (5 points)
Most importantly, these points were assigned price-blind. This way, the cost of each headphone wouldn't introduce bias into our ratings. After the final scores were tallied, we layered in price to determine the value that the headphones provided.
To work out best comfort, we focused on the comfort subcategories within design. When it came to best for working out, we gathered notes from features/usability, battery, ANC and design. From design, we mostly pulled aspects that befit working out like water resistance and how securely the cans were while running.
Lastly, for best value, we took a close look at the pricing of each model. We then created a graph that allowed us to compare total scores and prices at the same time. In the end, the JBL Live 650BTNC tied with the Plantronics BackBeat Pro 2 at just under $200 each, but the JBL headphones scored significantly higher, so they won the category.
Other over-ear headphones we tested
Beats Studio 3 Wireless (starting at $289; bhphotovideo.com)
The $349.95 Beats Studio 3 Wireless are a great set of headphones overall. They were one of the best on the list regarding sound, tying with the Bose 700 and Beoplay H9 for second place behind the WH-1000XM3. And while they look simply beautiful, they landed in the lower range in terms of comfort, particularly on the headband. We also didn't love the control button on the earcup — not because of the control scheme, but because it makes a loud clicking sound whenever you press it.
Beoplay H4 (starting at $488.88; amazon.com)
The $300 Beoplay H4 are an entry-level set of headphones that show off Bang & Olufsen's craftsmanship. The sound quality overall was lower than many of the headphones on our list, and they do not have active noise cancellation. In terms of design, though, they are in the upper half. What we liked the most about these headphones is their aesthetic quality. They're made with high-quality plastic, metal and cushioning, with an easy-on-the-eyes design (e.g., circular metal caps on the earcups). It's worth noting that on calls, the recipient could hear an echo of themselves.
Beoplay H9 (starting at $429.99, originally $500; amazon.com)
The $499 Beoplay H9 are wireless noise cancelling headphones that deliver a major upgrade in sound quality over the Beoplay H4. Among the improvements is much better bass, less compression and a wider soundstage. Not to mention they have good active noise cancellation. And though they share the beauty and build quality of the H4, they regressed on controls and comfort. We found the touch controls to be frustrating to use, and the comfort, especially on the headband, took a significant dive. As was the case with the H4, call recipients could hear an echo of themselves.
Bose QuietComfort 35 II (Starting at $179, originally $299; bose.com or starting at $219.07; amazon.com)
The $349.95 Bose QuietComfort 35 II were some of our favorites that we tested. The construction quality of the headphones is high, and they're quite comfortable, too. Not only that, but they also sport impressive sound and ANC, only falling short in the bass category. Additionally we really liked the buttons on these headphones; unlike most others that employ buttons, the QuietComfort 35 II have solid embedded buttons that produce virtually no noise.
Bowers & Wilkins PX7 ($399; amazon.com)
The $399.99 Bowers & Wilkins PX7 received a roughly average score but stood strong on sound quality and battery life. And while overall sound quality on the device was very good, we were most impressed with the bass. They put out satisfyingly deep bass with a good kick to it. They were also one of a handful of headphones to come through with 30 hours of battery life. Unfortunately, these headphones aren't the most comfortable and are one of the bulkier pairs we assessed.
Plantronics BackBeats Pro 2 ($159.99, originally $199; amazon.com)
The $199.99 Plantronics BackBeats Pro 2 tied with the JBL Live 650BTNC on price, but did not hold up to their counterpart in most categories. In terms of sound, the BackBeats Pro 2 showed potential with decent overall quality but did not perform as well as others on bass, compression or soundstage. Unfortunately, call quality was very low; one recipient described it as sounding like we were underwater. But these did score slightly higher in comfort than the JBL headphones. Also, we really enjoyed the unique volume controls, which operate similar to a rotary phone.
Skullcandy Crusher ANC (starting at $269.90, originally $319.99; amazon.com)
The $319.99 Skullcandy Crusher ANC were our least favorite among those we tested. A primary feature of these headphones is a bass slider on one of the cups. When it's at the lowest setting, the bass is weak, but as you increase it, the bass becomes more intense and vibrates the headphones. This just felt like a gimmick — it didn't feel like the bass was getting better as much as it just vibrates your head. Sound was generally somewhat weak, especially in soundstage. The Skullcandy app, however, actually bumps up the sound quality thanks to its custom sound profiles. The Crusher ANC also scored below average on comfort.
Sony WH-1000XM3 (starting at $154.99; amazon.com)
These were our previous champs, and it took an exceptional pair of over-ear headphones to knock out the XM3s. And while these headphones are soon being sunsetted, some retailers still have them in stock. They offer a robust soundstage, 30-hour battery life and the ability to block out the world. These don't have all the smarts or the ultra comfortable padding of the XM4s, but if you can snag them on sale, they're definitely worth it.
Note: The prices above reflect the retailer's listed prices at the time of publication.
Read more from CNN Underscored's hands-on testing: