We all know we should make healthy food choices, but it can often be challenging to manage all the details involved in maintaining a balanced, nutritious diet every week. Meal planning apps can be the missing link, providing a cost-effective and efficient way to customize an appealing weekly menu.
"Meal planning apps help [people] save time and money and provide variety in the diet," explains Jaime Coffey Martinez, a registered dietitian and owner and founder of Nutrition CPR, a health and wellness center. Martinez has more than 20 years of experience in the fields of medical nutrition therapy, weight loss, functional medicine, sports nutrition, corporate wellness and fitness, private nutrition coaching and pharmaceuticals. Martinez says meal planning apps "can help [people] track their progress and promote healthier eating habits, with an ability to customize and tailor needs to reach specific goals."
To help you choose the best meal planning app for you, we tested five apps: Eat This Much Premium, BigOven Pro, Mealime Pro, Meal Prep Pro by Nibble Apps and Paprika Recipe Manager 3 by Hindsight Labs. We also consulted with the aforementioned registered dietitian who gave us guidance on using meal planning apps.
After several weeks of testing, we concluded that choosing the best app is a matter of matching your particular dietary needs with an app's strengths. So, with that in mind, we name Eat This Much Premium our overall pick for best meal planning app.
Eat This Much Premium
Best meal planning app overall
During testing, we found Eat This Much Premium easy to set up. Its meal customization options and editable grocery lists are a delight to use and we appreciated its comprehensive recipe library. It also had the best online help and customer support of the meal planning apps we tested.
Eat This Much Premium is a full-featured meal planning app, with a powerful interface that provides comprehensive guidance while still offering a good measure of customization.
Pricing: After a 14-day free trial, Eat This Much Premium costs $9 per month (billed monthly) or $60 per year (billed annually). It also offers a 30-day money-back guarantee.
Supported platforms: Android, iOS, macOS, web, Windows
Supported diets: Gluten-free, high-protein, keto, low-carb, low-fat, Mediterranean, paleo, vegan, vegetarian
Key features: Plan a week of meals at a time, automatic grocery lists, automatic leftovers list, customize meals for every day of the week, diet plans by calorie amounts or macronutrients, food and recipe browser, print and email your meal plans, grocery delivery
Integrations: Grocery delivery via Instacart (web version only), Apple Health, Google Fit
What we liked about it
Eat This Much Premium's focus on goal-oriented healthy eating is friendly and easy enough for consumers to understand and use. (The app also comes in a Pro version, which is for health and fitness professionals to use for creating client-specific plans.) Eat This Much Premium also had the best online help and customer support of the meal planning apps we tested.
Easy to set up and use
Eat This Much Premium's multi-step setup was straightforward. Setup covered our physical profile, goal (lower fat, maintain weight, build muscle, or a specific weight loss goal we set, at a rate of x pounds lost per week), level of activity, diet type and allergies. The app then used that data to calculate suggested daily calories, carbs, fat and protein for us. But we could also edit those values and define our amount of daily cholesterol, fiber and sodium.
We could also adjust and customize each meal for portion size, servings, the length of time we wanted to spend preparing and eating the meal and whether we wanted to cook all of the time or just sometimes. We could also save a day's meal plan under a name we chose, add a description and tags and then access our plans another day.
We found the automatically generated grocery list in Eat This Much Premium easy to edit, including adding other items we wanted. And the grocery list integrated well with the pantry inventory feature; both were easy to use. Eat This Much Premium also impressed us with its library full of appealing recipes.
Good customer support
Eat This Much Premium became smoother to use and more powerful the more information we provided it, but we did seek out customer support to gauge their responsiveness. Eat This Much's customer support was helpful, plus the app's online help section also gave us some guidance.
On sign-up, we were given the option to receive a series of eight emails on mastering meal planning, which are short and succinct, containing links for further help. Even if you don't choose to receive these emails, Eat This Much Premium stays in touch via email if you wish, offering help to set up your plan, organize your recurring meals and other tips.
Also, on every page of the website is a "Need a Hand?" pop-up, with a search box for help subjects. The pop-up also provides immediate access to a form to contact the support folks, as well as an email address if you want to contact them that way.
What we didn't like about it
We mostly liked Eat This Much Premium, but we thought two things could have been better. First, we found that importing recipes into Eat This Much Premium from the web using a URL or the Chrome Clipper tool could sometimes be finicky depending on how the source webpage is formatted. But most of the time, our imports were accurate and quick.
And second, Eat This Much Premium's web-based version has a drag-and-drop interface that is more robust and deeper than the mobile app. For instance, we found it easier to edit recipes on the website than on the mobile app. And by using the web interface on a computer, you can more easily view and edit several days' worth of meals at a time. We suggest setting up your preferences, meals and recipes in the desktop version and using the mobile app primarily for accessing your meal plans, recipes and grocery lists, and then marking your meals complete.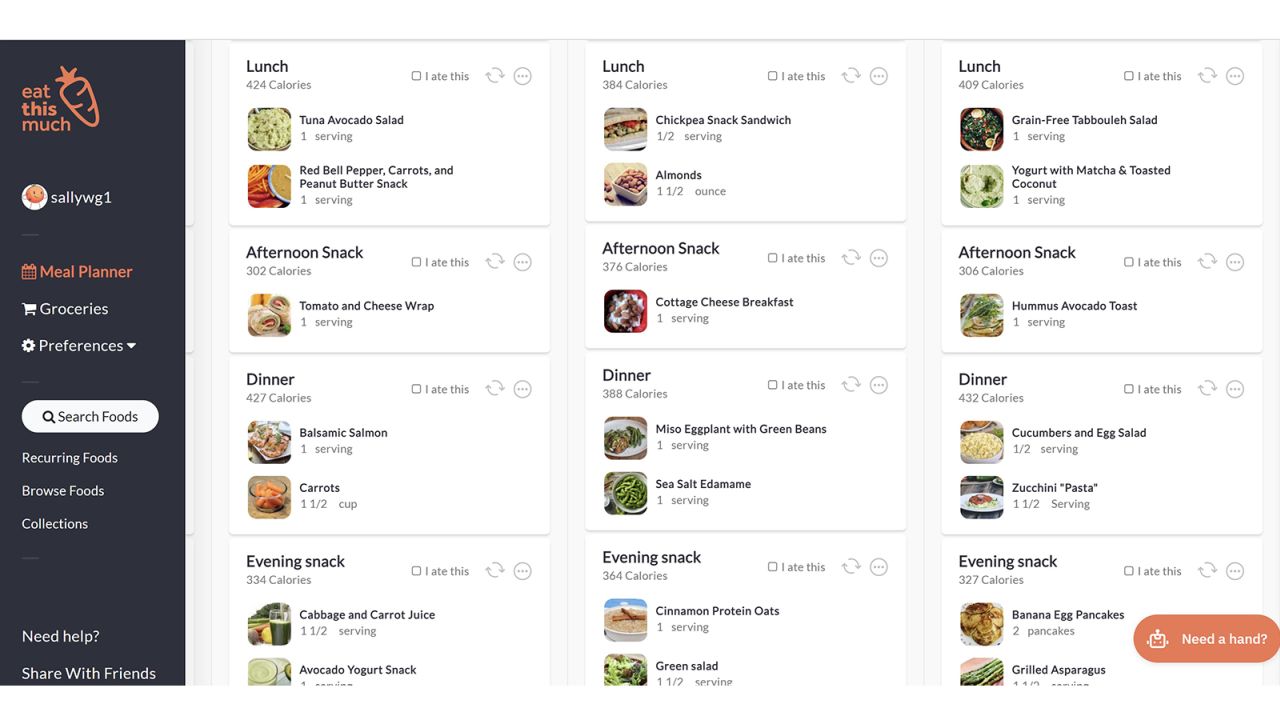 Bottom line
The basic, free version of the Eat This Much app lets you generate single-day meal plans, track what you eat, create custom foods and recipes, schedule recurring foods and exclude foods you don't want to eat. But the Premium version of Eat This Much (as tested) is the best of the meal planning apps we tested. It lets you easily plan a week of meals in advance, customize nutrition targets, generate instant grocery lists, share PDFs of meal plans and print and email meal plans and grocery lists. It even integrates with AmazonFresh and Instacart, syncs with Apple Health and Google Fit, automatically integrates leftovers into the meal plan and saves and loads favorite weeks of plans.
One final note: The Pro version of this app that's geared toward fitness and health professionals (which we did not test) costs $100 per month (billed monthly) or $79 per month (billed quarterly). This version of Eat This Much includes 10 client accounts (additional clients are $4 per month per client); custom branded emails and PDFs; the ability to customize each client's settings and meal plans, create collections of recipes and specify meals to use; and optional logins for clients at the Premium level, but with your branding.
What to know about meal planning apps
Meal planning apps can be generally fun to use because of the great variety of food choices they can offer. But setting up your app to work for you can be time-consuming and, initially, confusing. There are some basic things to know that can make using meal planning apps easier.
First, typically, a meal planning app starts out by asking you questions regarding your body (height, weight, gender and age) and eating habits and preferences. Some apps may ask you about your goal, such as to lose or gain weight, improve nutrition and so forth.
Then these apps develop a suggested nutritional plan based on your responses, which may include suggested daily calorie intake and other guidelines. Some apps can then generate a suggested meal plan for you for a set time period, such as a week, or you can get started by hand-building your plan.
Finally, meal planning apps typically generate grocery lists based on your meal plans, which may or may not be integrated with a pantry inventory, the ability to add other items to your grocery list or the use of a grocery delivery service such as Amazon Fresh or Instacart. Some apps also integrate with Apple Health and Google Fit.
Most of the apps have a library of recipes, which we enjoyed browsing to introduce variety into our diet. You can also import recipes from the web or manually add from your own collection of recipes. Some apps have useful features for "Leftovers" that will help you use up foods you've already cooked. Other apps let you save your favorite meals and meal plans.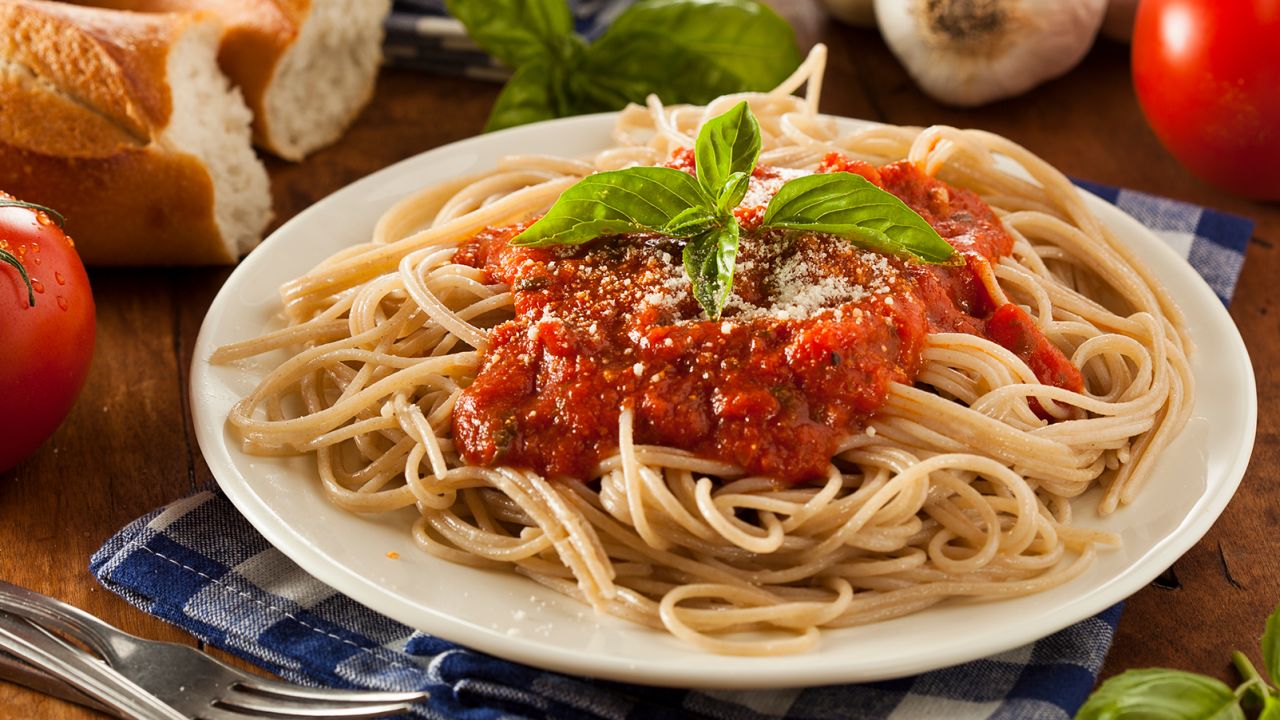 How to choose a meal planning app
Choosing the best meal planning app for you isn't always a simple decision and that's because eating is so tied to emotional issues, personal health, habits, culinary preferences and lifestyle. Things to consider when choosing an app include:
Computer versus phone interfaces
Customer support
Customization, personal control, flexibility and ease of use
Sharing with partners versus privacy
What features and functions appeal to you
Computer vs. phone interfaces
Most of these meal planning apps are offered both on desktop and mobile phone. We have found that individual products will vary widely on what each interface offers in terms of features, functions and customization. It's important that you choose the platform with which you feel most comfortable, not one that's going to make you feel stressed out when using.
Nutrition CPR's Coffey Martinez agrees. "Technology can be a challenge for many, and some interfaces of apps can create more stress for users," she warns.
So, if you prefer a phone-focused lifestyle, then be sure a vendor's mobile app has all of the bells and whistles you want. Use a similar lens regarding the desktop version if you prefer the larger screen, mouse and keyboard of a computer. In either case, we found it useful to have an app that seamlessly syncs between the two platforms.
Customer support
After your interface choice, the very next thing we recommend checking is an app's customer support. Meal planning apps aren't always intuitive and can sometimes be intimidating. For that reason, a good customer support system is imperative. Check to see how easy it is to find a contact link or email address, and then ask questions to see how quickly you receive a useful response. Look at the online help, in-app videos and the vendor's YouTube channel. Are they filled mostly with marketing hype or do they offer useful guidance?
Customization, personal control, flexibility and ease of use
The major differences among these apps have to do with the depth and breadth of customization and how easy it is to substitute the auto-generated meals or adjust the nutritional guidelines. While a fully customizable meal plan will give you control over your diet and a greater sense of freedom, adding personalized foods and meals can be time-consuming and, in some cases, confusing.
On the other hand, an app that will automatically generate a suggested meal plan makes life much easier, so you don't have to make decisions or waste time focusing too much on food. We prefer an app that will generate a suggested meal plan based on our preferences and needs but then will let us edit any part of the plan whenever we want. That also gives users an opportunity for greater variety and the adventure of discovering new favorite foods.
Sharing with partners vs. privacy
When changing or controlling habits such as eating, you'll always be more likely to succeed when you have partners on the journey. That's why we favor apps that let us share our meal plans and grocery lists. Other users like having community-networking apps, though we recommend checking privacy security on such apps; some make it impossible to limit who can view your activity.
What features and functions appeal to you
Before putting down any money, take the time to check what an app offers and make sure that the features and functions that appeal to you will be available (such as pantry inventory or integration with a grocery shopping service that you use). We've found that meal planning apps can have a wide variance in what they offer, though their marketing materials might make similar claims.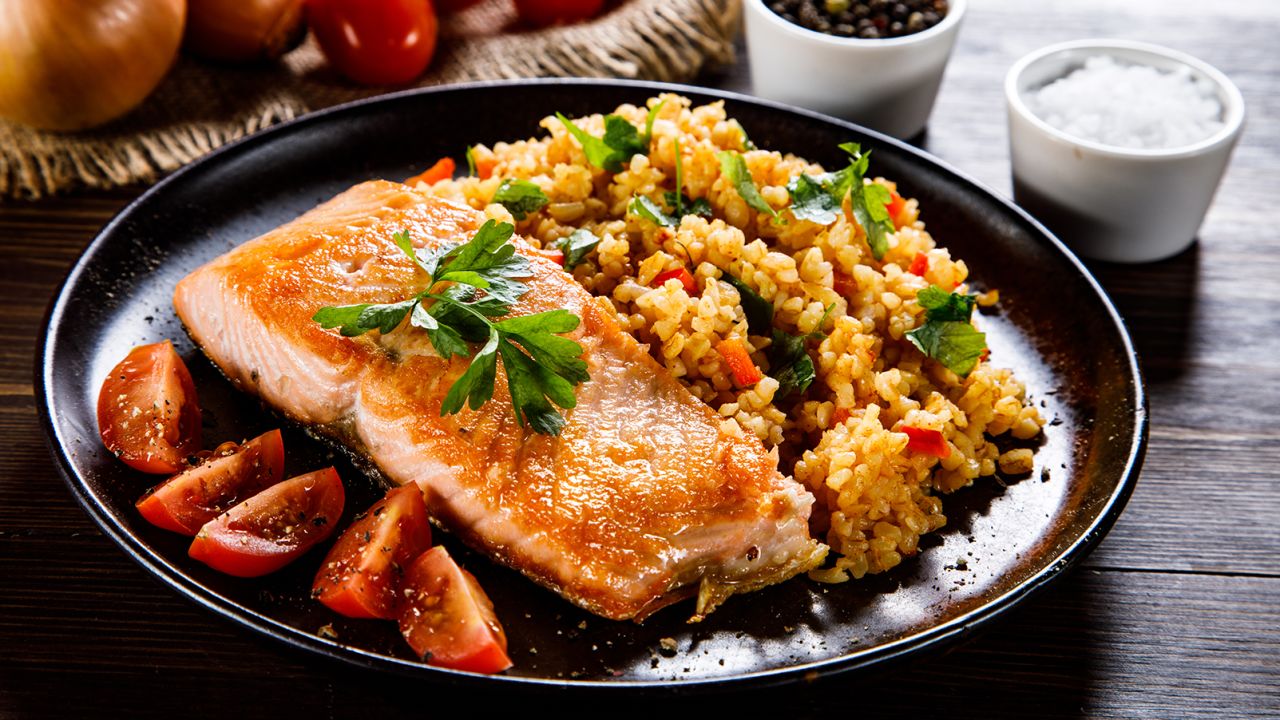 How we tested
During our pre-testing research, we found there are many different meal planning apps available. We selected our five candidates to test based on desired features, user reviews and availability on at least Android and iOS mobile platforms. We tested each of the apps with the following criteria in mind: installation, setup, functionality, flexibility, features and usefulness of help, tutorials and customer support.
Installation
To begin testing, we first downloaded each of the five meal planning apps to a Samsung Galaxy smartphone, Next, we downloaded the apps available for Windows to a Windows 11 system. Then we used our Chrome browser to access and test the web-based versions of the apps.
Setup
We noted the setup process on both the Android apps and the desktop versions. The extent of the setup proved to be directly proportional to how useful the app was in terms of guidance and integration with a personalized meal plan. We found Eat This Much Premium and Meal Prep Pro to be the most comprehensive in their setup questions.
Functionality
Our next step was to let the apps that could automatically calculate a week's worth of meals for us do so. We then manually created a day's meal plan on the other apps, followed by a week's worth.
Flexibility
We then explored how flexible the plans were in terms of replacing foods, adding personal favorites, adjusting serving sizes and so forth. In addition, we imported recipes from the web and tried to add specific favorite foods to each plan. Eat This Much Premium won that round.
Features
As we moved into the details, we had to customize our tests according to what the apps offered, such as the Pantry Inventory feature or the "Leftover" tools feature. Our scoring on these tests involved not only the ease and effectiveness of the tools tested, but also how the tested features affected the apps' overall value.
Help, tutorials and customer support
Finally, we checked each app's help system and tutorials, and tested their customer support by contacting them. Eat This Much Premium had the best, most responsive support hands down.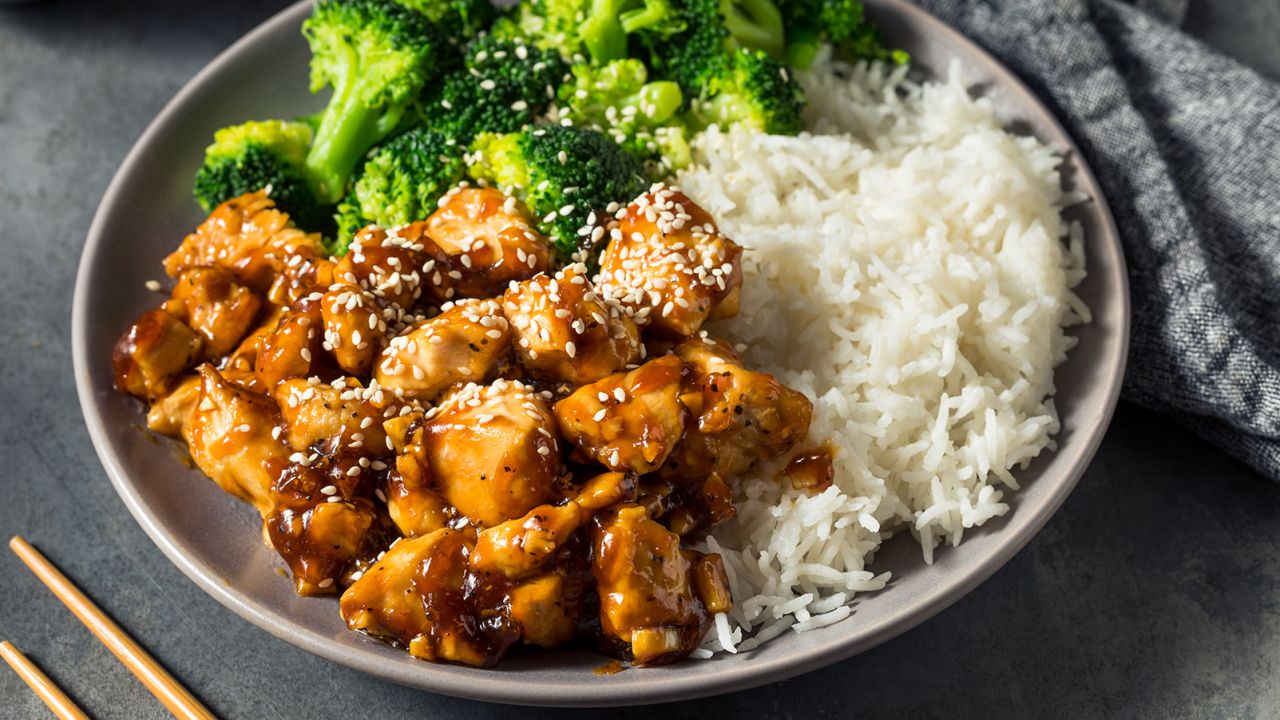 Other meal planning apps we tested
$3 per month (billed monthly) at BigOven
Pricing: After a 30-day free trial, BigOven Pro costs $3 per month (billed monthly) or $25 per year (billed annually)
Supported platforms: Android, iOS, macOS, web, Windows
Supported diets: Dairy-free, diabetic, gluten-free, low-calorie, low-carb, low-sodium, nut-free, omnivore, pescatarian, vegan, vegetarian
Key features: Ad-free experience, BigOven Recipe Clipper, custom folders, grocery lists, nutrition information, recipe customization, RecipeScan tool, unlimited recipes, Use Up Leftovers tool
Integrations: Apple Watch
BigOven Pro is a community networking app that focuses on sharing recipes and meal ideas. So the emphasis is on your public profile rather than your nutritional goals, though you can set your "Your Eating Style" (gluten-free, omnivore, pescatarian, vegan, etc.). The BigOven Pro app asks no questions regarding your physical statistics, and it offers no diet suggestions such as your daily calorie intake based on your height, weight and so forth.
The BigOven Pro app has more than one million recipes in its database, plus a slew of videos on how to cook many of them. Importing recipes and customizing them are easy. On a cool "Use Up Leftovers" page (web version only), we listed three ingredients (fresh tomatoes, smoked salmon and yogurt) that we had on hand and BigOven Pro suggested hundreds of recipes that included them. However, the suggestions ignored our pescatarian Eating Style.
BigOven Pro doesn't offer the option of auto-populating the meal planner with suggestions, nor does it have a pantry tracker. And at present, this community-networking app does not let you make your profile, recipes or meals private. Other BigOven Pro users can rate and comment on your recipes. You can also follow specific cooks to see what they are making. The only control over the community aspect of the app is that you can turn off push notifications for when someone follows you or rates or comments on one of your recipes.
BigOven Pro's phone app doesn't have the functionality or features of the desktop website. For instance, you can view your recipes or browse "Get Ideas" or see videos on your phone app. But if you want to add a recipe to your meal plan on your phone, you must already know and search for its exact name.
BigOven Pro's customer support isn't as comprehensive as we would have liked, but its support page does cover some basic how-to tips, including how to search for recipes and how to organize new recipes. You can also email questions directly to BigOven Pro, but questions we sent to customer service went unanswered for days before we received a response. The BigOven YouTube channel offers enticing recipe videos but nothing on how to use the app. The app also has active Instagram and TikTok accounts, from which it, again, offers mostly just recipes.
There is a free version of the app that provides access to the recipe database and videos, but it offers no meal planner and limits you to saving only 200 recipes. The BigOven Pro version (as tested) includes unlimited recipes saved; a meal planner; the ability to search recipes based on dietary restrictions and nutrients; and the ability to customize, back up and export recipes.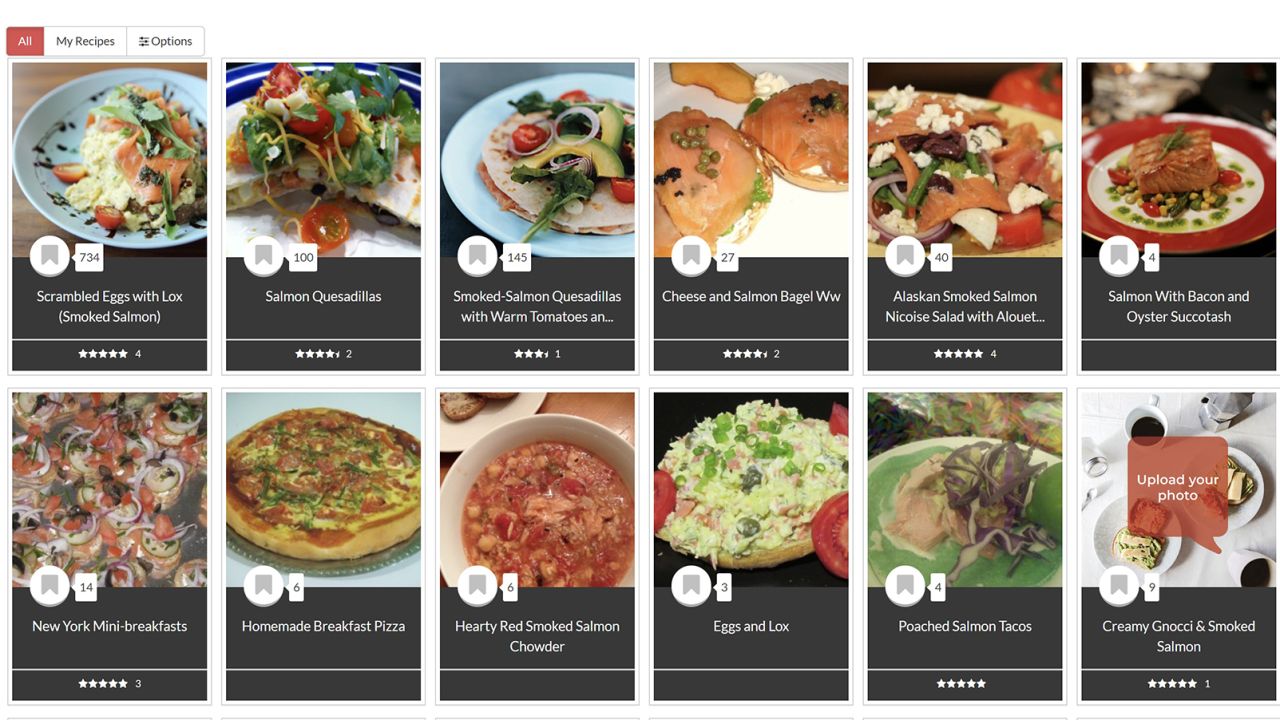 BigOven Pro costs $3 per month (billed monthly) or $25 per year (billed annually). A 30-day free trial is available. BigOven Pro is available on Android, iOS, macOS, web, Windows and Apple Watch.
$3 per month (billed monthly) at Mealime
Pricing: $3 per month, billed monthly
Supported platforms: Android, iOS, macOS, web, Windows
Supported diets: Flexitarian, keto, low-carb, paleo, pescatarian, vegan, vegetarian
Key features: Ability to add notes to recipes, allergen warnings, calorie filters, comprehensive nutritional information, grocery lists
Integrations: Grocery delivery via Amazon Fresh, Instacart, Kroger and Walmart, plus Thrifty Foods in Vancouver, B.C.
Mealime Pro is a meal planner without a calendar. In other words, it's for users who don't want the help of a daily food diary to keep them maintain a healthy diet. Instead, Mealime Pro is designed to inspire you with a wide variety of menus. We found we could choose one or several meals to try each week and Mealime Pro generated a shopping list for our ingredients. Within the recipes, it also listed recommended cookware and utensils (with purchase links) that we would need to make the meal.
Setting up this app involved picking our diet style, allergies and dislikes. We could also select the number of servings per meal and set a weekly reminder to make a meal plan at a certain time on a specific day of the week.
Using Mealime Pro is simple primarily because what it does is so streamlined. First, we selected the recipes we wanted to make in an upcoming week. Then, we were given the option to share our plan with friends.
We found customizing and importing recipes was possible only on the mobile app. We could save the customized versions in the Your Recipes section. In addition to marking our favorite meals, we could sort them into custom categories. We created Party Foods and Hot Weather Favorites.
The website and mobile app are uneven partners. Customization of recipes, grocery delivery options and the Search feature are available only on the mobile app. On the web app, we could see only our last planned meal rather than the full range of saved meals. We could remove items from our automatically generated grocery list on both interfaces, but add to it only on the mobile app.
And while we could print from both, only the mobile app let us share our grocery list. Mealime Pro's phone app is integrated with online shopping at Albertsons, Instacart, Jewel Osco, Randalls, Safeway, Tom Thumb and Walmart.
When we were ready to cook, the mobile app had a helpful cooking mode in the recipe description of our meal, which displayed each step of the process in a separate, easy-to-read screen.
Mealtime Pro's online customer support options are useful and well-organized. Resources include a searchable Knowledge Base on its website and a link to message customer support in real time. Customer support responded to our questions comparatively promptly, considering we sent our questions on a weekend. While a Mealime Pro YouTube channel exists, it contains only a single 30-second sales video. The app has an active Instagram account though, from which it offers recipe ideas.
There is a free version of Mealime that won't expire, but it offers very little in terms of customization or information. Mealime Pro costs $3 per month (billed monthly). It is available on Android, iOS, macOS, web or Windows. With the Mealime Pro version (as tested), you'll have access to the full database of recipes including monthly additions and the abilities to add your own recipes or import from the web, add notes to recipes, see full nutritional information for the recipes, use recipe search filters for calories and nutrients, save and repeat previous meal plans and receive "fast support."
One final note: There are two other versions of the Mealime app (which we did not test), one geared toward employers and one for health plans. Both versions aim to promote healthy eating among employees or clients.
$9 per month (billed monthly) at Nibble Apps
Pricing: After a seven-day free trial, Meal Prep Pro costs $9 per month (billed monthly) or $48 per year (billed annually)
Supported platforms: Android, iOS
Supported diets: Flexitarian, high-protein, low-carb, Mediterranean, vegan, vegetarian
Key features: Customizable recipes, calorie and macronutrient tracking, grocery list
Integrations: Apple Watch (coming soon)
Meal Prep Pro was almost in the running for our top pick spot. Unfortunately, its Android version doesn't have the same functionality or features as its iOS version. A company spokesperson told us that it will be months before the two platforms will be comparable.
Meal Prep Pro is full-featured (on iOS), flexible and customizable. Its interface is intuitive. Its profile builder is as detailed as any, with a good range of food preference options and exclusions. The app calculated our daily calorie goal based on personal statistics and fitness or weight goals, but we could also adjust it. We also had control over how many calories we wanted to consume for each meal. When we swapped out one recipe for another in a meal plan, the Meal Prep Pro app automatically resized the recipe so it conformed to the calorie allotment for that meal.
We could create our meal plan manually or have the Meal Prep Pro app design it for us; both were easy to edit. One noteworthy setting was a sliding scale from Variety of Food to Saving Cooking Time, which gave us a choice of how often we wanted to repeat a meal in a week.
Its large and varied recipe database is easily filtered according to personal preferences, and every food we checked looked delicious. We could import recipes from the internet or input them manually. Again, everything was editable.
One of the features we particularly liked was the Prep view, through which we could decide when we wanted to cook a specific food and then use the leftovers for later in the week. We could filter the view to show us all foods for the week or only those for specific meals of the day.
The integration between the meal plan and the shareable shopping list was seamless. Unfortunately, the shopping list in Meal Prep Pro isn't integrated with any online ordering or delivery service.
Meal Prep Pro customer support includes a thorough FAQ page plus a direct link for emailing questions to Meal Prep Pro. While a Meal Prep Pro YouTube channel exists, it doesn't offer any content yet. There is a Nibble Apps YouTube channel that contains two introductory videos about Meal Prep Pro but that's it. The app does have an active Instagram account though, from which it offers recipes and tips.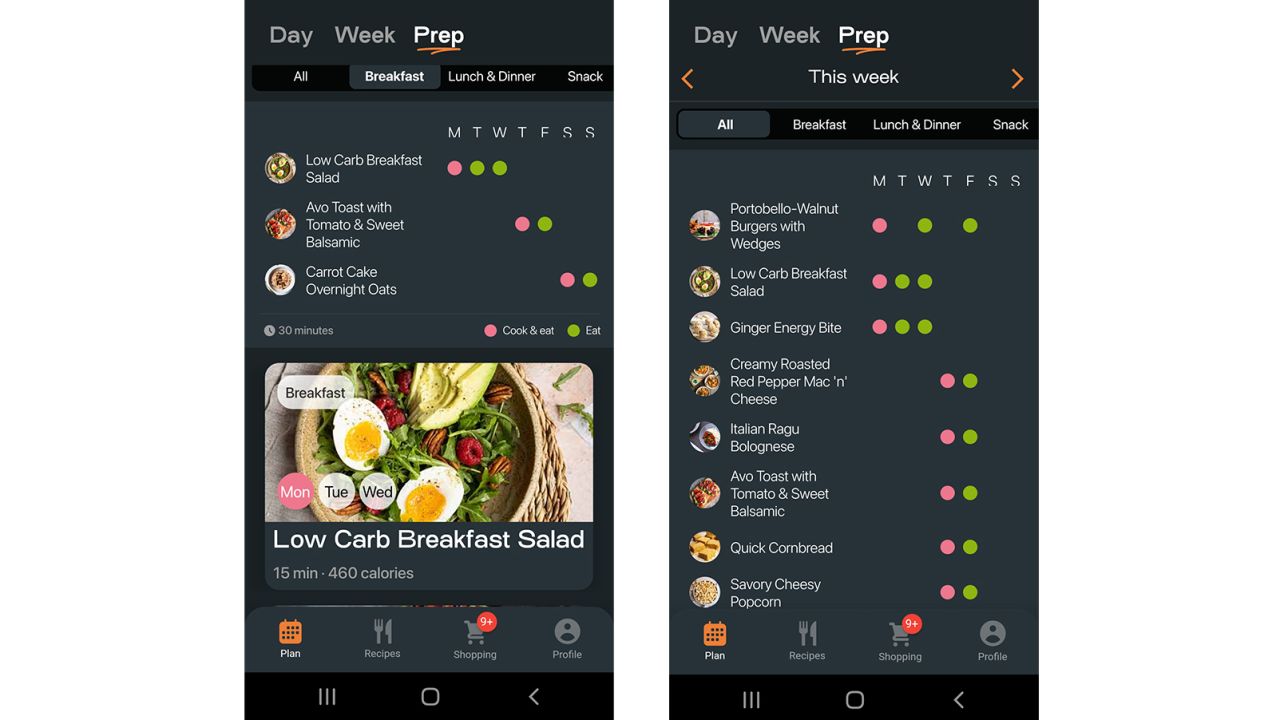 Meal Prep Pro costs $9 per month (billed monthly) or $48 per year (billed annually). A seven-day free trial is available. Unlike all the other meal planning apps we tested, Meal Prep Pro runs only on Android or iOS phones; it doesn't have a macOS or Windows counterpart. It will soon be available on Apple Watch.
Pricing: Paprika Recipe Manager 3 costs $5 (one-time fee for Android or iOS) or $30 (one-time fee for macOS or Windows)
Supported platforms: Android, iOS, macOS, web, Windows
Supported diets: Carnivore, vegetarian
Key features: Ability to print recipes, family sharing (on iOS and macOS), interactive recipes, pantry organizer, recipe importing from web, browser bookmarklet (Chrome/Firefox/Safari), seamless cloud sync, smart grocery lists, tools to help you cook
Integrations: Apple Watch
Turns out, Paprika Recipe Manager 3 is a digital organizer for your recipes rather than a typical meal planner like the other apps we tested. Its non-graphical interface harkens back to early menu-based programs. Regardless of what platform is used (we used Android and Windows), when the app is first opened, the initial screen for Recipes, Groceries, Pantry or Menus is blank.
The Meals screen does have some graphics that divide it up into empty sections for Breakfast, Lunch, Dinner and Snacks, with tabs for Day, Week or Month views. In other words, Paprika Recipe Manager 3 is a passive app that doesn't offer suggestions or do any auto-input. Even after you input the recipes you want into each meal, the app provides no information regarding total calories or nutrients consumed for the day.
As a personal digital recipe organizer, Paprika Recipe Manager 3 is quick, flexible and responsive, and it syncs automatically between platforms. However, since it basically just organizes your own recipes or ones you import, it has no built-in database of recipes. Instead, its interface has an integrated web browser for searching for recipes, which import with a tap of a button.
You can edit all aspects of a recipe, sort your recipes according to custom categories and add notes. To create a variation of a recipe, simply duplicate and edit it. We found it also easy to manually input recipes. The grocery list the app generates is organized according to types of ingredients, with a note associating each ingredient to its recipe.
The Paprika Recipe Manager 3 app is available in English and also Brazilian Portuguese, Czech, Danish, Dutch, Finnish, French, German, Hungarian, Italian, Japanese, Norwegian Bokmäl, Polish, Simplified Chinese, Spanish and Swedish.
As simple as Paprika Recipe Manager 3 is, it isn't entirely intuitive. We often had to check our Android app's integrated User Guide, even to figure out how to do such things as create a Menu. The User Guide provides clear, step-by-step instructions for the topics we were able to access from our phone. Unfortunately, the topics in the table of contents have the appearance of hyperlinks, but tapping or clicking on them in our Android phone didn't always take us to the selected topic.
The website offers a fairly comprehensive Help Center and set of User Guides whose links do seem to work, though. If you have further questions while using Paprika Recipe Manager 3, there's a direct link offered for emailing questions (only in English) to customer support.
Paprika Recipe Manager 3's pricing is based on a one-time fee, not on a monthly or annual subscription. For a permanent license, the cost is $5 for Android or iOS and $30 for macOS or Windows. Paprika supports Family Sharing on iOS and macOS on up to five devices, including Apple Watch. The Windows version of Paprika is sold directly with a license key and does not support Family Sharing. Instead, you can use your license key on up to five devices.
There is a trial version available, for which there is no time limit. All features in the full version of Paprika Recipe Manager 3 are also available in the trial version, except you can only save up to 50 recipes in the trial and cloud syncing is not available.
Read more from CNN Underscored's hands-on testing coverage