As anyone who's experienced a hard drive failure can tell you, stuff goes wrong and computers aren't perfect. Which leads us to an eternal truth: Backing up your data is a must. And the best way to do so is with an external drive. Not only do they provide a tangible feel to backups, but they offer additional security and are often cheaper in the long run when compared to cloud services
When it comes to picking an external hard drive, though, there are options on top of options. Simple or stylish? Rugged or exposed? USB-A or USB-C? How much space do I need? How fast are the transfer rates?
To save you from falling down a rabbit hole, we chose seven top-of-the-line external drives to test and spent several weeks backing up data, running apps, conducting photo edits and video exports, and running read/write speed tests. When testing was complete, two external drives made us forget the cloud was ever created:
Editor's Note: A significant number of users (including Underscored editors) have experienced and complained recently of drive failures with the 2TB and 4TB models of the SanDisk Extreme Pro, our previous upgrade recommendation. While SanDisk/Western Digital has said it is issuing firmware updates to address the issue (and to their credit, the company was quick to replace our failed drive, though we were unable to retrieve the lost data), we'd recommend caution until the update is released, and we have temporarily removed our recommendation for the Extreme Pro.
Best overall external drive
My Passport has enough space to store all your files — packing close to 100,000 photo files, or in our case, two backups of our entire library. All that in a stylish yet rugged package.
$199.99 $69.99 (1 TB) at Amazon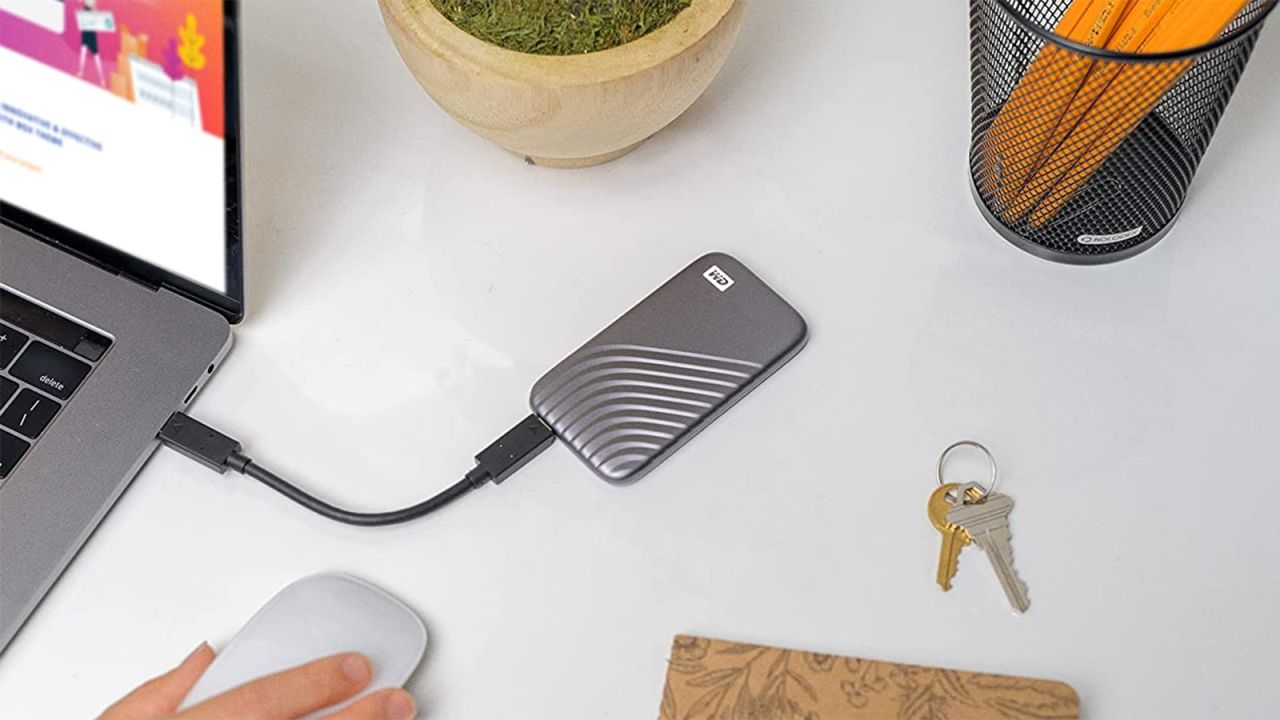 Half the battle with getting in the habit of backing up your computer is plugging in the drive and actually doing the task. To that end, we think you'll be more inclined to keep a drive with a slim build in a fun color out and accessible, rather than stuffed in a drawer and forgotten. The WD My Passport SSD is an easily portable drive and fits in front or back jeans pockets or even a shirt pocket. You can also easily tuck it into a sleeve holding your laptop.
Though a compact beauty, it still handles drops of up to 6.5 feet, as stated by the manufacturer. In our testing, we dropped it on carpet, wood flooring, fake wood flooring, tile and concrete and noted only faint scratches on the outer shell without any damage to the actual function of the drive.
While the drive did at times peak at the manufacturer's claimed 1050Mbps for read times and 1000Mbps for write times, speeds of 700Mbps in either direction were more typical. To put that in real terms, we were able to move a 4.5GB HD video file in about 15 seconds and a 6.5GB 4K video in about 30 seconds. Those are speeds you'd normally get on your internal drive. Backup times on Mac and PC were commendable, taking about an hour for a full backup of a 128GB drive via Time Machine. The SSD will give off some heat, and the My Passport SSD does feel noticeably warm during long backup sessions.
On the 1TB model, we were able to fit more than 250,000 photos onto the drive, more than four times the contents of our nearly-55,000-photo library; on a 512GB model we could hold two backups of our library. A rule of thumb: You want to choose an external drive that's at least twice the size of the laptop you want to back up. So if you have 256GB internal storage, getting a 512GB drive is ideal for higher capacities of storage, and 512GB internally means a 1TB is the best option.
Not only can you store photos, videos and music libraries on this drive, but real-time changes are pretty seamless. In our testing, we opened a photo off the My Passport SSD in Photoshop, made our edits and saved it back to the drive without issue. Its handling of JPEGs was on par with a Mac's performance, but RAW and larger file formats caused a bit of a slowdown.
Those files are well protected on the My Passport, as you can password-protect all your data behind 256-bit AES encryption, though that was a standard feature of all the drives we tested.
The drive features a modern port — a USB-C — for faster transfer speeds, a welcome feature, as most laptops now opt for this port. There's also an included USB-C to USB-C cable in the box, along with a USB-C to USB-A adapter. This way, it still works with older laptops that still feature the classic USB port. The My Passport SSD is plug and play with a PC or Mac out of the box. With a Mac, you use it with Time Machine, Apple's built-in backup program, or opt to use it as a big drive and just drag files to it. For a PC, you can utilize the preloaded simple backup software, which makes it easy to start backing up your data.
From our testing, the My Passport SSD is the best hard drive for most people and should set you up for many years of backing up files with a fast experience, quality build and space to fit every last shred of data.
How we tested
With our testing of external drives, we looked at four core categories: performance, design, ports and warranty. As you may have guessed, a lot of our testing was both quantitative and qualitative with a tremendous number of speed tests conducted.
Specifically under the performance category, we performed benchmarks with industry standards like CrystalDiskMark, Black Magic Disk Speed Test and Amorphous Disk Mark — with close attention paid to copying, writing, reading, transferring data, full backups and everyday use.
All of the drives were tested with a number of devices running macOS, Windows, iOS, iPadOS and Android to ensure far-reaching compatibility. With the design category, we looked at the overall build and protection of internal components.
Ports were quite important, as they go hand in hand with the speeds that an external drive can produce and deliver. If a drive opted for a USB-A or USB-C port, we looked to see if an adapter was included at no cost as well. Lastly, we paid close attention to the warranties that were packaged with the drives.
Other external drives we tested
$59.99 $49.97 at Amazon
Don't get us wrong: You can get a very large amount of storage for a relatively affordable price with the standard WD My Passport. Just know that with it, you're getting a standard hard drive inside that features both moving parts and slower speeds. In our tests, it wasn't the fastest but did provide a viable solution for backups. It's an option if you're absolutely weighing the amount of storage for the least money, but we think you're better off with the SSD variant.
$149.99 $84.99 (1 TB) at Amazon
This drive from SanDisk came up just short of the Extreme Pro Portable SSD, which was our top pick for creatives. Though it offers nearly the same speeds as our top pick, it has a slightly smaller build that lacks some core design elements like the aluminum frame. If you really like the Sandisk name or the black and red color scheme, this could deserve a second look, but for everyone else you're better off with the Portable Pro or My Passport.
$309.99 $119.99 (1 TB) at Amazon
The Sandisk Extreme Pro SSD can hit 2,000Mbps on read and write, faster than nearly every other drive we tested. You can render and save a 6.5GB 4K video file to the Extreme Pro SSD in about 12 seconds. The My Passport, by comparison, took closer to 35 seconds to complete this same transfer. We were also able to do a rapid export of 15 RAW images from Lightroom in about 10 seconds; My Passport accomplished this in about a minute. A USB-C 3.2 port means it is compatible with a wide range of modern laptops and mobile devices, while an IP55 rating means it has good water and dust resistance, and it's protected from drops up to 6.5 feet. A significant number of users have complained recently of drive failures with the 2TB and 4TB models and while SanDisk/Western Digital has said it is issuing firmware updates to address the issue, we'd recommend caution until the update is released.
$113.59 (500 GB) at Amazon
If you want security you can see, Samsung's newer T7 has a fingerprint sensor locking and unlocking the drive right on the front. It keeps the compact size (akin to a stack of credit cards) of the older T5 and wraps it in aluminum. You're limited to just black or silver in terms of color, though. It does hit read and write speeds right around 1,000Mbps as well, which is on par with our overall pick. Ultimately, though, the T7 Touch SSD is more expensive than the My Passport SSD, and not everyone needs a fingerprint sensor on an external drive.
$109.99 (1 TB) at Amazon
The ArmorATD drive from G-Technology has an ultra-rugged design with a rubber shell around an anodized aluminum build. All of this to protect the 2.5-inch hard disk drive inside that stores your data. It's available in 1TB, 2TB, 4TB and 5TB sizes and features a USB-C port. But speeds for transferring or accessing data are slower at under 150Mbps — much slower than SSDs. When you factor that into the equation, this just doesn't make sense for the masses. If you don't mind a standard drive, maybe plugged into a desktop and not on the go with you, this is an excellent solution for daily backups.
$49.99 (1 TB) at Amazon
Similarly to the G-Tech ArmorATD and My Passport drive, the Seagate Basic is another simple external spinning hard drive that is super affordable. But it's a slower transfer than SSDs, upward of a few minutes with our 4K file test on this drive, and it has just a one-year warranty.
$169.99 (1 TB) at Amazon
Seagate's SSD option features a slim design that's in a flat rectangle build. Interestingly enough, it has a textile design on the front that is unlike any other drive that we tested. Inside there is a fast SSD, but it's not as fast as our top picks, with read and write speeds of around 400Mbps, and it's generally more expensive per GB. That means data transfers and backups took about twice as long on the One Touch SSD in comparison to the My Passport SSD.