Like a pillowcase for your duvet, a great duvet cover protects your comforter from dirt and body oils, and gives you an added layer of insulation on the bed. And duvet covers let you change the look and feel of your bedding without having to change the entire comforter.
To find the best duvet covers, we tested 18 popular options, evaluating them for quality, ease of washing, and variety of color choices. After extensive testing, we found five that are sure to give you a great night's sleep.
Best overall duvet cover
Made from crisp, luxe percale, the Brooklinen Classic Duvet Cover is light and airy, with large, easy-to-fasten buttons, and comes in tons of colors to suit any style.
Best duvet cover for warmth
If you're looking for a cover that's ultra-soft and adds warmth, you'll absolutely love the feel of the L.L.Bean Ultrasoft Comfort Flannel Comforter Cover.
Best luxury duvet cover
The Boll & Branch Signature Eyelet Duvet Cover offers a combination of smooth comfort with unparalleled craftsmanship that puts it above anything else we tested, and it even includes shams, making it easy to ensure that your bedding will match.
Best budget duvet cover
With hidden button covers and matching shams and pillowcases, the Mellanni Microfiber Duvet Cover will lend an elegant vibe to your bedroom, and it's affordable enough for kids rooms or if you're just trying to protect your bedding from pets.
Best linen duvet covers
For a classic crinkly linen look and soft feel that's sure to improve with time and satisfy for years to come, the Quince European Linen Duvet Cover is comfy, cool in summer, and deeply restful in any weather.
The Brooklinen Classic Duvet Cover checked all the boxes for us. Made from crisp cotton percale, this duvet looks and feels elegant on the bed. It is well made, with large buttons that are easy to open and close between washes, and corner ties to hold your comforter in place. The Brooklinen comes in a broad range of colors and sizes to suit any style, including colorful options that would be great for kids.
Brooklinen's crisp percale was a highlight of this duvet cover. While we tested many other cotton duvet options, Brooklinen's cotton felt the softest of any, and looked the most refined on our bed. Sleeping with this duvet was very pleasing, and the cover doesn't add too much weight to the duvet it's on, making the sleep experience feel light and airy. That said, it insulated well, even in the coldest part of winter.
This duvet cover was the easiest to put on and remove from a comforter of any we tried. It has internal ties in each corner to hold a duvet cover in place. While this feature isn't unique to the Brooklinen, we found that many duvet covers lacked ties that were finished at the ends, and most were already beginning to fray and wear after just a single cycle through the wash. The Brooklinen's ties are both more densely woven, and finished at the ends, which will prevent wear for years to come.
This comforter closes along the bottom with a large hidden button placket. While some duvet covers had zippers, or smaller buttons, we preferred the Brooklinen's large buttons because they're easier to manipulate in and out of the buttonholes than others we tested. The duvet closes inwards, too, so these are hidden to the eye when on the comforter.
Available in 5 essential colors, and a rotating selection of about seven limited edition colors, we appreciate that anyone can find something to suit their style or taste from Brooklinen's offerings. This duvet is available in three sizes: Twin/Twin XL, Full/Queen and King/California King.
Starting at $69.95 at L.L. Bean
If you're looking for a cover that's ultra soft and super warm, you'll love the feel of the L.L.Bean Ultrasoft Comfort Flannel Comforter Cover. This duvet cover exceeded our expectations, delivering a comfortable night's sleep. It's a great option for people who live in cold climates, or run especially chilly in the winter months. We were delightfully surprised to find that despite the thickness of L.L.Bean's flannel, it was breathable and didn't cause us to wake up sweaty. The flannel material is also beyond soft––kids and pets alike loved snuggling up with this duvet.
The L.L.Bean duvet is well-made. It features interior corner ties, which unfortunately had unfinished ends, but didn't appear to be fraying much after laundering. We didn't notice any piling, even after washing, although we did observe some lint buildup after washing this particular cover (though that's somewhat expected with flannel, especially during the first few washes). Like the Brooklinen, this duvet also has hidden buttons on the bottom, but they were a bit harder to close because of their smaller size.
Available in 8 solid colors, plus various options in checks and stripes, there should be stylistic options to suit any taste from L.L.Bean. The solid duvet is available in four sizes, while the plaid and striped options additionally have an add-on for matching shams. Costing less than $100 for a king-size duvet cover, the L.L.Bean flannel is a steal. Most of the other quality covers we tested were much pricier, making this what we consider a truly valuable purchase. L.L.Bean also offers a 100% satisfaction guarantee for a full year.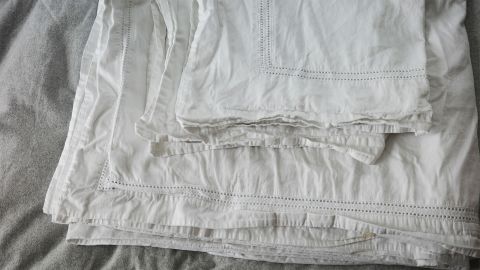 From its silky smooth feel to its elegant design, the Boll & Branch Signature Eyelet Duvet Cover is luxurious. Its delightful, smooth fabric, and quality craftsmanship put Boll and Branch's duvet set far ahead of competitors. While this was the most expensive duvet cover we tested, it met our expectations. If your budget allows and you're looking to upgrade your bed's aesthetics with something that's both elegant and functional, this is the duvet cover we recommend.
This duvet cover was delightful to sleep with and it looked elegant on our made-up bed, too. Its sateen fabric was cozy against our skin at night, and the eyelets were set far enough into the duvet that our hands, arms, or faces didn't rub up against their rougher weave. The shams that come with this set were also fine to sleep on, feeling soft against our face, and add a lovely decorative touch to any bed. They had a simple zipper enclosure that was easy to use. If you prefer something that doesn't have any designs, we also really liked the Signature Hemmed Duvet Set during testing.
Like most other covers we tried, this duvet also had corner ties and a button enclosure. The ties are well made, and a fabric overlay fully hides the button placket. Both features are well-constructed. Putting on and removing this duvet cover was a breeze.
The Boll & Branch duvet cover only comes in two sizes: full/queen and king/California king. This set comes in three color schemes, but the only aspect of each that changes across color selection is the hue of the eyelet Similar to the duvet covers we tested from many other online-only retailers, Boll & Branch offers free shipping and returns and a 30-day risk-free trial.
Starting at $27 at Amazon
For those looking for something budget-friendly, you can't beat the Mellanni Microfiber Duvet Cover. At around $30, you get the duvet cover, two shams, and two pillowcases––more than most duvet sets. If you don't have the budget for a luxury duvet cover, you need to outfit a guest bedroom, or you're looking for an option that can reliably withstand wear & tear, we think the Mellanni Microfiber Duvet Cover is an excellent find, providing the best bang for your buck.
Despite its low price, we found this cover, made of 100% polyester, to be almost as soft as other cotton options, though thinner and with a somewhat more synthetic feeling. The inner ties and the buttons at the bottom — two-hole buttons, we should note, which are usually not a feature on high-end products but are fortunately fully hidden, thanks to the cover's design — felt very secure.
The Mellanni is available in 30 different color options including solids, plaids, and some faux fur styles. This cover uniquely comes with a lifetime guarantee. Mellanni states that you can return the cover at any point for any reason — no questions asked. While many other duvet covers allow for a risk-free trial period of a month or two (and L.L.Bean even offers a one-year return policy), we didn't find any brand that matched this same generous policy.
Starting at $99.90 at Quince
With a look and feel that exceeded expectations, the Quince European Linen duvet cover held its own among far more expensive competitors at a relatively low price (especially for linen). Sleeping with the Quince duvet was one of the most pleasant experiences of the testing process. The duvet cover is light, but not too gauzy, and imparted a sense of casual elegance to the bed. Quince's linen was breathable, satisfying even the warmest sleepers. Although there's a slightly textured feel to this linen, it's smooth in hand now, and should only get softer with repeated washings.
This duvet had all the features you might expect, including corner ties, and a button closure, as with most other duvet covers we tested. The corner ties on Quince's duvet cover were hemmed, so we are confident they won't fray or wear out. It comes with a hidden button placket, and larger buttons than most duvet covers we tested. Like the Brooklinen, fastening and unfastening the cover was made easier thanks to the larger buttons. This duvet comes in 8 colors and three sizes.
Everything you need to know about duvet covers
Duvet covers serve several purposes: providing a protective covering for your duvet, adding a decorative piece to your bed's overall design, and letting you change the feel of your bed to adjust for temperature or personal taste. They can be swapped seasonally to change design elements, or to give you a warmer or cooler feel without changing the duvet insert itself.
Since duvet covers are less expensive and significantly easier to store than multiple comforters, they are recommended for people who frequently change the style of their bed. You can keep a linen cover on hand for summer, and flannel for winter. Washing the duvet cover only is much easier than laundering a bulky duvet or comforter. Duvet covers can also eliminate the need for a top sheet, which some people prefer.
Common features to look for on well-made duvet covers include some way to secure the duvet within the cove; this keeps your duvet in place so it doesn't slip around within the cover, leaving you with a mix of lumps and empty space. Often you'll find ties, button fasteners, or snap loops inside of the four corners of the cover. This allows you to secure your cover to the duvet, as most duvet inserts have loops in these locations to be tied to.
There is of course a whole art to actually getting a duvet into a duvet cover (and a lot of argument about the best method, even among experts); a good way to get started is by turning the cover inside out, reaching into it to grab the corners of the duvet insert with the far corners of the cover, and then giving everything a good shake.
Typically, most covers have buttons to secure the opening in which you place the duvet, though some will have a zipper or ties. This keeps the cover secure, and also adds to the overall design.
How we tested
After selecting 18 popular duvet covers to test, we slept with each for multiple nights, comparing performance, quality and durability, as well as the overall buying options. We considered duvet covers across a broad price range from around $20 up to $400, and in an assortment of styles. The duvet covers we tested fell mainly into three categories: cotton, linen and flannel. After extensive testing we evaluated each duvet cover on the following criteria to find our winners:
Performance
Sleep feel: We noted how each duvet cover felt while sleeping, whether the fabric was soft and breathable, or stiff and crinkly. We found duvet covers across the spectrum of comfort levels.
Post-wash feel: After washing each duvet cover, we assessed how they felt, trying to get a sense of how each might break in.
Fit: Although we tested duvet covers of the same size, each had slightly different dimensions. This allowed us to see how each cover fit differently on the same down comforter.
Quality/durability
Durability: After washing each duvet cover, we assessed for any wear and tear. We found that all covers stayed intact, but since we haven't long-term tested any of these duvet covers, we can't comment on their durability after a year of use.
Quality: We assessed the quality of each duvet cover, including checking out the seams, buttons, zippers and ties. Were the seams strong, or were there loose threads? And were the buttons, zippers and ties solidified in place or loose?
Internal ties: To our surprise, almost all of the duvet covers came with inner ties to keep the duvet or comforter in place, although some seemed better finished than others.
Options
Size options: We preferred duvet covers with a broad range of size options for all bed types.
Color options: We noted how many colors and style choices there were of each model.
Other duvet covers we tested
The Cuddledown 400 Thread Count Solid Sateen Duvet Cover was a delight to sleep with. Its sateen fabric is soft and smooth, and it didn't wrinkle in the wash, resulting in an elegant look on the bed. Cuddledown offers their sheets and duvet covers in 26 colors and 6 sizes. It didn't make the cut this time because the corner tabs are slightly short, making them somewhat difficult to tie onto our comforter.
We loved the Boll & Branch Signature Hemmed Duvet Set. It's a great alternative to the eyelet duvet set if you're looking for something simpler. The main reason it didn't make it to the top of our list is because we already recommend many excellent single-tone, basic duvet covers that can be had for a bit less.
Starting at $99 at Casper
Formerly our top recommendation, the Casper Sateen Duvet is elegant and silky, and felt great to touch. That said, the duvet cover is constructed with a series of holes you can reach into to secure the duvet into the corners. One of the openings is right at the center of the short side of the duvet cover, and since our duvet didn't have an attachment here, this meant we could feel the loose tab and hard plastic snap button fastener as we slept. We didn't think the holes were necessary in the first place, and think they are counterproductive unless you're using a duvet insert with a center attachment (which is less common) intended specifically to fit such a cover.
Starting at $150 at Parachute
The Parachute Sateen Duvet Cover was ultra soft and it has an elegant design with a half-inch framing border, and hidden button placket. It was the softest cotton cover we slept with, and we found that the cover became softer with every wash. Our main gripe with the functionality of this duvet cover is that the buttons are placed away from the edge, making it difficult to button.
The Company Store Legends Hotel duvet cover was significantly heavier than most, and the fabric was rougher. While it is certainly thicker than most, which adds extra warmth, it wasn't soft––even after washing. We also found this duvet to wrinkle a lot — significantly more than many of the others.
The Riley Sateen Duvet Cover was nearly comparable to the Brooklinen cover, but the fabric was rougher and it cost over $50 more. Since we first reviewed this duvet cover, Riley has expanded their line to include more colors, another grip we initially had. Overall the duvet is solid, but the fabric was disappointing.
Starting at $64.99 at Ikea
The Ikea Puderviva was disappointing. With all of the other duvet covers we tested, we were comfortable without a top sheet, but the Puderviva was so rough that we had to use a top sheet between the comforter and our bodies. This cover also lacks corner ties to secure the duvet in place. Additionally, the Puderviva closes using ties along the bottom of the cover, which doesn't fully close, and shows the duvet inside.
Starting at $24.95 at Amazon
We aren't confident the Nestl Bedding Duvet Cover set will hold up over years of use. The cover feels thin, and the inner ties are poorly connected. There were also some threads hanging out and many buttons to fidget with, which can be frustrating for many.
Starting at $260 at Cultiver
The Cultiver Linen Duvet Cover is super soft and lightweight, allowing for a great night's sleep. Cultiver's duvet has excellent construction, and great feeling fabric––we even recommend Cultiver in our guide to linen sheets. We declined to recommend this duvet because it's relatively expensive––although still less than the Boll & Branch.
Starting at $210 at Parachute
We found that the Parachute Linen Duvet Cover wasn't very soft and unfortunately wrinkled quite easily. This didn't allow for the coziest of sleeps, and it definitely didn't give the bed that complete look. We also found the cover hard to button after we put it on the duvet insert. The buttons are approximately 5 inches away from the edge (similar to the cotton sateen version), but because of the material and the wrinkles, matching up the buttons and actually securing them together was troublesome.
Starting at $230 at Snowe
Snowe's duvet cover was well-constructed from fabric that felt lovely to the touch. We disliked that the corner tabs were already fraying due to being unfinished. However, this comforter was primarily disqualified for offering fewer color and size choices than the other duvet covers we tested, with only two sizes and four colors available.
Starting at $89 at Target
This duvet from Target's Casaluna line looks nice enough, with a linen front and percale cotton back. However, it felt as heavy as some weighted blankets, and we weren't able to move around easily when sleeping under it.
The MagicLinen duvet cover was incredibly heavy––moreso than even the Casaluna––and very rough to the touch. It felt like cardboard, even after being washed with warm water and dried on medium heat. This duvet also failed to fully dry after one cycle in the dryer, and had to be run through twice. We declined to sleep test it due to the abrasiveness of the fabric on our skin.