Travel backpacks come in all shapes and sizes. Some are more functional while others make for stylish accessories, and The Backpack from Béis leans toward the latter.
Style and functionality can certainly blend well, but in the case of Béis' The Backpack, it felt like comfort didn't quite get the priority it needs to make for a truly great travel backpack. I tried to convince myself that I liked the backpack, as it's nice-looking and has a spacious packing compartment, but ultimately, the lack of organizational pockets, uncomfortable straps and poorly padded laptop sleeve outshined the pros.
Here's a full look at what I liked, what I didn't and how it compares to other backpacks on the market.
The cult-favorite Béis Backpack has a lot going for it: it's incredibly stylish, offers a great packing system and can hold enough for a multi-day trip. However, you may want to think twice due to its lack of comfort and insufficient padding.
What we liked about it
It's chic
The first thing you notice about The Backpack is how stylish it is. And that's one thing the bag will continue to have going for it.
It comes in two colors — black and beige — and features a faux leather trim around the bottom of the bag and for both of the water bottle sleeves on each side of the backpack. The faux leather also covers the backpack's carrying handle, and overall, it's a very appealing look in both colorways Béis offers for the bag.
Even the material of the backpack itself helps to add to this chic look. The thick, canvas-like cotton material gives the backpack a very structured look, whether it's packed or not.
When actress Shay Mitchell created the Béis brand in 2018, she dreamed of bringing a line of travel products to the market that are chic, functional and affordable. The Backpack is nearly a testament to that mission: it's chic, it's somewhat functional in use (I'll get to that) and at $88, it's far from the priciest travel backpack out there. Ultimately, this is a middle-of-the-road backpack option for travelers of all kinds — from students to hostel-goers, luxe vacation-goers and everyone in between.
It's the perfect size for air travel
Size-wise, The Backpack ticks most of the boxes. As many travelers, like me, will use this backpack when traveling by air, it does meet many airlines' size requirements for being both a carry-on and a personal item. In other words, you could bring both a roller carry-on bag and your backpack with you (if your ticket allows, of course).
When I tested out The Backpack on a recent trip, I was pleased that I was able to comfortably fit the backpack under the seat in front of me. It measures 13 inches by 19 inches by 5.5 inches, so it's big enough to fit your belongings for a quick trip but not so big that it inhibits your traveling. However, if the backpack is packed to its capacity, you may have a hard time fitting it under the seat in front of you — particularly if you're on a smaller, regional airplane.
It's got a great system for packing efficiently
What I liked most about this backpack was its packing structure. In total, it's got three pockets: a laptop sleeve, a large main compartment and a front compartment for smaller items. Better yet, the large main compartment opens clamshell-style, allowing you to optimize your packing if you're using the backpack as a suitcase. In total, the backpack features 22 liters of packing capacity.
Because the main compartment unzips like a suitcase, I love that you can get a full look at what's inside. On one side of the opening are two zippered pouches — one with clear plastic and one with mesh. I found these pockets most useful for undergarments, jewelry, chargers and other miscellaneous things that you don't want floating around in the larger compartment.
Opposite the smaller pockets is the main packing compartment. We love that it comes with compression straps like a suitcase to keep everything secure and allows you to pack more. While you shouldn't expect the capacity you'll get with a larger backpack or a rolling suitcase, most people should be able to fit enough clothes for an overnight or two-night stay — or more, like I was able to accomplish. Alternatively, the backpack is a great option for heading to the gym or work with a planned change in outfit.
When I travel, I always use packing cubes to keep things organized and was able to fit two cubes inside the main compartment — one medium and one small — along with a few other things packed in the empty spaces. I was even able to fit a pair of sandals into the main compartment without it feeling overpacked.
When empty, The Backpack weighs 1.8 pounds and when fully packed in my testing, it reached 15.5 pounds. This included four days' worth of clothes, a MacBook Air, TSA-approved toiletries and a pair of travel shoes, along with other miscellaneous travel accessories. Generally speaking, this backpack is pretty light. However, depending on what you pack, I could see this bag getting heavy and it wouldn't be very comfortable given the lack of support it offers.
It's good with general wear and tear
Good travel backpacks need to be durable. After all, they need to be able to withstand a passing rain shower while you're out touring. And in that regard, The Backpack passes.
In our testing, the backpack did a great job at repelling water and everything inside stayed dry. While it's not completely waterproof, for light rain showers, the exterior cotton material will repel drops. If you happen to get something on the bag, like yogurt, you can fairly easily wipe it off but it may take a bit of scrubbing to fully make the stain go away.
While we found the backpack to do the trick for some small mishaps and water exposure, we do have concerns about the long-term durability of the bag.
What we didn't like about it
It's not very comfortable
Overall, I found The Backpack to be very uncomfortable — my biggest gripe with this cult-favorite item. I found the straps to be extremely thin, and they didn't sit quite right on my shoulders, even when adjusted.
Not only did the straps cut into my arms, but the backpack also wasn't very ergonomic and my shoulders and upper back were feeling the weight after short airport wear. That said, the trolley sleeve that allows you to slip the backpack over the telescopic handle of a rolling bag did come in handy for some back relief.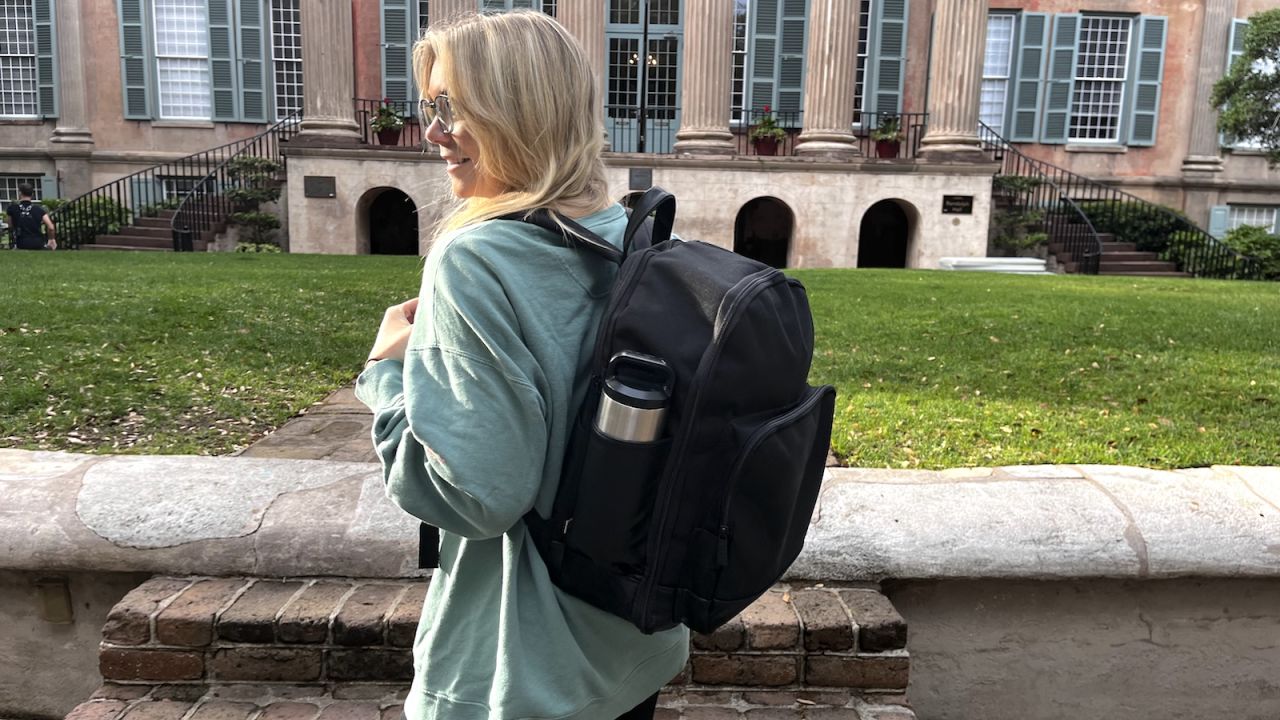 If Béis wants to improve the quality of the bag, the first place it should look is at making it fit more comfortably. Better quality, ergonomic padding and wider shoulder straps will go a long way to helping travelers feel as though they've got more support — especially if they've maximized the packing space in the backpack for a trip away from home.
Its padding doesn't feel protective enough for laptops
In addition to the lack of supportive padding in the shoulder straps, I found the backpack to also lack sufficient padding in another important area: the laptop sleeve. Although the Béis website says the laptop sleeve is padded, it doesn't feel like there's enough padding or that it's soft enough, especially compared to other backpacks and hiking backpacks we've tried.
Since the laptop sleeve is located on the rear of the backpack, I could feel my laptop's hard, flat surface directly on my back. Not only was this uncomfortable to carry, but it also made me feel like my laptop wasn't very well-protected. Speaking of, you do also have to be careful when putting your laptop in the sleeve, as the bottom of the bag isn't padded, which I learned after hearing the hard clunk of my laptop hitting the ground.
It could use some more organizational compartments
As for organization, I found myself wishing there were a few more pockets. The front pocket is nice and large, with a couple of pen holders and a general pocket as well as a key fob, but I found them to be just a bit too small. With a few more easily accessible storage options like a hidden zippered compartment on the bag, it could go a long way.
Meanwhile, while the faux leather on the exterior is a nice touch style-wise, it's not the most functional — especially as a water bottle sleeve. Although there are two exterior water bottle compartments, they're not entirely functional if you've got a bigger bottle. I was able to carefully slide in my 18-ounce Yeti Rambler, however, anything bigger wouldn't work.
Long-term wear is a concern
When it comes to durability, my biggest concern is long-term wear. In our testing, there was no sign of ripping, however, the backpack's straps were so small and thin that I'd be worried they tear away over time — especially if you're continually packing the bag to capacity.
While we didn't experience these issues, some reviewers on the Béis website have indicated rips are a problem, as well as broken zippers.
How it compares
| | | | |
| --- | --- | --- | --- |
| Key Specs | 13 inches x 19 inches x 5.5 inches | 12.6 inches x 16.53 inches x 7.87 inches | 19 inches x 12 inches x 9 inches |
| Colors | 2 | 21 | 6, plus option to customize |
| Organizational Pockets | 3 main compartments: 1 large compartment, 1 laptop sleeve, 1 front pocket, 2 water bottle sleeves. | 4 main compartments: 1 large compartment, 1 laptop sleeve, 1 waterproof sleeve, 1 anti-theft hidden pocket, 1 shoe compartment, 1 expandable water bottle sleeve. | 5 main compartments: 1 large compartment, 1 laptop sleeve, 1 medium compartment, 1 mesh storage sleeve, 1 large front pocket. |
| Price | $88 | $37 | $170 |
Bottom line
The Backpack didn't quite live up to the hype for me. Style is nice, but comfort is key and this backpack didn't pass the comfort test. I tried to convince myself I liked it, because I do like the simple, refined and chic look, but there were just too many important boxes that it didn't check. Because of the comfort faults, I find it hard to justify the $88 price tag.
However, if you're focused on a style-first backpack that you're looking to take on day trips where it might not be packed as full and heavy, you might not find the backpack's discomfort to be a problem. As with most travel gear, it depends on what elements you're looking for in a given item to make the best decision for your travel needs.
Looking for a travel credit card? Find out which cards CNN Underscored chose as our best travel credit cards.