CNN —
If you've tried Banza's hugely popular chickpea pasta or flavored chickpea rice, you know how great of a swap they are for traditional pasta and rice, and perfect for anyone looking to avoid wheat. Now the brand is back with another swap, and it's an exciting one: frozen pizza. Now at Target and Amazon, you can grab three premade pizzas with chickpea crusts featuring four cheese, margherita and roasted veggie toppings. Also available? Packages of plain frozen pizza crusts.
The three chickpea crust pizzas with toppings are as easy to make as any frozen pizza I've tried — just pop them in the oven and they're ready in about 10 minutes, depending on how crispy you like your pizza. At 9.5 inches, they're about the right size for two people to share — or by yourself if you feel like getting really wild.
The four cheese pizza had plenty of melty cheese that bubbled up nicely when cooked, and though I couldn't really taste four different cheese flavors, the flavor was nicely cheesy and mingled with the sweet sauce nicely.
Banza Chickpea Crust Cheese Frozen Pizza ($9.79; target.com or $49.99 for a 4-pack; amazon.com)
Topped with roasted, chopped veggies — caramelized onions, roasted peppers and crispy spinach — the roasted veggie was my favorite of the pre-topped pizzas. The veggies added a nice texture and savory umami without making the pizza soggy during baking.
Banza Chickpea Crust Veggie Frozen Pizza ($9.79; target.com or $49.99 for a 4-pack; amazon.com)
The margherita was as expected, with a bit more sauce and tiny globs of cheese scattered across the pizza. I personally find this style is better fresh, and was probably my least favorite, but that didn't stop me from eating my half. And yes, it may seem little pricey with that 4-pack being nearly $50, but consider how much four delivery pizzas are, and then also keep in mind how nice it is for people who are trying to avoid gluten to know that these pizzas are entirely for them — and delicious.
Banza Margherita Frozen Pizza Made From Chickpeas ($49.99 for a 4-pack; amazon.com)
All three of the Banza pizzas with toppings were on par with any decent thin crust pizza you'd find in the frozen section of your market, but what I'm completely obsessed with is the stand-alone pizza crusts.
You can top these chickpea crusts with literally anything you want. I popped the crust out of the box and topped it with a jarred pizza sauce, a pinch of freshly minced garlic and a mix of shredded cheddar and mozzarella. I wanted to re-create the traditional crispy "bar pie" that's popular in the northeast, but with the Banza crust. It was a hit in my decidedly not gluten-free household.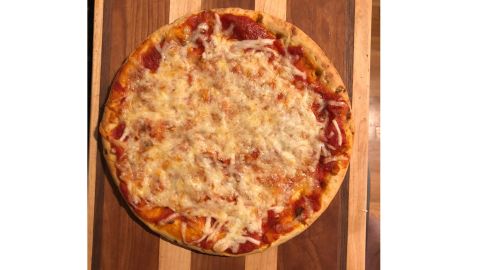 The chickpea crust really has that crispy snap you want from a good frozen crust, without any weird sogginess, and I loved designing my own pizza. And while I tried a traditional-style pizza, there are so many options when you're DIYing a frozen pizza. This is basically a dream come true for the dairy and gluten averse, or the perfect way to use up leftovers. Pull some leftover sweet potato or Brussels sprouts from the fridge, toss it on the crust with some dairy-free cheese and a healthy drizzle of balsamic and you've got a quick, delicious dinner.
Banza Plain Frozen Pizza Crust Made From Chickpeas ($49.99 for 8 crusts; amazon.com)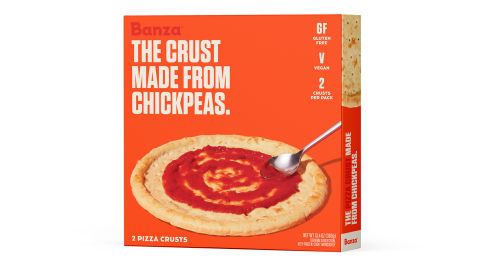 With 17 grams of protein and 5 grams of fiber, these pizzas are filling. Really filling. Boston-based holistic nutritionist Kristen Ciccolini explains why, saying that by "using whole chickpeas as their base, it will likely be more filling than other options that use refined flours with little fiber."
Are Banza frozen pizzas a good choice for you? If you're gluten-free or looking to up your plant protein, then yes, says Ciccolini. "These seem like a good option to have for those eating gluten-free, especially if they're not a fan of cauliflower, which seems to be the new GF base for everything," she explains.
She also notes that unlike many frozen options, Banza is very low in sugar. "It has very little sugar, especially compared to name brand frozen pizzas," she says. "So depending on your toppings it might be a more appealing choice to people seeking to reduce their sugar intake."
If you're looking for a healthier take on pizza night, or honestly just want some truly unique pizza for once, look no further than frozen Banza pizzas.