CNN —
When Apple unveiled the new 27-inch iMac in early August, it wasn't the full redesign we'd been hoping to see. Though the iMac is the same on the surface, the company made meaningful internal upgrades across every configuration available. Faster (and newer!) processors let you accomplish more tasks without hearing the fan kick in. There's a 1080p camera swapped in, replacing the aging 720p lens. SSDs across the board, dedicated GPUs, improved speakers and more microphones round out the changes.
Appealing as an all-in-one option — a full Mac computer housed in the display, an articulating stand, a Magic Mouse and a Magic Keyboard sans number pad — this powerhouse could be a family computer with multiple users.
We've been using the new 27-inch iMac for almost three weeks now to determine one thing: Is it worth the upgrade, or should you wait for the upcoming Apple Silicon-powered iMac to arrive?
Let's start with that green light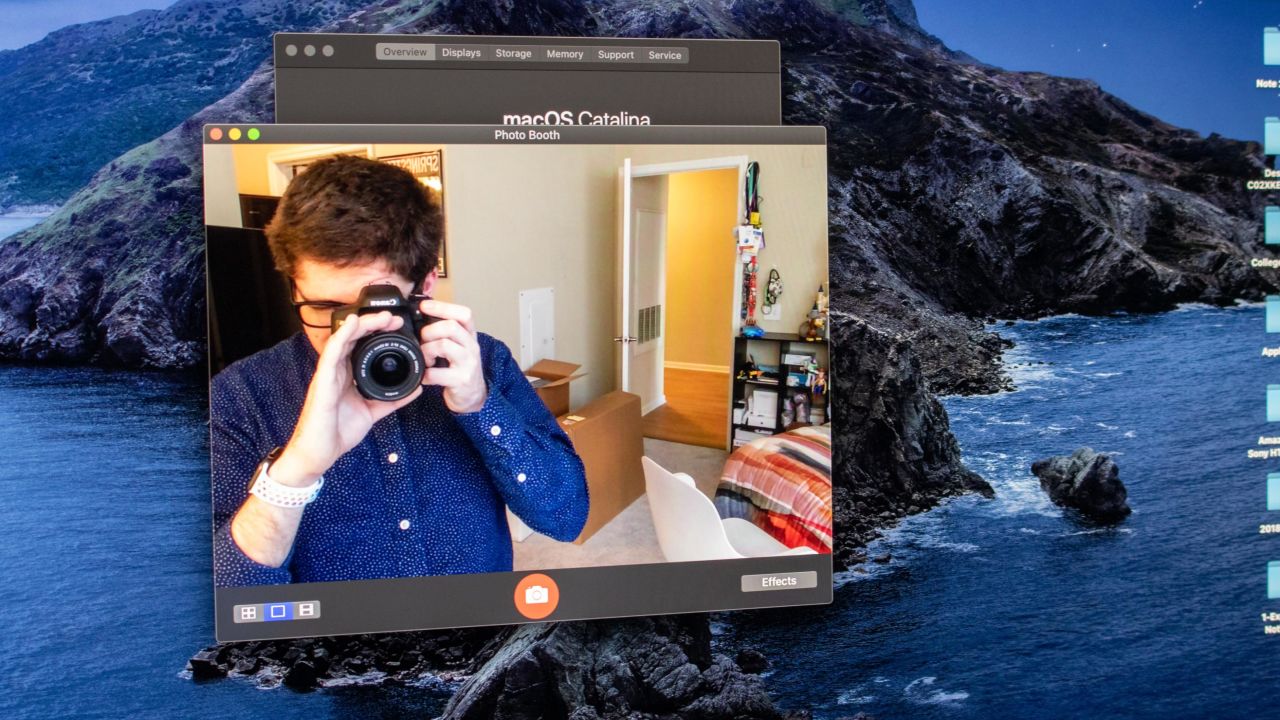 The thing that will likely impress you the most about the 27-inch iMac is the upgraded webcam — or, as Apple dubs it, the FaceTime HD Camera. This is the first time a Mac is moving away from the 720p camera, a lackluster option that we've knocked in past Mac reviews.
The physical 1080p FaceTime HD camera makes a difference on its own. It captures more details and definitely delivers less grain. In our weeks of testing, friends and family could tell we looked a bit sharper on FaceTime calls. But it also extends beyond Apple's own video calling platform. Skype, Webex, Teams and any other application that uses the camera get this benefit.
Additionally, Apple's T2 Security Chip is working double time inside. Normally that's used for handling "Hey Siri" commands, securely unlocking the device (Touch ID on MacBooks) and authenticating Apple Pay, among others. But on the 27-inch iMac, it handles exposure and lighting on the fly for the webcam. It not only helps certain tech editors look cool and collected on calls, but also, as one moves around, it will keep the focus on your face and ensure it looks correct, with no overcasting shadows or overexposed lighting.
Check out this quick video shot on the 27-inch iMac; it not only shows off the improved videos but also the microphone array.
This iMac features a three-microphone array that brings studio quality. It's similar to the system that premiered on the 16-inch MacBook Pro. In our test below, you can tell that these focus on picking up your voice with clarity — and audio retention is strong here. There are two microphones on the chin of the 27-inch iMac (below the Apple logo on the front).
The third microphone resides on the back of the unit near the top (you'll see a little perforated circle — that's the microphone). This is mostly used for background noise detection and can be used to deliver a cleaner mix. It works really well, and we can't help but think back to our conversation with Carly and Martina, a Chicago-based music duo who recorded on the iMac. The microphones here clearly have a range of uses, most common being video calls and podcast recordings, but the roots lie in creativity. They can be used for musicians, and that's seriously impressive, especially when you pair them with performance, as Carly and Martina did.
Lastly, this triple threat of content creation wraps up with improvements to the speakers. Notice that we didn't say upgrades: Inside the 27-inch iMac is the same set of stereo speakers as the previous generation. The difference? Well, don't call us repetitive, but the T2 chip is working triple time. It uses what Apple calls a variable EQ to essentially mix the track in real time for a more balanced experience with clear bass and strong mid-high tones. It's really an incredibly well-balanced mix that we can only describe as rich. And it can easily fill a room, so watch that volume level!
A classic design with big bezels around a 5K display
We've already disclosed how this isn't the redesigned iMac that's been rumored. We can only assume that Apple is waiting to sunset this unibody design with big bezels with the Silicon iMac. For now, we have a design that made the recent iMac famous — and it's still pretty functional. You have a thick black bezel all around the display, and the chin still features an Apple logo center.
The display is held in place by the strong aluminum stand, which allows you to tilt the iMac up or down. There's still no left to right adjustments or true articulation. Your power button sits on the left-hand side behind the display. There's an array of ports on the right-hand side behind the display: two USB-C ports, an SD card slot, four USB-A ports, an Ethernet port (supporting gigabit) and a headphone jack. A little-known fact is that the RAM is actually user-serviceable, meaning you can upgrade the base 8GB of RAM with relative ease via the panel on the back.
It's a classic design, and we're still pretty fond of it. Especially when it contains a gorgeous 27-inch display. It's still a Retina 5K with a 5,120-by-2,880 resolution and 500 nits of brightness. The latter is a standard measure for the brightness of displays — essentially, this LED-backlit display can get plenty bright. As a whole, the display is sharp and vibrant, can offer deep contrast when needed and is a joy to use. We tried writing, editing, web browsing, streaming, gaming, photo editing and even moviemaking.
It offers accurate colors with an epic amount of detail in the image. There wasn't any noticeable pixelation on text when looking in or zooming in close, either. And remember, it's a massive 27-inch display — a huge canvas for working or getting anything done.
Aiding in the great graphics and visual performance is the graphics processing unit, or GPU, inside our 27-inch iMac. We're testing out the most expensive configuration from Apple, which features an AMD Radeon Pro 5500 XT GPU with dedicated 8GB of RAM. Safe to say that is ample performance for everyday tasks and more than enough of a runway for creative tasks (photo or video editing and design work) and gaming.
Performance is where this thing shines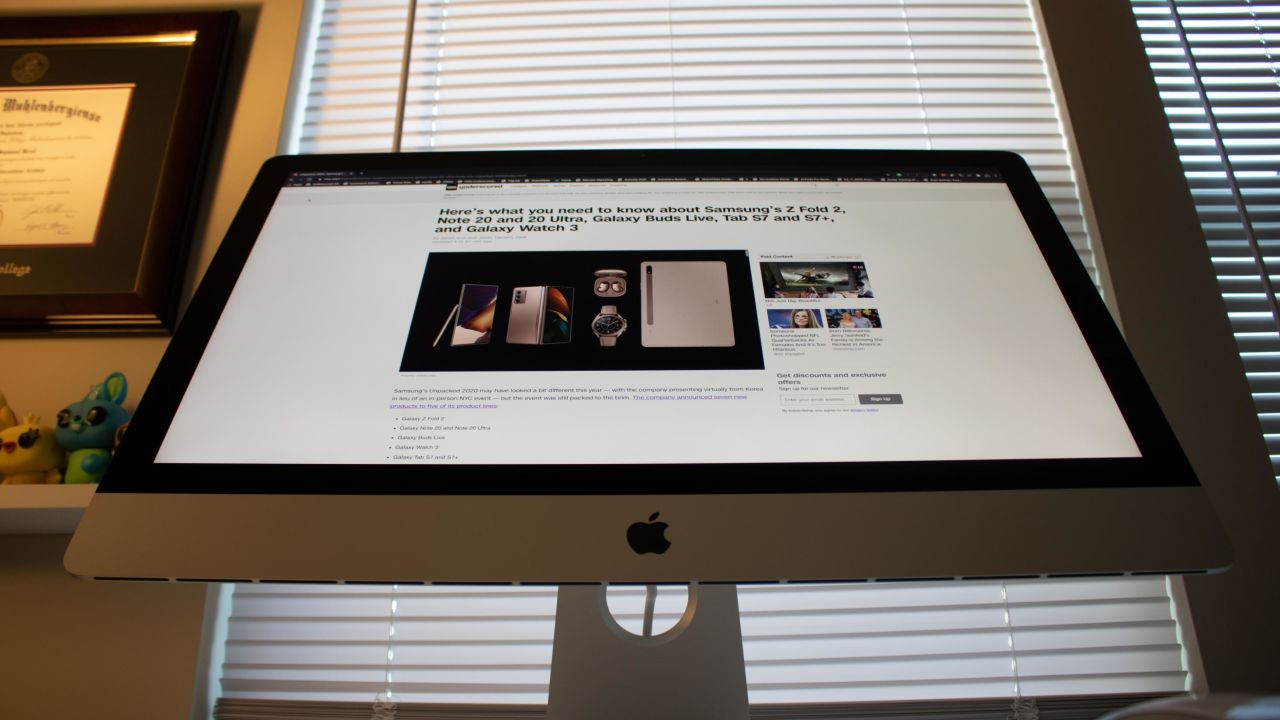 This 27-inch iMac really shines in terms of performance. It runs macOS Catalina like a beast, and we barely experienced any slowdowns across any of our tasks or with benchmarks.
Let's put that into perspective. We're testing a $2,299 configuration of the 27-inch iMac. That means it features a 3.8 GHz 8-Core 10th Gen Intel Core i7 processor with 8GB of RAM and 512GB of solid-state storage. That's very well specced, and you could upgrade this even more. Apple offers a 10-Core CPU option, and you can add up to 128GB of RAM. Just imagine how quickly Safari or Chrome will open with that. But really, that's for creative-minded people who want to use this at or nearly at an iMac Pro level.
You may also consider opting for this $2,299 machine if you want to grow with it for quite some time. We have no doubt this will run for many years to come, and that's good for the investment. That also speaks to who this iMac might be for. As we've detailed before, Apple Silicon is going to be a new technology. Early adopters will opt for it and put it to the test. But most people might want to consider waiting, especially when there's a great iMac that has ample performance on the market right now. Even more so, if you're someone who upgrades computers every four to six years rather than every two to three, this will last you with likely no problems.
Also, big props to Apple, as all iMacs (27-inch, 21.5-inch and, of course, the iMac Pro) all feature SSDs standard across the board. That's big and appreciated. Faster access to your data and more smooth navigation across the whole OS and therefore the Mac itself.
The experience has been nothing short of fluid with everyday tasks, and our model has plenty of room to ramp up for high-performance activities. We tested applications such as Outlook, Microsoft Office, Pages, Photo, Photoshop, Spotify, Music, "Mini Motorways," "Sim Airport," Slack, Google Chrome, Safari, a custom CMS, Trello, Twitter and many others, and it was up to the challenge — and that goes for Pro apps as well. We tried mixing a few tracks in GarageBand and Logic Pro X with several apps open in the background; there were no noticeable slowdowns, and the fan only kicked in if it had 30-plus tracks on the final stage of exporting. Final Cut Pro was able to swiftly render and export both 4K and 8K movies. Just really good all around.
As we do with every device being tested at CNN Underscored, we ran the 27-inch iMac through a series of benchmarks. On Geekbench 5, this iMac scored 1,241 on single-core and 7,518 on multi-core. Both tremendous scores that beat some PCs we've tested and best the previous-generation iMac. It makes sense, as the processors are next generation and it has an 8-Core CPU, offering strong performance.
In our current world, there's a chance this iMac could be used by multiple people with different use cases. It could be a work computer for some, a homeschooling dream machine for kids and also a source of entertainment for everyone above. We don't have any qualms with performance on the new iMac; Apple upgrades the processors across the board, and you might be wondering about the standard 8GB of RAM.
Typically for laptops, we always recommend 16GB minimum, especially on MacBooks. After all, there is no user replacement there, but the iMac is another story. And so far with our testing, the 8GB haven't choked or caused noticeable disruptions at all. For most workflows, it should be just fine, and you can always upgrade it yourself at a later date and likely for a cheaper price than what Apple charges for the upgrade.
Bottom line
Sure, this isn't the fully redesigned vision of home computer iMac powered by Silicon, but did this have to be? This classic design deserved a powerful send-off — and that's exactly what Apple has provided.
We'll continue putting this machine to the test over the coming weeks and will update with how Big Sur performs come its release in the fall. But if you've been wanting a home computer or have been looking to upgrade an aging iMac, you really can't go wrong with the 27-inch iMac if you want a machine that will last for many years.