Portable projectors offer something intriguing: a giant display you can take anywhere. The premise often sounds more impressive than it proves in actuality, as a lot of quality is sacrificed to make a projector that's small enough to take anywhere and low-power enough to run on a battery for any reasonable length of time. That's the exact mire the Anker Nebula Capsule 3 Laser squeezes itself into. At $800, it's not quite a cheap nor an especially expensive projector, but so much of that price is gobbled up in the name of making it truly portable that it falls well short in some crucial ways.
For projectors, portability means substantial sacrifices to everything else, and the math doesn't work out in the Anker Nebula Capsule 3 Laser's favor.
What we liked about it
A projector you can take and almost use anywhere
A projector's big advantage over a TV tends to be its portability and image size. After all, you can't usually move a 100-inch TV from room to room without a little help, but you can move a projector capable of a 100-inch image from room to room with one hand. The Anker Nebula Capsule 3 Laser doubles down on portability by coming in a form factor that's about the size of a one-liter Nalgene water bottle.
At that size, the Anker Nebula Capsule 3 Laser is easy to carry around, move in seconds and slip into bags, backpacks and even small slings (with some protection — more on that later). It also packs a battery inside, so you can take it far away from any power outlet and still use it (just make sure you've got a nice, white wall to project onto). Since it's a lower-power projector and charges via USB-C, it's even possible to keep it juiced up with a portable charger to extend the roughly 2-hour runtime you'll get out of the internal battery. That USB-C charging isn't something just any old projector can do, though a few others are coming in hot with it, like the similar Xgimi MoGo 2 series.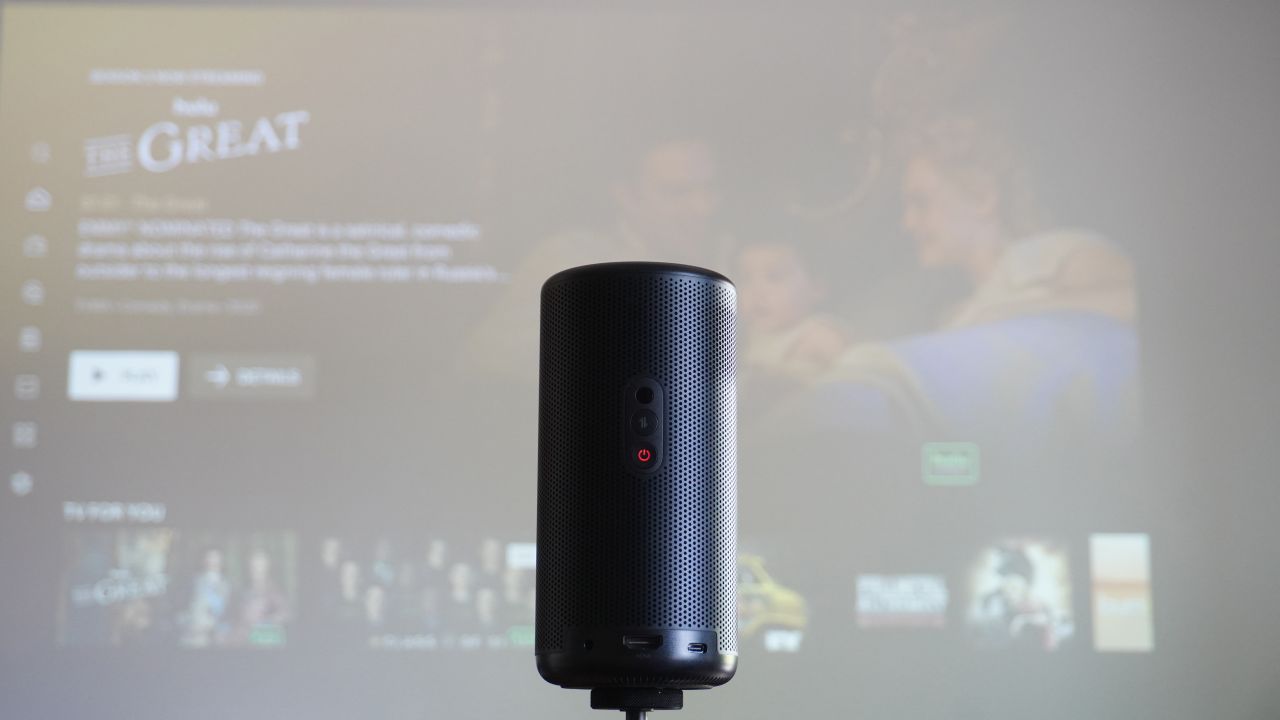 It's a true all-in-one
The portability wouldn't mean as much if the Anker Nebula Capsule 3 Laser needed to be hooked up to a bunch of other devices to work. Fortunately, it's an all-in-one device. It can project an image, pump out sound through its 8-watt speaker, connect to Wi-Fi and pull up streaming apps on its Android TV operating system, and play back local files stored internally or on a USB drive. Combine that with the battery, and it really proves to be a projector you can just pop in a bag and use almost anywhere.
While plenty of projectors are now coming with smart TV operating systems, the battery is key to the Anker Nebula Capsule 3 Laser standing apart from the wider market.
Many ways to control
I've run into some devices that come up lacking when it comes to how they're controlled, but the Anker Nebula Capsule 3 Laser isn't one of them. The remote control will likely be the default for most people using this projector, but remotes sometimes get misplaced. When you can't find the remote, the projector has navigation buttons on its top, and Anker's Nebula Connect app for smartphones lets you control the projector from your phone. These extra options can be handy in a pinch.
What we didn't like about
Brightness is sacrificed in the name of portability
Portability comes at a price, and that price is brightness for the Anker Nebula Capsule 3 Laser. The Anker Nebula Capsule 3 Laser caps out at 300 lumens, which looks decently bright in a dim room but will struggle with dark and gritty content if daylight is slipping into the room. Because the projector runs on a small battery and has a small chassis, it really couldn't get much brighter without obliterating the battery life and needing to contend with extra heat. But that reality doesn't make the sacrifice to brightness any smaller a trade-off.
Anker's much more substantial Nebula Cosmos Laser is just a little more expensive at $1,000 (and I've seen it on sale for $900), and it's more than 6 times brighter, supports HDR and has more powerful speakers. Even worse for the Nebula Capsule 3 Laser is Epson's projectors, with the EpiqVision Mini EF11 and EF12 outshining it. They're slightly bigger projectors, but still easy enough to move around with one hand, and the upgrade in picture that comes with a leap to 1,000 nits is substantial, not to mention the use of 3LCD technology instead of DLP, which gives Epson an advantage in color brightness and avoids rainbow artifacts common of DLP projection. Of course, none of these models run on a battery, but that raises the question of how much having that battery is really worth to you.
1080p somehow doesn't feel sharp enough
I use a 1080p projector all the time — a cheap and dated little Vivitek Qumi Q38 model I got for $200 refurbished. While I have my gripes with that projector, the resolution has never been one of them. Despite the Anker Nebula Capsule 3 Laser offering the same resolution and similarly relying on DLP technology to project its images, Anker's projector just shows its pixels that much more glaringly than the cheap little Qumi. When projected from more than six feet away, the image suffers from a screen-door effect where the dim gaps between pixels are visible. The effect hides itself well enough in live action content, but with large swathes of a single color and cartoons, it's all too apparent. This may come down to the size of the DMD chip in each projector — the DMD being a small array of mirrors responsible for reflecting all of the light out of the projector and creating that actual picture at a pixel level. Anker's using a 0.23-inch DMD to reflect its light where the old Qumi uses a 0.33-inch DMD. These DMDs play a crucial role in DLP technology, and it seems Anker chose one that's not up to snuff.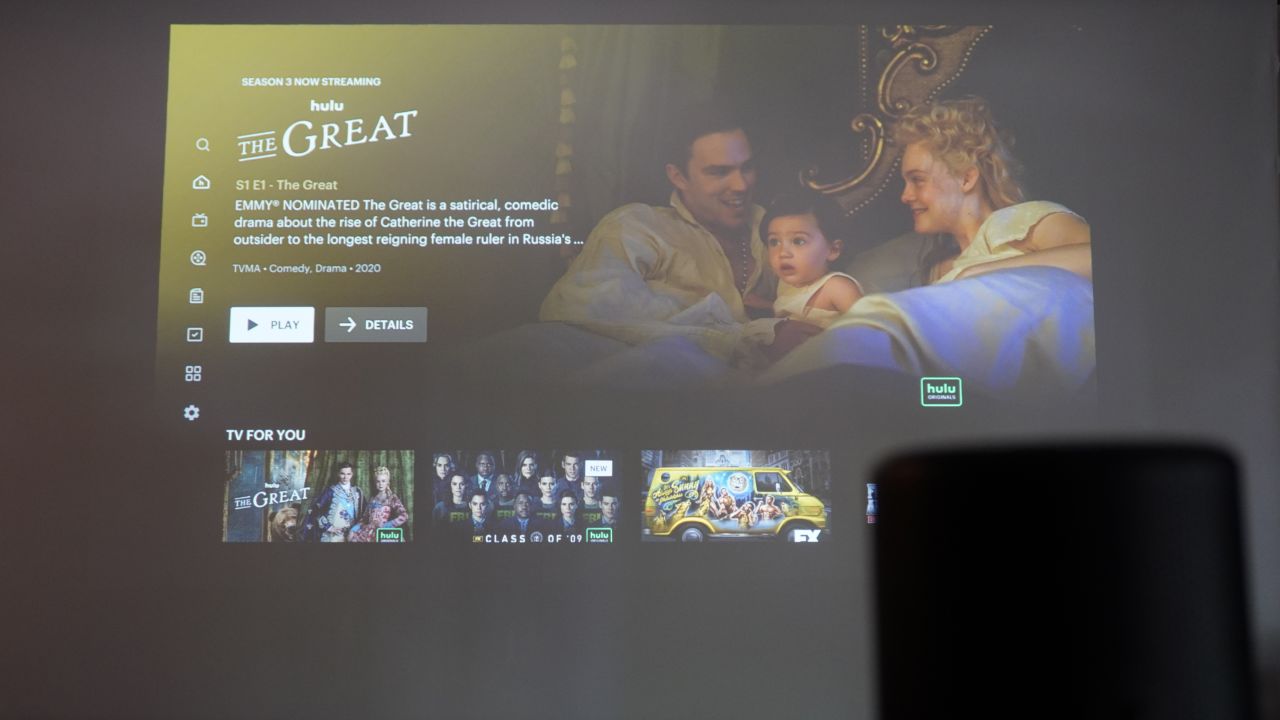 The Netflix workaround is tedious and not worth it
Though the Anker Nebula Capsule 3 Laser has Android TV built in, letting you load the projector up with tons of apps and stream content directly, Netflix isn't so seamless. This is a problem many projectors face, but Anker somewhat obscures its own issue with Netflix by suggesting the app is supported. It is, but it has to be sideloaded rather than installed through Google Play like the rest of the streaming apps. Anker's Nebula Play app guides you through the process of downloading the APK, enabling sideloading and installing the app, which is convenient. But every time I want to access Netflix, I have to go through the Nebula Play app again, and click OK a half-dozen times to launch the app. The icing on the awful cake is that the Netflix app isn't an Android TV version, supporting only touch inputs, so the projector simulates touch inputs by having me click the arrow buttons and select button on the remote any number of times to line it up with what I want to click. It's tedious to say the least.
All that fuss is for a sub-par Netflix experience as well. Netflix doesn't love to provide the best image quality to just any old device, and the Anker Nebula Capsule 3 Laser seems to be getting a terribly low-bitrate and low-resolution stream (even while connected to high-speed fiber internet over a 5GHz Wi-Fi network broadcast from just feet away).
The processing is slow and can be problematic
As convenient as it is to have smarts built into the Anker Nebula Capsule 3 Laser, it's far from the smoothest experience. The system regularly runs slowly with long lag after pressing buttons on the remote. This makes navigating the device clunky at times. Sometimes it gets totally frazzled: while playing Bob's Burgers on Hulu, it wouldn't minimize the timeline no matter what I did or how long I waited. Even backing out of the show and coming back to it didn't solve the error.
It would be one thing if the issue were limited to navigation, but the processing can affect the actual viewing experience, too. I regularly notice small stutters in the video and the alignment between audio and video seems to come in and out of sync. While playing L.A. Confidential, the audio got so out of sync, I had to stop the movie, disable all the keystone correction and try resuming it. That somehow worked, but I can't think of a time a projector I tested had the video out of sync with the audio coming from its own speakers.
No lens protection
With so much compromise in the name of portability, Anker should have gone a little further in ensuring this was actually a projector you could take with you securely. The lens of the Anker Nebula Capsule 3 Laser lacks any sort of cover for when it's stowed away, and the last thing this projector can afford is to have its cover glass scratched and image quality reduced. Even including a little beer coozy-style sleeve with the Anker Nebula Capsule 3 Laser would have gone a long way. As it is, you'd be ill-advised to slip the Anker Nebula Capsule 3 Laser into a bag even though you easily can.
Bottom line
There's no denying that the portability of the Anker Nebula Capsule 3 Laser has a certain appeal. It's been easy to move around and set up in different locations during my testing, and it's getting less direct competition now that Xgimi has removed the batteries from its latest MoGo projectors. But the sacrifices to image quality that the Anker Nebula Capsule 3 Laser makes next to similarly priced projectors like the Xgimi Halo, Epson EpiqVision Mini EF12, and even Anker's own Nebula Cosmos Laser projector — not to mention the various performance woes — are hard to accept.