Since 2007, Amazon has been releasing its Kindle e-readers, making reading e-books a seamless and enjoyable experience for the masses. Here at Underscored, we've tested seven of its most recent devices, and named the Kindle Oasis the best e-reader overall and the Paperwhite the best budget e-reader. Now the company has released its first e-reader with note-taking capabilities, the Kindle Scribe, and we've found that despite its limited software and supersized screen, it's a great new installment in Amazon's robust e-reader lineup.
A great way to digitally read books and take notes in one device
The Kindle Scribe is a great note-taking and reading device — if you don't mind its limited software and large size.
What we liked about it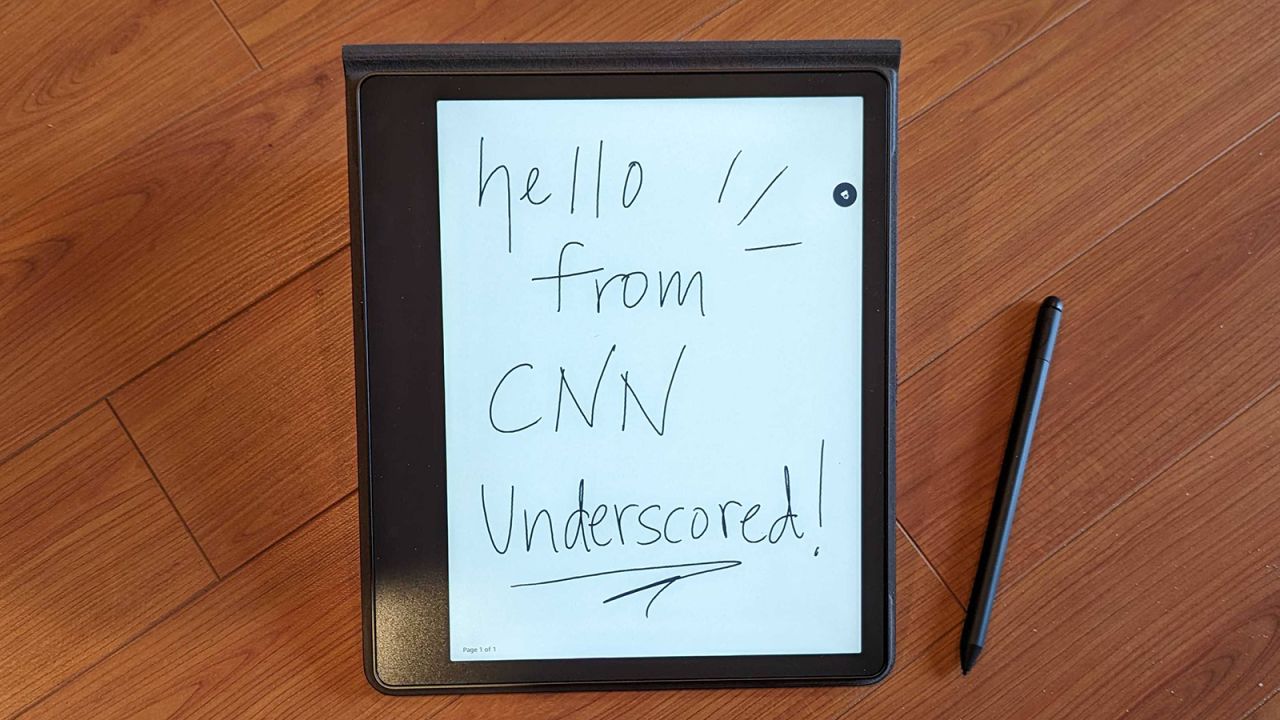 A high-quality, well-designed e-reader
Before we talk about the Scribe's note-taking capabilities, let's discuss how it functions as an e-reader. It boasts a gorgeous 10.2-inch, 300 ppi glare-free screen that utilizes Amazon's flagship Paperwhite display technology found on most of its modern e-readers. This makes text pop and a joy to read. It's only .22 inches thin and approximately 15 ounces, so holding it in one hand is possible but not always comfortable. It also features an adjustable warm light and auto-adjusting front light so you can read and write in the sun outside or in bed with no other lights on.
There are a number of customizable theme, font and layout choices you can adjust to tailor your reading experience to your own needs. You can choose between custom, standard, compact and large themes; nine different fonts, 14 font sizes and five levels of boldness; two orientations, three margins, two alignments and three spacing options. Additional options include reading progress percentage, page numbers and the ability to display a clock while reading.
While I'm a fan of physical page-turn buttons as on the Kindle Oasis, I didn't mind the lack of them on the Scribe. There's a large bezel for your thumb to rest on while holding the device in either hand, then you can either swipe the screen or tap either side of the screen to move from page to page. Page-turning is fast and responsive, and I had no latency issues.
With more than 13 million books in the Kindle Store (9 million more e-books than you'll find in Kobo's store, one of Kindle's biggest competitors), it's arguably the best e-book store out there, so you'll likely be able to find whatever you want to read on there.
Note-taking is simple and fun
More than an e-reader, the Kindle Scribe allows you to store notebooks of digital writing or doodles. There are currently 18 notebook layouts to choose from, ranging from the simple (blank, lined or dotted pages) to the more complex (calendars and storyboard pages). Whether you're bullet journaling, jotting down your grocery list or sketching, there's sure to be a layout that suits your needs. I had a really fun time adapting my physical bullet journal into a digital format on the Scribe using the gridded layout option, and it's worth experimenting with all the layouts to see what you like best. As of now, you're able to view all your notebooks in the Kindle app, but you cannot edit them there. We'd love to see more export options available in the future.
The Scribe comes bundled with a stylus (either the Basic Pen for $340 or the Premium Pen for $370). We tried the Premium Pen, which offers a shortcut button and built-in eraser. You can adjust the shortcut button on the Premium Pen to do a number of tasks; I've kept mine on highlighter so when I press and hold the shortcut button it will highlight whatever text is underneath. The built-in eraser is also a nice benefit and works well, making the stylus feel more like a traditional pencil, but I'm not sure the Premium Pen is worth the additional $30. That said, using the stylus is a joy. It feels like writing on paper, and I didn't experience any latency when putting the tip to screen. It's also worth noting that both pens never need to be charged and magnetically attach to the side of the Scribe, two benefits that some other paper tablets lack.
Aside from writing or sketching in notebooks, you can also handwrite sticky notes in your Kindle e-books. To write a sticky note, all you have to do is click the sticky note icon in the sidebar that appears on every e-book on the Scribe, then jot away. There's also the option to write a text note using a keyboard if you don't want to handwrite your note.
Marking up PDFs is relatively straightforward
On the Scribe, you also have the ability to upload PDFs and write directly on them. The easiest way I found to do this is by downloading the Kindle app. Once the Kindle app is on your phone, you can go to your documents, choose your desired file, then share to the Kindle app. A screen will then open that will allow you to send the document to your Kindle device(s). Within a minute or so, you should see the file appear on your Scribe.
As a former proofreader of graphic novels, I love this ability to mark up PDFs directly on the Scribe. I could also see this feature being super helpful for students and businesspeople who work with lots of documents daily.
What we didn't like about it
The software is lacking
While the Scribe's hardware is top-notch, its software could use some zhuzhing up. As of this writing, there's only one pen option with five thicknesses and one highlighter option with five thicknesses, aside from the eraser. I'd love to see a wider variety of pen and marker options for writing and abilities like copying and pasting or moving text around by circling it, options that are available on other paper tablets like the fantastic ReMarkable 2.
On Amazon's Help & Customer Service page for the Scribe, the company does promise that "in the coming months" it will provide free software updates, including more writing tools, new brush types and copy/paste tools; additional notebook organization options; and the ability to send documents directly from Microsoft Word. While that's a lot to look forward to, it's a shame that the company released the Scribe without these options in the first place.
Only sticky notes on e-books
While the ability to write little Post-its on e-books is great and fun, I'd love to be able to mark up the books themselves. It's a little wild to me that this isn't an option. This means you're unable to write in the margins of books, circle words, underline sentences, etc. I'd never write in a physical book in this way, but because it's digital, I'd love the option to dirty up the pages with scribbles and notations rather than rely only on the sticky notes.
How it compares
| | | | |
| --- | --- | --- | --- |
| Display | 10.2-inch E Ink display | 10.3-inch monochrome digital paper display (E Ink) | 8.3-inch Liquid Retina Display |
| Remote notebook access | Yes, in the Kindle app | Yes, with Connect plan | Yes, either with Apple Notes or via third-party apps |
| Connectivity | USB-C, Wi-Fi | USB-C, Wi-Fi | USB-C, Wi-Fi, LTE |
| Storage | 16GB / 32GB / 64GB | 8GB | 16GB / 256GB |
| Monthly subscription | No | 1-year free trial, $2.99 per month after | Depends on the app |
| Battery life | Up to three weeks | Up to two weeks | 10 hours |
| Weight | 433 grams | 403.5 grams | 293 grams |
| Dimension | 196 x 230 x 5.8 mm | 187 x 246 x 4.7 mm | 134.8 x 195.4 6.3 mm |
| Stylus cost | Bundled with Scribe | $79 for basic Marker, $129 for Marker Plus | $129 |
| Price | $340 | $299 | $469 |
Bottom line
The Kindle Scribe is the biggest and priciest Kindle e-reader to date, but its ability to let you take handwritten notes sets it apart from the pack. As just an e-reader, we prefer the less bulky Kindle Oasis with page-turn buttons, but for students, artists and writers, the note-taking capabilities of the Scribe are a game changer. Unfortunately, the software in its current state is lacking, and you can find more robust tools and a wider variety of brush types on other, more affordable paper tablets like the ReMarkable 2. But if you prefer an e-reader and paper tablet in one, the Scribe is well worth the price.