CNN —
The Echo Flex isn't a top-of-the-line device with the sleekest build. It's a white piece of plastic that resembles a brick power charger. The difference? It's an Alexa-enabled speaker with a microphone array, small LED strip, speaker and USB-A port (which, surprisingly, is the most exciting part).
We'll be the first to admit that there's not a whole lot to get excited about with the Flex, but for $17.49 (originally $24.99), it's the cheapest way to add Alexa into a room. It plugs directly into outlets, so any wiring or cable management can be tossed out the window. While that USB-A port can support charging a device, we suggest pairing it with one of three attachments for the Flex:
Let's dive into why this affordable Alexa-powered device can flex its smarts to sit alongside the higher-priced Echos.
It's all about the attachments
The attachments, the attachments, the attachments. These truly make the Echo Flex experience noteworthy. The Flex itself is super compact and plugs right into a standard outlet. It's a rather unassuming design with a sturdy plastic build dosed in a bland white paint job.
The USB-A port lives at the bottom and is where you can power another device through a cable. It's handy for charging an iPhone or Echo Buds, but it's also where you can directly plug in the made-for-Flex attachments. These small rectangular pieces are also made out of plastic and fit snugly onto the bottom, essentially extending the length by about an inch, and they match the thickness of the Echo Flex.
The newest attachment, launching nearly a year after the Flex was announced, is the Smart Clock. It's kind of confusing, as Amazon makes the Echo Dot with Clock, but it's still where the Flex shines. You add it to the bottom and you're done. As long as the Flex is up to date, it's an easy way to check the time, monitor alarms and even set a timer. We found ourselves using this combo with the Echo Dot with Clock in a closet, or even plugged into a backsplash behind a countertop. It calls less attention to itself than the Dot with Clock, it's cheaper and you don't have to worry about cable management.
You also get the added bonus of being able to swap for one of two other attachments, one of which is a simple night light. You can ask Alexa to change the color, set it to turn off at a certain time and even change the brightness level. And it can get bright, so it's quite handy for hallways or stairs that you need illuminated. It reminds us of the Echo Glow but lacks the fun colors.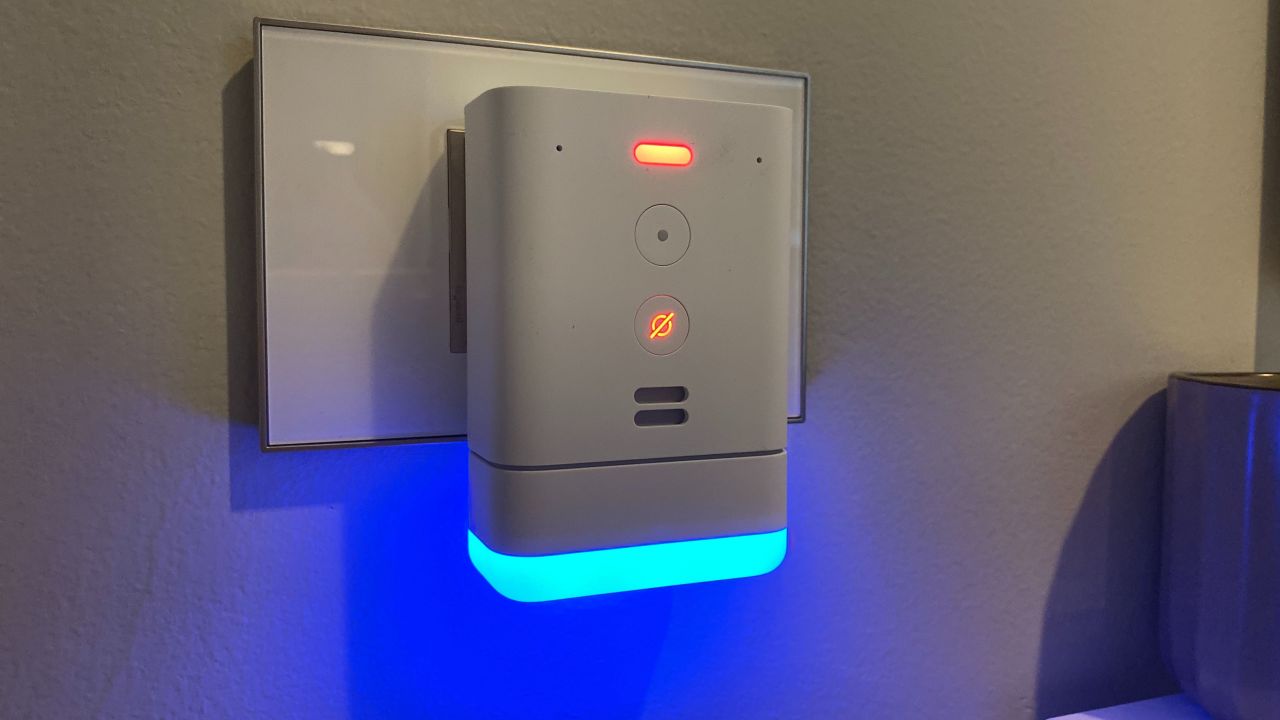 The coolest and most innovative Flex attachment is the motion sensor attachment. This also makes this the only Echo device that can have a motion sensor built directly into it instead of a third-party one connected wirelessly. Essentially, with it attached, the Flex can detect a motion, which will trigger a certain routine action. Better yet, it works with any smart home device that works with Alexa. You can have connected bulbs (Philips Hue, Voccolink, etc.) turn on or even have it lock a connected door lock. It really enables you to get smarter with your smart home.
It's a super compact Alexa experience
We wouldn't call the Flex the nicest-looking Echo. It's a white plastic build that's far from striking. What's going for it is its compact size: just 2.8 inches tall and 2.6 inches wide. Like all other Echo speakers, it features an Alexa action button and a microphone mute button. It has a tiny LED strip and a similarly small speaker on the front as well. That's really it. And at 2.8 inches tall without an attachment, placing it into the bottom of a two-spot outlet leaves the top outlet free for use.
So the Flex can go anywhere and doesn't require the normal wiring as other Echo devices. This is just a one-piece setup that still gives you access to Alexa. Voice commands were picked up easily, and her responses were delivered in a clear manner. It just doesn't get that loud and, for instance, with an AC blowing on high, it can be hard to hear Alexa. Luckily, if you want the Flex for its utility, you can pair it with any Bluetooth speaker.
As with any other Alexa-enabled speaker, it connects to your home network via Wi-Fi, and setup is done in the companion Alexa app for Android and iOS.
Bottom line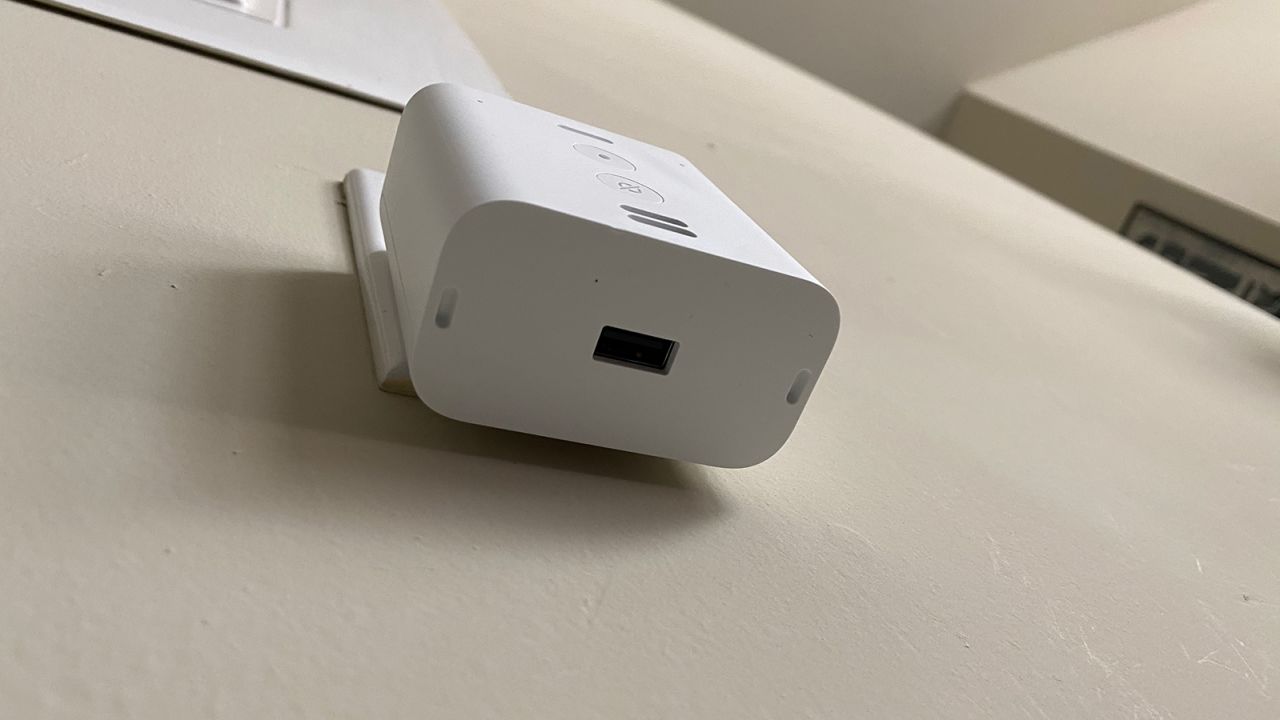 Yes, at the end of the day, the Echo Flex is the cheapest Echo option. It's the new starting point, but for most people, we'd still suggest an Echo Dot. The Flex is really all about adding an Echo into a new part of your home with less hassle.
It's an easy way to ask Alexa questions and give the assistant commands. We especially like the accessories, as you can customize the Flex in a way that you can't with any other Echo. The motion sensor attachment will give you the most value, but we're fans of the night light and clock as well.
Just don't play music on it. Promise us that, because it won't sound good. But even at $24.99, the Echo Flex is all about utility and expanding Alexa's presence. Better yet, it's on sale for $17.49 now.
Note: The prices above reflect the retailer's listed price at the time of publication.