CNN —
Like its bigger sibling, the Echo 4th Gen, the Echo Dot family has gone spherical. Amazon packed quite a bit of tech — from a processor to a speaker and microphones — into these softball-sized orbs.
The Echo Dot, Echo Dot with Clock and Echo Dot Kids Edition all share the same guts and a really similar build; Dot with Clock adds an LED display and the Kids Edition might be the cutest smart speaker ever. All three are up for order now:
Let's dive into this trio of budget smart speakers
Compact smarts
All three Echo Dots are about the size of a softball (at 3.5 inches tall and 3.9 inches wide, if we're being precise).
And since the Dot family is basically a miniature version of the larger Echo, each sports a combination mesh and hard plastic shell. You get your pick of three colors — charcoal, glacier white and twilight blue — for the Echo Dot; Echo Dot with Clock comes in glacier white and twilight blue.
Dot Kids Edition arguably has the best color scheme options, with the mesh cover available with either a tiger or panda design. Let's be real: Who wouldn't want a smart speaker with a panda or a tiger on it? The way Amazon designed and colored the mesh makes it look almost 3D, bringing life to what would otherwise be just a random blob of color. Though it's too bad there aren't matching voices to go with the characters, replacing Alexa's standard voice.
Regardless of color (or animal), the main way to control any Echo Dot is with your voice. You simply state the wake word "Alexa" and she'll start listening. The top of the Dots feature four physical buttons for control: volume down, volume up, an Alexa action button and mute. All four come in handy.
The coolest part of the design, in our opinion, is the LED ring at the bottom of the Echo Dot. Like the 4th Gen Echo, Amazon decided to relocate the ring to the bottom of the device. The result is an awesome glowing effect that's blue when Alexa is listening, red if the microphone is muted and yellow when you have a notification. By moving the ring to the bottom, you still have a line of sight with it, but it also glows on the surface where the Echo Dot is sitting. It's a nice visual interface – especially when you consider there is no "real" screen on the Echo Dot.
On the rear of the Echo Dots are two ports: a proprietary power port and an audio jack. Amazon does include a power brick with a fairly long cable in the box. We wish it was USB-C, but it's not the worst.
You might recall that we raved about the Echo Dot with Clock last year and found it to be an ingenious upgrade to a smart speaker. We feel similarly this year, but Amazon didn't reinvent the wheel here.
The Echo Dot with Clock simply adds an LED dot matrix display to the front — it's a little lower than the center of the sphere but higher than last year's model. This means it isn't as hard to see and offers better sightlines. It can show the time, display a graphic for the weather and the temperature, countdown a timer and even greet you with a "Hello" during setup.
It works quite nice as a smart clock for a desk or a nightstand. We used it as an alarm and we especially like the tap-to-snooze feature, which lets you bop the top of the Dot when you're not quite ready to get out of bed (a feature also available on the Dot and Dot Kids Edition).
It's the Alexa experience you've come to expect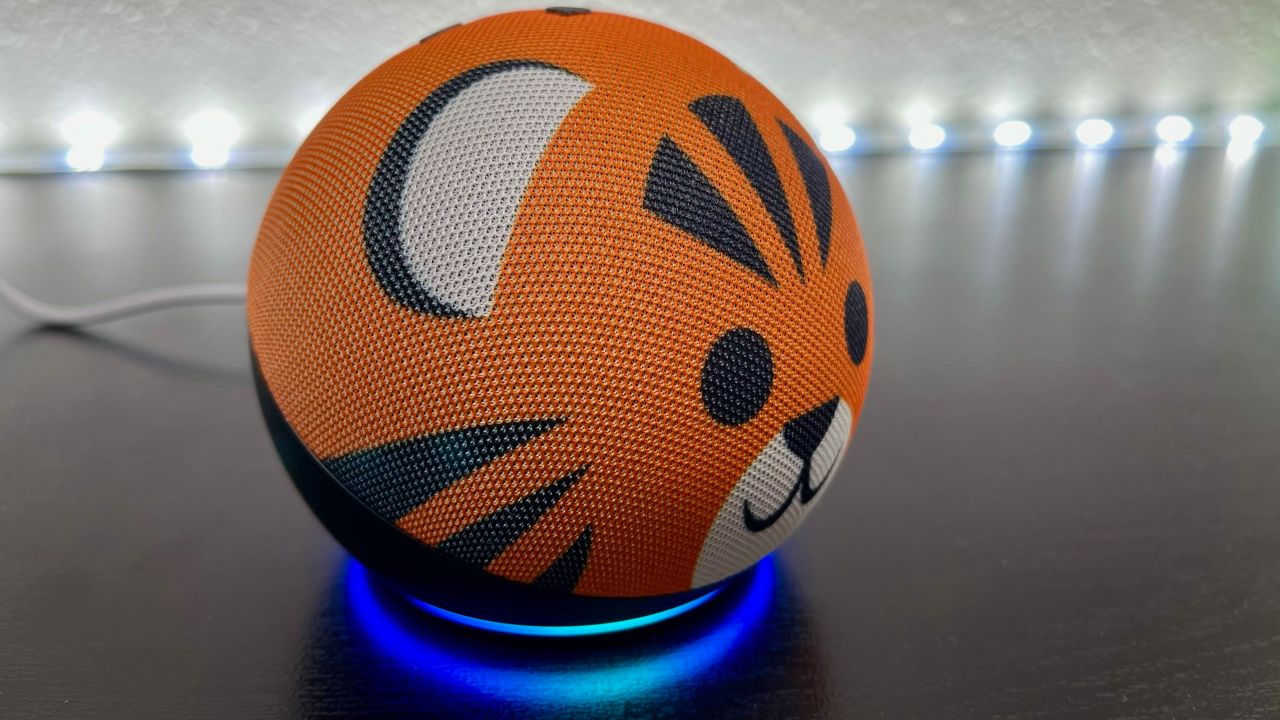 Using the Alexa app, or if you know the name of a skill, you can add more features to your Echo Dot. For example, you can play Jeopardy, order pizza from Dominos or add your favorite music streaming service to play your favorite tunes on demand.
In addition to the standard Alexa interactions, the Dot Kids Edition has a special mode dedicated to, well, kids. Amazon's kid-oriented service, FreeTime Unlimited, has a new name: Amazon Kids+. You get a free year of the Kids+ service with the Dot Kids Edition. That service includes access to thousands of kid-friendly services, like podcasts, music, audiobooks, games and activities.
Parents can further tailor and monitor their child's experience using Amazon's Parent Dashboard, where you can set time limits, view activity, and provide access to additional skills.
Whether music was playing, or it was a silent room, the Dots' microphones had little to no issues hearing our commands from near or far. The blue light is a quick and easy indicator as to when Alexa is listening, and it's easy for anyone — no matter the age — to know when it's time to ask a question or give a command.
Sound is good enough
The prime use case for a smart speaker isn't asking Alexa for jokes — it's using the smart speaker to play music. The previous 3rd gen Dot offered an experience that was perfect for the casual listener. We encountered distortion at higher volumes and not the best EQ mix at those volumes. For the most part, Amazon fixed a lot of this with the 4th Gen, but it's not a night and day difference. You see, inside the 4th Gen Echo Dot is the same 1.6-inch front-firing driver that's inside the 3rd Gen. The difference is the cylindrical shape which gives more room for the audio to form inside.
The result is a wider soundstage with higher maximum values, clarity across low, mid and high tones and improved bass. Sadly, though, you really need to listen carefully to notice the difference. The 4th Gen still provides solid sound for its price, but don't need to rush out and buy a 4th Gen if you have a 3rd Gen.
With "Give A Little" by Maggie Rogers at full blast, you get a balanced experience with improved bass over the 3rd Gen and the Nest Mini. There is a bit of distortion on the constant bass tone and the vocals aren't as clear against the backing track as we'd like. It can still fill a room pretty well, though.
Comparatively speaking, the $99 HomePod Mini sounds leagues better and the full-sized Echo delivers more clarity at full volume than the Dot family. Drop the volume to a 6 and ithe Dot sounds a bit clearer, though.
"Born to Run" by Bruce Springsteen still hits with a larger wall of sound, but it's not as clear with some muddiness at higher volumes. It won't ruin the listening experience, but it's just not as sharp as other smart speakers.
Bottom line
The 4th Gen Echo Dot is still the budget smart speaker to beat and is the easiest entry point into making your home a little smarter. The biggest change this year is the design, which we're pretty big fans of. It's also enabled some fun designs from Amazon, namely with the adorable panda or tiger Echo Dot Kids Edition.
At $49.99 ($59.99 for Dot with Clock or Dot Kids Edition) the Echo Dot still impresses. You get access to everything Alexa can do, with a simple way to add music into any room.