After an exhausting day on the trails or logging wood at the campground, the last thing you need is to scramble for a place to sleep. Come prepared with one of the best sleeping pads money can buy, and you'll be primed, ready and recovered for another day of outdoor adventures. But what exactly should you be looking for?
"There are two routes you can take: closed-cell foam or inflatable," says Cris Hazzard, a professional hiking guide and creator of HikingGuy. "Closed-cell foam is more durable but much bulkier [however] I've found that the reliability of inflatable pads in the last few years has improved tremendously, and I only use inflatables now."
Wesley Trimble, communications and creative director at the American Hiking Society, adds that while closed-cell pads tend to be less comfortable than thicker inflatable pads, especially for side and stomach sleepers, those with closed-cell foam pads don't have to worry as much about holes and punctures that may arise from incidents like getting caught on a branch or pierced by another one of your belongings in transit. If budgeting is top of mind, Allison Boyle, CEO and founder of She Dreams of Alpine and its Become an Outdoor Backpacking Badass coaching program, says a foam pad is "one of those pieces of gear in camping and backpacking that, in my opinion, you can go cheaper on when you are starting out if you are tighter on money."
While inflatable pads and mattresses for car camping tend to be thicker, bulkier and heavier, according to Trimble, you may choose to prioritize comfort regardless of weight or size since you won't have to tote it around. "I personally love inflatable sleeping pads," says Boyle. "They get you off the ground a bit more and I find them to be pretty comfortable for roughing it. They also pack down very small, which is a plus for packing your bag when backpacking."
• Related: The best hiking backpacks for your outdoor adventures, according to experts
Bulk might not be a luxury if you're carrying your belongings, however. For backpackers, Trimble says to factor in weight and packability. If you're looking to cut weight, he says you may choose to use a three-quarter-length pad that supports the head and torso to just below the knees. Trimble warns that for backpacking, the most lightweight inflatable pads tend to be pricey, and the "thin and crinkly" materials might pose a disturbance for active sleepers and light sleepers. The way you sleep should play into your choice as well, according to Trimble. He says it's wise to consider whether you sleep on your side, back or stomach, with side sleepers tending to prefer thicker pads of at least 3 inches.
The right sleeping pad for you largely depends on your normal use case and what features are most important to you, Trimble says. Ask yourself questions like, "Will you be using the sleeping pad for car camping or backpacking? Will you be using the pad in warm temps or will you be using the pad in cold climates at high elevations or in the colder months?" In that case, if you'll be hiking, camping or climbing in colder temps, another crucial element to consider in a sleeping pad is the R-value, which Hazzard defines as how much insulation (in addition to comfort) it provides. Trimble offers a general guideline for those looking to make use of this measurement: "For three-season camping, people should choose a pad with an R-value of 3 or more and an R-value of 4 or more for winter or cold-weather camping," he says, adding that some campers pair an inflatable pad and a foam pad in colder temps to reach the equivalent of a higher R-value.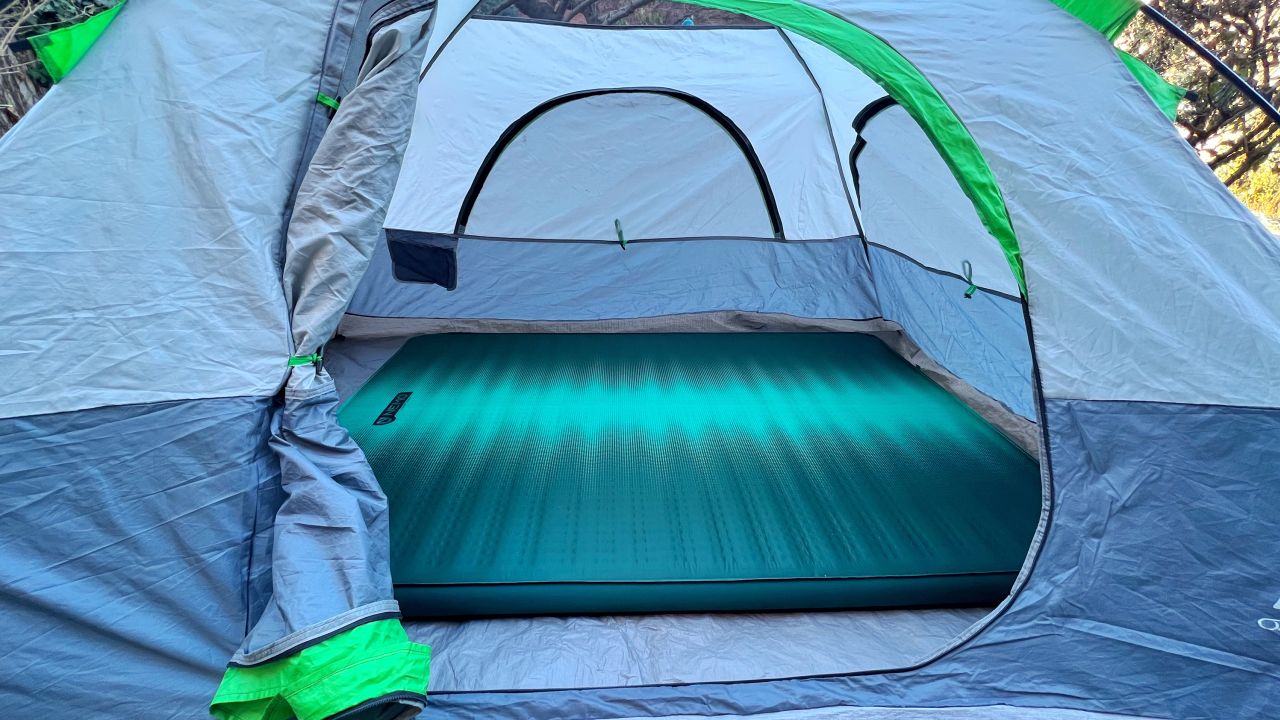 • Related: What to put on your camping checklist, according to expert campers
While Trimble says campers often focus on the temperature rating of their sleeping bag, the R-value of the pad is equally important. The reason? "When laying in a sleeping bag, a camper's body weight compresses a lot of the insulation on the bottom side of the sleeping bag, which greatly reduces the bag's insulative properties," says Trimble. If you're not sure where to start, take Hazzard's lead by striking a balance between a high R-value and low weight.
Here are 14 expert-backed sleeping pads for some well-deserved rest at the end of your long day in the great outdoors.
"There are a ton of great brands out there to choose from, but my go-to brand is Therm-a-Rest," says Boyle. "My favorite sleeping pad is something that I splurged on for mountaineering trips. It's called the Therm-A-Rest XTherm and I love it because of the insulation benefits it has."
"I picked up a Nemo Quasar 3D pad last year, and it's been the best of the pack so far in all but the coldest environments," says Hazzard. "It packs small and is relatively light, but more importantly, it allows me to comfortably roll onto my side at night. It's one of the most comfortable backpacking pads I've ever slept on."
"The Roamer is my favorite for car camping thanks to its next-level comfort and extra-wide size," says Underscored contributor Heather Balogh Rochfort. "Morning snuggles in the tent with our daughter have never felt cozier. In fact, we slept on the Roamer for 90 days straight during a three-month road trip and had no complaints!"
"I've slept like a baby on this sleeping pad in many different conditions, including on a rocky riverbank in the backcountry of Arkansas and in 30-degree weather in the middle of Wisconsin," says Underscored contributor Erica Zazo. "It's super packable but also extremely warm and cushioned — and I always sleep comfortably on it."
"I'm the kind of gal who's popped a lot of sleeping pads, and it's nice to know that REI Co-op has come up with a fairly well-priced sleeping pad with an excellent R-value," says Underscored contributor Emily Pennington. "They used to have one called the Flash that was discontinued, but this new Helix is the jam."
This cloud-like sleeping pad for two will have you snoozing like a baby with its generous R-value of 8.4, 4 inches of foam padding ideal for side sleepers, waterproof-treated soft fabric to keep you dry and reinforced abrasion-resistant underside. It comes with its own carrying sack for compact storing and toting, and a quick tap of the valve allows you to adjust your desired firmness. 
Coming in two widths and designed with 4 inches of non-slip polyester fabric and foam, this cozy sleeping pad is the ideal place to rest your head after an active day in Mother Nature. With its R-value of 8.1 and horizontal air channels, it provides ample insulation without feeling heavy in your pack. Contributing to its ready-for-anything qualities are the included repair kit with adhesives and fabric patches, as well as the included mini pump for quick inflation.
With its cushiony egg-shaped nodes and light weight of just 1 pound, this Amazon's Choice closed-cell foam sleeping pad makes for a convenient addition to your next adventure. Its aluminum film helps trap heat for extra insulation and it packs up accordion-style into a 5-inch brick for easy storing atop your pack.
At just over 2.5 pounds and a moderate 3.5 inches thick, this lightweight sleeping pad is ideal for backpackers looking to reduce the weight and size of their pack. Its R-value of 4.3 combined with its heat-reflective barrier provides just enough protection from the chilly ground, and it features about 1 inch of an outer chamber to keep your body centered on the sleeping pad. The durable ripstop nylon material at the underside keeps the pad in pristine condition while limiting creaking noises from motion transfer.
With more than 33,000 Amazon reviews, it's safe to say this bestselling inflatable sleeping pad has gotten many a hiker through the night. While it only weighs less than 1 pound and packs down to the size of a water bottle, according to the brand, its waterproof ripstop nylon material will keep you warm in temps as low as 32 degrees Fahrenheit (keep in mind that with its 2.1 R-value, it's more of a suitable sleeping and lounging option for summer months when you're looking to avoid getting overheated while you sleep). In as little as 10 breaths to inflate it, you'll be drifting off anywhere, any time.
With its smooth micro-brushed polyester fabric, non-slip base keeping it cemented to the ground and solid R-value of 3.9, this self-inflating sleeping pad — the thickest the brand currently offers — works well for slumbers in all conditions and cooler weather. It weighs just over 3 pounds for a minimal weight investment in your pack and features large push-in valves for easy inflation and deflation.
• Related: Travel backpacks to take on any kind of trip
For a camping experience that errs on the side of glamping, look no further than this Ferrari of a sleeping pad with an impressive R-value of 8. It's made with memory foam used in popular home mattresses, allowing you to create a true home away from home. It measures 3.9 inches thick for sleepers of all styles, features a removable and washable cover to maintain its pristine condition and comes with a side pocket to keep your phone within arm's reach. At 31 pounds, it's ideal for stationary stays in a rooftop tent, but it folds in half for easy storage when not in use. 
If you're planning on staying overnight in the frigid great outdoors, this beast of a sleeping pad with an R-value of 8.5 should come along for the ride. Its 4 inches of cored foam keep you far enough from the ground while still being easy enough to roll into a compact tube with the included sack. At just over six pounds, it's suited more for staying put in one spot than it is backpacking.
Weighing less than 1 pound for both the short and regular sizing options and offering a moderate R-value of 2, this simple sleeping pad made of closed-cell foam is a great way to add extra warmth to an inflatable pad in cooler temperatures. It features a heat-reflective film further contributing to its warmth, and its tall and wide nodes offer next-level plushness that won't compress under the weight of your sleeping bag.