CNN Underscored reviews financial products such as credit cards and bank accounts based on their overall value. We may receive a commission if you apply and are approved for a product, but our reporting is always independent and objective.
Do you want to be able to buy a house with a mortgage, borrow money for your dream car or take out a loan to start a business? If so, having good credit can help turn your dreams into reality, and knowing how to build credit is a vital part of getting yourself onto a firmer financial footing.
Your credit score, which represents the quality of your credit, is an important measure of your overall financial health. It also helps lenders determine whether you can borrow money — and if so, under what conditions. While a good credit score can open the door to loans with the best rates and terms, the opposite is also true. A bad credit score can make it impossible to borrow money altogether, at least not without having to pay exorbitant interest rates and high fees to do so.
With that in mind, it's smart to build credit now and all throughout your life — potentially even before you're in a position where you really need it. By building credit and increasing your credit score, you can ensure you have the credit you need for any financial situation you find yourself in. Let's take a look at some of the best ways to build credit so you can open doors to new financial options.
How does credit work?
Credit starts with your credit report, which is a list of all your current and past credit accounts, including credit cards, auto loans, mortgages — basically any money you've borrowed from anyone, and whether you paid it back on time or not. The three main credit bureaus — Experian, Equifax and TransUnion — maintain these credit reports based on the information reported to them by banks, credit card companies and other lenders.
But a credit report itself is just a list of accounts and information, so lenders and their partners have developed algorithms to turn that list into a specific score. That's where a credit score comes from.
There are several different types of credit scores out there, but we'll focus on the FICO scoring method for the purpose of this guide, as FICO scores are the most commonly used credit score and utilized by a majority of lenders. The FICO credit score algorithm was originally developed by Fair, Isaac and Company, which is where it gets its name (FICO).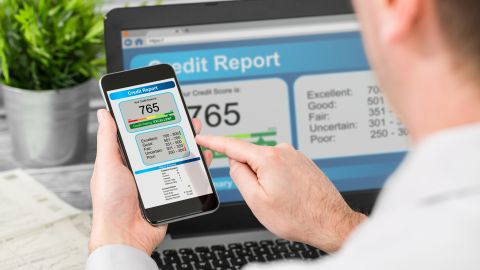 When it comes to FICO credit scores, each score is made up of three digits that typically fall between 300 and 850, with higher scores being better overall. The FICO scoring method considers the following factors when determining your credit score:
Payment history (35%): How often you pay bills on time and whether you've had any late payments in the past.
Amounts owed (30%): How much debt you owe in relation to your credit limits.
Length of your credit history (15%): The average length of time that your credit accounts have been open.
New credit (10%): How many times you've applied for a new credit account in the last two years (this is known as a "hard inquiry").
Credit mix (10%): The types of credit you have, including revolving credit, installment credit and more.
With a FICO credit score, the quality of your credit is determined based on these ranges:
Excellent: 800 and higher
Very good: 740 to 799
Good: 670 to 739
Fair: 580 to 669
Poor: 579 or lower
Your FICO score doesn't have to be perfect in order to qualify for loans with the best rates and terms, but a higher score will make it easier for you to qualify for any loan, including a mortgage.
How to build credit fast
As you learn how to build credit, you'll want to first know where you stand. With that in mind, you should take the time to check your credit score early in the process. Fortunately, figuring out how to check your credit score is a piece of cake, since there are numerous ways to get a peek at your credit score for free.
Once you know how your credit looks, you'll have a better idea of how much work you have to do. Your next best steps to improve your credit could include any (or all) of these options.
Apply for a secured credit card
One of the easiest ways to build credit is by applying for a secured credit card. With a secured credit card, you provide an upfront cash deposit that's utilized by your lender to guarantee that the charges you make on the card will be paid in full.
Consider the Discover it® Secured Credit Card as an example of how this strategy could work. This secured credit card, which has no annual fee, requires a cash deposit of at least $200 to get started, which would qualify you for a $200 credit limit.
As you use the card and make on-time monthly payments to cover the items you purchase with it, Discover reports your activity to the three credit bureaus. Over time, you can build credit through on-time payments with this method. And the Discover it Secured card will refund your security deposit when you close or upgrade your credit card account in good standing.
Apply for a secured loan
Another great way to build credit is by applying for a secured loan and paying it off in a timely manner. Similar to a secured credit card, you put down cash as collateral to secure your loan or line of credit, and can then increase your credit score with regular, on-time monthly payments toward whatever amounts you borrow.
With both a secured loan and a secured credit card, it's important to keep an eye on fees. Some lenders charge high fees for having a secured loan or credit card, while others have minimal fees. There are many different options on the market when it comes to secured loans and secured credit cards, so make sure to shop around for the best deal.
Get a credit builder loan
Another option to build credit fast involves applying for a credit builder loan. With this type of loan, you agree to pay a fixed amount of money each month toward a loan, which builds credit and adds to your savings at the same time. At the end, you'll get the money back, minus any fees and interest that you pay along the way.
The good news is, credit builder loans are very easy to use, but they do cost money. As an example, Self, a financial technology company, says a credit builder loan that costs $25 per month for 24 months will result in you getting back $520 and paying in a total of $89 in interest and fees. Throughout the process, Self reports your loan history to the credit bureaus, thus helping you build credit with each payment you make.
Use Experian Boost to improve your score
There are several programs and apps that let you use everyday bills to provide a boost to your credit score. The most popular of these is Experian Boost.
With this program from Experian, one of the three main credit bureaus, you can add bills like your phone, utilities and popular streaming services to your Experian credit report to improve your credit score. The great news is, Experian Boost is absolutely free to use, and you'll also be able to see and monitor your Experian FICO credit score for free when you use it.
Get help from a co-signer
Another way to get a leg up in building credit is to get approved for a loan with the help of a co-signer. This co-signer could be a family member or a partner, but either way, their better credit may help you qualify for installment loans you can use to build your own credit history.
With a co-signed loan, you have the chance to make on-time payments that help increase your credit score over time. However, you should only apply for credit with someone you absolutely trust, because their late payments or irresponsible use of the loan can harm your credit just as easily as help.
Become an authorized user
Finally, becoming an authorized user on someone else's credit card is the closest thing you can get to a co-signed credit card. By having a family member or partner add you as an authorized user on their account, your credit can benefit from their on-time monthly payments and responsible credit use.
Just remember that the primary account holder is ultimately responsible for paying back any purchases you make as an authorized user. And like a co-signed loan, late payments and large balances racked up by the primary account holder can potentially impact your credit in a negative way, so make sure you're an authorized user for someone you trust and who trusts you as well.
Building credit helps achieve your financial goals
Ask any financial advisor, and they'll tell you a good credit score is worth its weight in gold. Fortunately, good credit isn't just for the rich or well-connected. There are plenty of tools, services and ways your friends and family can help, and knowing how to build credit can help you and all of your loved ones improve their financial picture.
But in the end, building credit takes time, no matter how you do it. So by taking some savvy steps early and being intentional about the way you use credit cards and loans today, you can enjoy the spoils of your good credit score for years or decades to come.
Check out CNN Underscored's list of the best credit cards for people with no credit.
Get all the latest personal finance deals, news and advice at CNN Underscored Money.