We've covered The Home Edit's delightful collaborations before — namely with swimwear line Summersalt — and now the organization experts have paired up with Walmart for a brand-new, exclusive collaboration, T.H.E. Collection, that has all your storage needs in mind.
Each item in the T.H.E. Collection is made to keep storage easy and intuitive. The containers are all transparent plastic so you can see exactly where everything is.
For the kitchen, there's a five-piece set that includes a three-riser stepped shelf for canned goods and spices and a drawer with a box on top for further storage, all for under $25. The laundry room gets a decluttering courtesy of a similarly priced modular storage system that includes a turntable container for shampoo and body washes, plus two sets of bin-and-drawer combos.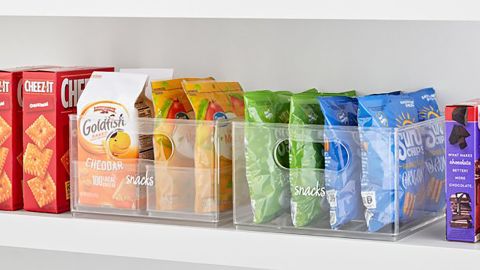 There's also a super-handy bathroom cabinet organizer with compartments for all the necessities (it's tall enough for Essie bottles to stand up in), or a multipurpose bundle that contains drawers, dividers and bins perfect for the craft room or office.
You can also buy components separately, like the three-tier riser by itself for $17.96 or large insert bins for $23.91 that can hold scissors and other longer objects.
Shop the entire affordable collection at Walmart now, and make the annual pre-spring cleaning decluttering a cinch.