A vacuum cleaner is a versatile machine, and if you're only using it on your floors, you're missing out on a lot of cleaning power.
Vacuums can be used for cleaning furniture, including mattresses, hard-to-reach places like ceiling fans and window casings, and even the family pet. (Please note that this is not recommended if the family pet is a cat!) The trick to getting the most out of your vacuum is to use the wide variety of attachments available. Most vacuums come with a set of attachments included, but add-on attachments can also be purchased separately; check size and brand compatibility to make sure they will work for your particular vacuum.
Ahead, with the help of experts from some of the world's top vacuum manufacturers, we've rounded up 15 surprising uses for your vacuum cleaner, and the specialty attachments that will help you to get the most out of these machines.
Clean a mattress
$14.22 $12.98 at Amazon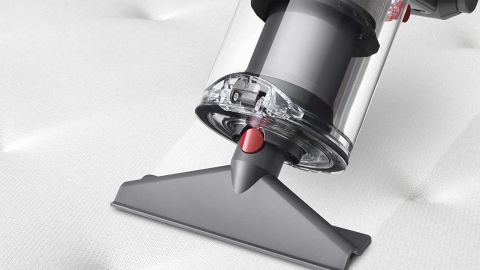 If you've ever wondered how to clean a mattress — after all, you can't exactly put it in the washing machine! — wonder no more: The way to clean a mattress is to vacuum it. Experts recommend vacuuming your mattress twice a year, once in the spring and again in the fall, using an upholstery attachment or mattress tool. For more on how to clean a mattress, including stain removal and odor elimination, check out our comprehensive guide to mattress cleaning.
Dust the blinds
Aleta Chase, a senior director at Bissell, says of cleaning blinds and other slatted window treatments, "You see them every day, and when that sunlight hits them just right, you're easily reminded of the amount of dirt built up on your home's blinds. Even though you look at them all the time, if you're being honest, how often do you think about cleaning them?" Chase recommends using a cordless stick vacuum that doubles as a handheld tool for cleaning blinds, including those in high-reach areas.
Remove allergens from curtains
Blinds aren't the only window treatments that can benefit from a good vacuuming, Dyson brand ambassador Sam Sheffer says. "Utilize Dyson's mini soft dusting brush accessory for curtains — the soft nylon bristles will gently capture any dust mites without damaging the textiles."
Clean window casings and moldings
Josh Mutlow, a design manager at Dyson, says, "We may be used to cleaning the bottom of a windowsill, but the top of one can go untouched for years, collecting everything your home has to offer." A wand-style attachment allows you to clean high-up spaces in your home where your eyes can't spot dirt.
Freshen up upholstered furniture
Laura Johnson, a research and development analyst at LG Electronics, recommends reaching for your vacuum when upholstered furniture and cushions need refreshing. "An upholstery tool will help release dirt and other allergens trapped in the fabric," she says, adding, "be sure to vacuum both sides of the cushions."
Remove dirt from fan blades
$14.99 at LG
Have you ever stopped to look at the blades on a standing or box fan? The amount of dirt on the blades will stun you! Johnson says, "Use your vacuum fitted with the combination tool or small hard brush tool to clean fan blades." For more tips on cleaning hard-to-reach places, including ceiling fans, check out our roundup of the best tools for the job.
Clear out the dryer vent
$13.99 $9.99 at Amazon
Experts recommend that you clean your dryer's venting system every 12 to 24 months. You can hire a professional for the job or use your vacuum with a hose attachment and/or crevice tool to clean out the dryer's vent and housing. For more information on how to perform this job, check out our guide to cleaning a washer/dryer.
Refrigerator coil maintenance
$100 $37.08 at Amazon
Large household appliances of all types can benefit from the cleaning power of your vacuum, and your refrigerator is no exception. "Use your vacuum with the hose attachment to carefully clean your refrigerator coils," Johnson says. Find more expert tips on cleaning a refrigerator in our guide.
Clean the top of kitchen cabinets and high shelves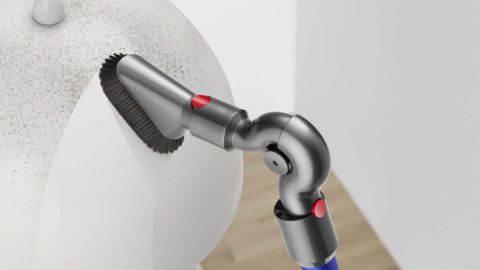 Elsewhere in the kitchen, a vacuum can be extremely useful for oft-forgotten places that attract a surprising amount of dirt, dust and grime: the top of cabinets and high shelves. Sheffer says, "Dyson's up-top adaptor makes it easy to effectively clean tough-to-reach spaces. The tool bends up to 130 degrees but also locks at 98 degrees, 65 degrees and 0 degrees for flexible up-top cleaning."
Dust baseboards without breaking your back
$10.99 $9.99 at Amazon
In addition to cleaning up high, your vacuum can help you to clean down low. Chase recommends using a vacuum fitted with a dusting brush attachment to clean baseboards, and offers these helpful tips. "First things first, make sure cleaning the baseboards is last on your cleaning list. We suggest doing this because cleaning agitates dirt and debris in your home, and eventually it will accumulate along the baseboards of your home. Once all the other cleaning is done, use a dusting brush to clean along baseboards and into the corners where all that pet hair and dirt loves to gather."
Find small items
When cleaning down low turns into a game of hide-and-seek, Johnson offers this very clever tip: "Slip a sock over the end of the vacuum tube, then run the vacuum where you think you dropped something small, like an earring. You'll suck it up, but it won't go through the vacuum and get damaged or damage your vacuum."
Keep electronics dust-free
Like fan blades, electronics attract more dirt and dust than you may be aware of. "For computer keyboards, monitors, TVs and more," Sheffer says, "reach for Dyson's mini soft dusting brush accessory, which features soft bristles to lift dust and allergens from flat surfaces."
Show local spiders who's boss
Spiders are our friends, but that doesn't mean we necessarily want them declaring eminent domain in our homes. Chase says, "Your vacuum can help you clean so much more than just the floor. Use your vacuum's extension wand to clean cobwebs in ceiling corners or in sliding door tracks."
DIY car detailing
Sheffer offers this easy four-step process to transform your car to good as new using one of Dyson's cordless vacuums, which can convert to handheld for smaller jobs, and specialty attachments:
Step 1: Use Dyson's crevice tool to vacuum along the seams of the seats in your car.
Step 2: Use the mini motorized tool to remove loose debris, invisible dust and allergens from upholstery on the seats.
Step 3: Remove dust and dirt from the center console, dashboard and between the vents with Dyson's combination tool.
Step 4: Remove dirt or food stains with the stubborn dirt brush.
Step 5 (optional): If pet hair or long hair is a particular issue in your car, make the Dyson hair screw tool your go-to attachment.
Groom the dog
We saved the best for last: Adult dogs with longer hair can be vacuumed, just like a rug. Sheffer recommends Dyson's groom tool brushes, which he says removes "loose hairs and allergens directly from the dog by drawing them into the vacuum, preventing them from spreading around your home." Our guide to the best pet hair removal products has more ways to keep pet hair under control.